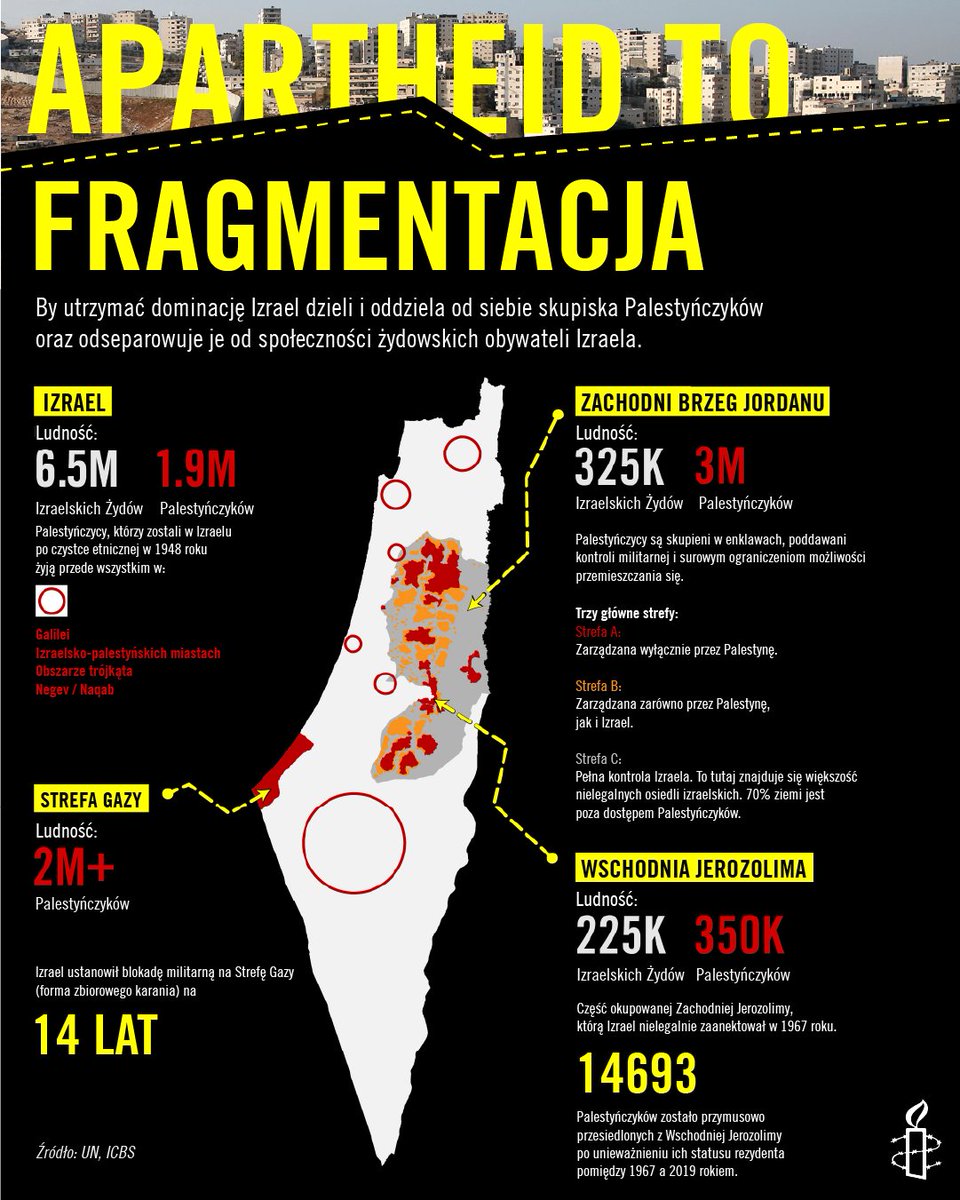 Amnesty Polska / @amnestyPL
---
Andrzej Koraszewski
---
Bogdan Miś zadał mi pytanie: "Andrzeju: warto chyba jakoś zracjonalizować ten wszechobecny antysemityzm. Skąd się to bierze? Tylko z bzdur kościelnych? Żydzi nie różnią się od innych wyglądem – a są obiektem nienawiści większej niż łatwiejszy do wytłumaczenia pretekst koloru skóry 'innego', przez wieki nie mieli państwa, więc nie mogli na nikogo napadać ani dawać innego powodu negatywnych uczuć. A jednak spośród rasizmów ten jest najsilniejszy. Dlaczego?"
Tylu ludzi próbowało już odpowiedzieć na to pytanie i nadal toczą się gniewne spory o samą definicję antysemityzmu. Zabawne, bo dopiero co amerykańska aktorka, Whoopi Goldberg orzekła, że Holokaust nie miał nic wspólnego z rasizmem, że było to zło wyrządzone białym ludziom przez białych ludzi. Wywołało to sporo złej krwi i kpin. Whoopi Goldberg jest czarna, nazwisko Goldberg jest jej artystycznym pseudonimem. Pewnie uczciwie postrzega Żydów jako białych, a już z pewnością nic z tego wszystkiego nie rozumie i nie ma się z czego śmiać, bo jak widać my też nie.
Obecnie mamy wielkie zamieszanie wokół najnowszego raportu Amnesty International, który oskarża Izrael o apartheid. Uważna lektura tego raportu nie pozostawia wątpliwości, to jest ciąg dalszy konferencji w Durban i kontynuacja rezolucji Zgromadzenia Ogólnego ONZ nr 3379, przyjętej 10 listopada 1975 r. zrównującej syjonizm z rasizmem, nie ma również wątpliwości, że źródeł inspiracji twórców tego raportu należy szukać tam, gdzie wyprodukowano Protokoły Mędrców Syjonu, czyli w Moskwie, gdzie w latach 70. ubiegłego wieku wypracowano strategię antysyjonistycznej propagandy opartej na oskarżeniu Izraela o apartheid.
Amnesty International Polska przetłumaczyła ten raport na język polski i dostarczyła go spragnionym dobrej nowiny Polakom. (Raport został równocześnie opublikowany w kilkunastu językach, akcję propagandową przygotowywano długo i starannie i za ogromne pieniądze.) Mamy tu ciekawe zjawisko – po raz pierwszy w historii ministerstwa spraw zagranicznych kilku krajów (Niemcy, Wielka Brytania, Stany Zjednoczone) zaprotestowały, stwierdzając, że ten raport przedstawia nieprawdziwy obraz Izraela.
Raport został entuzjastycznie przyjęty przez Hamas, Fatah, Ludowy Front Wyzwolenia Palestyny, Islamski Dżihad i inne podobne. Ponieważ raport starannie zaciera różnicę między Palestyńczykiem a izraelskim Arabem, odpowiedź izraelskiego Araba wydaje się ciekawsza niż dyskusje o tym raporcie między nami Polakami, Joseph Haddad pokazuje, dlaczego dla niego i dla innych izraelskich Arabów ten raport jest nie tylko zakłamany, ale oburzający i odrażający.
Pani Aneta Stańczak-Boużyk oburzyła się na mnie straszliwie, jak mogę krytykować wspaniałe dzieło instytucji, (w której ona w polskim oddziale pełni funkcję menadżerki do spraw komunikacji) i poucza mnie:
Proszę poświęcić chwilę, aby dowiedzieć się więcej i wyciągać mądre wnioski z tego co zostało przez amnestyjnych badaczy opracowane. Raport jest jednym z najlepiej przygotowanych materiałów, bazujący na badaniu sytuacji osób narodowości palestyńskiej na miejscu, a nie z pozycji fotela w Polsce.
Pani Aneta ma zapewne głęboką wiarę, podpartą obszerną nieznajomością faktów i sądzi, że walczy o prawa człowieka.
Na mojej stronie Facebooka pan T. P. (tuż pod pytaniem Bogdana Misia) napisał m.in.: "Sądzę, że raporty AI, patrzenie na ręce i kontrola odgrywają tu ważną rolę. Pokusa nadużyć, szczególnie w konfliktach, kiedy ma się olbrzymią przewagę technologiczną i finansową jest ogromna".
Ten komentator nie miał wiele do powiedzenia o samym raporcie, chciał tylko przekazać światu wiadomość, że Izrael jest od chwili swojego powstania w stanie wojny, a wojna demoralizuje, więc Izraelczycy są zdemoralizowani, Izrael jest potężnym graczem, a w końcu na moje stwierdzenie, że wiara, iż kłamstwa naprawiają świat, jest dość optymistyczna, stwierdził:
"Kompletnie przekręca pan i wyolbrzymia to, co napisałem. W ten sposób tak samo pana wybielanie i idealizowanie Izraela można wyśmiać i sprowadzić do absurdu.

Pisze pan o stronniczości korespondentów z Jerozolimy – tak – są stronniczy, ponieważ piszą z Jerozolimy i szukają informacji, które nie są już dostatecznie kolportowane przez Izrael. Czy korespondenci ze wspomnianego Ramallah także są tak samo stronniczy?"
Można w tym miejscu zapytać, dlaczego dyskusje z przyzwoitymi ludźmi, którzy tylko lubią kłamstwa o Żydach, są nieodmiennie tak do siebie podobne i czy jest to dobry wstęp do próby odpowiedzi na pytanie, dlaczego spośród wielu rasizmów ten jest najsilniejszy?
Dwa lata temu w jednym z moich artykułów przywołałem definicję antysemityzmu brytyjskiego fizyka Davida Deutscha, Pisałem wówczas (cytując za Richardem Landesem):
Brytyjski fizyk próbuje odpowiedzieć na pytanie, nad którym głowiły się już setki innych autorów, a mianowicie – czym właściwie jest antysemityzm i dlaczego to zdumiewające zjawisko jest tak trwałe?

Zdaniem Deutscha antysemityzm jest furtką pozwalającą na złamanie zakazu dawania fałszywego świadectwa i zakazu zabijania, jest otwartym lub cichym przyznaniem prawa do pogardy i krzywdzenia. Ta furtka, początkowo ograniczona do jednej grupy "nie całkiem ludzi", pozwala również na szybkie rozszerzenia i wyłączanie z kategorii bliźnich również innych grup. Tę furtkę otwiera zinstytucjonalizowane fałszywe świadectwo o całej grupie. Tą wyjściową grupą urzędowo zatwierdzonych "nie całkiem bliźnich" w chrześcijaństwie i islamie są Żydzi.

Nie wszyscy antysemici zajmują się zabijaniem Żydów, nie wszyscy pochwalają zabijanie Żydów, nie wszyscy uczestniczą w kampaniach kłamstw o Żydach, wszyscy protestują, kiedy kwestionuje się prawo do pogardy i krzywdzenia Żydów. To prawo uważają za niezbywalne, a jego naruszenie za uszczuplenie ich ludzkiej godności. (W najnowocześniejszej formie ukrywa się często za pytaniem: "Czy wolno krytykować Izrael?", które oznacza nieodmiennie, czy już nie wolno kłamać na temat Żydów).
Ta definicja, aczkolwiek jest podobna do definicji Międzynarodowego Sojuszu na rzecz Pamięci o Holokauście (IHRA)*, wydaje się najbardziej pomocna, kiedy próbujemy rozważać pytanie o trwałość tego zjawiska. Potrzeba furtki na złamanie zakazu dawania fałszywego świadectwa i krzywdzenia jest ponadczasowa i znakomicie wyjaśnia obecność antysemityzmu w chrześcijaństwie i islamie (dwóch religiach, które swoje fundamenty pożyczyły od judaizmu i mających swoje teologie zastąpienia); wśród wielu ludzi Oświecenia (takich jak Wolter czy nasz Staszic); wśród lewicy (od Karola Marksa począwszy) i wśród prawicy, gdzie widzimy zarówno zacnych konserwatystów brytyjskich, Adolfa Hitlera, Ku Klux Klan, jak i naszych narodowców, nienawiść do Żydów jest nurtem wiecznie żywym. 
Żydzi jako wzór furtki pozwalającej wymknąć się zasadzie "nie dawaj fałszywego świadectwa" i pozostać teoretycznie przyzwoitym mogą być dalej dowolnie definiowani – jako religia, jako rasa, jako grupa etniczna z paskudną kulturą, jako kapitaliści, jako cuchnący biedacy, roznosiciele chorób, jako podstępni spiskowcy. Trzymają się osobno – są podejrzani. Integrują się – są podejrzani. Zmieniają religię – są podejrzani, Włączają się lub inicjują ruchy na rzecz innych (takie jak AI czy HRW) – są podejrzani. Są zawsze potrzebni jako Żydzi, jako grupa, o której dawanie fałszywego świadectwa jest dowodem cnoty. 
David Deutsch zwraca uwagę na fakt, że nigdy żaden inny naród nie został oskarżony o bogobójstwo. Filozofia św. Augustyna umocniła (i uświęciła) prawo, że Żydów należy krzywdzić, a ich upokorzenie jest dowodem, że chrześcijaństwo zwyciężyło.
Utrwalona przez kilkaset pokoleń nienawiść nie jest już tylko furtką, jest drugą naturą polityka, kapłana i szarego człowieka.
Ze zdumieniem czytamy opisy średniowiecznych pogromów i znajdujemy, że zmieniają się zewnętrzne formy, zostaje istota morderczej nienawiści.
Zdumiewa trwałość i zdumiewa łatwość budzenia kolejnych fal nienawiści. Kiedy pytamy dlaczego, zaczynamy spekulować, dlaczego nie zniknęli jak inne starożytne narody, jak zdołali ocalić język i religię mimo rozproszenia, dlaczego Żyd ma znamię Żyda, kiedy jest przyjacielem i kiedy jest wrogiem?
Chrześcijańskim konwertytom nie zapominano żydowskich przodków, u wrogów (czasem na siłę) poszukuje się żydowskich korzeni. (Robię to również i kiedy na przykład słyszę o polskojęzycznych mediach, odpowiadam, że mojego języka uczyłem się na elementarzu tego Żyda Falskiego, a pierwsze wiersze, które znałem na pamięć, to wiersze tego Żyda Tuwima i tego Żyda Brzechwy). W spekulacjach o trwałości antysemityzmu z konieczności powraca wyjątkowość. Mimo wszystkich prześladowań są zawsze widoczni, jako lekarze, jako bankierzy, jako rzemieślnicy, naukowcy, pisarze. Byli listonoszami między cywilizacjami, są zdumiewająco nadreprezentowani wśród laureatów nagród Nobla. Nienawiść oparta na motywach religijnych czy ideologicznych jest nieodmiennie podparta zazdrością, zazdrością o pozycję, pieniądze, wpływy, zawiścią podszytą paranoicznymi podejrzeniami, że to musi być spisek. (Trudno przecież wyjaśniać to kulturą szacunku dla nauki i pracowitością, bo to zmieniałoby zazdrość w samooskarżenie).
To trwanie wbrew wszystkim przeciwnościom nasila paranoję antysemitów, a czasem i samych Żydów. Od stuleci w społeczeństwach chrześcijańskich i muzułmańskich słowo Żyd jest wyzwiskiem, kiedy stara forma antysemityzmu staje się niemodna, potrzeba nienawidzenia musi znaleźć nowe ujście, nowe koryto, nową formułę. Potrzeba ucieczki przed prześladowaniami rodzi również naturalną skłonność do ucieczki, marzenie o tym, żeby zniknąć, przestać być Żydem, czasem przez próbę ukrycia się wśród wrogów.
Komunizm był obietnicą braterstwa bez względu na narodowość i rasę. Natychmiast okazało się, że w każdej dyskusji można było użyć słowa Żyd jako najcięższego argumentu, zaś dobrzy żydowscy towarzysze w Jewsekcji mieli się zająć wykorzenieniem żydowskiej kultury.
Po upadku Rosji, Austro-Węgier i Niemiec, budowa państw narodowych wymagała czystek, by osiągnąć narodową dominację. Zaczynano od Żydów, grabiąc, mordując i wysiedlając. Tak było w Polsce, ale tak samo było w Grecji, gdzie napływ Greków z Turcji, Bułgarii i innych krajów wywołał ogromny popyt na żydowską własność. Tworząc państwa narodowe, próbowano pozbyć się mniejszości pochodzących z sąsiednich krajów. Żydzi nie mieli dokąd iść. Trzeba ich było zniszczyć.
W Polsce antysemityzm kojarzy nam się głównie z nazizmem, wiemy tak mało o antysemityzmie holenderskim, irlandzkim, brytyjskim, czy hiszpańskim, o nieustannym zlewaniu się nienawiści płynącej z prawa z ambon i trybun politycznych i nienawiści płynącej z lewa serwowanej w broszurach i wiecowych mowach, gdzie tak dobrze znane słowo Żyd miało wzmocnić  nienawiść do kapitalistów i wyzyskiwaczy. Ta nienawiść trafiała nieodmiennie na chłonne umysły. W Grecji, żeby utrudnić życie żydowskim kupcom, przeniesiono dzień targowy na soboty, a wszystkie umowy handlowe musiały być spisywane po grecku. Władze często przymykały oczy na akty gwałtu i rabunku. Grupami zawodowymi, które szczególnie silnie nalegały na administracyjne ograniczenia prawa Żydów do edukacji i praktyki zawodowej, niemal we wszystkich krajach europejskich byli prawnicy i lekarze. W tych zawodach nadreprezentacja Żydów była tak uderzająca, że na przykład we Francji, żeby przynajmniej zablokować drogę do francuskiej edukacji Żydom z Europy Wschodniej, podniesiono znacznie poziom egzaminów wstępnych na medycynę. (Okazało się jednak, że ta wyżej ustawiona poprzeczka była poważniejszą przeszkodą dla młodzieży francuskiej niż dla młodzieży żydowskiej z Rumunii i innych krajów).
Po drugiej wojnie światowej tysiące osieroconych dzieci żydowskich było wychowywanych w sierocińcach bądź w rodzinach bez żadnej tradycji intelektualnej. Losy tych dzieci wydają się wskazywać, że żydowskie sukcesy mają swoje źródło nie tylko w kulturze książki, ale mogą mieć związek z wyposażeniem genetycznym. Tak czy inaczej, kiedy pytamy o trwałość nienawiści, warto pamiętać, że ten sukces prześladowanych jest trudny do wybaczenia.
Na to wszystko nakładają się kolejne dwa czynniki – pierwszy częste przypadki sojuszu prześladowanych z aktualnie silniejszymi (w bloku komunistycznym nadreprezentacja Żydów w bezpiece była faktem), drugi czynnik jest trudniejszy do wyjaśnienia, mianowicie nienawiść do ofiar. W miejscowościach, gdzie były masowe mordy Żydów, pamięć trwa przez stulecia nawet mimo wymiany ludności.
Można zapytać, jak się to wszystko zmieniło po powstaniu żydowskiego państwa. Pierwszym odruchem było dokończenie ostatecznego rozwiązania kwestii żydowskiej przez atak kilku armii arabskich na jednodniowe państwo żydowskie (Najsilniejszą z tych armii była wyszkolona, uzbrojona przez Brytyjczyków oraz dowodzona przez brytyjskich oficerów armia jordańska, która walczyła ramię w ramię ze szkolonymi przez oficerów SS armiami egipską i syryjską). Na kolejnym etapie widzieliśmy pełną czystkę etniczną Żydów w krajach arabskich, z których około 800 tysięcy obrabowanych z wszelkiej własności trafiło do Izraela.
Na maleńkim skrawku ziemi wielkości województwa białostockiego powstało państwo, które naruszało podstawowe prawo człowieka – prawo do bezkarnego krzywdzenia Żydów. Po raz pierwszy od dwóch tysięcy lat Żydzi mieli swoje państwo i swoją armię, co gwałciło honor chrześcijan i muzułmanów, nazistów i komunistów, wszystkich ludzi dobrej woli. Watykan podjął wielką akcję, żeby przypadkiem Jerozolima nie wpadła w ręce Żydów. (Z krajów europejskich Watykan był ostatni, który zgodził się na nawiązanie stosunków dyplomatycznych z "Tel Awiwem" i zrobił to dopiero w 1993 roku).
Podczas gdy w pierwszych latach istnienia Izraela antysemityzm zachodniej Europy prowadził do embarga na broń i cichego wspierania państw arabskich w walce z Żydami, od 1956 roku widzieliśmy odwrócenie biegunów i plany ostatecznego rozwiązania kwestii żydowskiej opracowywane były w Moskwie. Tam przygotowywano dwie wielkie wojny z państwem żydowskim (1967 i 1973), tam opracowywano kampanie dyplomatyczne w ONZ, tam powstała idea narodu palestyńskiego i tam powstała strategia oskarżenia Izraela o apartheid.
Kiedy Generalna Sekretarka Amnesty International, Agnes Callamard z dumą 3 lutego prezentowała swój raport dyktatorowi Autonomii Palestyńskiej Mahmoudowi Abbasowi, zapewne nie pamiętała nie tylko tego, że to już osiemnasty rok czteroletniej kadencji tego "prezydenta", ale że wręcza go byłemu agentowi KGB oraz uczonemu, który doktoryzował się w Moskwie, dowodząc, iż tego Holokaustu właściwie nie było. Atmosfera spotkania była serdeczna i pełna wzajemnego zrozumienia.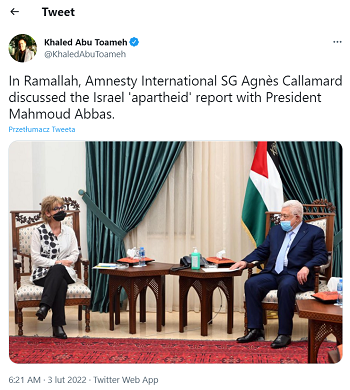 Khaled Abu Toameh, znany dziennikarz izraelski pochodzenia arabskiego pisząc o raporcie Amnesty, koncentrował uwagę na tym, co i dlaczego ucieszyło w tym raporcie palestyńskie organizacje terrorystyczne.
Amerykański badacz Dexter Van Zile w artykule pod tytułem Kiedy nie można winić Izraela, "prawa człowieka" nikogo nie obchodzą pisał:
Czytając, w jaki sposób antyizraelscy aktywiści opisują Palestyńczyków, można by pomyśleć, że ludzie żyjący na Zachodnim Brzegu i w Strefie Gazy są najbardziej pokojowymi, życzliwymi, gościnnymi ludźmi, jakich kiedykolwiek spotkałeś.

To co, że ostrzeliwują izraelskie miasta rakietami, przeprowadzają ataki nożownicze, taranują  samochodami izraelskich cywilów? To jest w porządku — ponieważ atakowanie Żydów pod pretekstem uzyskania tego, co wielokrotnie było oferowane przy stole negocjacyjnym, jest prawem człowieka.

Ale żydowskie samostanowienie jest zbrodnią przeciwko ludzkości.
W rezultacie Palestyńczycy mogą robić straszne rzeczy Żydom bez większego uszczerbku na ich reputacji wśród działaczy "praw człowieka".
No kolejnym etapie chrześcijańskiego i muzułmańskiego antysemityzmu stara sowiecka taktyka jest czystym złotem. Europa jest nowoczesna, mówi "nigdy więcej", a w kwestii żydowskiej stosuje outsourcing.
Dlaczego to trwa? Najwyraźniej nie godzimy się na rezygnację z podstawowego prawa człowieka, prawa do dawania fałszywego świadectwa i wspierania naszym szczodrym groszem wszystkich, którzy są gotowi zabijać Żydów w naszym imieniu.
---
* Definicja Międzynarodowego Sojuszu na rzecz Pamięci o Holokauście (IHRA) brzmi:"Antysemityzm to określone postrzeganie Żydów, które może się wyrażać jako nienawiść do nich. Antysemityzm przejawia się zarówno w słowach, jak i czynach skierowanych przeciwko Żydom lub osobom, które nie są Żydami, oraz ich własności, a także przeciw instytucjom i obiektom religijnym społeczności żydowskiej."
---
---