Andrzej Koraszewski
---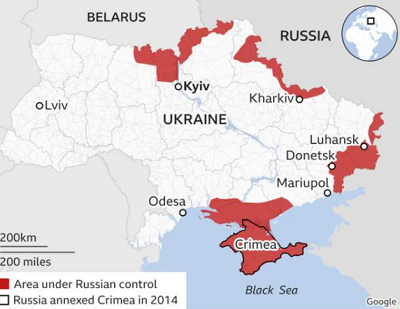 Wczorajsza mapka opublikowana przez BBC obszarów zajętych przez rosyjską armię. Co zmieniło się w nocy?   
Rosjanie weszli do Charkowa, są w centrum miasta, ale walki trwają. Rosyjska rakieta uderzyła w rurociąg gazowy, powodując potężną eksplozję. Celowo? Trudno powiedzieć. Pod Kijowem (tym razem już bez wątpienia celowo) zbombardowane zostały zbiorniki z ropą naftową. Nad miastem wiszą toksyczne dymy. Rosjanie zajęli kilka mniejszych miast.    
Wczoraj jedną z pierwszych informacji, które rano zobaczyłem było zdementowanie przez prezydenta Ukrainy fałszywej informacji jakoby wezwał armię do złożenia broni i poddania się. Fałszywa propaganda jest w wojnie bronią. Nigdy nie wiemy, które z tych informacji są w pełni prawdziwe, chociaż niektóre są wystarczająco absurdalne, żeby je natychmiast odrzucić.    
Jak donosiła BBC w sobotę przed południem, rzecznik rosyjskiej armii powiedział, że na Ukrainie rosyjskie wojsko nie ma żadnych strat. Przedstawiciel ukraińskiego rządu zwrócił się do Czerwonego Krzyża z prośbą o pomoc w przekazaniu stronie rosyjskiej ciał 3500 zabitych rosyjskich żołnierzy. Doniesienia o zniszczonym rosyjskim sprzęcie mogą być przesadzone, ale nie ulega wątpliwości, że opór jest znacznie silniejszy niż spodziewało się tego rosyjskie dowództwo. Do ciekawszych informacji należą doniesienia o kolumnach czołgów stojących w polu z powodu braku paliwa. Jeśli ta informacja rzeczywiście dotyczy wielu miejsc, to może znaczyć, że rosyjskie umiejętności logistyczne są na bardzo marnym poziomie. W pewnym sensie podobnie pocieszająca jest informacja o ataku na lotnisko pod Lwowem, gdzie przyleciało kilka helikopterów bojowych, które armia ukraińska odparła jak się wydaje bez większego trudu. To "jak się wydaje" jest niezwykle istotne, ponieważ często będziemy mieli do czynienia z nieścisłymi informacjami. Czeczeński watażka powiedział, że wysłał na Ukrainę swoich dżihadystów i zapewniał, że ogrywają tam ważną rolę. Z pewnością wysłał. W sobotę zginął w walkach o lotnisko Hostomel czeczeński generał Magomed Tuszajew. Znacznie poważniejsza informacja dotarła w sobotę wieczorem, o wejściu na tereny Ukrainy kolejnych dziesiątków tysięcy rosyjskich żołnierzy. Jakie są możliwości ukraińskiej armii, jak długo będzie mogła stawiać opór?
Pojawia się tu równie ważny problem siły oporu rosyjskiego społeczeństwa. Władze rosyjskie już ograniczyły dostęp do mediów społecznościowych, bojąc się zarówno protestów ze strony własnej ludności jak i wiadomości napływających z Ukrainy, w tym zdjęć zabitych żołnierzy, obrazów płaczących rosyjskich jeńców, zniszczonego sprzętu.      
Tymczasem grubo ponad sto dwadzieścia tysięcy uchodźców z Ukrainy jest już na terenie Polski. Jak na chaotyczną sytuację, obserwujemy bardzo sprawne działania władz i imponującą solidarność ze strony polskiego społeczeństwa. Obserwuję dwie grupy zamknięte – jedną zajmującą się organizowaniem transportu dla uchodźców, druga sprawami zakwaterowania. Dlaczego zamknięte? W obawie przed ludzkimi hienami i koniecznością sprawdzania. Prezydent Rzeszowa wystosował apel, żeby nie pomijać systemu rejestracji uchodźców na granicy. To niesłychanie istotne, bo to pozwala na załatwienie formalności związanych z zezwoleniem na pobyt, opieką medyczną, wyżywieniem. Prawdopodobnie najtrudniejsze jest wąskie gardło przejścia przez granice. Długie godziny czekania, mimo, że władze robią co w ich mocy, żeby maksymalnie uprościć procedury i zwiększyć przepustowość przejść. Jedno pewne, takiej ludzkiej solidarności nie widzieliśmy od lat.        
---
---