Ludzie przechodzą obok transparentu przedstawiającego pułkownika Gwardii Rewolucyjnej Iranu, Sajada Chodaiego, który został zabity w niedzielę, wtorek, 24 maja 2022 (Fot. Vahid Salemi / AP Photo)
---
Robert Stefanicki
---
Zabójstwo Sajada Chodaiego to najpoważniejszy zamach w Iranie od dwóch lat, kiedy to w podobny sposób zginął czołowy irański atomista Mohsen Fakhrizadeh. Prezydent Iranu zapowiedział odwet.
.
Według państwowej agencji informacyjnej IRNA w niedzielne popołudnie dwóch bandytów na motocyklu otworzyło ogień do Sajada Chodaiego, gdy wysiadał z samochodu przed swoim domem we wschodnim Teheranie. Opublikowano zdjęcie mężczyzny leżącego na siedzeniu kierowcy. Auto miało rozbite okno po stronie pasażera.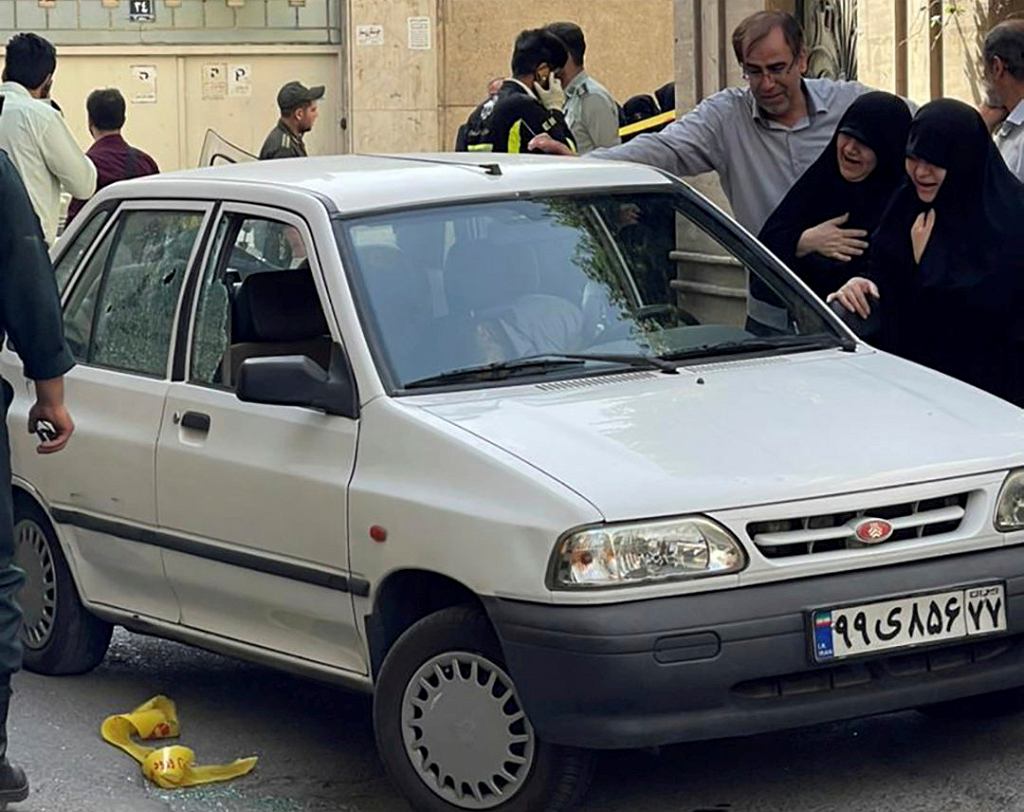 Członkowie rodziny płk Sajada Chodaiego płaczą nad jego ciałem w jego samochodzie po tym, jak został zastrzelony przez dwóch napastników w Teheranie, Iran, niedziela, 22 maja Fot. AP
Sajad Chodai, prominentny Strażnik Rewolucji Islamskiej
Sajad Chodai był członkiem elitarnych sił Ghods (Kuds), oddziału potężnego Korpusu Strażników Rewolucji Islamskiej, zwanej potocznie Gwardią Rewolucyjną, zajmującego się operacjami zagranicznymi.
Siły Ghods nadzorują szyickie milicje, które walczyły u boku wojsk prezydenta Baszara al-Asada w wojnie domowej w Syrii. Sterują też kilkoma szyickimi milicjami w Iraku, które znacznie urosły w siłę od czasu pokonania terrorystycznego Państwa Islamskiego. W obu tych krajach Iran umocnił swoją obecność w ciągu ostatniej dekady i zyskał ogromne wpływy polityczne.
Chodai był bliskim współpracownikiem generała Kassima Sulejmaniego, najwyższego dowódcy sił Ghods, który w styczniu 2020 r. został zabity w Bagdadzie z amerykańskiego drona. Również wtedy Teheran zapowiedział odwet, lecz ograniczył się on do ostrzelania rakietami bazy USA w Iraku.
Żałobnicy biorą udział w ceremonii pogrzebowej płk Sajada Chodaiego z Gwardii Rewolucyjnej Iranu, pokazanego na plakacie, który zginął w niedzielę w Teheranie, Iran, we wtorek, 24 maja 2022 Fot. Vahid Salemi / AP Photo
Iran negocjuje nowy układ nuklearny, Izrael się sprzeciwia
Stany Zjednoczone oskarżają siły Ghods o uzbrajanie, finansowanie i szkolenie grup terrorystycznych na Bliskim Wschodzie, odpowiedzialność za śmierć setek amerykańskich żołnierzy w regionie oraz o planowanie ataków w różnych miejscach. Za kadencji Donalda Trumpa Departament Stanu uznał całą Gwardię Rewolucyjną, w tym Ghods, za organizacje terrorystyczne.
Iran domaga się zmiany tej decyzji. Nieoficjalnie mówi się, że ta sprawa stoi na przeszkodzie w podpisaniu nowej umowy nuklearnej, negocjowanej od miesięcy przez Iran, USA, mocarstwa europejskie, Chiny i Rosję. Wskrzeszenie porozumienia wiązałoby się ze złagodzeniem sankcji wobec Iranu, w tym zniesieniem zakazu zakupu irańskiej ropy, a byłoby to bardzo pożądane w sytuacji utrzymujących się wysokich cen tego surowca, co walnie przyczynia się do inflacji na całym świecie.
Normalizacji stosunków z Teheranem sprzeciwiają się sojusznicy USA w regionie, zwłaszcza Izrael. Wskutek zerwania przez Donalda Trumpa umowy zamrażającej irański program atomowy kraj ten poczynił znaczne postępy i według źródeł izraelskiego wywiadu jest "o kilka tygodni" od wyprodukowania nie jednej, ale czterech bomb atomowych. Izrael, sam dysponujący bronią atomową, czuje się zagrożony – Republika Islamska to główny wróg państwa żydowskiego.
Żałobnicy podążają za ciężarówką przewożącą udrapowaną flagę trumnę pułkownika Gwardii Rewolucyjnej Iranu Sajada Chodaiego, który został zabity w niedzielę. Fot. Vahid Salemi / AP Photo
Prezydent Iranu zapowiada odwet
W ciągu ostatnich lat Izraelczycy przeprowadzili kilka ataków na irańskie obiekty nuklearne. Dziwnym trafem jeden po drugim ginęli też irańscy naukowcy i urzędnicy zaangażowani w program atomowy – zwykle, tak jak Chodai, zabici z pistoletu z tłumikiem przez zamachowca na motocyklu. W listopadzie 2020 r. ten los spotkał czołowego atomistę Mohsena Fakhrizadeha.
Tak jak wtedy, tak i teraz żadna grupa ani kraj nie wzięły odpowiedzialności za zabójstwo.
Prezydent Iranu Ebrahim Raisi wezwał w poniedziałek do złapania napastników i zapowiedział odwet.
– Mordercy będą ścigani przez funkcjonariuszy bezpieczeństwa i nie mam wątpliwości, że krew tego wielkiego męczennika zostanie pomszczona. Nie ma wątpliwości, że w tej zbrodni widać rękę globalnej arogancji – dodał, używając terminu używanego przez Iran na określenie Izraela i Stanów Zjednoczonych.
Irańscy urzędnicy twierdzili, że aresztowali jakichś "syjonistycznych agentów", ale nie przedstawiono na to żadnych dowodów.
Żałobnicy gromadzą się wokół ciężarówki przewożącej trumnę pułkownika Gwardii Rewolucyjnej Iranu Sajada Chodaiego, który został zabity w niedzielę, ceremonia pogrzebowa, wtorek 24 maja 2022 r. Fot. Vahid Salemi / AP Photo
Czy za zamachem stał Izrael?
Izrael, jak zawsze w takich sytuacjach, nie potwierdził swojego udziału w zamachu ani mu nie zaprzeczył.
Tamtejsze media podały w poniedziałek, że płk Chodai miał być zaangażowany w planowanie ataków na izraelskie i żydowskie cele na całym świecie. Według gazety "Haarec" prawdopodobnie stał on za domniemanym irańskim spiskiem mającym na celu zabicie biznesmenów na Cyprze, w tym miliardera Teddiego Sagi, a także uderzenie w innych izraelskich przedsiębiorców w Afryce, Ameryce Południowej i Turcji.
Wspomniano również o niedawnych usiłowaniach zabicia pracownika konsulatu izraelskiego w Turcji. Plan miał zostać udaremniony przez Mosad, izraelską agencję wywiadu.
Ram Ben-Barak, były zastępca szefa Mosadu, który obecnie przewodniczy komisji spraw zagranicznych i obrony izraelskiego parlamentu, powiedział, że Chodai był mu znany. – Nie chcę wchodzić w szczegóły tego, co się stało, ani kto co zrobił. Zdarzyło się zabójstwo – powiedział w izraelskim radiu Kan. – Czy powinienem powiedzieć, że jest mi przykro, że już go z nami nie ma? Nie jest mi przykro.
---
---