Amir Taheri
Tłumaczenie:
Małgorzata Koraszewska
---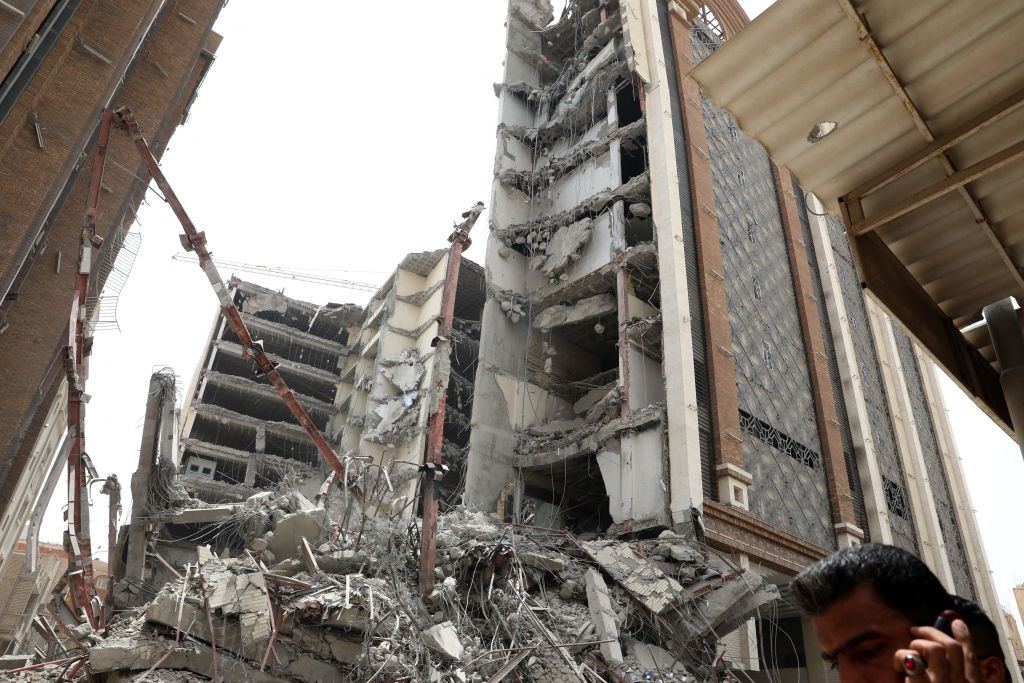 Przez ostatnie dwa tygodnie w Iranie duża liczba ludzi, być może setki tysięcy, protestowała w ponad 100 miastach, by dać upust złości na system, który uważają za skorumpowany, niekompetentny i opresyjny. Protesty wywołało zawalenie się wieżowca w Abadanie, co pochłonęło dziesiątki istnień ludzkich. Po raz pierwszy niektórzy protestujący zaczęli skandować "Precz z Chameneim", atakując "Najwyższego Przewodnika" Iranu. Na zdjęciu: zawalony budynek w Abadan, 23 maja 2022 r. (Zdjęcie: Tasnim News/AFP via Getty Images)
Przez ostatnie dwa tygodnie w Iranie masa ludzi, być może setki tysięcy, protestowało w ponad 100 miastach, by dać upust dla swojego gniewu na system, który uważają za skorumpowany, niekompetentny i opresyjny.
Równocześnie rząd stoi w obliczu groźby ogromnych braków chleba jeszcze w tym roku w związku z doniesieniami, że zapasy pszenicy spadły do rekordowo niskiego poziomu, podczas gdy rozmowy o zakupie w Rosji 6,2 mln ton pszenicy, (ponad połowy rocznej konsumpcji w Iranie), utknęły, jak się wydaje, w martwym punkcie.
Są też inne złe wiadomości dla rządu Iranu, ponieważ eksport ropy, który wzrósł dzięki decyzji administracji Bidena o zignorowaniu sankcji nałożonych przez Trumpa, wykazuje spowolnienie, częściowo z powodu konkurencji ze strony Rosji, która oferuje znaczne rabaty, aby przechwycić większą część udziału Iranu na rynku azjatyckim. Złą wiadomością jest również impas w rozmowach wiedeńskich, aby ożywić tak zwane "porozumienie nuklearne" i uwolnić Republikę Islamską od niektórych sankcji.
Czego więc powinniśmy oczekiwać od Republiki Islamskiej, która stanęła w obliczu wielkiej burzy, prowadzącej, być może, do lata protestów?
Nie jest to pierwszy raz, kiedy Irańczycy próbują pokazać swój gniew na stan kraju poprzez marsze protestacyjne. W rzeczywistości niektórzy Irańczycy robią to od pierwszych tygodni rządów chomeinistycznych duchownych w 1979 roku.
W ciągu ostatniej dekady Iran był świadkiem co najmniej trzech poważnych ogólnonarodowych wybuchów niezadowolenia, które wstrząsnęły reżimem, ale nie doprowadziły do żadnej istotnej zmiany. W każdym przypadku reżimowi udało się odzyskać kontrolę, stosując mieszankę przekupstwa i brutalności, jednocześnie wykorzystując fakt, że protesty nie wytworzyły spójnego przywództwa opozycji na szczeblu krajowym.
Dlaczego więc tym razem miałoby być inaczej?
Chociaż jest jeszcze za wcześnie, aby to stwierdzić, niektóre fakty mogą wskazywać na zmianę.
Po pierwsze, poprzednie wybuchy niezadowolenia miały ograniczony zakres polityczny.
Niektóre, jak masowa demonstracja w marcu 1979 r., dotyczyły pojedynczych kwestii, takich jak protesty przeciwko zmuszaniu kobiet do noszenia hidżabu lub rozprawa z określonymi grupami politycznymi, jak miało to miejsce w latach 1981 i 1982.
Inne protesty dotyczyły interesów specyficznych grup, jak straty poniesione przez drobnych akcjonariuszy giełdy w Teheranie oraz inwestycje w firmy wydmuszki.
Inne odosobnione kwestie, które wywołały protesty, dotyczyły robotników transportu i trzciny cukrowej walczących o lepsze płace i warunki pracy oraz nauczycieli domagających się większej swobody akademickiej i bardziej sprawiedliwych wynagrodzeń.
Inne protesty dotyczyły pojedynczych kwestii politycznych, takich jak protest pod hasłem Zielony Ruch przeciwko domniemanym oszustwom wyborczym, które przyniosły Mahmoudowi Ahmadineżadowi drugą kadencję prezydencką.
Pomimo różnych motywacji i tematów, wszystkie te protesty miały jedną wspólną cechę: żaden nie był nastawiony na zmianę reżimu i wszystkie mieściły się w istniejącym systemie.
Jednak ostatnie protesty wydają się różnić pod wieloma względami.
Po pierwsze, głównym tematem, choć nie od razu dostrzeganym, jest zmiana reżimu.
Ruch ten został wywołany zawaleniem się wieżowca Metropole Tower w południowym mieście naftowym Abadan, który pochłonął dziesiątki istnień ludzkich. Początkowo winą za tragedię obciążano pozbawionego skrupułów lokalnego dewelopera, który dążył do szybkiego zysku.
Jednak w ciągu kilku dni w Abadanie pojawiła się ulotka, w której postawiono wiele pytań: "Kto dał mu pozwolenie na budowę? Miejscowy burmistrz? Kto mianował burmistrza? Minister spraw wewnętrznych? A kto mianował ministra spraw wewnętrznych?". Ulotka kończyła się perskim przysłowiem: Ryba gnije od głowy, a nie od ogona!
Po raz pierwszy niektórzy protestujący zaczęli skandować "Precz z Chameneim", atakując "Najwyższego Przewodnika" Iranu. Podsycił on powszechny gniew, odmawiając nawet odniesienia się do tragedii przez kilka dni, zanim poprosił swoje biuro o wystawienie mdłego listu solidarności z ofiarami. To skłoniło do dalszych haseł antyreżimowych, takich jak "Islamska Republika powinna zostać rozwiązana" i "Sajjed Ali [Chamenei], opuść kraj!"
W przeciwieństwie do poprzednich protestów, Chamenei przegapił okazję, by udawać, że staje po stronie protestujących, obwiniając niezidentyfikowanych urzędników za to, że nie są wystarczająco "islamscy".
Kolejną różnicą tym razem było to, że wielu protestujących, a może nawet większość, reprezentowało szerokie spektrum opinii.
W niektórych miastach (co najmniej 10 czy 12) mogliśmy z pewną rzetelnością udokumentować hasła typu "Reza Szach, błogosławiona twoja dusza!", nawiązujące do fali nostalgii za dawną monarchią Iranu. W przeciwieństwie jednak do niektórych poprzednich okazji, nawet ci protestujący, którzy nie odczuwali nostalgii za starą monarchią, nie kwestionowali tych haseł, nie mówiąc już o szybkiej ucieczce od demonstrantów, którzy je skandowali.
Jest to ważne, ponieważ może wskazywać, że reżim nie może rozwiązać tej sytuację przez kolejne apele do Irańczyków o kontynuowanie walki z upadłą monarchią, zamiast z obecnym despotyzmem.
A to może sygnalizować jeszcze ważniejszy rozwój sytuacji: dążenie do krajowego konsensusu w sprawie potrzeby zmiany kierunku, jeśli nie po prostu zmiany reżimu.
Do tej pory takie posunięcie zostało wstrzymane, ponieważ wielu przeciwników reżimu uważało jego pozostanie za swój drugi wybór, a na pierwszym miejscu każdy z nich stawiał własne interesy. Oznaczało to, że każda grupa wolałaby, aby obecny reżim pozostał na miejscu, aby zapobiec zastąpieniu go przez rywalizującą grupę opozycyjną.
Jest za wcześnie, aby powiedzieć, czy nastąpiła poważna zmiana w tym sposobie myślenia. Z tego jednak, co można było zebrać na podstawie niekompletnych informacji, różne grupy opozycyjne w Iranie wydają się zmierzać w kierunku przynajmniej taktycznej jedności.
Potencjalnie ważniejszą nowością jest poparcie okazane przez część klerykalnego establishmentu szyickiego w mieście Kom, który próbował kryć się za najłagodniejszą tradycją, zachowując jednocześnie uprzejme stosunki z rządzącym duchowieństwem i jego bazą militarną i siłami bezpieczeństwa.
Protesty otworzyły również coś, co mogłoby stać się wyłomem w chomeinowskim establishmencie, z niektórymi członkami islamskiego Madżlisu (namiastki parlamentu), wieloma finansowanymi przez państwo celebrytami i "islamskimi" intelektualistami, mistrzami dwuznaczności, mamroczącymi wyrazy poparcia dla protestujących i wzywającymi do zmiany reżimu.
Za wcześnie na przewidywania, czy protesty będą kontynuowane lub jak mocno się nasilą. Ale jedno jest jasne: coś pękło między reżimem chomeinistów a wieloma Irańczykami, tworząc lukę, której nie można już wypełnić zwykłymi hasłami.
Kiedy zbliżamy się do lata gniewu, Republika Islamska jest na arenie krajowej na najsłabszej pozycji od lat. Czy Iran zmierza do poważnego wstrząsu? Musimy poczekać i zobaczyć.
---
---