Gordon G. Chang
Tłumaczenie: Małgorzata Koraszewska
---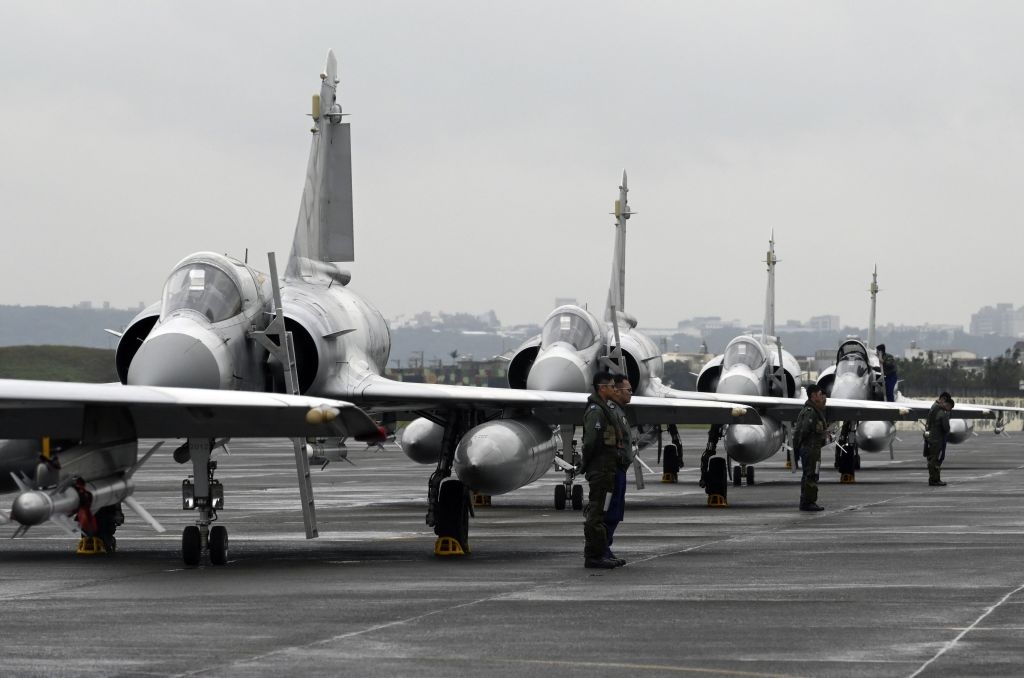 Niezależnie od tego czy Chiny planują inwazję Tajwanu teraz, czy nie, pora, by Stany Zjednoczone porzuciły dziesięciolecia błędnej polityki. Waszyngton powinien, między innymi, natychmiast zacząć dostarczać tej wyspie broń, jaka jest pilnie potrzebna. Na zdjęciu: Piloci tajwańskich sił lotniczych stoją obok myśliwców odrzutowych Mirage bazie lotniczej Hsinchu 16 stycznia 2019 roku. (Zdjęcie: Sam Yeh/AFP via Getty Images)
"Złe sygnały". To powiedziało Dowództwo Teatru Wschodniego Chińskiej Armii Ludowo-Wyzwoleńczej 15 kwietnia o ośmielaniu Tajwanu przez Waszyngton. Tego dnia chińska armia wysłała myśliwce i bombowce, jak również fregaty w pobliże wyspiarskiej republiki.
Chińskie manewry, powiedział rzecznik ministerstwa spraw zagranicznych Zhao Lijian, były "środkiem zaradczym przeciwko niedawnym negatywnym działaniom USA, włącznie z wizytą polityków na Tajwanie". Pekin, powiedział, będzie "nadal podejmował zdecydowane kroki, by bronić swojej suwerenności i terytorialnej integralności".
Kiedy to mówił sześciu amerykańskich senatorów pod przewodnictwem senatora Lindsey'a Grahama, republikanina z Południowej Karoliny, i Roberta Menendeza, demokraty z New Jersey, który jest przewodniczącym Komisji Stosunków Zagranicznych Senatu, spotkało się z prezydentem Tajwanu i innymi wysokimi przedstawicielami samorządnej wyspy. Przybyli samolotem sił powietrznych USA, co było dość wyraźnym sygnałem dla Pekinu. Ta dwudniowa wizyta nie była ogłoszona, była "ukradkowa" jak to określiło Ministerstwo Obrony Chin.
"Global Times", tabloid kontrolowany przez oficjalny chiński "Dziennik Ludowy", był jeszcze bardziej bezpośredni. Powiedział, że manewry były nie tylko "ostrzeżeniem" dla innych polityków planujących wizytę na wyspie, ale wychodziły "poza odstraszanie przez przygotowanie do potencjalnej, realnej akcji, która raz na zawsze rozwiąże kwestię Tajwanu, kiedy to będzie konieczne".
"Realna akcja"? Niezależnie od tego czy Chiny planują inwazję Tajwanu teraz, czy nie, pora, by Stany Zjednoczone porzuciły dziesięciolecia błędnej polityki. Waszyngton powinien, między innymi, natychmiast zacząć dostarczać tej wyspie broń, jaka jest jej pilnie potrzebna.
Chińska Republika Ludowa rezerwuje sobie prawo użycia siły, by zaanektować Republikę Chińską, co jest formalną nazwą Tajwanu. "Tajwan jest świętą i nieodłączną częścią chińskiego terytorium – oznajmiło Dowództwo Wschodniego Teatru. – Nie ma miejsca na żadną zagraniczną ingerencję w kwestię Tajwanu".
Wielu analityków uważa, że bohaterski ukraiński opór wobec rosyjskich najeźdźców powoduje, iż inwazja Chin na Tajwan jest mniej prawdopodobna. Z różnych przyczyn, niewielu, jeśli ktokolwiek z outsiderów wie, jak naprawdę kierownictwo chińskie ocenia sytuację.
Niestety, Xi Jinping, nadzwyczaj ambitny władca chiński, może czuć się zachęcony przez niedawne wypadki w Europie Wschodniej. Jak w zeszłym miesiącu napisał Wang Dan, przywódca studencki z czasów zajść na Placu Tiananmen: "Nie powinniśmy oczekiwać racjonalnego podejmowania decyzji od dyktatorów i totalitarnych reżimów".
Xi może uznać, że wojna w Ukrainie pokazuje, iż obecnie jest zielone światło dla inwazji na Tajwan. W końcu gospodarka Stanów Zjednoczonych, 27 krajów Unii Europejskiej i Wielkiej Brytanii – była łącznie w zeszłym roku ponad 25 razy większa niż Rosji — nie mogły jednak swoją siłą odstraszyć Władimira Putina, więc Xi może uważać, że w podobny sposób zawiodą w sprawie Chin.
Ponadto sankcje nałożone na Moskwę po inwazji nie były wszechstronne i nadal nie są (co niewiarygodne) wszechstronne. Dlatego Xi może wierzyć, że żaden kraj nie ośmieli się narzucić mających znaczenie kosztów na jego wspaniałe państwo.
Wreszcie, Xi może uznać, że inwazja Władimira Putina stworzyła wystarczający chaos i odwrócenie uwagi, że nikt nie będzie w stanie sprzeciwić się jego agresji.
Przywódcy Chin robią wrażenie, jakby niedawne wydarzenia ośmieliły ich. Kiedy padał Kabul w zeszłym roku, na przykład, Pekin szerzył tezę, że USA są nieudolne. "Global Times" pytał, jak Ameryka mogłaby przeciwstawić się potężnym Chinom, skoro nie mogła nawet poradzić sobie z talibami. Ten półoficjalny tabloid napisał o Ameryce: "Nie potrafi dłużej wygrać wojny".
Ponadto propaganda partii komunistycznej mówiła dużo o Tajwanie, kiedy upadł Kabul. W artykule redakcyjnym z sierpnia "Global Times" oświadczył, że kiedy wybuchnie wojna w Cieśninie Tajwańskiej, obrona wyspy załamie się w ciągu kilku godzin, a armia USA nie przyjdzie na pomoc.
Nic z tego nie mówi, że Chiny istotnie dokonają inwazji – jest wiele powodów, by tego nie zrobiły – ale nigdzie odstraszanie nie jest ważniejsze niż w Cieśninie Tajwańskiej. Po upadku Afganistanu i inwazji na Ukrainę Tajwan uważany jest za ostateczny test amerykańskiej wiarygodności.
Przez dziesięciolecia Stany Zjednoczone prowadziły politykę "strategicznej niejednoznaczności", nie mówiąc ani Chinom, ani Tajwanowi, co zrobią w wypadku konfliktu.
Niejednoznaczność działała w dobrotliwym okresie, ale zwłaszcza teraz, po inwazji na Ukrainę, świat nie znajduje się dłużej w dobrotliwym okresie. Chińscy przywódcy mówią, że Ameryka ich już nie odstrasza. Waszyngton musi uwierzyć im na słowo, co znaczy, że USA muszą teraz przedsięwziąć kroki uważane kiedyś za radykalne. Kiedy amerykańscy politycy rozważają, co zrobić, muszą pamiętać, że trzydzieści lat błędnej polityki tajwańskiej pozostawiły ich bez żadnych bezpiecznych opcji.
Aby zapobiec chińskiej inwazji, prezydent Biden powinien publicznie oświadczyć, że Ameryka będzie bronić Tajwanu. W dodatku USA powinny współpracować z sojuszniczymi państwami – Japonią i Australią i zaoferować Tajpej wielostronny traktat obronny.
Ponadto, jak proponował w zeszłym miesiącu były sekretarz stanu Mike Pompeo podczas wizyty w Tajpej, USA powinny uznać Tajwan za to, czym jest: suwerennym państwem.
Uznanie Tajwanu wymagałoby zmiany amerykańskiej "polityki jednych Chin". Zgodnie z tą polityką (często myloną z "Zasadą jednych Chin" Pekinu) USA uznaje Pekin jako legalny rząd Chin. Innymi słowy, Waszyngton ogłosił komunistyczną partię za zwycięzcę w chińskiej wojnie domowej. Niemniej Ameryka nie akceptuje (jak to robi "Zasada jednych Chin) stanowiska Pekinu, że Tajwan jest częścią Republiki Ludowej. USA jedynie przyznają fakt, że Pekin ma takie roszczenia.
Zamiast tego USA zajmują stanowisko, że status Tajwanu pozostaje nierozwiązany i że rozwiązanie sprawy tego status musi być pokojowe, innymi słowy, za zgodą ludności Tajwanu.
Aby zapewnić, że rozwiązanie sprawy statusu Tajwanu będzie pokojowe, administracja Bidena powinna rozpocząć przekazywanie broni Tajwanowi, szczególnie pociski balistyczne dalekiego zasięgu, które mogą trzymać reżim Chin w szachu.
Ponadto Ameryka i przyjaciele powinni wesprzeć swoje słowa i umieścić swoje bazy wojskowe na wyspie.
Odstraszenie jest najlepszym gwarantem pokoju.
Stany Zjednoczone nie wysłały wystarczającej ilości broni do Ukrainy przed inwazją 24 lutego, tym samym zawodząc w utrzymaniu odstraszania w Europie Wschodniej.
Przez otwarte wzmocnienie obrony Tajwanu Waszyngton zadeklaruje, że nie boi się już obrazić Pekinu. To jest przekazanie chińskim przywódcom "właściwego sygnału" pod rozwagę.
---
---