Andrzej Koraszewski
---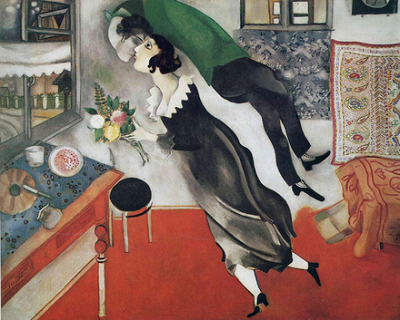 Marc Chagall Urodziny (1915), Museum of Modern Art w Nowym Jorku [Źródło: Wikipedia]
Młodszy o dwa pokolenia przyjaciel odkrył Grossmana. Swoją ostatnią książkę Wszystko płynie… Grossman skończył pisać w 1961 roku. Książka traktuje o życiu w świecie państwowego terroru, również o wielkim głodzie w Ukrainie. Jednak tak naprawdę o długiej tradycji poddaństwa, o polityce zniewalania umysłów. Czy można ją dziś kupić w moskiewskich księgarniach? Nie mam pojęcia, z pewnością jest dostępna w księgarniach w Kijowie. Wtedy, mimo względnej odwilży nie mogła się ukazać, więc Grossman nawet nie wysłał jej do wydawnictwa. Po zatrzymaniu przez cenzurę jego poprzedniej książki Życie i los pisał gniewnie do Chruszczowa: "co z tego, że ja jestem wolny, kiedy moje książki są w areszcie". Michaił Susłow, który stał wówczas na straży czystości moralnej ZSRR powiedział Grossmanowi, że ta książka nie ukaże się jeszcze przez trzysta lat. Wikipedia przypomina słowa Susłowa:
Nie czytałem waszej powieści, ale dokładnie przeczytałem recenzje na jej temat, gdzie znajduje się wiele cytatów z waszej książki. Zobaczcie, ile porobiłem z tego notatek… Dlaczego mielibyśmy dodać waszą książkę do bomb atomowych, które wróg chce wystrzelić przeciw nam?… Dlaczego mielibyśmy opublikować waszą książkę i wywołać publiczną dyskusję na temat tego, komu się Związek Radziecki podoba, a komu nie?
Rosja nadal dba o swój wizerunek, to kraj wrażliwych przywódców, dbających, by obywatel mógł dorobić się na świństwie i unikał uczciwości. Współczesny autor pisze, że wojna w Ukrainie jest już wojną światową, a inny, że Putin idzie drogą Stalina i chce zamorzyć Ukrainę wielkim głodem.     
Obydwa stwierdzenia mogą okazać się prawdziwe, więc patrzymy na Pekin, Teheran, Ankarę i inne miejsca, próbując odgadnąć, czym świat zaskoczy jutro. W Polsce nadal dręczą nas nasze małe troski, ale inny wymiar rzeczywistości zaczyna się tuż za naszą wschodnią granicą. Widzenie peryferyjne mamy ograniczone, bo nie można patrzeć na wszystko na raz. Ludobójstwo chrześcijan w Afryce umyka naszej uwadze. Chrześcijanie nie są teraz dobrym sygnałem wywołującym zainteresowanie i współczucie.
Nasz ojczym narodu ma plan ratowania wartości chrześcijańskich dla wzmocnienia narodowej krzepy. Na zdrowy rozsądek jego elektorat dawno powinien odpłynąć, ale zdrowy rozsądek jest towarem rzadkim. Brak współczucia dla chrześcijan mordowanych w Afryce może mieć złożoną genezę. Jedni nie współczują, bo BBC nie mówiło, że powinni, a i samo chrześcijaństwo nie ma przecież dobrych notowań, inni mają inne, że tak powiem, powody.                  
W Egipcie prezydent Sisi (a może tylko jego rząd) też ma narodowy plan ratowania wartości. Na liście wrogów na pierwszym miejscu jest walka z muzułmańskimi fanatykami z Bractwa Muzułmańskiego, ale już na drugim walka z ateizmem. Tymczasem kairskie slumsy rosną, zamiast maleć, więc Bractwo ma więcej rekrutów niż ateiści i trudno się dziwić. W kairskich księgarniach łatwiej znaleźć Mein Kampf niż Grossmana. To też nie powinno dziwić, w światowej wojnie linie frontu przebiegają przez środek bagna, a wiele wskazuje na globalne zabagnienie.
Ateiści częściej niż obrońcy wartości smarują memy z napisem "ekonomia głupcze". Cokolwiek to znaczy, bo często znaczy marzenie o świetlanej przyszłości i walce z wrogami ludu. Socjalistyczna ekonomia była próbą dogonienia i przegonienia przy wykorzystaniu pracy niewolniczej. (Socjalizm umiarkowany postawił na wtórny podział dochodu narodowego. Idea poszukiwania dróg prowadzących do wzrostu wydajności najmniej wydajnych okazała się zbyt trudna dla ojców narodów. Wolą kochać ubogich i obiecywać złote góry, patrząc z rozpaczą jak rozrastają się slumsy.)
Grossman ostatecznie rozstał się z komunizmem, kiedy Stalin, w imię socjalizmu bardziej narodowego, podjął walkę z kosmopolitami. U progu trzeciej wojny światowej warto go czytać. Jest mocnym ostrzeżeniem przed Putinem, Xi, Chameneim, Erdoganem. Dalej ciągnie się lista kacyków wszelkiej maści, którzy mogą w tej wojnie być po obu stronach, bo nie jest to tylko wojna między dobrem i złem. Sojusze buduje się w zależności od potrzeb.
W wojnie idei idee gorsze wypychają idee lepsze. Zbiorowe psychozy występują w ludzkim świecie częściej niż zbiorowy racjonalizm. Antysemityzm jest osobliwym papierkiem lakmusowym ujawniającym tęsknotę do obłędu. Nagrody za nienawiść są silniejsze niż radość  z ciepłej wody w kranie, małe troski daje się zmienić w hasło "kraj w ruinie", a hasło kraj w ruinie w okrzyk "kto kogo".       
Demokracja jest nudna, rewolucja jest porywająca, rewolucja obiecuje prawo do zabijania wrogów, zbliża do boskości. Antysemityzm ułatwia zabijanie, jest odwieczną szkołą odczłowieczania bliźniego. Europa jest antysemicka, świat islamu jest antysemicki, Ameryka była długo najsłabiej zarażona. W Nowym Jorku mieszka około półtora miliona Żydów, którzy patrzą dziś z niepokojem jak ich świat się zmienia. Obrazek rodzajowy:
Inna Wernikowa stała w czwartek rano u podnóża schodów ratusza przed rzędami aktywistów w niebieskich koszulkach #EndJewHatred. Z tyłu mężczyzna w niebieskiej czapce Keep America Great tulił małego psa; po drugiej stronie placu, zwróconego w stronę nowojorskiego gmachu beaux-arts, grupa mężczyzn z chasydzkiej sekty Neturei Karta skandowała swoje antysyjonistyczne hasła, wznosząc te same transparenty, które od kilkudziesięciu lat przynoszą zawsze na takie wydarzenia. Nad Wernikową trzy flagi Pride o różnych wzorach zwisające z kamiennej balustrady sugerują, że miasto znalazło się teraz pod kontrolą koalicji bardzo kolorowych grup aktywistów. To był typowy nowojorski cyrk, z proizraelskim demonstrantem, który przedstawił mi się jako emerytowany oficer nowojorskiej policji i długoletni klaun.
Inna ma 37 lat, urodziła się w Ukrainie, ale wychowała już w Ameryce. Jest prawniczką, ma małą firmę i jest radną w dzielnicowej radzie. Wernikowa walczy z antysemityzmem, który paruje głównie z uniwersyteckiego kampusu. The City University Of New York (CUNY) ma długą historię, ale w minionym stuleciu antysemityzm nie był jej częścią. Co się stało? Radna z Brooklynu próbuje z tym walczyć, rektor uniwersytetu ignoruje przesłuchanie w radzie. Jest natomiast na tym przesłuchaniu David Brodsky, dziekan wydziału studiów żydowskich w CUNY. Brodsky przypomina, że "antysemityzm w społeczeństwach zachodnich jest systemowy" (z tym nazwiskiem powinien pamiętać, że jest również systemowy w społeczeństwach wschodnich), mówi, że siedzi tak głęboko, iż często jest poza zasięgiem ludzkiego radaru. "Dopóki nie rozpoznasz, skąd pochodzi systemowo, padasz jego ofiarą".
O co chodzi z tym systemowym pochodzeniem antysemityzmu? Jest w kulturze, w religii, w sztuce sakralnej i nie tylko sakralnej, wyłazi niezależnie od tego, przez jakiego judasza patrzysz na świat. Czasem jest przytłumiony, zaledwie wszechobecny, wystarczy podmuch, żeby wybuchnął otwartym płomieniem.
Amerykańska pisarka Dara Horn urodziła się w 1977 roku. Kiedy miała czternaście lat pojechała do Polski, a potem do Izraela w ramach swoich prywatnych badań nad historią Izraela. Studiowała potem literaturę żydowską, specjalizując się w literaturze pisanej w języku jidysz. (Za oceanem, głównie w Nowym Jorku i w jednej dzielnicy Jerozolimy jidysz jest nadal językiem żywym, był językiem żydowskiej diaspory w Europie. W dzisiejszej Polsce z pisarzy piszących w tym języku stosunkowo najlepiej znany jest Isaac Bashevis Singer, ulica Icchoka Lejby Pereca na ogół nie budzi żadnych skojarzeń). Jej najnowsza książka, People Love Dead Jews, ukazuje lepiej fenomen, o którym dyskutowano na posiedzeniu rady Brooklynu. Ten zbiór esejów pokazuje jak często demonstracyjna miłość do tych, których już nie ma, ukrywa nienawiść i odrazę, do tych, którzy jeszcze są. Czy irracjonalność tego zjawiska ukrywa się w fakcie, że ta irracjonalna nienawiść jest kluczem otwierającym bramę do szlachetności zbirów, do radości ścigania każdego, kogo nazwiemy wrogiem? Radość krzywdzenia potrzebuje podkładki. Jak ją już masz, droga do świata opisywanego przez Grossmana okazuje się łatwiejsza, niespokojni jakoś się dostosują. Lepiej unikać zaklasyfikowania do kategorii wrogów. Jej wydana w 2006 roku powieść, The World to Come, spina czasy opisywane przez Grossmana z dzisiejszym Nowym Jorkiem. Spotykamy na kartach tej książki Marca Chagalla uczącego malarstwa w żydowskim sierocińcu w stalinowskim świecie i potomków ocalałych z rosyjskich pogromów, którzy dotarli do portu ze statuą Wolności. 
Patrzymy z lękiem na świat, który przyjdzie, rosną psychozy, papierek lakmusowy podejrzanie zmienia kolor. W domu wariatów konformizm jest strategią przetrwania, co może sprzyjać nasilaniu się atmosfery obłędu. Wojna trwa. Pisz na Berdyczów.          
---
Andrzej Koraszewski – Publicysta i pisarz ekonomiczno-społeczny. Ur. 26 marca 1940 w Szymbarku, były dziennikarz BBC, wiceszef polskiej sekcji BBC, i publicysta paryskiej "Kultury". Więcej w Wikipedii.
---
---