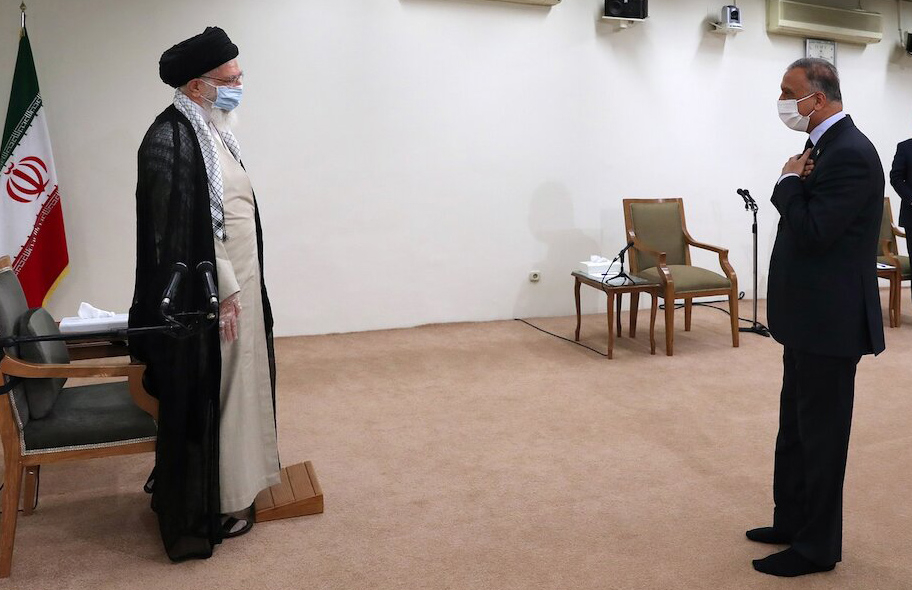 Irańscy mułłowie nadal mieszają się w wewnętrzne sprawy krajów arabskich, zwłaszcza Iraku, Syrii, Libanu i Jemenu. Nowe prawo Iraku kryminalizujące "normalizację" z Izraelem jest kolejnym przykładem tego, jak Iran i jego sojusznicy czują się wystarczająco pewnie, by kontynuować swoje złowrogie i ekspansjonistyczne plany na Bliskim Wschodzie. Na zdjęciu: najwyższy przywódca Iranu, ajatollah Ali Chamenei, przyjmuje premiera Iraku Mustafę al-Kadhimiego w Teheranie, 21 lipca 2020 r. (Zdjęcie: khamenei.ir)
---
Khaled Abu Toameh
Tłumaczenie: Małgorzata Koraszewska
---
Irańscy mułłowie nadal mieszają się w wewnętrzne sprawy krajów arabskich, zwłaszcza Iraku, Syrii, Libanu i Jemenu.
Równocześnie administracja USA i inne mocarstwa zachodnie nadal łudzą się, myśląc, że ugłaskiwanie władców Iranu i podpisanie z nimi nowego porozumienia nuklearnego przyniesie bezpieczeństwo i stabilność na Bliskim Wschodzie i w reszcie świata.
Celem irańskich mułłów jest rozszerzenie swojej kontroli na jak najwięcej krajów, wykorzystując swoje terrorystyczne marionetki, w tym Hamas i Palestyński Islamski Dżihad w Strefie Gazy, Hezbollah w Libanie i milicję Huti w Jemenie.
Wysiłki mułłów nie ograniczają się jednak do użycia siły militarnej i terroryzmu w czterech krajach arabskich.
Władcy Iranu również dążą do zwiększenia swoich wpływów politycznych w tych krajach. Ich celem jest przekształcenie Iranu w supermocarstwo i głównego gracza na Bliskim Wschodzie w czasie, gdy wpływy USA w regionie wydają się słabnąć.
Irańscy mułłowie i ich sojusznicy chcą również upewnić się, że żadni więcej Arabowie i muzułmanie nie zawrą pokoju z Izraelem.
Nie trzeba dodawać, że irańscy mułłowie są nie tylko przeciwni pokojowi z Izraelem. Oni i ich pełnomocnicy wielokrotnie powtarzali, że ich prawdziwym celem jest likwidacja Izraela.
Teraz mułłowie mają wszelkie powody do zadowolenia. Ich wysiłki, by powstrzymać Arabów przed podpisaniem porozumień pokojowych z Izraelem, zakończyły się sukcesem, gdy parlament Iraku przegłosował prawo kryminalizujące normalizację stosunków z "tworem syjonistycznym". Według nowo uchwalonego prawa grozi za to kara śmierci.
To prawo jest to ogromnym darem dla Iranu i jego sojuszników w Iraku. Z drugiej strony jest to dotkliwy cios dla tych Irakijczyków i Arabów, którzy chcą zawrzeć pokój z Izraelem, ale teraz boją się Iranu i jego marionetek.
"Izba Reprezentantów [Iraku] głosowała podczas dzisiejszej sesji nad proponowaną ustawą kryminalizującą normalizację z tworem syjonistycznym" – oświadczył parlamentarny wydział mediów.
Nowe prawo przewiduje kary, w tym karę śmierci, dożywocie lub czasowe pozbawienie wolności, i ma na celu, zgodnie z pierwszym artykułem, "uniemożliwienie nawiązania stosunków dyplomatycznych, politycznych, wojskowych, gospodarczych, kulturalnych lub jakiejkolwiek innej formy stosunków z tworem syjonistycznym".
Innymi słowy, Irak mówi: "Zabijemy każdego Irakijczyka, który odważy się zaangażować w jakąkolwiek formę normalizacji stosunków z izraelskimi Żydami". To ostrzeżenie przyniosło oczywiście radość przywódcom Iranu.
Nic dziwnego, że Palestyńczycy z zadowoleniem przyjęli uchwalenie przez parlament iracki ustawy kryminalizującej normalizację stosunków z Izraelem. Palestyńczycy zawsze byli jednymi z pierwszych, którzy potępiali każdego Araba, który rozmawia z Izraelem lub stara się zawrzeć z nim pokój.
Rouhi Fattouh, szef Palestyńskiej Rady Narodowej, organu ustawodawczego OWP, powiedział, że "zajmowanie honorowego stanowiska nie jest obce Irakowi, który jest znany ze swojego politycznego i ekonomicznego wsparcia dla narodu palestyńskiego".
Fattouh wezwał parlamenty arabskie i islamskie do pójścia za przykładem Iraku w sprawie kryminalizacji normalizacji stosunków z Izraelem, który, jak twierdził, dokonuje "najbardziej ohydnych zbrodni" wobec narodu palestyńskiego oraz jego islamskich i chrześcijańskich ziem i świętości.
Warto zauważyć, że Fattouh jest wysokim rangą urzędnikiem OWP, organizacji, która w latach 1993-1995 podpisała porozumienia z Oslo z Izraelem. Następnie były przywódca OWP, Jaser Arafat, wysłał list do izraelskiego premiera Icchaka Rabina, twierdząc, że organizacja uznaje prawo Izraela do istnienia.
Fattouh jest hipokrytą: jego sprzeciw wobec normalizacji stosunków z Izraelem stoi w ostrej sprzeczności z Porozumieniami z Oslo między OWP a Izraelem.
Od czasu podpisania Porozumień z Oslo przywódcy OWP, w tym Mahmoud Abbas, rozmawiają i prowadzą interesy z Izraelczykami prawie codziennie.
Iran również pochwalił prawo, mówiąc, że jest źródłem dumy i oznaką "odważnej" pozycji narodu irackiego.
Jednak podczas gdy Iran i Palestyńczycy, w tym Hamas, świętowali nowe prawo, niektórzy iraccy pisarze i dziennikarze stwierdzili, że prawo to przynosi efekt przeciwny do zamierzonego i służy jedynie interesom Iranu.
Niektórzy ostrzegali nawet, że prawdziwym zamiarem Iranu jest zniszczenie i odizolowanie Iraku.
"Za tym prawem, którego Irakijczycy nie potrzebują, stoi irańskie pragnienie odizolowania Iraku od świata" – napisał iracki autor Farouk Jusef.
"Iran, a nie Izrael, jest największym nieszczęściem Iraku. Iran, który nie zostawił w spokoju żadnego miejsca w Iraku, stara się poprzez skandaliczne prawo zniszczyć relacje Iraku z zagranicznymi firmami. Będą one obawiać się współpracy z krajem, który może w każdej chwili umieścić je na liście krajów współpracujących z Izraelem. I Iran jest jedynym beneficjentem izolowania Iraku od świata, gdy sam rozwija swój globalny zasięg".
Jusef powiedział, że większość Irakijczyków zdaje sobie sprawę, iż Iran jest dla nich bardziej niebezpieczny niż Izrael. Dodał, że Irakijczycy woleliby, aby prawo kryminalizowało działalność na rzecz Iranu, ponieważ nie chcą skończyć jak Liban, który został zniszczony przez Hezbollah.
Według Jusefa Irak traci suwerenność, podczas gdy jego politycy grożą bojkotem Izraela, który nie ingeruje w wewnętrzne sprawy Iraku. "Ta gra jest częścią irackiej katastrofy" – ubolewał.
Iracki dziennikarz Hamid Al-Kifaey także ostrzegał, że nowe prawo kryminalizujące normalizację stosunków z Izraelem odizoluje Irak od reszty świata i podporządkuje go tylko jednemu krajowi – Iranowi. Al-Kifaey zwrócił uwagę, że także Iran w przeszłości współpracował z Izraelem, kupował od niego broń i wymieniał z nim dane wywiadu wojskowego przez cały okres wojny iracko-irańskiej:
"Współpraca irańsko-izraelska była dobrze znana, chociaż nie była upubliczniona… Każdy, kto zapozna się z zapisami z lat 80., dowie się o bezpośrednich transakcjach między Iranem a Izraelem, z których najważniejszą jest sprzedaż broni USA, warta 2 miliardy dolarów rocznie".
Al-Kifaey napisał, że nadszedł czas, aby naród iracki zajął jasne stanowisko w sprawie powiązanych z Iranem sił politycznych "które starają się ich zwodzić, bawić się ich uczuciami i manipulować ich interesami w imię zasad, honoru, patriotyzmu i religia".
Zauważył, że kwestia normalizacji stosunków między Irakiem a Izraelem i tak nie była przedmiotem dyskusji, co rodzi pytania o moment wybrany na uchwalenie prawa:
"Sprawa w ogóle nie była podniesiona … Siły powiązane z Iranem oskarżają każdego, kto odmawia podporządkowania się Iranowi, o dążenie do normalizacji stosunków z Izraelem. Siły te próbują wykorzystać silne uczucia Irakijczyków wobec Palestyny i jej narodu".
Iracki pisarz i politolog Akeel Abbas zauważył, że naruszenie nowego prawa "może prowadzić do kary śmierci lub dożywocia bez możliwości złagodzenia kary".
Abbas zwrócił uwagę, że obecna wersja prawa może nawet obejmować "każdego, kto choćby przeczytał książkę izraelskiego autora, która mówi o konflikcie".
Wyraził obawę, że ustawa może być wymierzona w przeciwników politycznych protestujących przeciwko korupcji elity rządzącej w Bagdadzie. Działacze antykorupcyjni są często oskarżani przez rząd o bycie "agentami Izraela".
W ten sposób arabskie dyktatury zwyczajowo starają się zdyskredytować opozycję lub każdego, kto wypowiada się przeciwko korupcji i złemu rządowi: oskarżając ich o to, że są izraelskimi lub amerykańskimi szpiegami i zdrajcami.
Abbas pisał, że prawo stanowi "pogwałcenie prawa obywatela Iraku do myślenia, czytania i wypowiadania poglądów".
W innym artykule Abbas napisał, że prawo "otwiera szerokie drzwi tyranii w Iraku… [oraz] radykalnie i wyraźnie narusza dwie podstawowe zasady zawarte w irackiej konstytucji, która zakazuje uchwalania prawa sprzecznego z zasadami demokracji oraz podstawowymi prawami i wolnością".
Abbas ostrzegł również, że prawo "wyrządzi więcej niesprawiedliwości niewinnym Irakijczykom i doprowadzi do większych napięć etnicznych w kraju".
Ekspert prawny Maitham Handal również wyraził obawę, że nowe prawo zostanie wykorzystane do "zakneblowania wolności" i użyte jako broń przeciwko oponentom politycznym.
Nowe prawo w Iraku jest kolejnym przykładem tego, jak Iran i jego sojusznicy czują się wystarczająco pewnie, by kontynuować swoje złowrogie i ekspansjonistyczne plany na Bliskim Wschodzie, podczas gdy USA i inne mocarstwa zachodnie nadal szukają sposobów na wznowienie utkniętych negocjacji z mułłami w Iranie nad osiągnięciem nowego porozumienia nuklearnego.
Ponadto, podczas gdy Rosja traci tysiące żołnierzy próbując przejąć Ukrainę, Iran, nawet nie ruszając palcem, po cichu wypełnia pustkę pozostawioną przez Rosjan opuszczających Syrię.
Iran nie czeka, aż zdobędzie broń nuklearną, aby kontynuować swoje plany. Zamiast tego rozprzestrzenia swoją agresję jak śmiertelny wirus do innych narodów muzułmańskich.
A może administracja Bidena i społeczność międzynarodowa potajemnie chcą zniszczenia Izraela i państw Zatoki Perskiej?
---
---