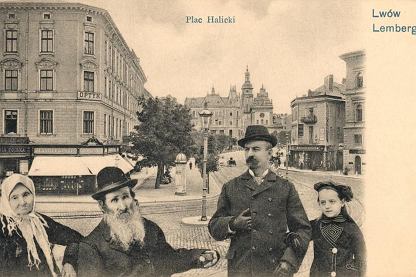 Lwów (Galicja), pocztówka z 1902 r. (domena publiczna)
---
Maciej Janowski
---
Niby wiedziałem, że historia Galicji nie jest tylko historią Polaków, ale inna rzecz wiedzieć coś w teorii, a inna – odczuć ogrom swojej ignorancji.
.
Ogromnie się ucieszyłem, kiedy dostałem zaproszenie do Jerozolimy na konferencję naukową poświęconą historii Galicji. Przyszedł COVID i panele przełożono na następny rok, a potem na jeszcze następny, bo pandemia nie chciała się skończyć. Wreszcie konferencja doszła do skutku, choć z powodu wojny nie mogło przybyć wielu zaproszonych badaczy ukraińskich. Nie będę opisywał niezwykłych wrażeń turystycznych z Jerozolimy, napiszę o samej konferencji, jednej z ciekawszych, w jakich uczestniczyłem. Leciałem 11 czerwca br. do Jerozolimy w miłym przekonaniu, że znam, lepiej lub gorzej, historię zaboru austriackiego. Wracałem do Warszawy, 17 czerwca, z przekonaniem wprost przeciwnym.
Jidyszowa inteligencja otwarta na kulturę europejską
Oto dowiedziałem się (z wykładu profesora Ofera Dynesa z Nowego Jorku), że w latach 40. XIX w. ktoś (nie zanotowałem kto, więc muszę poczekać do publikacji tomu pokonferencyjnego) napisał we Lwowie komedię w języku jidysz. Taka informacja – jeśli się nad nią zastanowić – przewraca właściwie do góry nogami wszystko, co myślałem, że wiem na temat historii Galicji. Zawsze mi się wydawało, że inteligencja żydowska pisząca w języku jidysz była czymś marginalnym przynajmniej do końca XIX w. Sądziłem, że przez niemal cały XIX w. ludzie wywodzący się ze społeczności żydowskiej, wykształceni na sposób zachodni, ci, którzy mogą interesować się teatrem, przechodzili na język polski albo niemiecki. Myślałem, że dopiero w ostatniej dekadzie XIX w. zaczęto używać jidysz czy hebrajskiego dla przekazywania treści świeckiej kultury zachodniej.
Okazuje się, że było inaczej.
Przecież jeśli w latach 40. napisał ktoś "fredrowską" komedię w jidysz, to znaczy, że musiała istnieć jakaś grupa żydowskiej jidyszowej inteligencji na tyle otwarta na kulturę europejską, aby tworzyć świeckie utwory teatralne, na tyle towarzysko zorganizowana, aby móc sobie tę komedię jakoś po amatorsku wystawić, choć zapewne bez dekoracji i kostiumów: autor referatu przypuszcza, że takie domowe wystawienie miało raczej charakter czytania z podziałem na role. To wszystko tworzy zupełnie odmienny od podręcznikowego obraz społeczeństwa zaboru austriackiego.
Lwów (Galicja), pocztówka z 1904 r. domena publiczna
Na tej konferencji dowiedziałem się też wielu innych rzeczy o historii galicyjskich Żydów i Ukraińców: o pewnej książce wydanej we Lwowie w 1891 r., a poświęconej obyczajom żydowskim, która jest do dzisiaj wznawiana (referat Benjamina Browna); o ukraińskich XIX-wiecznych autorach piszących na tematy społeczne w związku z rozwojem przemysłu naftowego w Borysławiu i niewyobrażalną nędzą tamtejszych robotników (bardzo ciekawy referat Jarosława Hrycaka).
I kiedy słuchałem tych wykładów, kiedy rozmawiałem w czasie przerw na kawę, kiedy zabierałem głos w dyskusjach, wtedy dobitnie uświadomiłem sobie siłę niewidzialnych granic dzielących nas wszystkich – historyków piszących dzieje Polaków, Żydów i Ukraińców w Galicji. Wiele spraw dotyczących Polaków w Galicji jest dla badaczy historii galicyjskich Żydów podobnym zaskoczeniem jak kwestie żydowskie – dla mnie. Historycy obracają się w kręgu badanej przez siebie narodowości, a tym samym nawet tej jednej narodowości nie są w stanie zrozumieć. Niby wiedziałem od dawna, że historia Galicji nie jest tylko historią Polaków, ale inna rzecz wiedzieć coś w teorii, a inna – boleśnie odczuć ogrom swojej ignorancji.
Idea Galicji
Nieliczni historycy, jak Amerykanin Larry Wolff (również obecny na konferencji), którego bardzo ciekawa "Idea Galicji" opublikowana została po polsku w ubiegłym roku, potrafią ogarnąć ponadnarodową całość historii i kultury galicyjskiej. To jest jedno z najtrudniejszych zadań dla historyka: dostrzegać przedmiot swojego badania jako całość, a zarazem różnorodność.
Właściwe po tym wstępie powinienem przedstawić swoją wizję historii Polski różnorodnej – wieloetnicznej, wielojęzykowej, wielokulturowej. Sęk w tym, że (jeszcze?) nie umiem.
Jest to niezwykle trudne – z przyczyn czysto naukowych, a nie politycznych. Mimo to trzeba próbować. Takie podejście daje bowiem unikatową szansę odświeżenia historii Polski – zdawałoby się, tak dla nas wszystkich oczywistej. Pozwoli dostrzec rzeczy dotąd nieznane, które sprawią być może, że wyłoni się nam zupełnie inny obraz dziejów Polski od tego, do którego jesteśmy przyzwyczajeni. Jaki to będzie obraz? – zobaczymy.
---
Maciej Janowski – historyk, zajmuje się dziejami Polski i Europy w XIX w.
---
---