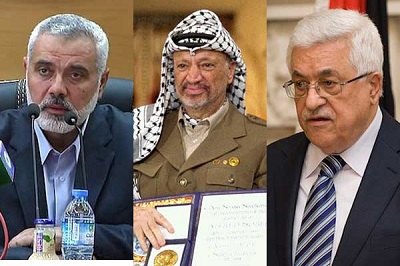 Ogromna większość Palestyńczyków daje jasno do zrozumienia, że nie wierzy w "rozwiązanie w postaci dwóch państw" i wolałaby, aby grupa terrorystyczna Hamas zastąpiła Autonomię Palestyńską kierowaną przez Mahmouda Abbasa. Na zdjęciu: Izmail Hanija, Mahmoud Abbas, a w środku ojciec palestyńskiego narodu Jaser Arafat
---

Khaled Abu Toameh
Tłumaczenie: Małgorzata Koraszewska
---
Podczas gdy administracja Bidena nadal mówi o swoim zaangażowaniu w "rozwiązanie w postaci dwóch państw", większość Palestyńczyków mówi, że popiera islamską grupę terrorystyczną Hamas i chce więcej ataków terrorystycznych na Żydów.
Administracja Bidena żyje w iluzji, że "rozwiązanie w postaci dwóch państw", które oznaczałoby ustanowienie niezależnego i suwerennego państwa palestyńskiego obok Izraela, jest jedynym sposobem na osiągnięcie pokoju, bezpieczeństwa i stabilności na Bliskim Wschodzie.
Jednak zdecydowana większość Palestyńczyków daje do zrozumienia, że nie wierzą w "rozwiązanie w postaci dwóch państw" i wolałaby, aby Hamas, wspierana przez Iran grupa terrorystyczna, której statut wzywa do eliminacji Izraela, zastąpił Autonomię Palestyńską, organ kierowany przez Mahmouda Abbasa.
30 czerwca sekretarz stanu USA Antony Blinken rozmawiał z Abbasem, aby omówić zbliżającą się podróż prezydenta Joe Bidena na Bliski Wschód.
"Sekretarz Blinken podkreślił zaangażowanie USA w poprawę jakości życia ludności palestyńskiej w namacalny sposób oraz poparcie administracji dla wynegocjowanego rozwiązania w postaci dwóch państw" – powiedział rzecznik Departamentu Stanu Ned Price.
W przeddzień wizyty Bidena w Izraelu, Zachodnim Brzegu i Arabii Saudyjskiej sondaż opinii publicznej przeprowadzony przez Palestyńskie Centrum Badań Polityki i Badań wskazał na znaczny spadek poparcia Palestyńczyków dla "rozwiązania w postaci dwóch państw" i wzrost w poparciu powrotu do zbrojnej intifady (powstania) i ataków terrorystycznych w Izraelu.
Według wyników sondażu sprzeciw wobec koncepcji "rozwiązania w postaci dwóch państw" wynosi 69%. 75% respondentów wyraziło również sprzeciw wobec idei rozwiązania w postaci jednego państwa, w którym Izraelczycy i Palestyńczycy żyliby razem i cieszyliby się równymi prawami.
Sondaż wykazał, że 55% Palestyńczyków popiera powrót do konfrontacji zbrojnych i intifady, co stanowi wzrost z 51% popierających powrót do przemocy trzy miesiące temu.
Ponadto większość (59%) stwierdziła, że popiera ataki terrorystyczne przeprowadzane w Izraelu przez Palestyńczyków w ciągu ostatnich kilku miesięcy.
Zdecydowana większość Palestyńczyków (69%) jest również przeciwna bezwarunkowemu wznowieniu palestyńsko-izraelskich negocjacji pokojowych. 65% jest przeciwnych dialogowi z administracją Bidena.
Sondaż wykazał, że większość Palestyńczyków nie ma zaufania do Abbasa, z którym ma do czynienia administracja Bidena.
Z sondażu wynika, że gdyby dziś odbyły się nowe wybory prezydenckie, przywódca Hamasu Ismail Hanija otrzymałby 55% głosów, podczas gdy Abbas tylko 33%.
Siedemdziesiąt trzy procent Palestyńczyków wyraziło niezadowolenie z rządów Abbasa, a kolejne 77% stwierdziło, że chce, aby zrezygnował.
Większość Palestyńczyków powiedziała, że Hamas najbardziej zasługuje na reprezentowanie i przewodzenie narodowi palestyńskiemu.
Rosnąca popularność Hamasu wśród Palestyńczyków oznacza, że państwo palestyńskie, które administracja Bidena chce ustanowić obok Izraela, wkrótce będzie rządzone przez grupę islamistów, której Karta stanowi, że "Izrael będzie istniał, dopóki islam go nie unicestwi, tak jak Islam unicestwiał przed nim innych".
Ponieważ większość Palestyńczyków chce zastąpić Abbasa przywódcą Hamasu, oznacza to, że proponowane państwo palestyńskie będzie zobowiązane do przestrzegania statutu grupy terrorystycznej, która nie wierzy w prawo Izraela do istnienia.
W przypadku, gdyby administracja Bidena i reszta społeczności międzynarodowej nie byli świadomi programu Hamasu, powinni przyjrzeć się temu, co mówi Karta tej grupy terrorystycznej.
Artykuł 11 Karty stanowi:
"Islamski Ruch Oporu wierzy, że ziemia Palestyny jest islamskim wakf uświęconym dla przyszłych pokoleń muzułmańskich aż do Dnia Sądu Ostatecznego. Nie należy go trwonić ani żadnej jego części; ani oddać go, ani żadnej jego części. Ani pojedynczy kraj arabski, ani wszystkie kraje arabskie, ani żaden król lub prezydent, ani wszyscy królowie i prezydenci, ani żadna organizacja, ani wszystkie one, czy to Palestyńczycy, czy Arabowie, nie mają do tego prawa".
Karta (artykuł siódmy) przypomina muzułmanom słynny hadis przypisywany prorokowi Mahometowi:
"Dzień Sądu nie nadejdzie, aż muzułmanie będą walczyć z Żydami, a Żyd ukryje się za kamieniami i drzewami. Kamienie i drzewa powiedzą: O muzułmaninie, o Abdullah, za mną jest Żyd, przyjdź i zabij go".
Palestyńskie państwo, na powstanie którego naciska administracja Bidena, bez wątpienia zostanie wykorzystane przez Hamas i jego patronów w Iranie jako odskocznia do unicestwienia Izraela.
Przywódcy Hamasu zawsze mówili wyraźnie i konsekwentnie w swoim zamiarze wyeliminowania Izraela i zabicia Żydów.
Podczas niedawnej wizyty w Libanie Hanija, preferowany przez Palestyńczyków kandydat na prezydenta, stwierdził, że "nie ma przyszłości" dla Izraela na "ziemi palestyńskiej".
Hanija ogłosił, że Hamas przygotowuje się do "strategicznej bitwy" z Izraelem. "Twór syjonistyczny stoi przed czarną przyszłością z powodu islamskiego oporu" – powiedział, chwaląc Palestyńczyków, którzy przeprowadzają ataki terrorystyczne przeciwko Izraelowi.
Haniyeh powiedział, że w przypadku nowej konfrontacji militarnej z Izraelem, Hamas zniszczy "twór syjonistyczny" w ciągu kilku minut. "Syjonistyczna jednostka zostanie uderzona 150 rakietami w mniej niż pięć minut" – zagroził.
Podczas wizyty w Libanie przywódca Hamasu wziął udział w spotkaniu tzw. Narodowej Konferencji Islamskiej wraz z przywódcami wspieranej przez Iran terrorystycznej milicji Hezbollahu. W konferencji wzięli również udział przedstawiciele kilku krajów arabskich, m.in. Egiptu, Libii, Kuwejtu, Syrii, Maroka, Jordanii, Jemenu, Libanu i Algierii.
Konferencja wyraziła pełne poparcie dla Hamasu i terroryzmu przeciwko Izraelowi oraz zaatakowała kraje arabskie, które ustanowiły normalizację stosunków z Izraelem.
"Konferencja odnotowuje osiągnięcia i bohaterstwo palestyńskiego ruchu oporu w walce z wrogiem syjonistycznym" – czytamy w oświadczeniu wydanym przez uczestników na zakończenie spotkania. "Konferencja popiera wszelkie formy oporu w obliczu syjonistycznego wroga".
Konferencja potępiła starania niektórych krajów arabskich by "normalizować [stosunki] z wrogiem syjonistycznym i otworzyć ich kraje na jego armię, gospodarkę, osadników i polityków". Ponadto potępiono starania krajów arabskich "aby zawrzeć sojusze wojskowe z wrogiem syjonistycznym" i wezwano do anulowania porozumień z Oslo podpisanych w 1993 roku między Izraelem a OWP. Konferencja stwierdziła, że "potwierdza prawo narodu palestyńskiego do ich historycznej ziemi od rzeki [Jordan] do Morza [Śródziemnego]".
To oświadczenie jest ogromnym bodźcem dla Hamasu, ponieważ konferencja faktycznie poparła wysiłki grupy terrorystycznej mające na celu zniszczenie Izraela i zastąpienie go wspieranym przez Iran państwem islamskim, rządzonym przez Haniję i mułłów w Teheranie.
Hamas i jego zwolennicy nie wierzą w "rozwiązanie w postaci dwóch państw" Bidena ani w jakikolwiek proces pokojowy z Izraelem. Jedyne rozwiązanie, którego chcą, to takie, w którym Izrael i Żydzi znikną z tego świata. Niestety, większość Palestyńczyków (o czym świadczy najnowszy sondaż) podziela ideologię Hamasu i chce, aby zabito jeszcze więcej Żydów.
Administracja Bidena musi zrozumieć, że w obecnych okolicznościach propagowanie idei "rozwiązania w postaci dwóch państw" jest równoznaczne z propagowaniem rozlewu krwi i przemocy na Bliskim Wschodzie.
Administracja musi również zrozumieć, że Abbasowi, palestyńskiemu przywódcy, z którym próbuje się zaangażować i na którym polega, aby zawrzeć pokój, całkowicie brakuje poparcia większości swojego narodu dla jakiegokolwiek planu pokojowego z Izraelem.
---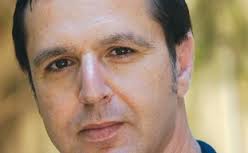 Khaled Abu Toameh – urodzony w 1963 r. w Tulkarem na Zachodnim Brzegu, palestyński dziennikarz, któremu wielokrotnie grożono śmiercią. Publikował między innymi w "The Jerusalem Post", "Wall Street Journal", "Sunday Times", "U.S. News", "World Report", "World Tribune", "Daily Express" i palestyńskim dzienniku "Al-Fajr". Od 1989 roku jest współpracownikiem i konsultantem NBC News.
---
---