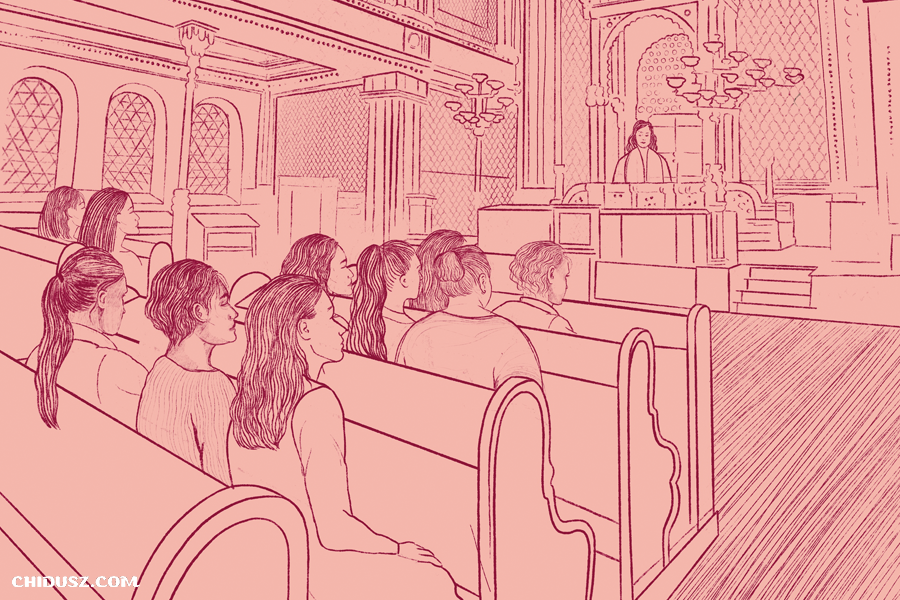 Fragment okładki "Chiduszu" 6/2022. Autorka: Katarzyna Modzelewska
---
REDAKCJA
---
ZOBACZ, O CZYM PISZEMY W TYM NUMERZE "CHIDUSZU". 
.
Choć wszyscy dobrze wiemy, że Bóg «w rzeczywistości» przewyższa rozróżnienie na płcie, zawsze mówimy o nim w męskich kategoriach. I nie chodzi tylko o to, że do opisu Boga używamy męskich zaimków (…). Wyobrażenia Boga zaczerpnięte są z męskiej strony stereotypowego podziału płci. Bóg jest więc naszym Ojcem, Panem, Królem, Pasterzem, a nigdy Królową czy Matką. (…) Kobietom odebrano prawo do nazywania. Począwszy od dnia, w którym Bóg przyprowadził do ogrodu Eden zwierzęta i kazał Adamowi je nazwać, poznajemy świat i zwracamy się do niego słowami mężczyzn.
To fragmenty kolejnych dwóch esejów wybitnej żydowskiej feministycznej teolożki Judith Plaskow z książki Nadejście Lilit, które publikujemy w "Chiduszu" 6/2022 w przekładzie Joli Różyło. W symboliczny sposób pokazujemy je na okładce: w modlitwie w synagodze uczestniczą tylko kobiety. Babińce – w tym przypadku balkony – są puste. Modlitwie przewodzi rabinka. Dystansujemy się od męskocentrycznego języka opisu Boga, wykorzystywanego jako narzędzie do wykluczenia kobiet (nie tylko) z religijnego przywództwa.
MĘSKA TEOLOGIA A DOŚWIADCZENIE KOBIECE
W eseju Męska teologia a doświadczenie kobiece Judith Plaskow dowodzi, że tworzenie przez wieki teologii prawie wyłącznie przez mężczyzn zniekształciło religijną wizję Boga i ogólnoludzkiego doświadczenia: Mój argument jest prosty: większość teologii jest pochodną specyficznego, męskiego doświadczenia i nazywania rzeczywistości, które wpłynęły na stworzenie jednostronnej wizji świata. Udając, że jest inaczej, zamykamy oczy na destruktywne efekty – w sferze osobistej, politycznej, teologicznej – jakie może nieść owa jednostronność. Tracimy również możliwość uczłowieczenia teologii dzięki celowemu uzupełnieniu jej o doświadczenie kobiece. Przeczytaj dalsze fragmenty eseju…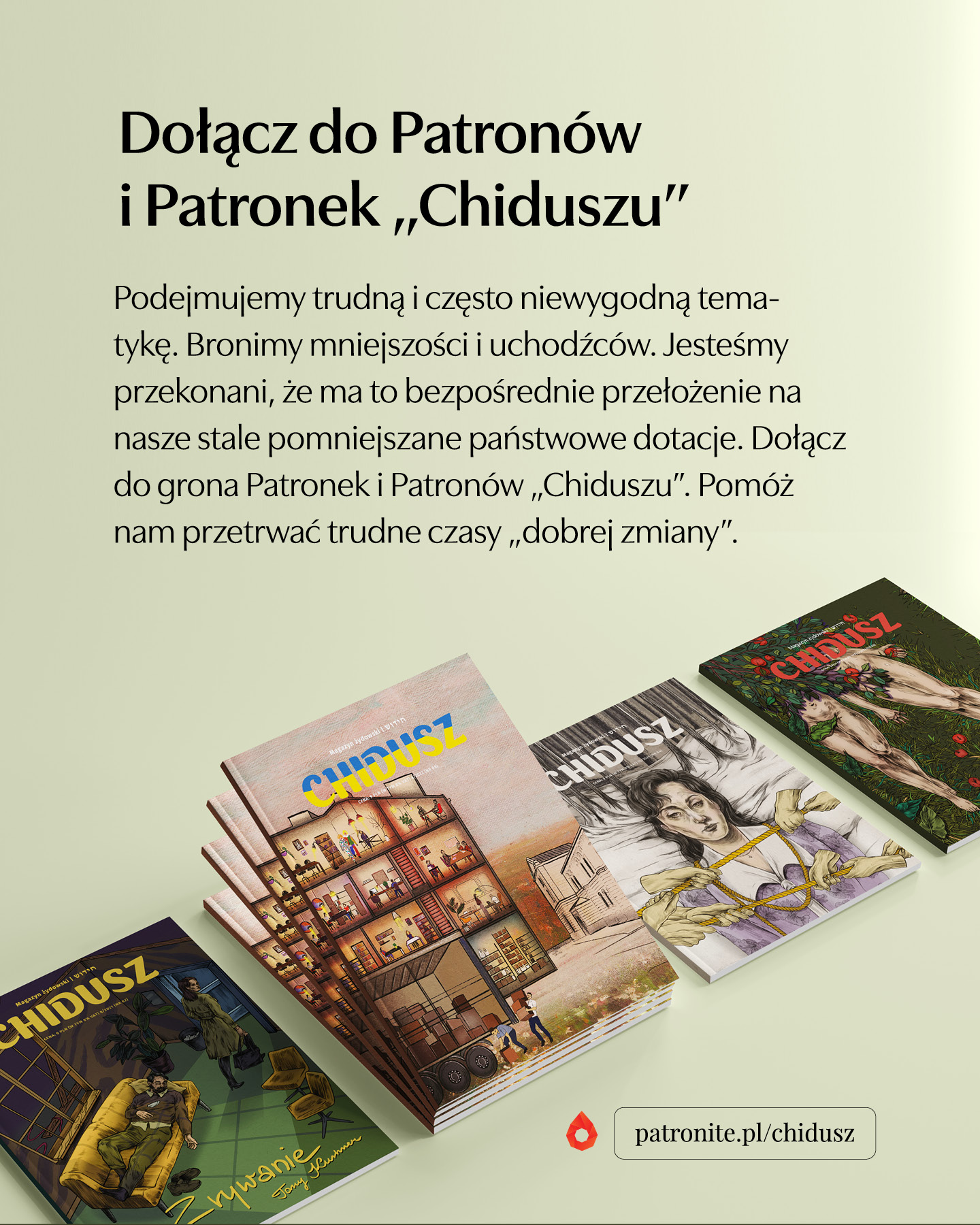 ŻYDOWSKA FEMINISTKA. KONFLIKT TOŻSAMOŚCI
W tekście Żydowska feministka. Konflikt tożsamości Plaskow wyjaśnia problematyczność stosunku kobiet do tradycji religijnej – i odwrotnie: Zebrałyśmy się tutaj, ponieważ świecki ruch na rzecz wyzwolenia kobiet sprawił, że konieczne jest przedyskutowanie pewnych żydowskich problemów; bo nie pozwolimy, aby definiowano nas jako Żydówki w sposób, w jaki nie godzimy się, aby definiowano nas jako kobiety. Prowadzi to do dysonansu nie wyłącznie – i nie przede wszystkim – dlatego, że ruch kobiecy jest ruchem świeckim, którego wartości staramy się zaaplikować do starożytnej tradycji religijnej, ale ponieważ ruch ten stanowi odrębną wspólnotę, wokół której być może chciałybyśmy zbudować nasze życia. Konflikt między dwiema różnymi społecznościami to zatem pierwszy poziom, na którym doświadczam kolizji między byciem kobietą a byciem Żydówką. Przeczytaj fragmenty eseju…
PODRABIANY DISNEYLAND. CZ. I
Podrabiany Disneyland w tłumaczeniu Joli Różyło to już drugie opowiadanie Shelly Orii z debiutanckiego zbioru Nowy Jork 1, Tel Awiw 0, które publikujemy w "Chiduszu". Autorka porusza w swojej prozie cały wachlarz tematów – pisze o uzależnieniach, poliamorii, rodzicielstwie, emigracji. Powracającym wątkiem tych pełnych intymnych momentów historii, opowiadanych prosto i szczerze, są izraelsko-amerykańskie różnice kulturowe, niezadowolenie z życia w ojczyźnie, ale także trudności związane ze znalezieniem sobie miejsca w nowym świecie. Podrabiany Disneyland to historia mężczyzny, który bardzo chciałby poznać lepiej swoją ośmioletnią córkę Maję, ale brakuje mu dojrzałości i zdecydowania – nie tylko zresztą jako ojcu, ale też partnerowi, artyście, Izraelczykowi. Awner musi wziąć spawy w swoje ręce, ale przeszkadzają mu w tym jego paranoidalna natura i apodyktyczne kobiety, którymi się otacza.  
Była już piąta rano. Awner i Maja przedzierali się przez tłum na Penn Station. Dokąd biegli ci wszyscy ludzie tak wcześnie rano? Bał się, że ją zgubi, więc spróbował jeszcze raz. "No dalej, daj mi rękę". Ale jego dłoń była mokra od potu – już mu to mówiła. Przyłożyła policzek do ramienia, mówiąc tym samym: nie, dzięki. Awner pomyślał, że chciałby żyć w świecie, w którym takim gestem mogliby posługiwać się dorośli mężczyźni. 
Zauważył, że Maja patrzy na jego beret. A może nie? Może tylko mu się wydawało? Winił za to Netę. Kiedy zadzwoniła, by oznajmić, że "nadała przesyłkę", tuż przed odłożeniem słuchawki powiedziała:
– Awner, jeszcze jedno. Nie noś tej śmiesznej czapki, dobrze? Ona się jej wstydzi.
W s t y d z i  s i ę – co za paskudne określenie. 
– To nie Izrael, Neta. W Nowym Jorku ludzie noszą, co im się podoba.
– W Tel Awiwie też, tyle że tutaj powiedzą ci wprost, jeśli idiotycznie wyglądasz – odpowiedziała. – Poza tym ona jest małą dziewczynką i powoli wchodzi już w ten wiek. Po prostu zrób, o co cię proszę.
Awner westchnął do telefonu. 
– Neta, jeśli moja córka chce mnie o coś poprosić, to powinna sama to zrobić.
Od kiedy przeprowadził się do Nowego Jorku, potrafił się czasami postawić Necie w takich drobnych sytuacjach.
– Zachowujesz się jak nastolatek, Awner.
Przełożyła Jola Różyło
CHAIM GRADE. FAKTY Z ŻYCIA CZ. IV
Ostatnia część artykułu o życiu i twórczości wybitnego jidyszowego pisarza Chaima Gradego, autora powieści Aguna, wydawanej – po raz pierwszy w tłumaczeniu na język polski – w "Chiduszu". Tekst jest wynikiem badań nad archiwum autora, przeprowadzonych przez historyczkę literatury Susanne Klingenstein i badacza Yehudah DovBera Zirkinda – absolwenta Uniwersytetu Telawiwskiego, pracującego obecnie dla David Cardozo Academy w Jerozolimie. Czwarta część artykułu opowiada o powojennym życiu Gradego –  jego powrocie do Wilna i ostatecznej emigracji przez Paryż do Stanów Zjednoczonych.
We Francji Grade nie był szczęśliwy. "Paryż mnie dołuje" – pisał do Opatoszu. "Żydowski styl życia jest tutaj jak modlitwa udręczonego sklepikarza, tyle że bez szabesu". Nowy Jork jako nieprzejednane miasto emigrantów był otwarty i różnorodny. W listopadzie 1948 roku Chaim i Inna zamieszkali przy Sedgwick Avenue w Bronksie, a rok później przenieśli się do mieszkania przy 100 Van Cortlandt Park. Inna, wtedy dwudziestotrzylatka, znalazła pracę w Nowojorskiej Bibliotece Publicznej, a we wrześniu 1949 roku zapisała się na studia w New School of Social Research. W 1951 roku zaczęła doktorat z komparatystyki na Columbia University, ale nigdy go nie ukończyła.
Przełożyła Jola Różyło
AGUNA
SIÓDMY ODCINEK WYBITNEJ POWIEŚCI CHAIMA GRADEGO
Od "Chiduszu" 10/2021 publikujemy pierwsze polskie tłumaczenie Aguny Chaima Gradego w przekładzie Magdaleny Wójcik. W kolejnym odcinku będziemy m.in. świadkami dramatycznych wydarzeń między reb Lewim a jego córką Cirele: Reb Lewi rzuca się w jej stronę, lecz potyka się o coś i ciężko upada na próg. Cirele miała zamiar wyślizgnąć się niezauważona, lecz gdy widzi, że oczy wszystkich zwrócone są na nią, z hukiem otwiera drzwi na oścież. (…)
– Wypuśćcie mnie! – rozlega się dziecięcy płacz. – Chcę iść do panny młodej z kwiatami we włosach. Jej narzeczony ją opuścił, a ona mnie przeklęła, przeklęła mnie na pogrzebie dziadka! Nigdy nie wyjdę za mąż. Teraz jej narzeczony wrócił, więc ona nie jest już aguną…
– Córko! – reb Lewi przyciska czoło do drzwi, jakby przytulał się do jej ramienia.
– Wypuśćcie mnie! – dziewczyna zaczyna walić pięściami z drugiej strony. – Muszę iść powiedzieć pannie młodej z kwiatami we włosach, żeby uciekała razem z narzeczonym.
– Trzeba zawołać sąsiadów! – krzyczy ktoś.
– Niech przyjedzie karetka! – wtóruje mu kto inny.
– Nie! – rzęzi reb Lewi i jeszcze mocniej przyciska się do drzwi. – Ona się uspokoi!
– Nigdy się nie uspokoję! – Cirele miota się w zamkniętym pokoju. – Zbójco, nie uspokoję się! Chcesz rozdzielić pannę młodą z kwiatami we włosach od narzeczonego i zamknąć ją w domu wariatów. Tak jak zamknąłeś mnie i mamę!
– Wyskoczy przez okno! – mówi ktoś, drżąc przy tym ze strachu.
– A niech skacze! Niech skacze! – reb Lewi także zaczyna walić pięściami w drzwi, jakby zaraził się obłędem od córki.
QUEEROWY STAN WYJĄTKOWY
Prawdziwa historia miłego, żydowskiego chłopca, który wstępuje do Kościoła Scjentologii i odchodzi z niego po dwunastu latach, aby stać się tą uroczą kobietą, którą jest teraz
W dziesiątej części swoich wspomnień Kate Bornstein opowiada o długoletnim związku z Catherine (później Davidem), swojej karierze scenicznej i początkach pisania, oraz decyzji o wyprowadzce do Seattle i spełnieniu swoich sadomasochistycznych fantazji. 
Razem z Sailor i Lulą spekulowałyśmy, jak mógłby wyglądać nasz trójkąt, w którym byłabym ich poddaną. Nadal byłam z Davidem, ale dziewczyny powtarzały mi, jak bardzo chciałyby "zadać mi trochę bólu". Nie wiedziałam, co to znaczy, ale z całego serca pragnęłam udowodnić im, że jestem w stanie to wytrzymać. Okrutna geografia udaremniała jakikolwiek prawdziwy kontakt fizyczny. Dziewczyny były jednak mądre i częściowo dlatego powoli się w nich zakochiwałam. Chciały mnie zranić, a ja chciałam być raniona. Sailor i Lula obmyśliły więc plan przetestowania moich rządz. Sailor będzie chwaliła się później, jak bardzo był on przebiegły i dosłownie teatralny.
– Kiedy masz kolejny występ?
Powiedziałam, że gram za trzy dni. Sailor roześmiała się.
– W porządku. Zrobisz tak: w piątek, kiedy będziesz na scenie, w pewnym momencie wbijesz sobie paznokieć w dłoń aż do krwi. Zadzwoń do nas, kiedy tylko wrócisz do domu z teatru.
Nosiłam wtedy długie, czerwone szpony, więc zadanie nie było trudne. Na koniec przedstawienia gaśnie światło. Później zapalane jest znowu, a ja kłaniam się i dziękuję publiczności. Wtedy to zrobiłam. Powoli wbiłam długi paznokieć w skórę prawej dłoni. Publiczność wiwatowała, uznając zapewne moją reakcję za łzy szczęścia. Było w tym więcej prawdy, niż sądzili.
Dziewczyny były zachwycone. Według Sailor możliwość sprawienia mi bólu na taką odległość była początkiem naszej relacji właścicielek i niewolnicy.
Nie uprawialiśmy seksu z Davidem już od jakiegoś czasu, za to w naszej długodystansowej relacji z Sailor i Lulą byłyśmy coraz bardziej pomysłowe. Byłam urzeczona prawdziwą uciechą, jaką czerpałam z poddaństwa, służby, niezwykłego paradoksu rozkosznego niewolnictwa za obopólną zgodą. W końcu zdałam sobie sprawę, że w San Francisco, podobnie jak wcześniej w Filadelfii, nie było już dla mnie miejsca. Postanowiłam więc opuścić miasto. 
Mainstreamowe lesbijki nie chciały mieć ze mną nic wspólnego z kilku powodów: byłam transseksualna, miałam chłopaka i byłam sadomasochistką. Nawet lesby sadomaso omijały mnie szerokim łukiem, bo lubiłam bawić się ostrymi przedmiotami i chciałam, żeby upuściły mi trochę krwi. Sailor i Lula, podobnie jak spora część sadomasochistycznych lesbijek w Seattle, uwielbiały zabawy z krwią. Pomyślałam, że mógłby to być mój nowy dom. Zadzwoniłam do dziewczyn z pytaniem, czy rozważyłyby wzięcie mnie do siebie jako swojej niewolnicy. Po sześciu latach spędzonych w San Francisco przeniosłam się do Seattle. Wszystkie trzy byłyśmy tym bardzo podekscytowane. Lula pomogła mi w przeprowadzce.
Przełożyła Jola Różyło
SZORTY
W krótkich artykułach z Polski i świata piszemy m.in. o kolejnych wątkach żydowskich w mailach Dworczyka, cywilnych małżeństwach (on-line) uznanych przez izraelski sąd, drugiej wojnie światowej i kwestii gazu według Joachima Brudzińskiego, łatwiejszym dostępie do aborcji w Izraelu, pierwszej koszernej restauracji z gwiazdką Michelina czy 81. rocznicy mordu w Jedwabnem.
ZAPRASZAMY DO LEKTURY
"Chidusz" dostępny jest w Empikach na terenie całego kraju, w Muzeum POLIN, ŻIH-u oraz w Cocofli we Wrocławiu. Wydanie elektroniczne można znaleźć na publio.pl. Roczna prenumerata krajowa od 90 zł (list ekonomiczny), roczna prenumerata elektroniczna za 60 zł. Zamówienia: office@chidusz.com. Przyjemnej lektury!
---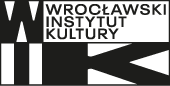 Partnerem wydawniczym tego numeru "Chiduszu" jest Wrocławski Instytut Kultury w ramach Wrocławskiego Programu Wydawniczego. 

---
---
---