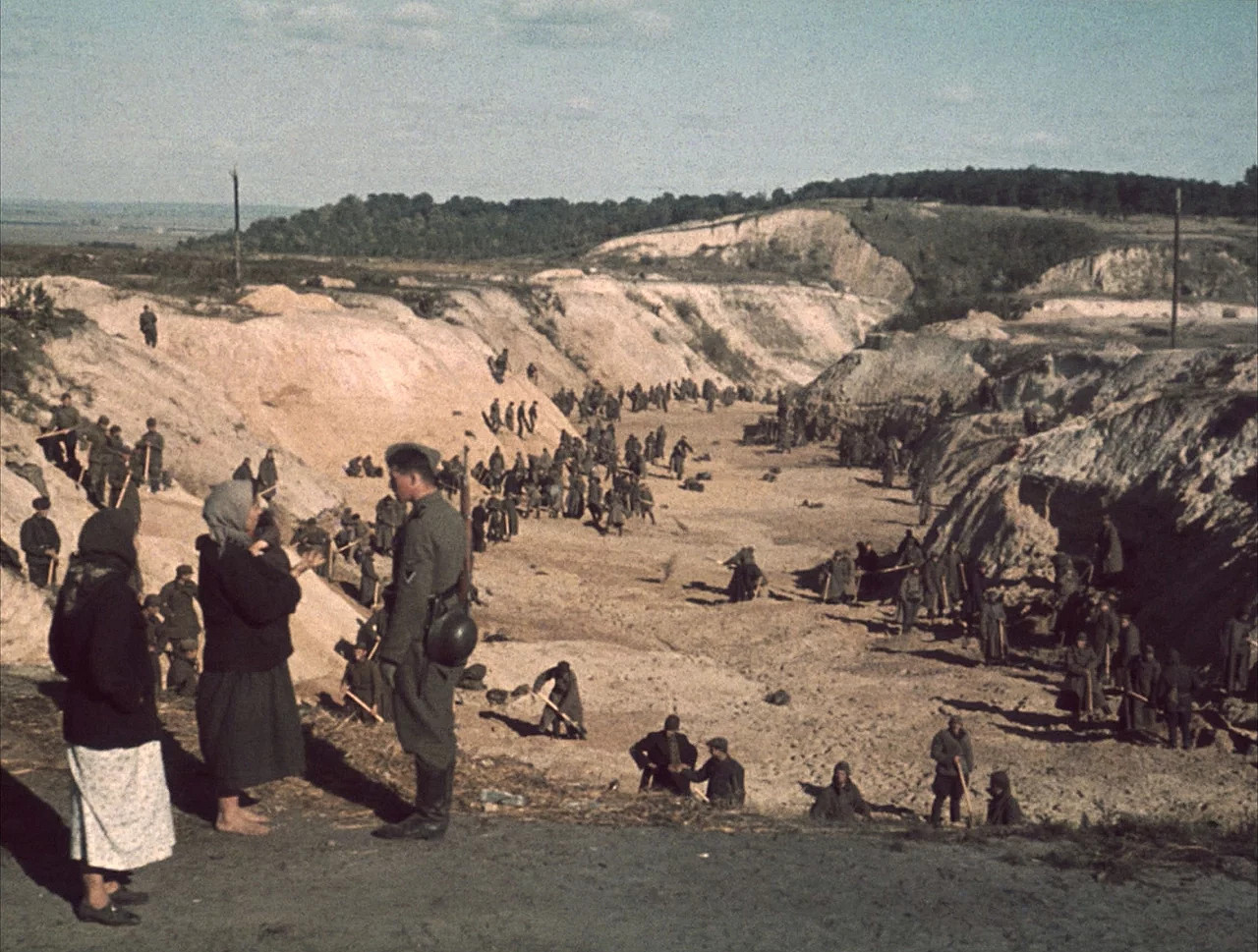 ---
Przemysław Batorski
---
29 września 1941 roku, w wąwozie o nazwie Babi Jar Niemcy rozpoczęli masakrę Żydów z Kijowa. W ciągu trzech dni rozstrzelali 33 771 osób. Była to największa masowa egzekucja od początku wojny, która przybliżyła realizację planu "ostatecznego rozwiązania kwestii żydowskiej".
.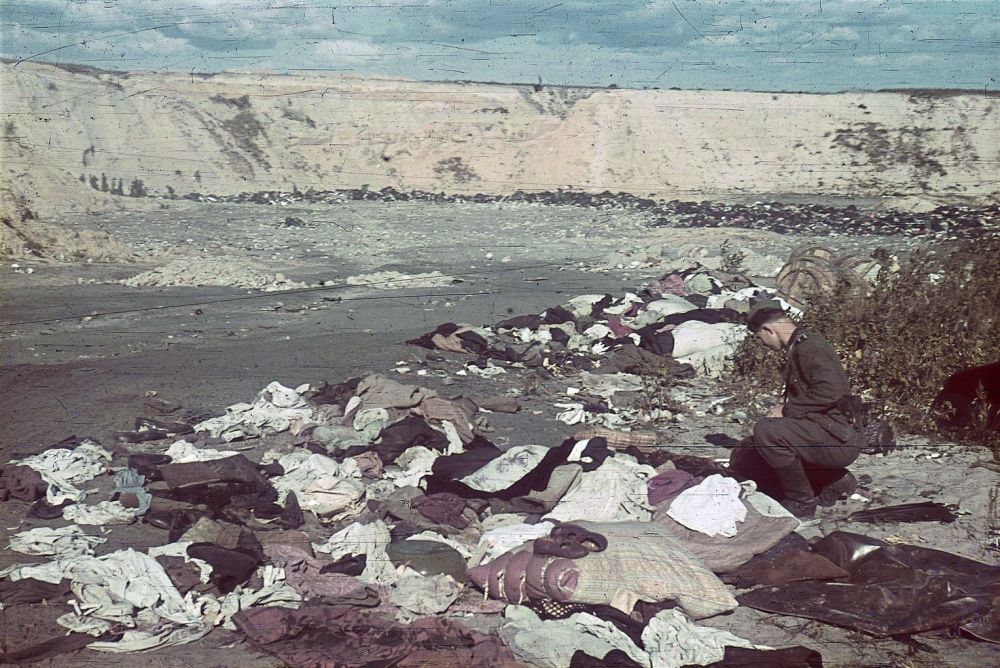 Esesman przeszukuje rzeczy pozostawione przez ludzi rozstrzelanych w Babim Jarze. Zdjęcie Johannesa Hähle, Wikipedia, domena publiczna
Nieprzerwany potok ludzi
"Babi Jar" to nazwa dużego, rozgałęzionego wąwozu znajdującego się dziś w obrębie Kijowa. Przez stulecia znajdowały się w nim obozy wojskowe i cmentarze.
19 września 1941 r., niespełna trzy miesiące po ataku na Związek Radziecki, Niemcy zdobyli Kijów, biorąc do niewoli ponad 600 tysięcy żołnierzy Armii Czerwonej. Triumf być może uśpił ich czujność. 22 września budynki przy Chreszczatyku, reprezentacyjnej ulicy Kijowa, do których wprowadzili się niemieccy oficerowie, zaczęły eksplodować; bomby i miny z zapalnikami czasowymi zostały podłożone przez wycofujące się wojska radzieckie lub przez pozostałych w mieście agentów NKWD. Zginęło kilkuset żołnierzy wojsk okupacyjnych, co było ciosem dla Niemców, którym i tak brakowało sił do kontrolowania ogromnych podbitych terytoriów wschodniej Europy. Jak powiedział jeden ze świadków, "przestali się uśmiechać"[1]. Nesia Elgort zapamiętała Niemca krzyczącego na ulicy "– Partisan, Jude, kaputt!"[2].,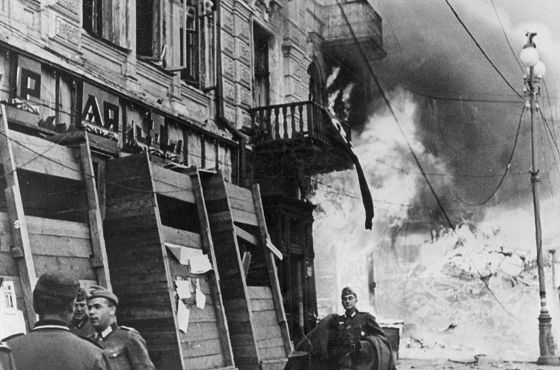 ---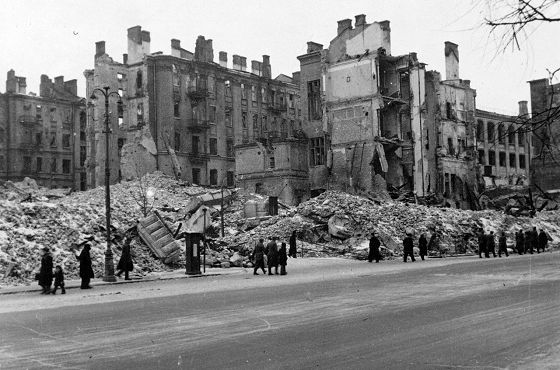 ---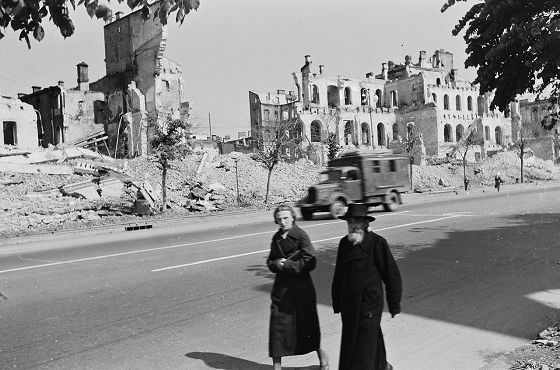 "Niemcy trzymali się prostej linii ideologicznej: jeżeli coś zrobiło NKWD, winą należy obarczyć Żydów"[3] – pisze Timothy Snyder. Nie miało dla nich znaczenia to, że Żydzi w większości przypadków nie mieli nic wspólnego z NKWD. Identyczny schemat wcielali w życie na Białorusi – po aktach sabotażu radzieckich partyzantów jednostki SS likwidowały bezbronnych mieszkańców wsi, głównie Żydów. Po wybuchach w Kijowie dowódcy Wehrmachtu, SS i policji podjęli decyzję o "odwecie" – miał być nim mord na Żydach, którzy nie zdołali uciec z miasta. Bezpośrednio odpowiedzialni za operację byli generał Wehrmachtu Kurt Eberhard oraz dowódcy niemieckich Einsatzgruppen: Friedrich Jeckeln, Paul Blobel i Otto Rasch.
"28 września (…) na skrzyżowaniach w mieście, na murach i płotach pojawił się rozkaz, by wszyscy Żydzi żyjący w Kijowie stawili się 29 września rano na ulicy Diegtiarowskiej, w rejonie cmentarza żydowskiego"[4]. Za niewykonanie rozkazu groziła kara śmierci. "Posłużono się kłamstwem, które miało wejść Niemcom w nawyk przy masowych rozstrzeliwaniach – celem było rzekomo przesiedlenie"[5].
Tłumy ludzi nieprzerwanym potokiem szły ulicą Lwowską, a na chodnikach stały niemieckie patrole. "Takie mnóstwo ludzi od wczesnego rana do samej nocy posuwało się po jezdni, że trudno było przejść z jednej strony Lwowskiej na drugą". Trzy dni i trzy noce (…) [w] ulicę Lwowską, jak potoki do rzeki, wlewały się tłumy z ulicy Pawłowskiej, Dmitrijewskiej, Wołodarskiego, Niekrasowskiej. Za Lwowską zaczyna się ulica Mielnika, a dalej – odludna droga, nagie pagórki, wąwozy o stromych zboczach – Babi Jar. W miarę zbliżania się do Babiego Jaru nasilał się zgiełk, mieszając się z jękami i płaczem.[6] **********************************************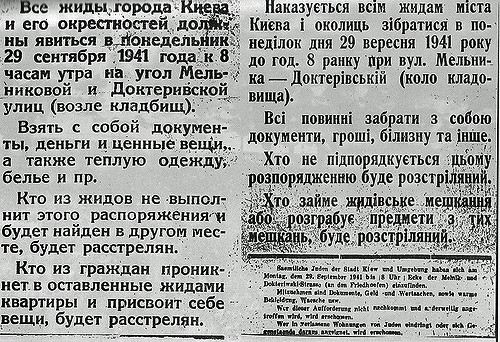 Młodzi i starzy, rodziny z dziećmi, ludzie z workami, wózkami, kołdrami, zapasami żywności podążali tysiącami w stronę żydowskiego cmentarza.
Pod otwartym niebem została zorganizowana kancelaria, stały biurka. (…) Z tłumu za każdym razem oddzielano po trzydzieści, czterdzieści osób i prowadzono pod konwojem do "rejestracji". Ludziom odbierano dokumenty i kosztowności. Dokumenty natychmiast rzucano na ziemię: świadkowie mówią, że plac pokrył się grubą warstwą rozrzuconych papierów, podartych dowodów i legitymacji związków zawodowych. Następnie Niemcy zmuszali ludzi do rozbierania się do naga, wszystkich bez wyjątku (…). Nagim ludziom – mężczyznom i kobietom – zrywano z palców pierścionki.[7]
Niektórzy Żydzi jeszcze przed dojściem do "kancelarii", gdy mijali uzbrojonych Niemców, zaczynali rozumieć, że nie idą na przesiedlenie, ale prawie nikt nie alarmował swoich towarzyszy. Tego dnia wielu Żydów, którzy przewidzieli, co ich czeka, popełniło samobójstwo. Inni powtarzali pogłoski o robotach przymusowych albo o wymianie rodzin żydowskich za niemieckich jeńców wojennych[8]. "Idźcie na cmentarz" – mówili Niemcy na pytania Żydów i Żydówek, którzy mieli małżonków Rosjan lub Ukraińców.
Może się wydawać, że Żydzi byli naiwni. Pamiętajmy jednak, że mieszkańcy ZSRR byli przyzwyczajeni do przesiedleń, wywózek, akcji tajnej policji, która nie tolerowała oporu.
W Babim Jarze – podobnie jak wcześniej w Kamieńcu Podolskim, Berdyczowie, miastach i niezliczonych małych miasteczkach i wsiach polskich Kresów, Białorusi, Ukrainy, Litwy, Łotwy, Estonii, Besarabii, zachodniej Rosji – Niemcy prowadzili eksterminację masową z udziałem Einsatzgruppen, które w 1939 r. wymordowały w Polsce blisko 15 tysięcy Polaków i Żydów. Einsatzgruppen miały pozwolenie na niezależne działania za linią frontu i od czerwca 1941 r. wymordowały już kilkaset tysięcy mieszkańców zachodnich terytoriów ZSRR. Był to de facto pierwszy etap masowych mordów na przemysłową skalę.
Jelena Borodianska-Knysz, która wraz z czteroletnią córką szła na rozstrzelanie w wąwozie, wspominała (w relacji spisanej przez członka zespołu Czarnej księgi Ilji Erenburga i Wasilija Grossmana):
Po drodze do nas przyłączono jeszcze około stu pięćdziesięciu osób, nawet więcej. Nigdy nie zapomnę pewnej na oko piętnastoletniej dziewczynki, Sary. Trudno opisać urodę tej dziewczynki. Matka rwała sobie włosy z głowy, krzyczała rozdzierającym głosem "Zabijcie nas razem"… Matkę zabili kolbą, z dziewczynką nie spieszyli się, pięciu czy sześciu Niemców rozebrało ją do naga, co było dalej – nie wiem, nie widziałam.[9]
Oto dalszy ciąg jej opowieści:
Około północy rozległa się niemiecka komenda, żebyśmy się ustawili w szeregu. Nie czekałam na następną komendę, natychmiast wrzuciłam do rowu dziewczynkę i sama upadłam na nią. Sekundę później zaczęły na mnie spadać trupy. Potem zrobiło się cicho. Upłynęło około piętnastu minut – przyprowadzono drugą grupę. Znowu rozległy się strzały i do dołu znowu zaczęli spadać zakrwawieni, umierający i martwi ludzie.
Poczułam, że moja córka już się nie rusza. Przywarłam do niej, przykryłam ją własnym ciałem i zacisnąwszy pięści, podparłam nimi podbródek dziecka, żeby dziewczynka się nie udusiła. Moja córeczka poruszyła się. Starałam się trochę unieść, żeby jej nie przygnieść. Dookoła było bardzo dużo krwi. Rozstrzeliwanie trwało od godziny dziewiątej rano. Trupy leżały nade mną i pode mną.[10]
Niemiecki żołnierz chodził po ciałach i sprawdzał, czy ktoś nie przeżył. Dzięki temu, że stanął na Jelenie, nie otrzymała ciosu bagnetem.
Kiedy odszedł, podniosłam głowę. W oddali było słychać hałas. To Niemcy kłócili się z powodu ubrań – trwał podział.
Uwolniłam się, podniosłam, wzięłam na ręce córkę – była nieprzytomna. Poszłam jarem. Odszedłszy kilometr, poczułam, że córka ledwie oddycha. Wody nigdzie nie było. Zwilżyłam jej usta śliną. Przeszłam jeszcze kilometr, zaczęłam zbierać rosę z trawy i nawilżać nią usta dziecka. Powoli dziewczynka zaczęła dochodzić do siebie.[11]
Jelena wraz z córeczką ukryły się w piwnicy starej cegielni. Po kilku dniach kobieta odnalazła swoją ukraińską znajomą. U niej i dwóch kolejnych znajomych przemieszkała kilka tygodni. Nie była bezpieczna, bo po masakrze Niemcy i policjanci poszukiwali ukrywających się w okolicy Żydów: "przeczesywali nie tylko mieszkania, zaglądali do piwnic, jaskiń, wysadzali podłogi, podejrzanie zamurowane ściany, strychy, kominy"[12].
W dniach 29-30 września 1941 roku w Babim Jarze Niemcy zamordowali 33 771 osób. Tylko 29 osobom udało się przeżyć.
Babi Jar i technologia Zagłady
W Kijowie, a także Kamieńcu Podolskim, Rydze i innych miejscach masowych rozstrzeliwań SS-Obergruppenführer Friedrich Jeckeln tworzył metodę masowej eksterminacji, nazywaną niekiedy Sardinenpackung. Niemieccy żołnierze i esesmani wyprowadzali Żydów z getta (jeśli istniało już w danej miejscowości) lub tworzyli dla nich punkt zborny. Formowali ofiary w kolumny. Po doprowadzeniu do przygotowanych wcześniej masowych grobów zmuszali do rozebrania się i oddania kosztowności (w tej fazie dochodziło do gwałtów i innych okrucieństw). Potem ofiary musiały stanąć na brzegu masowego grobu lub położyć się na zwłokach już wcześniej zamordowanych osób. Niemcy zabijali przy użyciu karabinów, pistoletów i pistoletów maszynowych, strzelając w tył głowy.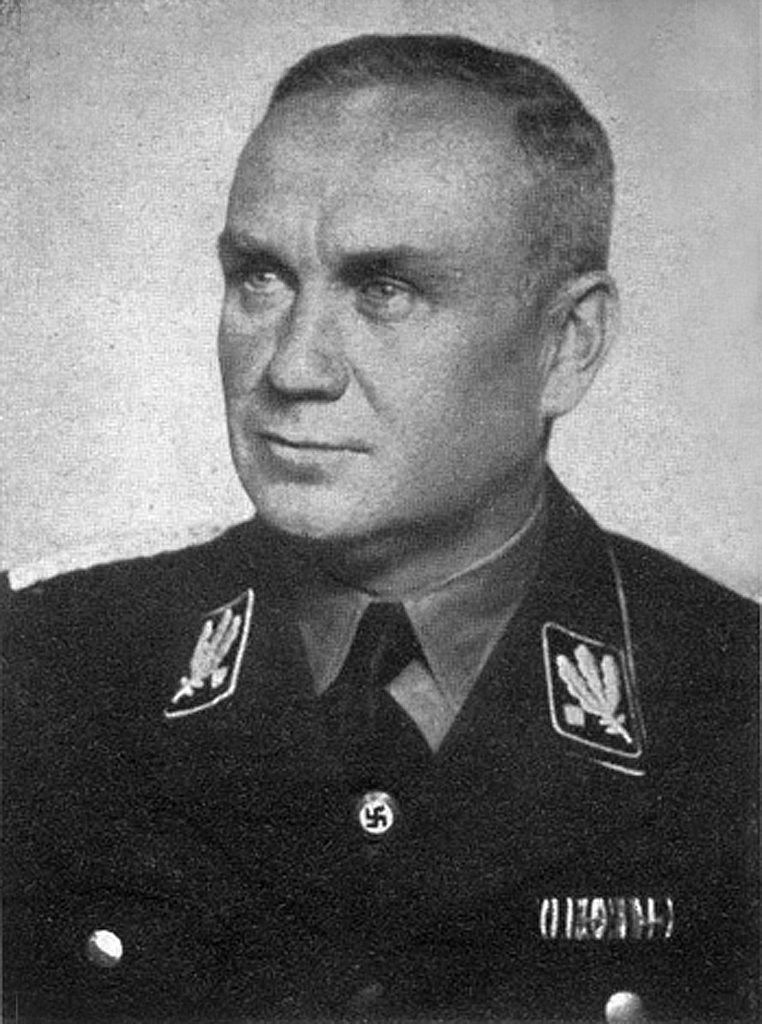 Jeckelnowi zależało na ograniczeniu liczby niecelnych strzałów, zmniejszeniu zużycia pocisków, maksymalnym zapełnieniu grobów i dehumanizacji ofiar. Już w 1941 r. do władz SS zaczęły dochodzić sygnały o poważnych problemach psychicznych, jakich doświadczali szeregowi zbrodniarze – wielu z nich miało na sumieniu tysiące ofiar, bo łączna liczba żołnierzy Einsatzgruppen wynosiła około 3000, a zamordowali ponad milion ludzi.
Za rezygnację ze "służby" w Einsatzgruppen niemieckich żołnierzy nie spotykały żadne negatywne konsekwencje. Każdy mógł odejść, ale odchodziło bardzo niewielu. Lato i jesień 1941 roku były dla Niemców testem możliwości masowego rozstrzeliwania. Wynik nie zadowalał kierownictwa SS, które już na jesieni rozpoczęło eksperymenty z mordowaniem ludzi (sowieckich jeńców wojennych, osób chorych psychicznie) za pomocą ładunków wybuchowych i gazów bojowych – metody te miały w mniejszym stopniu wpływać na psychikę sprawców i bardziej pasować do planu przemysłowego wyniszczenia Żydów. Pod koniec 1941 r. – dokładna data nie jest znana – Hitler podjął decyzję o rozpoczęciu "ostatecznego rozwiązania kwestii żydowskiej" – eksterminacji europejskich Żydów za pomocą gazu w obozach zagłady zlokalizowanych w okupowanej Polsce.
Do października 1941 r. Niemcy rozstrzelali w Babim Jarze dalsze kilka-kilkanaście tysięcy osób. Chociaż zrezygnowali z masowych egzekucji jako podstawowej metody Zagłady europejskich Żydów, rozstrzeliwania w wąwozie prowadzili aż do 1943 r. Ogółem Niemcy zamordowali w tym miejscu nawet 70-100 tysięcy osób, oprócz Żydów także Ukraińców i Romów.
Sierpień 1943 r. przyniósł ostatni rozdział zbrodni w Babim Jarze. Wehrmacht był już w odwrocie – Armia Czerwona zbliżała się do Dniepru. Niemcy zmusili radzieckich jeńców wojennych do wykopywania zwłok osób rozstrzelanych w wąwozie. "Więzień Gajewski, zobaczywszy stosy trupów, postradał zmysły. Trupy w wyniku długiego leżenia pod ziemią scaliły się i trzeba je było oddzielać od siebie bosakami"[13]. Więźniowie na rozkaz Niemców układali zwłoki partiami po dwa tysiące na olbrzymich stosach drewna, oblewali ropą i palili. W ten sposób okupanci pozbyli się zwłok ponad 70 tysięcy osób. (Podobną akcję Niemcy przeprowadzili w 1943 r. m.in. w obozie zagłady Treblinka). Więźniowie domyślili się, że Niemcy będą chcieli ich zabić, rozkuli kajdany i rzucili się do ucieczki. Większość zginęła od kul niemieckich, ale kilkunastu udało się wymknąć[14]. Dołączyli do nielicznej grupy świadków, którzy po wojnie opowiedzieli o zbrodni.
Ofiary skazane na zapomnienie?
Po wojnie niektórych głównych sprawców zbrodni dosięgła sprawiedliwość – Jeckeln i Blobel zostali osądzeni i straceni, Eberhard popełnił samobójstwo w więzieniu, a Rasch zmarł na chorobę Parkinsona. Jednak w Związku Radzieckim Zagłada była po wojnie niemal tematem tabu. Oficjalnie nie istniało ludobójstwo Żydów jako osobna zbrodnia niemiecka. W sowieckiej narracji pod okupacją cierpiały "narody Związku Radzieckiego", co było tylko częścią prawdy. Dlatego po wojnie nie wydano Czarnej księgi. Również w Kijowie lokalne władze blokowały jakiekolwiek próby upamiętnienia masakry w Babim Jarze.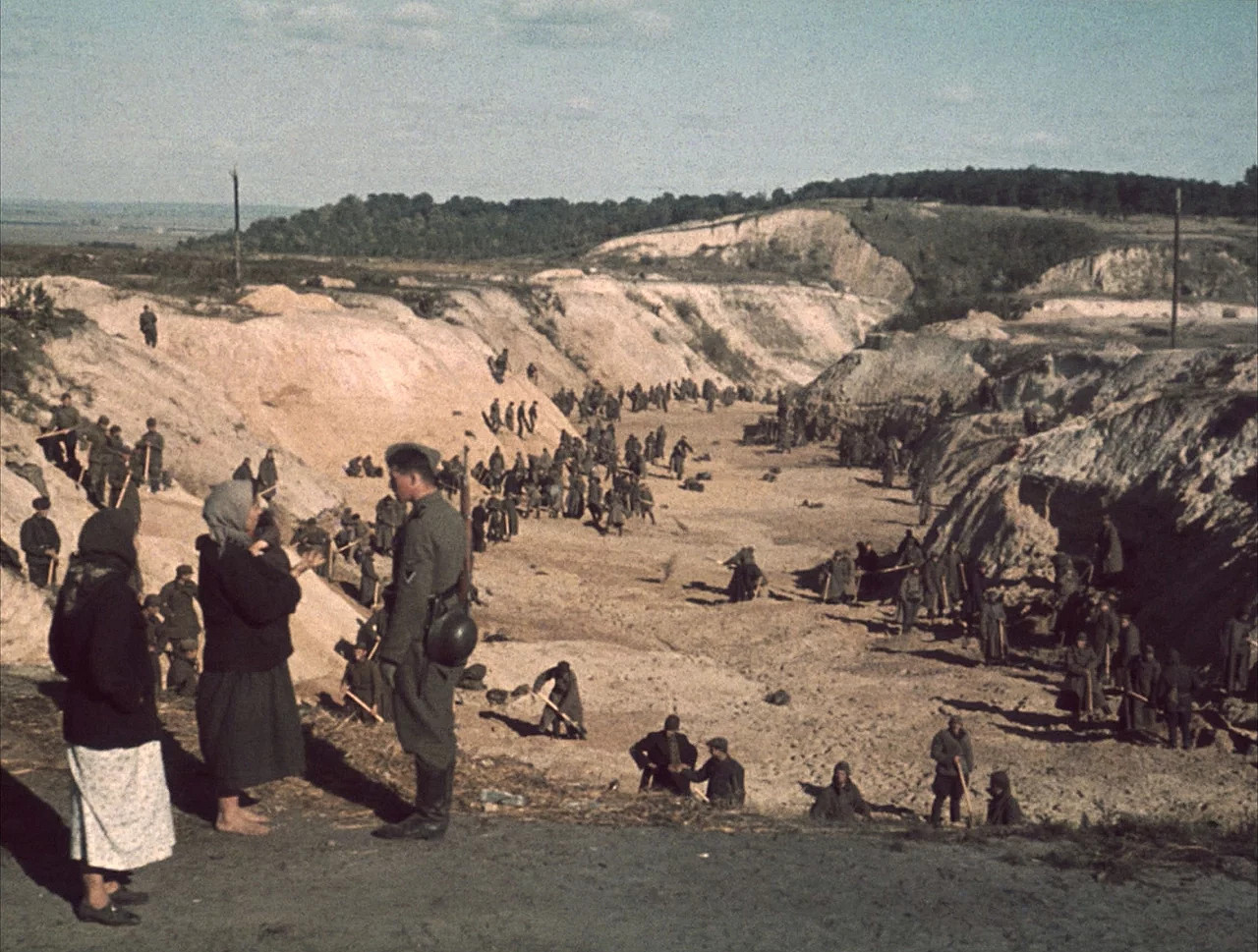 Co gorsza, w 1961 r. doszło do tzw. katastrofy kureniwskiej (nazwa pochodzi od dzielnicy Kijowa Kureniwka) – lawiny błotnej, która zalała okolice Babiego Jaru, zabijając co najmniej 145 osób, a być może nawet 2000. Do lawiny doszło, bo wcześniej w miejscu masakry władze sowieckie utworzyły ogromny zbiornik odpadów z cegielni.
Pamięć o Babim Jarze w Związku Radzieckim przez długie lata żyła tylko w ukryciu. Masakra stała się tematem licznych dzieł sztuki, które były jednak cenzurowane przez władze ZSRR. W 1962 r. symfonię pod tytułem Babi Jar napisał Dmitrij Szostakowicz na podstawie wierszy Jewgienija Jewtuszenki (tekst został ocenzurowany). Wiersz o Babim Jarze napisał również Ilja Erenburg (władze go ocenzurowały). Obraz nawiązujący do masakry wykonał malarz Feliks Lembierski, pochodzący z Lublina. W 2006 r. Babi Jar, a także Kamieniec Podolski i inne zbrodnie Einsatzgruppen przedstawił w powieści Łaskawe – z perspektywy fikcyjnego esesmana – Jonathan Littell.
Babi Jar jest przykładem wielu zjawisk typowych dla Zagłady. Oprócz przemysłowej skali masakry, wymienić można samookłamywanie się prowadzonych na śmierć ofiar, udział w zbrodni żołnierzy Wehrmachtu, a nie tylko SS (przeczący rozpowszechnianemu po wojnie w Niemczech "mitowi czystego Wehrmachtu"), połączenie przez Niemców rzezi z systematyczną grabieżą mienia i wreszcie – nieliczne, ale zasługujące na szczególną pamięć przypadki ratowania Żydów przez nie-Żydów.
"Żydzi kijowscy zostali unicestwieni przez Niemców" – wspominał Dmytro Pasyczny, który wraz z rodziną, dzięki pomocy miejscowych księży prawosławnych, ukrywał się przez dziesięć miesięcy w domku cerkiewnym[15]. – "Ale wartościowe żydowskie książki z dużych bibliotek Kijowa Niemcy pedantycznie zapakowali i wywieźli, żeby za pośrednictwem agentów w krajach neutralnych sprzedać je do Ameryki i w ten sposób otrzymać walutę. Tak została rozwiązana przez Niemców «kwestia żydowska» w Kijowie"[16].
Dzisiaj za upamiętnienie ludobójstwa w Babim Jarze odpowiada powołana w 2016 r. instytucja pozarządowa Babi Yar Holocaust Memorial Center, która planuje budowę w Kijowie nowoczesnego muzeum i ośrodka edukacyjnego.
---
Przypisy:
[1] Timothy Snyder, Skrwawione ziemie. Europa między Hitlerem a Stalinem, tłum. Bartłomiej Pietrzyk, Warszawa 2011, s. 226.
[2] Ilja Erenburg, Wasilij Grossman, Czarna księga, tłum. Małgorzata Buchalik i in., oprac. Joanna Nalewajko-Kulikov, wstęp Marek Radziwon, Warszawa 2020, s. 57.
[3] T. Snyder, dz. cyt., s. 226.
[4] Ilja Erenburg, Wasilij Grossman, Czarna księga, dz. cyt., s. 635.
[5] T. Snyder, dz. cyt., s. 226.
[6] Ilja Erenburg, Wasilij Grossman, Czarna księga, dz. cyt., s. 63.
[7] Tamże.
[8] Tamże, s. 64.
[9] Tamże, s. 65.
[10] Tamże, s. 65-66.
[11] Tamże, s. 66.
[12] Tamże, s. 67.
[13] Tamże, s. 68.
[14] Tamże, s. 68-69.
[15] Tamże, s. 638.
[16] Tamże, s. 67.
---
---