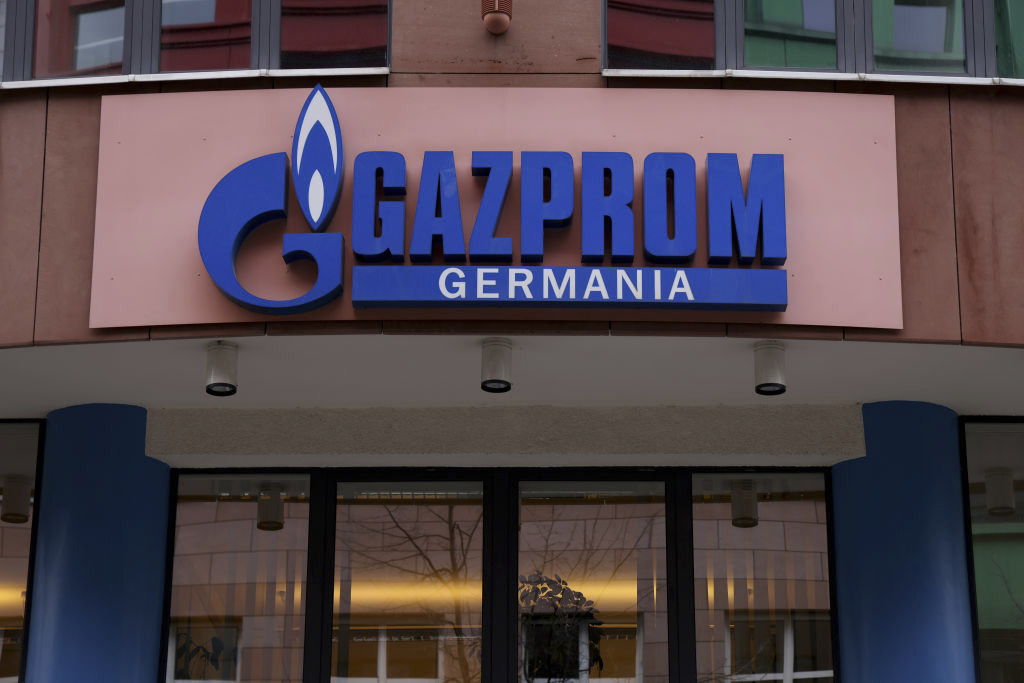 To były… kwestie, w których poglądy organizacji ekologicznych były całkowicie zgodne z poglądami Federacji Rosyjskiej. Oznaczało to stawianie wszystkiego na "czerwone" – jak w kasynie – ale w tym przypadku na rosyjski gaz. Na zdjęciu: siedziba korporacyjna Gazpromu Germania, niemieckiego oddziału rosyjskiej firmy gazowej Gazprom, sfotografowana 30 marca 2022 r. w Berlinie, Niemcy. (Zdjęcie: Sean Gallup/Getty Images)
---
Drieu Godefridi
---
W 2011 r. w wyniku porozumienia między Nord-Stream, trzema głównymi organizacjami ekologicznymi w Niemczech — WWF, BUND ("Przyjaciele Ziemi"), NABU — a krajem związkowym Meklemburgia-Pomorze Przednie powstała niemiecka Fundacja Ochrony Przyrody Morza Bałtyckiego ( Naturschutzstiftung Deutsche Ostsee ). Fundacja ta natychmiast otrzymała lukratywny budżet w wysokości dziesięciu milionów euro od Nord Stream.
Firma Nord Stream AG z siedzibą w Zug w Szwajcarii jest międzynarodowym konsorcjum pięciu dużych firm, założonym w 2005 r. w celu planowania, budowy i późniejszej eksploatacji dwóch gazociągów o długości 1224 km przez Morze Bałtyckie. Pięciu udziałowców konsorcjum to Gazprom International Projects LLC, Wintershall Dea AG, PEG Infrastruktur AG, NV Nederlandse Gasunie i ENGIE. Gazprom International Projects LLC posiada 51% udziałów w projekcie.
Gazprom International Projects LLC jest w całości własnością Gazpromu, największej na świecie notowanej na giełdzie spółki gazowej, która jest w większości własnością rosyjskiego rządu i jest w pełni kontrolowana przez rząd rosyjski.
Najwyższe stanowiska kierownicze w niemieckiej Fundacji Ochrony Przyrody Morza Bałtyckiego zostały zaoferowane prezesom tych trzech największych niemieckich organizacji ekologicznych, którzy szybko to zaakceptowali, co nie jest zaskakujące, biorąc pod uwagę, że było to częścią pierwotnej umowy z moskiewskim niedźwiedziem.
Te organizacje ekologiczne próbują uciec od przytłaczającej historycznej odpowiedzialności, argumentując, jak wyjaśnił BUND, że umowa z Nord Stream o utworzeniu niemieckiej Fundacji Ochrony Przyrody Morza Bałtyckiego miała na celu jedynie "promowanie wdrażania złożonych środków ochrony przyrody":
"Aby jak najskuteczniej wdrożyć złożone środki dla przyrody i zabezpieczyć ją na stałe, Nord Stream udostępnił w marcu 2011 r. uzgodnione środki kompensacyjne na utworzenie niemieckiej Fundacji Ochrony Przyrody Morza Bałtyckiego… Z Fundacją Morza Bałtyckiego, możliwe jest opracowanie, wsparcie i realizacja odpowiednich projektów w sposób profesjonalny i w oparciu o duże doświadczenie, a tym samym również skuteczne zrekompensować szkody wyrządzone przez rurociąg Morza Bałtyckiego. Fundacja Morza Bałtyckiego jest non-profit, działa niezależnie od założyciela i jest oddana wyłącznie swoim statutowym celom promowania praktycznych środków ochrony przyrody i ochrony środowiska na Morzu Bałtyckim. 

Aby zapewnić, że fundusze te są faktycznie wykorzystywane do realizacji znaczących prac na rzecz ochrony przyrody, WWF, NABU i BUND uczestniczą w komitetach fundacji ".
Spróbujmy to obejrzeć bliżej.
O realności tej umowy poinformował Nord Stream w momencie powstania fundacji w 2011 roku:
"Od dziś organizacje ekologiczne WWF, BUND i NABU będą ściśle współpracować z krajem Meklemburgii-Pomorza Przedniego i Nord Stream AG w niemieckiej Fundacji Ochrony Przyrody Morza Bałtyckiego (…) Jochen Lamp z WWF Niemcy będzie przewodniczył zarządowi. Pierwszą zastępczynią jest Corinna Cwielag z BUND Meklemburgia-Pomorze Przednie".
Na stronie niemieckiej Fundacji Ochrony Przyrody Morza Bałtyckiego można przeczytać :
"Niemiecka Fundacja Ochrony Przyrody Morza Bałtyckiego… powstała w 2011 roku w wyniku porozumienia pomiędzy Nord Stream AG a organizacjami ekologicznymi BUND Meklemburgia-Pomorze Przednie i WWF Niemcy."
Wreszcie w oficjalnym oświadczeniu rządu krajowego Meklemburgii-Pomorza Przedniego czytamy:
"Utworzenie fundacji to konsekwentna realizacja porozumień na rzecz lepszej ochrony przyrody, które organizacje ekologiczne BUND i WWF Niemcy zawarły w zeszłym roku z firmą Nord Stream. W fundacji przedstawiciele BUND i WWF wraz z wiceministrem Ministerstwa Rolnictwa, Środowiska i Ochrony Konsumentów tworzą zarząd (…) Prezes WWF Jochen Lamp uważa założenie fundacji za wielki sukces dla ochrony środowiska morskiego (…) Przedstawiciele NABU, Kancelaria Stanu Meklemburgii-Pomorza Przedniego i założyciel współpracują również w ramach 'kuratorium', strategicznego organu nadzorczego nowej fundacji".
Podsumowując, jest zatem faktem i uchwalonym prawem, że w 2011 roku niemiecka Fundacja Ochrony Przyrody Morza Bałtyckiego powstała w wyniku porozumienia trzech wiodących niemieckich organizacji ekologicznych – WWF, BUND i NABU – oraz spółki Nord Stream, który jest spółką zależną rządu Władimira Putina. Fakt.
Ponadto te organizacje ekologiczne były jednocześnie zaciekle przeciwne niemieckiej cywilnej energetyce jądrowej, eksploatacji gazu łupkowego w Europie oraz importowi gazu amerykańskiego poprzez budowę terminali gazu płynnego w Niemczech.
Były to trzy kwestie, w których poglądy organizacji ekologicznych były całkowicie zbieżne z poglądami Federacji Rosyjskiej. Oznaczało to stawianie wszystkiego na "czerwone" – jak w kasynie – ale w tym przypadku na rosyjski gaz.
Zaraz po podpisaniu tych porozumień z Nord Stream AG organizacje ekologiczne wycofały pozew, który wszczęły przeciwko Nord Stream, jak poinformował BUND. Quid pro quo?
Wreszcie niemiecka prasa donosiła w zeszłym miesiącu, że zainspirowany sukcesem pierwszej fundacji, ten sam kraj Meklembergii-Pomorza Przedniego jeszcze w styczniu 2021 r. powołał nową fundację, Fundację na rzecz Ochrony Klimatu i Środowiska Meklembergia-Pomorze Przednie. (Stiftung Klima- und Umweltschutz Mecklenburg-Vorpommern), tym razem obdarzoną 192 mln euro przez rząd rosyjski. Cytując centrolewicowy niemiecki dziennik "Die Zeit":
"Fundacja na rzecz Ochrony Klimatu i Środowiska została powołana na początku 2021 r. przez rząd ministerki-prezydentki [Meklembergii-Pomorza Przedniego] Manueli Schwesig (SPD). Oficjalnie fundacja miała promować projekty z zakresu ochrony środowiska w kraju… [ i] otrzymała łącznie 192 mln euro od Nord Stream 2 AG, spółki podległej Gazpromowi. Pieniądze zostały wypłacone w okresie od lutego do listopada 2021 r."
Niemiecka gazeta "Die Welt" napisała, że z 192 mln euro "skorzystało 80 firm, które otrzymały 119 zamówień o wartości 165 mln euro od przedsiębiorstwa założonego w ramach fundacji ekologicznej". W założeniach ta nowa fundacja stwierdza, że "Fundacja jest zainteresowana współpracą z licznymi inicjatywami, stowarzyszeniami i fundacjami zajmującymi się ochroną klimatu… z dużym doświadczeniem". Za rosyjskie pieniądze?
Sprawę obecnie bada komisja śledcza parlamentu krajowego Meklemburgii-Pomorza Przedniego, która miała rozpocząć pracę pod koniec sierpnia 2022 roku. Z powodu powagi faktów, przypuszczalnie kanclerz Niemiec Olaf Scholz i jego poprzedniczka, Angela Merkel, zostaną przesłuchani.
Członkowie parlamentu krajowego, kontynuuje "Die Welt", chcą również rzucić światło na rolę, jaką w tle odegrały rosyjskie służby specjalne. Celem dochodzeń jest szczególnie obecny minister spraw wewnętrznych kraju Meklemburgia-Pomorze Przednie, Christian Pegel (SPD):
"Jako minister energii ten prawnik odegrał kiedyś kluczową rolę w opracowaniu statutu fundacji. W tym celu Pegel spotkał się z przedstawicielami zdominowanej przez Rosję spółki Nord Stream 2 AG w okolicznościach, które wydają się podejrzane, bez prowadzenia jakiejkolwiek dokumentacji. Dlatego nie wiadomo, jakie umowy i ustalenia zostały zawarte przy tej okazji. Ze swojej strony Pegel twierdzi, że nie wie już dokładnie, co się wtedy wydarzyło. Za pośrednictwem rzecznika prasowego minister powiedział tej gazecie, że: 'Z powodu upływu czasu nie ma konkretnych wspomnień na ile był zaangażowany w nieformalnych lub formalnych dyskusjach'".
Prawdziwy problem z pamięcią krótkotrwałą: fundacja powstała w zeszłym roku.
---
Drieu Godefridi – belgijski prawnik wykładający na Saint-Louis University of Louvain.
---
---