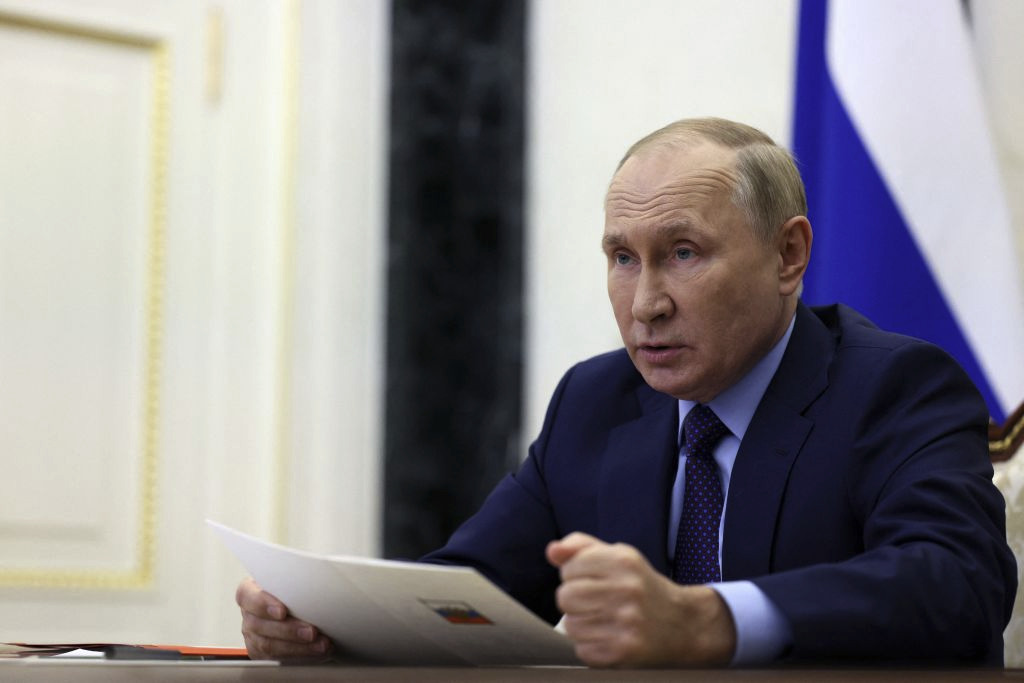 Z perspektywy czasu wydaje się, że rosyjski prezydent Władimir Putin opracował staranny plan przetestowania granicy tolerancji mocarstw zachodnich, przechodząc od jednego łajdactwa do drugiego. Na zdjęciu: Putin przewodniczy posiedzeniu Rady Bezpieczeństwa za pośrednictwem łącza wideo na Kremlu w Moskwie 9 września 2022 r. (Zdjęcie: Gavriił Grigorow/Sputnik/AFP via Getty Images)
---
Amir Taheri

Tłumaczenie: Małgorzata Koraszewska
---
"Można by pomyśleć, że car wrócił!" Tak komentował kolega relacjonujący szczyt G8 w Sankt Petersburgu w lipcu 2006 roku po wizycie prezydenta Władimira Putina w obiektach przeznaczonych dla dziennikarzy relacjonujących to "historyczne wydarzenie". Historyczne, bo po raz pierwszy gospodarzem szczytu była Rosja, przyjęta w 1997 roku jako pełnoprawny członek klubu "wielkich mocarstw".
Putin miał swój zwykły pogardliwy uśmieszek, jak człowiek, który rozbił bank w Monte Carlo.
Aby pokazać, że Rosja wróciła, Putin wybrał Pałac Konstantinowski jako miejsce szczytu G8. Budowę eleganckiego zamku rozpoczął w 1714 roku Piotr Wielki jako rosyjską odpowiedź na Pałac Wersalski we Francji.
Jednak, podobnie jak wiele innych ambitnych planów Piotra Wielkiego, pałac został opuszczony na dziesięciolecia, a dokończono go kilkadziesiąt lat później jako rezydencję księcia Konstantina. Ale to za Putina częściowo opuszczona konstrukcja została przywrócona jako architektoniczny klejnot, odzwierciedlający status Rosji jako wielkiego mocarstwa. Nic dziwnego, że miejsce to nazywa się teraz Pałacem Putina.
W czasie szczytu dziennikarze relacjonujący wydarzenie uważali, że wybór miejsca przez Putina wskazywał na jego chęć zrealizowania ambicji Borysa Jelcyna, by uczynić Rosję pełnoprawnym członkiem tak zwanej "zachodniej" rodziny nowoczesnych narodów kapitalistycznych.
Gdy sowiecki "koszmar" się skończył, Putin zdawał się zapraszać Zachód do pomocy w budowie nowej Rosji, jakiej chciał, podobnie jak francuscy i włoscy architekci pomagali budować kolejne wersje Pałacu Konstantinowskiego.
Przez lata wydawało się, że przywódcy zachodni byli bardziej niż gotowi pomóc Putinowi osiągnąć to, o czym podobno miał marzyć Jelcyn.
Prezydent USA George W. Bush traktował Putina jako specjalnego gościa, zapewniając, że może "ufać" rosyjskiemu przywódcy.
Premier Wielkiej Brytanii Tony Blair polecił urzędnikom, aby nie przyglądali się zbyt uważnie zalewowi rosyjskich pieniędzy napływających do londyńskich banków na konta "oligarchów" powiązanych z Putinem.
Kanclerz Niemiec Angela Merkel sfinalizowała wieloletni plan uczynienia z Rosji największego źródła energii dla Republiki Federalnej.
Prezydent Francji Jacques Chirac zgodził się na żądanie Putina zbudowania w Paryżu gigantycznej rosyjskiej cerkwi prawosławnej. Zerwał także starą umowę gazową z Algierią, aby zamiast tego uzależnić Francję od Rosji w zakresie 20% jej zapotrzebowania na gaz ziemny.
Mocarstwa zachodnie zaoferowały Putinowi inne gesty przyjaźni, m.in. zniesienie wiz, zniesienie restrykcji w inwestycjach w Rosji czy specjalne uzgodnienia dotyczące transferu technologii. Zachodnie media podziwiały "silne przywództwo" i "wizję" Putina.
Chociaż pojawiły się wczesne oznaki, że Putin może nie być wzorowym harcerzem, jak myśleli zachodni przywódcy, nie zaczęli postrzegać go jako potencjalnego wroga aż do inwazji na Ukrainę w 2022 roku.
Kilka miesięcy po petersburskim festiwalu miłości agenci Putina użyli radioaktywnych izotopów, by zabić Aleksandra Litwinienkę, byłego agenta KGB ubiegającego się o azyl w Londynie.
W szerszej perspektywie Putin zaczął blokować plany NATO dotyczące uzyskania obecności w Azji Środkowej i na Zakaukaziu. Moskwa pomogła obalić prozachodni reżim w Kirgistanie, załatwiła sobie bazy wojskowe w Armenii i Tadżykistanie oraz zawarła umowę o wartości 4 miliardów dolarów na dostawę broni do Iraku.
W tym samym czasie Putin uzbroił secesjonistów w Mołdawii i wschodniej Ukrainie, a w sierpniu 2008 roku najechał Gruzję, aby zaanektować Abchazję i Osetię Południową. Stany Zjednoczone zareagowały wysłaniem okrętu wojennego na krótką wycieczkę po Morzu Czarnym.
Z perspektywy czasu wydaje się, że Putin opracował staranny plan przetestowania granic tolerancji mocarstw zachodnich, przechodząc od jednego łajdactwa do drugiego.
Prowadził wyjątkowo brutalną wojnę w Czeczenii, by zdławić bunt, którego Jelcynowi nie udało się poskromić. Nie było prawie żadnej reakcji Zachodu.
W 2010 roku agenci Putina zamordowali jego najwybitniejszą rosyjską opozycjonistkę, Annę Politkowską, 7 października, co zbiegło się z urodzinami Putina.
W 2012 roku Putin zaczął angażować się w syryjską wojnę domową po stronie prezydenta Baszara al-Assada, wspieranego przez Teheran. Po przetestowaniu wód, Putin również ustawił się w roli wielkiego gracza w Libii, mając nadzieję, że dostanie kawałek, kiedy i jeśli zostanie rozbita na kawałki.
W 2015 roku przed Kremlem zamordowano Borysa Niemcowa, uważanego przez mocarstwa zachodnie za potencjalnego rywala Putina.
W 2018 roku rosyjscy agenci otruli w angielskim mieście Salisbury Julię, córkę Siergieja Skripala, byłego agenta KGB.
W międzyczasie prezydent Francji Emmanuel Macron gościł Putina na wystawnym bankiecie w Pałacu Wersalskim i wychwalał "historyczną przyjaźń" Francji i Rosji.
Za każdym razem, gdy Putin popełniał zbrodnię, mocarstwa zachodnie reagowały mdłymi oświadczeniami, wydaleniem kilku dyplomatów i wyrazami współczucia dla Aleksieja Nawalnego, jednego z bardziej barwnych krytyków cara Władimira. Tymczasem Putin zbudował zaplecze polityczne na Zachodzie, finansując kilka partii zarówno lewicowych, jak i prawicowych.
Putin początkowo przejął kontrolę nad częściami ukraińskiego Doniecka i Ługańska, a przekonany, że nikt go nie powstrzyma, w 2014 roku poszedł dalej i anektował cały Półwysep Krymski. Uzyskał także bazę w Syrii, przywracając rosyjską obecność wojskową na Morzu Śródziemnym po raz pierwszy od upadku imperium sowieckiego. Jego kolejnym krokiem było przekształcenie Morza Kaspijskiego w rosyjskie jezioro, z wyłączeniem "outsiderów", czyli mocarstw zachodnich.
Trudno powiedzieć, co się dzieje w umyśle Putina. Ale jego ulubiony "filozof", Aleksander Dugin, odrzucił przywódców zachodnich demokracji jako bandę tchórzliwych mięczaków, zainteresowanych wyłącznie pieniędzmi i popisywaniem się.
Pogląd Dugina został częściowo potwierdzony przez sukces Rosji w zatrudnianiu czołowych zachodnich polityków z ogromnymi pensjami na fikcyjnych stanowiskach. Były kanclerz Niemiec Gerhard Schroeder, były premier Francji François Fillon i co najmniej 12 innych premierów i ministrów z Austrii, Finlandii i Włoch byli jednymi z pierwszych, którzy rzucili się, by zarabiać rosyjskie kokosy. Jeden z nich, niech pozostanie bez imienia, powiedział nam, że nie żałuje pracy dla Putina. – Czy Wolter nie pracował dla cesarzowej Katarzyny Wielkiej? zażartował.
Zachodnie pieniądze, technologia, a przede wszystkim chciwość pomogły Putinowi stać się, według słów sekretarza stanu USA Anthony'ego Blinkena, zagrożeniem dla pokoju na świecie.
Przez dwadzieścia lat mocarstwa zachodnie przeznaczały miliardy na ożywienie podupadającej rosyjskiej gospodarki, czyniąc Rosję drugim co do wielkości producentem ropy naftowej na świecie i pomagając Putinowi zbudować skarbiec wojenny o wartości 600 miliardów dolarów przed rozpoczęciem "operacji specjalnych" w lutym ubiegłego roku.
Zachód grał Pigmaliona, ale Putin nie okazał się piękną Galateą, którą sobie wyobrażał, ale "potworem", jakiego stworzył dr Frankenstein.
---
---