---
Andrzej Koraszewski
---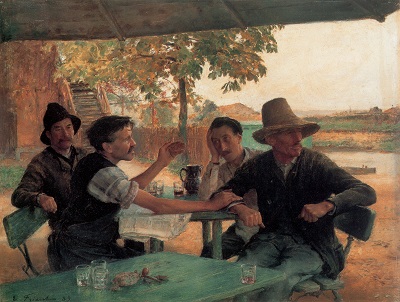 Émile Friant La Discussion politique (Źródło zdjęcia: Wikipedia)
Zawsze milej dyskutować o błędach popełnionych wczoraj niż o strategii działań na jutro. Zawsze milej mówić, co być powinno, niż analizować możliwe koszty i zyski związane z konkretnymi planami działań. Zawsze lepiej podpierać swoje racje pustym powiedzeniem "naukowcy mówią", niż analizować często trudne dla laika spory między specjalistami, którzy wskazują na różne aspekty trudności z wykonalnością danego projektu, spierają się o możliwy wpływ na inne dziedziny życia, zgłaszają zastrzeżenia, których ocena wymaga od nas poszukiwania dodatkowej wiedzy.
Jest zrozumiałe, że chcemy jasnej i prostej odpowiedzi i gotowi jesteśmy popierać idee lansowane przez ludzi, których darzymy sympatią z innych powodów. Prawda jest obiektywna, istnieje niezależnie od nas. Możemy się do niej przybliżać lub od niej oddalać, ale zawsze jest tymczasowa, zależna od stanu wiedzy i musimy być gotowi na możliwość jej skorygowania w obliczu pojawienia się nowych danych. To samo z rzeczywistością. Postrzegamy ją różnie, co sprawia wrażenie, że żyjemy w różnych światach. W pewnym sensie tak jest, ale wtedy mowa raczej o różnych środowiskach, których mieszkańcy mogą być odmiennie oderwani od rzeczywistości.
Co znaczy, że ktoś jest oderwany od rzeczywistości? Czasem jest to inny punkt widzenia, który raz pozwala nam na lepszą obserwację jakiegoś wycinka rzeczywistości, a innym razem naraża nas na inną porcję złudzeń. Czy jest zatem szansa na tworzenie oaz, miejsc dociekań, gdzie uczestnicy pozostawiają partyjne liberie za drzwiami, akceptują, że nasza wiedza nie jest pewna, a krytyka może ujawnić luki w naszym rozumowaniu? Takimi oazami były niegdyś uniwersyteckie seminaria, gdzie najlepsi nauczyciele uczyli sztuki akademickiej dyskusji, w której umiejętność słuchania jest równie ważna, jak umiejętność prezentacji argumentów, a jakość jednego i drugiego uzależniona jest od wcześniejszego przygotowania i świadomości, że niezależnie od poziomu ekspertyzy uczestników dyskusji, zawsze docieramy do kwestii, które pozostają niewiadomą. Ustalenie tego, co nas może zaskoczyć, ponieważ nasza wiedza jest niepełna, bywa dobrym punktem wyjścia, poprzedzającym spór o tym, co wydaje nam się pewne. Ustalenie obszaru niepewności pozwala stronom obniżyć emocje, przez samą świadomość zgody, że nie wszystko wiemy i że część (często znacząca) znajduje się w obszarze zgadywania.
Akademicka dyskusja nie ma dobrych notowań. Często postrzegana jest jako sztuka dla sztuki.
Chwilami można mieć wrażenie, że staje się sztuką zanikającą, czasem wręcz pogardzaną.
Nasi przodkowie, walcząc o wolność słowa byli przekonani, że wolność organizowania się i swobodnej dyskusji zlikwiduje, a przynajmniej zredukuje, irracjonalizm naszych sporów. Zdawano sobie sprawę, że trzeba uciec od jarmarcznych kłótni, a to wymaga tworzenia miejsc, gdzie dociekanie prawdy jest ważniejsze od bitew o partyjne racje. Również władcy uznali, że akademicka dyskusja może sprzyjać poszukiwaniom cennym dla rządzących i zgodzili się na autonomię uniwersytetów. Próbowano nadać bardziej uporządkowany charakter sporom parlamentarnym i (niezależnie) tworzyć platformy, gdzie porządek obrad, jeśli nie eliminuje, to przynajmniej łagodzi znaczenie odmienności politycznych postaw i poglądów. To rozróżnienie jest istotne, czy dyskutujemy na forum, na którym spotykają się przedstawiciele odmiennych wizji i interesów (tu ważne jest pytanie, jak zachować elementarną kulturę sporu o wyższość moich racji), czy na forum profesjonalistów prezentujących wyniki badań własnych i oceniających wyniki badań kolegów, czy na forum towarzyskim, gdzie wynik dyskusji nie ma większego znaczenia (ale sposób wymiany poglądów nadal pozostaje ważny). Najłatwiej było organizować takie platformy merytorycznych debat członkom najtrudniejszych profesji. Biletem wstępu do towarzystw naukowych były zawodowe kompetencje, co zwiększało prawdopodobieństwo mówienia na temat rozumienia, o czym mowa i krytyki pozwalającej na wyłapywanie błędów w metodologii i interpretacji danych.
Z dyskusjami parlamentarnymi kłopot był znacznie większy, dyskutantów w ryzach miały trzymać ustalone formy i pewna teatralność, zaś jakość dyskusji zależała w znacznym stopniu od wyborców wpychających błaznów do parlamentów, ale również od mistrzostwa prowadzących obrady.
Wiele razy opowiadałem w różnych miejscach o moim zdumieniu i zachwycie dla szwedzkiego sposobu przygotowywania dyskusji. Dyskusja, żeby miała sens musi mieć jasno określony cel i porządek, klarowne kryteria doboru uczestników. Zebrania poprzedzało przygotowanie materiałów pisemnych, żeby uczestnicy spotkanie nie musieli dowiadywać się istotnych dla dyskusji faktów dopiero w trakcie spotkania. Towarzyszyła tym zabiegom troska, żeby nie marnować ludziom czasu i w miarę szybko osiągnąć zamierzony cel dyskusji. Rozbijający dyskusję wywodami niezwiązanymi z tematem spotkania byli często napominani, żeby nie urządzać polsk riksdag – "polskiego sejmu", co od stuleci jest w tym kraju zwrotem określającym, bałaganiarskie, puste gadanie. (Podczas piętnastu lat mieszkania w Szwecji miałem coraz częściej wrażenie, że teczki wysyłane uczestnikom zebrań stają się coraz grubsze, coraz bardziej zniechęcające do ich studiowania, sztuka trzymania się ziemi zaczęła zanikać, spory o tym, co możliwe, zmieniały się w spory o tym, jak być powinno. Polski sejm wkradał się na szwedzkie uniwersytety i do urzędów i chociaż sam zwrot pozostał nadal w powszechnym użyciu, częściej był wyrazem rozpaczy niż skutecznym napomnieniem niesfornego dyskutanta).
W wielu miejscach na świecie parlamentarne dyskusje przestały być parlamentarne, a akademickie dyskusje z prawdziwego zdarzenia zaczęły być rzadkością, chociaż nadal spotyka się je na dobrych naukowych blogach i w niektórych gremiach. Heroiczna walka o wolność słowa uwieńczona została sukcesem i zmieniła się w swobodę bełkotu. W mediach (tych renomowanych) informują nas o tym, co powiedział ten czy inny pan Wacek, fora dyskusyjne są chińskimi gazetkami ściennymi, prasowe i telewizyjne debaty popisami prowincjonalnych Hamletów.
Czy młode pokolenie podejmie walkę o lepsze wykorzystanie wolności słowa? Nie jestem pewien, nie widzę takich prób, ani u nas, ani gdzie indziej. Słychać głosy o rozbitych więziach społecznych, o podziałach i narastających problemach w naszej komunikacji.
Mam nadzieję, że jestem w błędzie, że czegoś nie dostrzegam. Szukam miejsc parlamentarnych dyskusji, gdzie ścierają się ludzie o różnych poglądach, godząc się na rygor parlamentarnego języka i dyktat kierującego dyskusją, szukam miejsc, gdzie toczą się akademickie dyskusje, dociekanie prawdy na dobrze sprecyzowane konkretne tematy, w których kompetencje są ważniejsze od tego, kto i skąd przychodzi. Szukam miejsc, gdzie zarzut oderwania od rzeczywistości nie przekreśla możliwości zaakceptowania faktu, że oderwani od rzeczywistości jesteśmy po trosze wszyscy, więc dobrze udokumentowana prezentacja naszego oderwania zasługuje na wdzięczność.
Osobiście od dawna nie chodzę na żadne spotkania i nie uczestniczę w dyskusjach, jestem zaledwie obserwatorem medialnych sporów, których uczestnicy namiętnie zarzucają sobie oderwanie od rzeczywistości, którą bez wątpienia odmiennie widzą i chyba nazbyt często dają do zrozumienia, że ich widzenie rzeczywistości jest poprawne i pozbawione błędów. Czasem pisuję komentarze pod jakimś artykułem, wiedząc, że żadna debata z tego nie wyniknie, bo prawdopodobnie nie może.
Na naszym krajowym podwórku główna oś sporu dotyczy PiS– i antypisu zwanego opozycją. W niedawnym komentarzu do artykułu o Jarosławie Kaczyńskim i jego wyborcach pisałem:
Czasem słyszę wypowiadane na jednym oddechu twierdzenie o tym, że polityka PiS-u uderza najsilniej w najbiedniejszych i to pogardliwe określenie "lud pisowski", będące synonimem wyborców rządzącej partii. Analiza sukcesów Kaczyńskiego i jego świty może zaczynać się od przypomnienia, że bracia Kaczyńscy byli architektami "wojny na górze", którą biedny Lech Wałęsa kupił, nie zastanawiając się co robi i zaledwie półgębkiem przyznając później, że dał się podpuścić. Możemy długo analizować gry braci Kaczyńskich o "chrześcijańskie wartości". Możemy się zastanawiać jak wiele Jarosław Kaczyński zbudował na śmierci swojego brata. Prawdopodobnie jednak tego rodzaju analizy nie prowadzą do zmiany postaw i opinii wyborców. Populiści, a trudno zaprzeczyć temu, że partia kierowana przez Kaczyńskiego jest partią populistyczną, opierają swoje sukcesy na wyolbrzymianiu i specyficznej interpretacji błędów swoich przeciwników. Kłamstwo jest częściej półprawdą lub ćwierć prawdą, która trafia do ludzi, bo coś z tego rozpoznają z własnych obserwacji.Jeśli nie umiemy tego zauważyć, jeśli nie umiemy słuchać ludzi, którzy dali się przekonać, nasze "analizy" okazują się wyłącznie pogłębianiem okopów. Ponieważ nie ma tu nawet cienia prób zrozumienia owego "ludu pisowskiego", nie ma również szans na jego przekonanie. Mówimy do siebie i dziwimy się, że to nie przekonuje tych, do których nie mówimy, bo ich problemów ani nie chcemy zrozumieć, ani nie mamy takich ambicji.

Kłamstwo nie ma krótkich nóg, kłamstwo operuje słowem zniekształcającym prawdę, odwołuje się do symboli, zdobywa przewagę upraszczając to, co skomplikowane. Populiści zręcznie posługują się pochlebstwem. Czasem mam wrażenie, że nasza strona woli przekonywać, wymyślając tym, których chcieliby przekonać, od idiotów. To może być mało przekonujące.
W odpowiedzi znajomy, wywodzący się z tego samego środowiska zawodowego i towarzyskiego co ja, napisał:
Zgadzam się z Panem. Problem w tym, że zwolennicy PiS, pominąwszy emocjonalną, ślepą wiarę w przedstawiane przez JK i jego otoczenia kłamstwa, nie tylko nie chcą ale nie życzą sobie spokojnej i rzeczowej rozmowy. Pogłębianie okopów jest nie tylko naszą winą, ale przede wszystkim intencją i działaniem wyznawców PiS. Jedyne co może jakoś na nich wpłynąć to test rzeczywistości. Muszą sami przejrzeć się w swoich wierzeniach w dobrobyt, stabilizację i "godność". Żadne przekonywanie nie skutkuje. Mieszkając na małej wsi już dawno przestałem przekonywać pisowskich popleczników. Nie rozmawiam z nimi na tematy polityczne. Powoli zauważam, że w ich myślenie wkradają się wątpliwości całkiem zasadnicze – wzrost kosztów życia, cen paliwa, cen nawozów, cen skupu produktów przez nich wytworzonych itp. Muszą ten test rzeczywistości sami przejść- inaczej nie mogą wyleczyć się z kłamstwa.
Próbowałem napisać odpowiedź, ale moja niesprawność techniczna spowodowała, że mój komentarz był odrzucany, nie w tym problem, chciałem wpisać w odpowiedzi:
Nie chodzi tu o winę za pogłębianie okopów, być może dla nas poważniejszym problemem jest nasze oderwanie od rzeczywistości. Zawsze jesteśmy boleśnie świadomi jak bardzo zróżnicowane jest nasze środowisko, niemal zawsze mamy kłopoty z zauważeniem różnorodności w środowisku, z którym mamy ograniczone kontakty. Stereotypizacja jest odruchowa i niezauważalna. Zapominamy, jak często nam się zdarza, że przyjaciel gdzieś odpłynął i nawet nadal głosujemy na tę samą partię, ale nie bardzo mamy z nim o czym rozmawiać. Ktoś odchodzi z wrogiego środowiska i nagle widzimy, że czasem mówi rozsądnie (Giertych, Sikorski, Kamiński, Dorn, czy jeszcze ciekawsza jest dla mnie Joanna Kluzik-Rostowska). Tak, to efekt zmiany poglądów, ale nie do końca. Oni są różni.To zróżnicowanie w przeciwnym obozie jeszcze trudniej dostrzec, kiedy mamy do czynienia z różnicą zawodów, wykształcenia i trosk, co powoduje, że kładek (obszarów wspólnoty) jest mało i dialog jest jak dziada z obrazem. Zapominamy, że w naszym środowisku oglądanie świata jest zajęciem głównym, a człowiek, który dostarcza nam chleb, mleko, kotlet i sałatę, czerpie informacje o tym, o czym chcielibyśmy rozmawiać, z kołchoźnika, bez skupienia i z ograniczonym skupieniem.

Jak popatrzeć bliżej, to nie różnice poglądów utrudniają rozmowę, a zapiekłość stron samo podejście do rozmowy. Z ludźmi, z którymi się lubimy spacery po polu minowym nie są większym problemem, a nawet sprawiają przyjemność. Nie wybieram się na takie rozmowy jako misjonarz, nie muszę przekonywać, wolę posłuchać, odpowiedzieć na pytanie, jak ja to widzę. Próbuję pamiętać jak bardzo jestem oderwany od jego/jej rzeczywistości. To czasem pozwala na jakieś mini sukcesy. Na dłuższą metę wydaje mi się ważniejsza sama bliska znajomość i świadomość, że różnice (przynajmniej do pewnego punktu) nie oznaczają odrzucenia. Czasami okazuje się, że zgadzamy się w ocenie Rydzyka, Czarnka i pana proboszcza, ale w innych sprawach każdy zostaje przy swoim.
Jak często łapiemy się na własnym oderwaniu od rzeczywistości? Bardzo rzadko i zawsze z pomocą innych. Sam mogę wymyślać sobie od idiotów po latach, natychmiastowe olśnienie, że jestem dziś w błędzie wymaga demonstracji faktów. Pisałem kiedyś na forum ateistów o ludziach pięknie wierzących. Zirytowany internauta zapytał: gdzie ich spotykasz? Odpowiedziałem, że najczęściej w mojej kuchni. Po dwóch minutach napisał: "Przepraszam wszystkich moich wierzących przyjaciół za to, że o nich zapomniałem".
Kto wie, może powinniśmy odczuwać niedosyt przyjaciół pokazujących nam nasze własne oderwanie od rzeczywistości.
P.S. W czasach mojej młodości głęboko w czasach komunistycznych fascynowała mnie obserwacja poglądów prywatnych i publicznych oraz warunków, jakie muszą być spełnione, żeby zostać dopuszczonym do poglądów prywatnych. Miałem teorię, że to interesujący problem wyłącznie w dyktaturach. Okazuje się, że była to tylko teoria.
---
Andrzej Koraszewski – Publicysta i pisarz ekonomiczno-społeczny. Ur. 26 marca 1940 w Szymbarku, były dziennikarz BBC, wiceszef polskiej sekcji BBC, i publicysta paryskiej "Kultury". Więcej w Wikipedii. Facebook
---
---