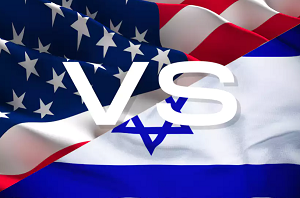 Mitchell Bard
Tłumaczenie: Małgorzata Koraszewska
---
W czerwcu napisałem artykuł pod tytyłem: Co by było gdyby Izrael traktował Amerykę tak jak Ameryka traktuje Izrael? Wydaje się to szczególnie istotne teraz, kiedy sekretarz stanu USA powiedział Izraelowi, że powinien dokonać przeglądu zasad użycia siły przez IDF (Siły Obronne Izraela) po tragicznej śmierci dziennikarki Al Dżaziry, Shireen Abu Akleh, w maju.
Antony Blinken najwyraźniej nie uważał, że wystarczy doradzać ministrowi obrony Izraela Benny'emu Gantzowi, jak kierować IDF w rozmowie telefonicznej, której treść wyciekła do prasy (ulubiona taktyka tej administracji wyrażania niezadowolenia z Izraela). Polecił również swojemu zastępcy rzecznika, aby powiedział dziennikarzom: "Będziemy nadal naciskać na naszych izraelskich partnerów, aby dokładnie przejrzeli ich politykę i praktyki dotyczące zasad użycia siły i rozważyli dodatkowe kroki w celu złagodzenia ryzyka szkód cywilnych, ochrony dziennikarzy i zapobiegania podobnym tragedie w przyszłości".
Zaledwie kilka tygodni wcześniej oburzona opinia publiczna i gniew Kongresu zmusiły Pentagon do ogłoszenia nowego "Planu łagodzenia i reagowania na szkody cywilne" w celu zmniejszenia liczby osób zabitych w operacjach wojskowych USA. Nastąpiło to po latach nieprzyjmowania odpowiedzialności za "szkody uboczne", jak w przypadku ataku dronów w Afganistanie w 2019 r., w którym zginęło 10 cywilów, w tym siedmioro dzieci. Ben-Dror Yemini zauważył w "Ynet", że badanie przeprowadzone przez Watson Institute for International and Public Affairs na Brown University wykazało, że 71% ofiar operacji antyterrorystycznych prowadzonych przez Stany Zjednoczone podczas wojny z terroryzmem to cywile. Niemniej plan Pentagonu nie obejmuje badania przeszłych spraw ani pociągania kogokolwiek do odpowiedzialności za śmierć niewinnych ludzi.
Ogłaszając wynik śledztwa IDF, które wykazało prawdopodobieństwo, że Abu Akleh została przypadkowo zabita przez izraelski ostrzał, rzecznik Departamentu Stanu USA Ned Price potwierdził, że Departament Obrony uznał "potrzebę poprawy własnych ocen i praktyk w celu zapewnienia łagodzenia szkód cywilnych". Nie powstrzymało go to przed podkreśleniem znaczenia odpowiedzialności Izraela i podjęciem środków, aby zapobiec podobnym incydentom w przyszłości, tak jakby Izraelczycy strzelali do dziennikarzy tak często, że potrzebna była nowa polityka.
Odpowiadając na pierwotne oskarżenie, że Izrael celowo zabił dziennikarkę, ówczesny minister spraw zagranicznych Yair Lapid napisał w "The Wall Street Journal", że Abu Akleh pracowała w regionie przez ponad 20 lat, nie doznając krzywdy. Powiedział, że to samo dotyczy innych zagranicznych dziennikarzy w Izraelu. Zauważył również, że jej pracodawca, "Al Dżazira, sieć prowadzona przez państwo islamistyczne, które jest otwarcie wrogie wobec Izraela, ma w Izraelu stały personel, chroniony przez państwo, które ta rozgłośnia regularnie oczernia".
Izrael gości najwięcej na świecie zagranicznych dziennikarzy per capita. Wielu z nich jest krytycznych, niektórzy jawnie wrogo nastawieni do Izraela; niemniej nie mają zakazu relacjonowania wiadomości z Izraela lub spornych terytoriów. Gdyby Izrael chciał zabijać reporterów, którzy piszą negatywne rzeczy o kraju, dziesiątki by nie żyły. Pomysł, że rząd celowo zaatakował dziennikarkę, jest zwyczajnie niedorzeczny.
Wyobraź sobie, że izraelskie ministerstwo spraw zagranicznych wydaje oświadczenia wzywające Stany Zjednoczone do zrewidowania swoich zasad użycia siły, biorąc pod uwagę straty wśród cywilów spowodowane przez ich siły zbrojne. To nigdy nie zdarzyłoby się.
Dobrze, że premier Yair Lapid stanął w obronie suwerenności swojego narodu, stwierdzając: "Nikt nie będzie nam dyktował naszej polityki otwarcia ognia, gdy walczymy o nasze życie. Nasi żołnierze mają pełne poparcie rządu Izraela i społeczeństwa Izraela". Dodał: "Nie pozwolę, aby żołnierz IDF, który chronił się przed ostrzałem terrorystycznym, był ścigany tylko po to, by otrzymać aplauz z zagranicy".
Również Gantz słusznie powiedział: "Szef sztabu i tylko on określa i będzie nadal określał politykę otwarcia ognia, zgodnie z potrzebą operacyjną i wartościami IDF, w tym czystości broni. … Nie było i nie będzie żadnego politycznego zaangażowania w tę sprawę".
Warto zauważyć, że w 2014 roku, po wojnie w Gazie, amerykański generał Martin Dempsey, przewodniczący połączonych szefów sztabów, mówił o tym, jak "Izrael posunął się niesłychanie daleko, by ograniczyć szkody uboczne i ofiary cywilne". Pentagon, powiedział, wysłał do Izraela zespół oficerów, aby wyciągnęli wnioski z walk, w tym "środki, które podjęli, aby zapobiec ofiarom cywilnym".
Stany Zjednoczone są najważniejszym sojusznikiem Izraela. Mimo to amerykańskim przywódcom czasami trzeba przypominać, że Izrael jest suwerennym narodem, jak zrobił to Menachem Begin po tym, jak administracja Reagana podjęła szereg środków, by ukarać Izrael za aneksję Wzgórz Golan. "Czy jesteśmy waszym wasalem? Czy jesteśmy republiką bananową?" – zapytał ambasadora USA w Izraelu. "Mamy dość siły – oświadczył Begin – aby bronić naszej niepodległości i bronić naszych praw".
Czy Stany Zjednoczone kiedykolwiek ośmieliłyby się powiedzieć Wielkiej Brytanii, Niemcom lub Francji, jak ich wojsko powinno wykonywać swoje obowiązki?
Nie, a to oznacza, że w sprawie Izraela Stany Zjednoczone stosują podwójne standardy, co jest jednym z przykładów antysemityzmu w roboczej definicji International Holocaust Remembrance Alliance (IHRA) stosowanej przez Departament Stanu.
Zanim Specjalna Wysłanniczka ds. Monitorowania i Zwalczania Antysemityzmu Deborah Lipstadt wyruszy w kolejną podróż za granicę, powinna posprzątać swój dom.
---

Mitchell Geoffrey Bard – Amerykański analityk polityki zagranicznej, redaktor i autor, który specjalizuje się w polityce USA – Bliski Wschód. Jest dyrektorem wykonawczym organizacji non-profit American-Israeli Cooperative Enterprise i dyrektorem Jewish Virtual Library.
---
---