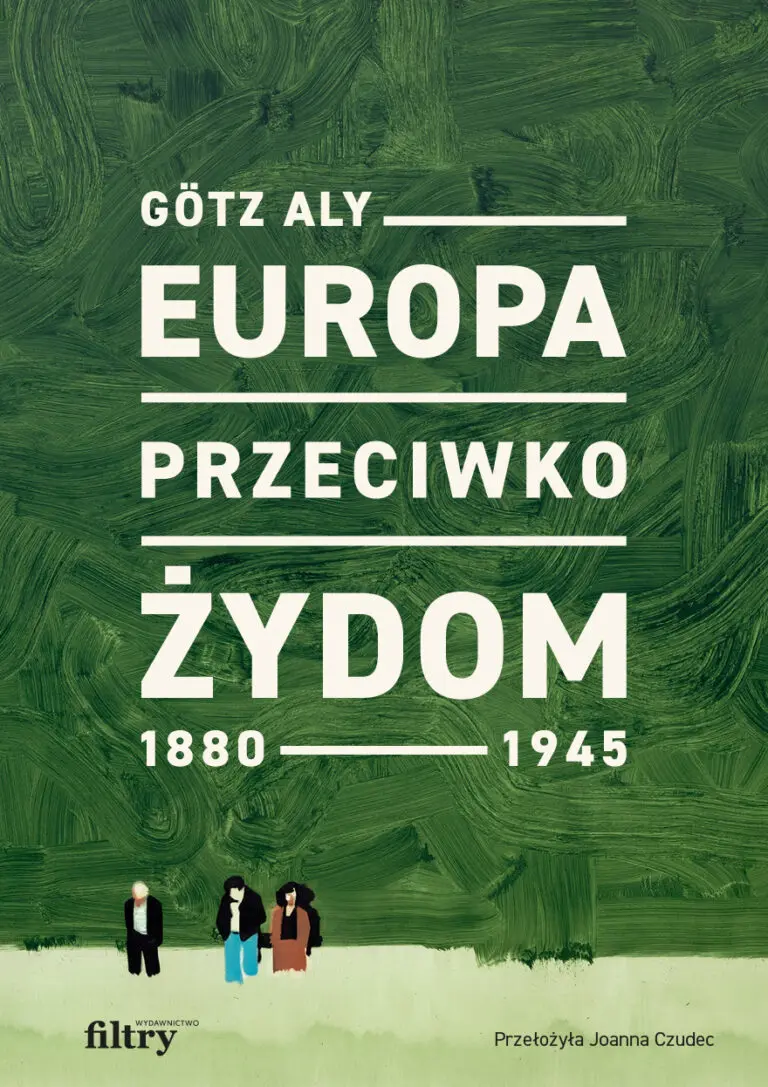 ---
Lech M. Nijakowski
---
Żydzi byli w Europie tradycyjnie obcym konstytutywnym, który stał się osnową kultur narodowych. Książka wybitnego historyka wprowadza nas w historię dyskryminowania i zabijania Żydów. To wstrząsający opis ograniczania praw, pogromów i eksterminacji. To obowiązkowa lektura, zwłaszcza dla tych, którzy mówią, że o Żydach pisze się dziś zbyt wiele.
.
Götz Aly, niemiecki historyk i dziennikarz, napisał wiele fundamentalnych prac naukowych. Jest autorem licznych książek na temat narodowego socjalizmu i ludobójstwa Żydów, między innymi klasycznego już "Państwa Hitlera" [1], które wyszło kilka lat temu po polsku. A teraz nakładem wydawnictwa Filtry ukazała się w Polsce jego "Europa przeciwko Żydom 1880–1945".
Kolejna książka o Żydach? Takie pytanie rezonuje mi w głowie. I pewnie przyjdzie na myśl wielu czytelnikom tej recenzji. Nie ulega wątpliwości, że na temat historii Żydów, zwłaszcza w Europie, i Szoa wyszło już wiele prac, zarówno polskich, jak i zagranicznych autorów. Mówi się nawet o "polskiej szkole historyków Holocaustu". Nadal jednak nie opisano wielu wymiarów kształtowania dystansu do Żydów. Obecnie można być oburzonym skalą dyskryminowania Żydów – czasy się zmieniły i dziś o pewnych rozwiązaniach nie mówimy publicznie. Ale nadal, mimo istnienia suwerennego państwa żydowskiego, pokutuje tradycyjny antysemityzm, który po Zagładzie jest haniebnym refleksem dawnej wrogości.
Recenzowana książka – bardzo dobra, zaznaczam to już w tym miejscu – zajmuje się okresem między 1880 a 1945 rokiem. Jego schyłek jest oczywisty – to formalny koniec drugiej wojny światowej. Początek związany jest zaś z wprowadzaniem ostrego prawa antyżydowskiego w różnych krajach Europy. W Niemczech w 1880 roku pojawił się nowy termin – "antysemityzm". A w odpowiedzi na rosnący nacjonalizm powstał ruch syjonistyczny. Te i inne wydarzenia decydują zatem o początku narracji.
Książka składa się z dziewięciu rozdziałów i wstępu. Mówi zarówno o rzeczach szeroko znanych, jak i rozpoznawanych tylko przez specjalistów. Autor pyta o przyczyny rozkwitu antysemityzmu w Europie końca XIX i początku XX wieku. Pokazane zostaje to, jak w różnych krajach tradycyjny antyjudaizm (postawa motywowana wrogością do religii) został w analizowanym okresie przekształcony w nowoczesny antysemityzm, związany z ruchami społecznymi i identyfikacjami politycznymi. Autor korzysta z drukowanych źródeł z epoki, polemik i wspomnień.
Uwaga Autora nie rozkłada się równomiernie na wszystkie kraje europejskie. Wyjaśnia to tym, że około 85 procent spośród zamordowanych w czasie drugiej wojny światowej Żydów pochodziło z Polski, Rosji, Rumunii, Węgier i państw bałtyckich. Dlatego też głównie charakteryzuje te rejony Europy, co nie może nas specjalnie dziwić.
Przez dekady opis relacji Żydów i innych narodów nie był rzetelny. Przekłamany obraz świata przetrwał do lat osiemdziesiątych XX wieku. Zmiana nadeszła dopiero po zakończeniu "zimnej wojny". Jednak w wielu miastach niepamiętanie o przeszłości jest nadal regułą. Autor przywołuje przykład Poznania, gdzie do 2011 roku kryta pływalnia funkcjonowała w Nowej Synagodze. Moim zdaniem, w Polsce – która nie chce się przyznać do wielu zbrodni – dobrze widać, jak łatwo prawdę składa się na ołtarzu narodowych mitów.
Antyżydowska przemoc
Książka Aly'ego jest przede wszystkim wstrząsającym opisem antyżydowskiej przemocy. Zarówno tradycyjnej, która kończyła się pogromami i masakrami, jak i nowoczesnej, która doprowadziła do ludobójstwa Żydów. Wstrząsające jest to, że przemoc opisana w tej książce była powszechna – dotyczyła różnych warstw i zawodów i mało kogo pozostawiała poza swoją grawitacją. Naziści i inni zbrodniarze odpowiedzieli na potrzeby ludzi, którzy domagali się mordu i redystrybucji dóbr. Wspomagały to przekonanie teorie spiskowe, które są w książce dobrze opisane. Europa przez lata dyskryminacji i zbrodni wychowała wielu morderców, którzy dojrzeli do eksterminacji. Albo mordowania własnymi rękami, albo odwracania wzroku i przydatnej obojętności.
"Europa przeciwko Żydom…" pokazuje różne rozwiązania narodowe, uderza powszechność nienawiści do Żydów. "Miliony Europejczyków życzyły sobie zniknięcia Żydów, milczały podczas wywózek i czerpały zyski z tego, co zostało po wymordowanych" [s. 38] – napisał Autor, pisząc o 1945 roku. Ale zdanie to można uogólnić na cały opisywany okres. Niemieckie ludobójstwo – w którym brały udział liczne europejskie narody – nie narusza ciągłości niemieckiej i europejskiej historii. Antyżydowska przemoc to nie epizod do opisania, ale kluczowa składowa europejskiej tożsamości. Tylko dzięki temu możemy sięgnąć po historyczną prawdę i spróbować opisać marginalizowany rdzeń naszej nienawiści. Autor umiejętnie łączy dążenia wolnościowe ludzi z antyżydowską przemocą. Tym samym motywacja sprawców jest złożona, nie ogranicza się do fanatyzmu. Antysemityzm w różnych krajach stanowił osnowę wielu ruchów, choć często skrywał się przed oczami świadków.
W książce szczegółowo opisane są wybrane pogromy (na przykład w Kiszyniowie w 1903 roku czy we Lwowie w 1918 roku), a Aly pokazuje nie tylko etiologię przemocy, ale także narodowe mity, które były wykorzystywane do różnych celów (Peter Glick pokazał, że nawet mechanizm kozła ofiarnego może opierać się na pozytywnej ideologii, wzmacniającej grupę [2]). Autor rozwija "socjologię pogromów" [s. 197], która pokazuje jego naukowy profil i może zainteresować czytelników. Szczególnie wstrząsające są pogromy po drugiej wojnie światowej. Wcześniejsze próbujemy tłumaczyć, pokazując ideologiczne zaczadzenie sprawców, co oczywiście jest operacją bardzo wątpliwą, ale ratującą naszą pamięć. W tym kontekście pojawia się ponownie Polska i pogrom w Kielcach czy Krakowie.
Ten powszechny udział ludzi w grabieniu i mordowaniu Żydów nakłada dziś na ich potomków szczególne moralne zobowiązania. Nadal jednak w Polsce powtarzane są antyżydowskie hasła, nadal oczernianie Żydów służy mobilizacji Europejczyków do różnych celów. Mało który naród stał się tak ważnym zwornikiem europejskich uprzedzeń i tym samym tożsamości. Żyjemy w długim cieniu antyżydowskiej dyskryminacji i przemocy.
Wypierana pamięć
Książka jest także traktatem o polityce historycznej, choć to drugoplanowy temat. W wielu miejscach Autor wspomina o przemilczeniach i zapominaniu o żydowskim cierpieniu. To, jak społeczeństwa zapominają, może być opisane przez socjologa, gdyż podlega warunkom społecznym, jak pamięć zbiorowa. Bez wątpienia winien temu jest między innymi wielki rabunek, o którym pisze Aly. Ludzie bardzo niechętnie wydawali po drugiej wojnie światowej żydowskie mienie, znajdując dla swego postępowania różne uzasadnienia. Czasami było to zwykłe kłamstwo. Z pewnością jednak strategie te przełożyły się to na powikłaną politykę pamięci.
Autor przygląda się postępowaniu z żydowskim dziedzictwem w różnych krajach, opisuje niszczenie cmentarzy. Nie ma tu prostych racji, pokazane są złożone postawy, motywy i różne okoliczności. Jednak Autor skłonny jest podkreślać nienawiść do Żydów, która uzasadniała masową kradzież i niszczenie znaków pamięci żydowskiej.
Co ważne, Autor nie powiela mitów, które wspierałyby jego lewicową narrację tożsamościową. Krytycznie odnosi się chociażby do przemian w Rosji, pokazując, jak antyżydowska przemoc uruchamiana była przez bolszewików i służyła ich politycznym celom. "Za zasłoną socjalistycznej równości kwitł ludowy antysemityzm" [s. 271] – podkreśla Aly, który pokazuje, jak rodził się socjalistyczny antysemityzm.
Wielu Europejczyków nie chce dziś dyskutować o antyżydowskiej przemocy. A jak pokazuje recenzowana książka, była to istotna składowa ruchów emancypacji społecznej i narodowego wyzwolenia (na przykład we Francji). Dotyczy to także polskich debat, w których nie podjęto wielu ważnych tematów [3].
"Europa przeciwko Żydom…" porusza wiele interesujących zagadnień, które historykom są dobrze znane, ale z pewnością powinna się z nimi zapoznać szeroka publiczność. Zwłaszcza że lubimy w Polsce dyskutować o historii i kondycji moralnej Żydów. Czas więc najwyższy, aby kompetencja polskich dyskutantów była wyższa.
Recenzowana książka powinna zainteresować zarówno laików, jak i specjalistów, przede wszystkim ze względu na interpretację przeszłości. Dla jednych będzie to popularny wykład o historii europejskich Żydów (tematowi temu można poświęcić wielotomowe wydawnictwa), dla innych kolejna interpretacja trudnej przeszłości. Nie ulega wątpliwości, że nadal jej nie przepracowaliśmy i mamy moralny obowiązek, aby czytać i dyskutować o żydowskim cierpieniu, które było przez lata ceną europejskiej tożsamości.
---
Przypisy:
[1] Götz Aly, "Państwo Hitlera", przeł. Wojciech Łygaś, Wydawnictwo Oficyna Wydawnicza Finna, Rotmanka 2014.
[2] Peter Glick, "Jagnięta ofiarne w wilczym przebraniu. Zawistne uprzedzenia, ideologia i czynienie z Żydów kozłów ofiarnych", przeł. Anna Czarna [w:] Leonard S. Newman, Ralph Erber (red.), "Zrozumieć Zagładę. Społeczna psychologia Holokaustu", Wydawnictwo Naukowe PWN, Warszawa 2009, s. 103–130.
[3] Michael C. Steinlauf, "Pamięć nieprzyswojona. Polska pamięć Zagłady", tłum. Agata Tomaszewska, Wydawnictwo Cyklady, Warszawa 2001.
---
Książka:
Götz Aly, "Europa przeciwko Żydom 1880–1945", przeł. Joanna Czudec, Wydawnictwo Filtry, Warszawa 2021.
---
---