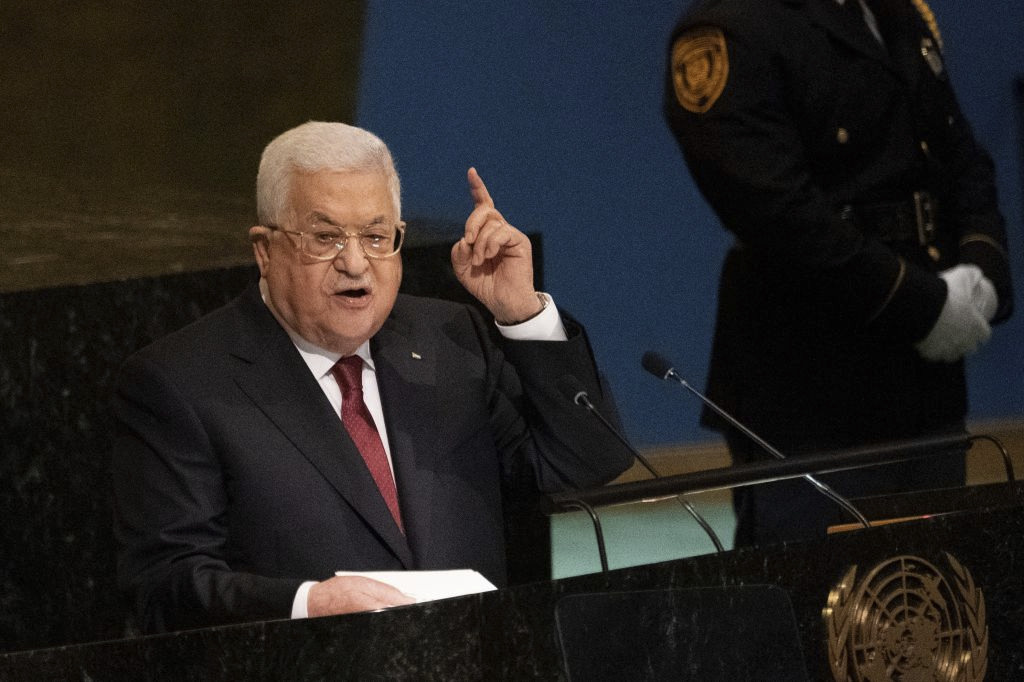 Na czele Autonomii Palestyńskiej i jej rządzącej frakcji Fatah stoi jeden człowiek: Mahmoud Abbas, który nie ma skrupułów w sprawie mordowania i ranienia Izraelczyków przez jego zwolenników. Wręcz przeciwnie, zachęca do tego i hojnie za to płaci – pieniędzmi z Europy i Stanów Zjednoczonych. Na zdjęciu: Abbas przemawia na Zgromadzeniu Ogólnym ONZ w Nowym Jorku 23 września 2022 r. (Zdjęcie: Bryan R. Smith/AFP via Getty Images)
---
Khaled Abu Toameh Tłumaczenie: Małgorzata Koraszewska
---
W ciągu ostatnich kilku miesięcy wzrosła liczba ataków terrorystycznych na Izraelczyków dokonywanych przez bandytów należących do Autonomii Palestyńskiej (AP) i jej rządzącej frakcji Fatah, lub z nią związanych. Na czele tych dwóch organów stoi ten sam człowiek: Mahmoud Abbas, który nie ma żadnych problemów, że jego zwolennicy atakują i mordują Izraelczyków. Wręcz przeciwnie, zachęca do tego i hojnie za to płaci – pieniędzmi z Europy i Stanów Zjednoczonych.
Autonomia Palestyńska, która została ustanowiona w 1993 roku po podpisaniu Porozumień z Oslo między Izraelem a Organizacją Wyzwolenia Palestyny (OWP), jest od tego czasu określana przez niektórych Izraelczyków i ludzi Zachodu jako palestyński partner pokojowy Izraela. Autonomia Palestyńska jest w dużej mierze zdominowana przez członków i aktywistów należących do Fatah, tak zwanego Palestyńskiego Ruchu Wyzwolenia Narodowego, który został założony w 1959 roku i jest odpowiedzialny za niezwykle długą listę ataków terrorystycznych na Izrael. Mimo tego, Fatah jest również często i zdumiewająco określany przez niektórych Izraelczyków i ludzi Zachodu jako "umiarkowana" frakcja palestyńska, w przeciwieństwie do wspieranych przez Iran palestyńskich grup islamistycznych, Hamasu i Islamskiego Dżihadu.
Fatah jednak przez lata udowodnił, że jego działania i retoryka w rzeczywistości nie różnią się od działań Hamasu i Islamskiego Dżihadu, grup terrorystycznych, które otwarcie wzywają do eliminacji Izraela. (Patrz: Karta Hamasu ; zasady i cele Islamskiego Dżihadu.)
W 1993 r. Jaser Arafat, ówczesny przywódca Fatahu i OWP, zobowiązał się do "pokojowego rozwiązania konfliktu" z Izraelem i twierdził, że OWP "wyrzeka się stosowania terroryzmu i innych aktów przemocy". Jednak jego lojaliści nadal mordowali Izraelczyków nawet po złożeniu tych zobowiązań, podpisaniu porozumień z Oslo i rzekomo rozpoczęciu izraelsko-palestyńskiego "procesu pokojowego".
Terroryzm Fatahu osiągnął swój szczyt w 2000 roku, na początku drugiej intifady, która wybuchła ogromną falą samobójczych zamachów bombowych, strzelanin i innych form przemocy. Następnie zbrojne skrzydło Fatahu, Brygady Męczenników Al-Aksa, rozpoczęło działalność na Zachodnim Brzegu i w Strefie Gazy jako prywatna milicja terrorystyczna, powiązana z przywództwem AP i Fatahu.
Od początku tego roku Fatah ponownie nasilił ataki terrorystyczne na Izrael. Brygady Męczenników Al-Aksa i inne grupy zbrojne należące do Fatahu przechwalają się nawet tymi atakami i grożą kontynuowaniem walki z Izraelem. To wszystko dzieje się, podczas gdy Mahmoud Abbas i jego wyżsi urzędnicy nadal podżegają społeczeństwo przeciwko Izraelowi i gloryfikują osoby zaangażowane w terroryzm.
W marcu Dia Hamarsheh, członek Brygad Męczenników Al-Aksa, zamordował pięciu izraelskich cywilów w izraelskim mieście Bnei Brak. W następnym tygodniu Ra'ad Hazem, inny członek grupy związanej z Fatahem, zamordował trzech izraelskich cywilów w Tel Awiwie.
Od tego czasu Brygady Męczenników Al-Aksa i inna powiązana z Fatahem grupa zwana Jaskinia Lwa przeprowadziły kilka ataków terrorystycznych na izraelskich żołnierzy i żydowskich osadników na Zachodnim Brzegu. Te grupy są tak dumne ze swojego terroryzmu, że zaczęły filmować swoich bandytów przygotowujących i przeprowadzających ataki. Ponadto wzywają Palestyńczyków do eskalacji walki z Izraelem, jednocześnie entuzjastycznie i gorąco popierając terrorystów.
Na przykład 23 września Brygady Męczenników Al-Aksa opublikowały plakat "opłakujący męczeństwo Muhammada Abu Dżuma'y, który przeprowadził atak nożem, w którym rannych zostało dwóch Izraelczyków. Dżuma'ę zastrzelił policjant. Plakat wychwalał napastnika jako "bohatera".
Na początku tego miesiąca Brygady Męczenników Al-Aksa opłakiwały "męczenników" Ahmeda Ajmana Abeda i Abd al-Rahmana Abeda, którzy przeprowadzili atak bronią palną, w którym zginął oficer armii izraelskiej w pobliżu miasta Dżanin na Zachodnim Brzegu [Judei i Samarii. MK]. Grupa oznajmiła, że jest dumna z dwóch bandytów, ponieważ przeprowadzili "jakościowy" atak. Nawiasem mówiąc, Ahmed Ajman Abed służył jako funkcjonariusz w Palestyńskich Siłach Wywiadu Wojskowego, agencji bezpieczeństwa zdominowanej przez członków Fatah.
Rosnące zaangażowanie członków Fatahu i Autonomii Palestyńskiej w terroryzm jest jednym z bezpośrednich rezultatów skrajnego podżegania kierownictwa palestyńskiego do nienawiści wobec Izraela. Abbas i jego współpracownicy nadal wysuwają najgorsze oskarżenia i oszczerstwa przeciwko Izraelowi. To ten rodzaj retoryki, jak również hojne płatności, zachęcają Palestyńczyków do przeprowadzania ataków na Izraelczyków. Fakt, że Abbas i jego świta nawet nie zadają sobie trudu, by powstrzymać lub potępić terrorystów, jest najwyraźniej postrzegany przez wielu Palestyńczyków jako zielone światło dla kontynuowania ataków.
Społeczność międzynarodowa ze swej strony jest tak zajęta nękaniem Izraela, że nikt nie potępia tych domniemanych palestyńskich "partnerów pokojowych" za ich rolę w terroryzmie. To milczenie zachęca również tych palestyńskich "partnerów pokojowych" do kontynuowania ataków.
To dlatego powiązana z Fatahem grupa Jaskinia Lwa poczuła się wystarczająco pewnie, by opublikować nową groźbę: "O Żydzi, rozpoczęło się odliczanie do waszej śmierci; dźgania nożami, taranowanie samochodami, starcia".
To jest "partner pokojowy", który zdaniem administracji Bidena pomoże w ustanowieniu państwa palestyńskiego obok Izraela. Z takim partnerem łatwo sobie wyobrazić, jak będzie wyglądać sytuacja na Bliskim Wschodzie – więcej przemocy, terroryzmu i rozlewu krwi. Izraelscy "partnerzy pokojowi" robią wszystko, co w ich mocy, aby potwierdzić obawy Izraelczyków dotyczące obecności państwa palestyńskiego zaledwie kilka kilometrów od ich domów.
---
---