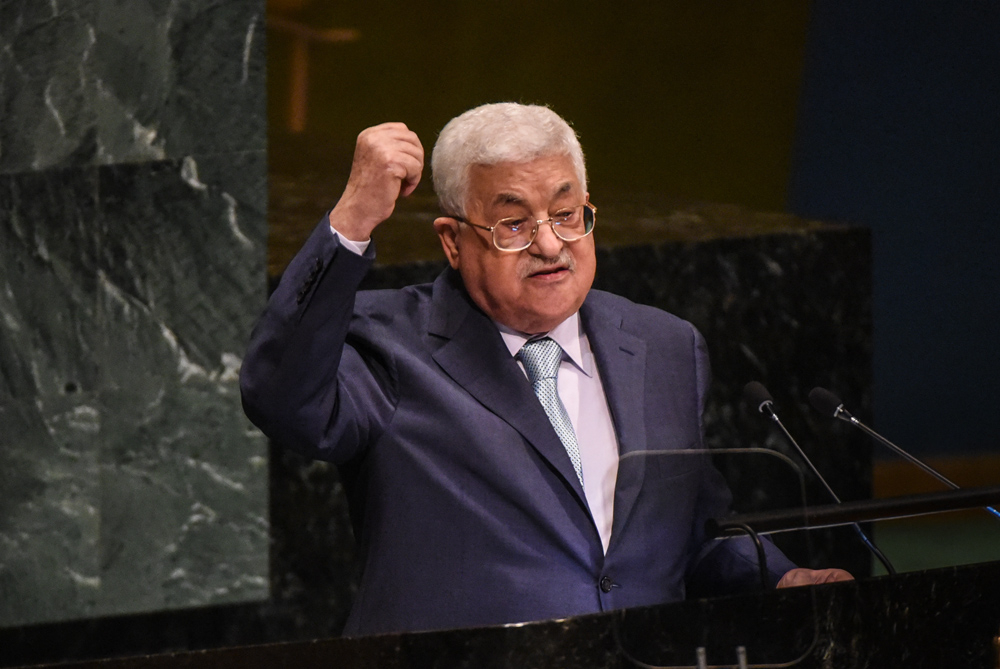 Kiedy prezydent Autonomii Palestyńskiej Mahmoud Abbas przemówi do Zgromadzenia Ogólnego ONZ w Nowym Jorku pod koniec tego miesiąca, nie powie swoim słuchaczom, że członkowie jego rządzącej frakcji Fatah szaleją na Zachodnim Brzegu, gdzie przeprowadzają codziennie ataki terrorystyczne przeciwko działaczom palestyńskim i dziennikarzom, a także Izraelczykom. Na zdjęciu: Abbas wygłasza przemówienie w ONZ 27 września 2018 r. w Nowym Jorku. (Zdjęcie: Stephanie Keith/Getty Images)
---
Bassam Tawil
tłumaczenie: Małgorzata Koraszewska
---
Gdy prezydent Autonomii Palestyńskiej Mahmoud Abbas przygotowuje się do wystąpienia na Zgromadzeniu Ogólnym ONZ w Nowym Jorku pod koniec tego miesiąca, pojawiają się coraz więcej sygnałów, że jego ludzie dokonują ataków terrorystycznych przeciwko Izraelowi.
Tak jak robił to w przeszłości, Abbas bez wątpienia ponownie wykorzysta podium ONZ, aby potwierdzić swoją gotowość do zawarcia pokoju z Izraelem i sprzeciw wobec terroryzmu i przemocy. Nie trzeba dodawać, że wykorzysta międzynarodową platformę do rzucenia kolejnych kłamstw i krwawych oszczerstw przeciwko Izraelowi i Żydom.
Jedno jest pewne. Abbas nie powie swoim słuchaczom w ONZ, że członkowie jego rządzącej frakcji Fatah szaleją na Zachodnim Brzegu, gdzie niemal codziennie przeprowadzają ataki terrorystyczne przeciwko palestyńskim działaczom i palestyńskim dziennikarzom, a także Izraelczykom. Ci terroryści, lojalni wobec Abbasa, działają na północnym Zachodnim Brzegu [tj. Judei i Samarii. MK], a konkretnie w palestyńskich miastach Dżanin i Nablus.
Terroryści Abbasa, uzbrojeni w różnego rodzaju broń i ładunki wybuchowe, przemierzają ulice obu miast i otwarcie deklarują swoje poparcie dla terroryzmu.
Terroryści są głównie powiązani z uzbrojoną grupą Fatahu, Brygadami Męczenników Aksa. Inna związana z Fatahem grupa, która niedawno pojawiła się na ulicach Nablusu, nazywa siebie Jaskinią Lwa.
W ciągu ostatnich kilku miesięcy terroryści Fatahu przeprowadzili wiele ataków zarówno na Palestyńczyków, jak i Izraelczyków. Wiadomo również, że wielu terrorystów współpracuje z wspieranymi przez Iran islamistycznymi grupami terrorystycznymi, Hamasem i Palestyńskim Islamskim Dżihadem (PIJ).
Terroryści Fatahu przeprowadzili ostatnio kilka zamachów na Żydów odwiedzających Grób Józefa w Nablusie.
Brygady Męczenników Aqsa wręcz chwaliły się atakami terrorystycznymi w pisemnym oświadczeniu. Grupa przysięgła również, że będzie kontynuować ataki terrorystyczne.
W zeszłym miesiącu armii izraelskiej udało się zlikwidować Ibrahima al-Nabulsiego, jednego z przywódców Brygad Męczenników Aksa w Nablusie, poszukiwanego za przeprowadzenie serii zamachów z bronią palną.
Po jego śmierci przywódcy Fatah zorganizowali konferencję nazwaną imieniem zabitego terrorysty w Ramallah, de facto stolicy Palestyńczyków. Był to gest ze strony Abbasa i jego współpracowników, by uczcić zabitego terrorystę. Abbas zadzwonił nawet do rodziców al-Nabulsiego i dwóch innych terrorystów z Fatah, aby złożyć kondolencje i wychwalać terrorystów jako "męczenników".
W zeszłym tygodniu izraelscy policjanci aresztowali palestyńskiego terrorystę w mieście Jaffa, niedaleko Tel Awiwu. Terrorysta, który był w drodze do przeprowadzenia ataku, należał do powiązanej z Fatahem grupy terrorystycznej Jaskinia Lwa. Policja znalazła w samochodzie terrorysty pistolet maszynowy i bomby rurowe.
Ostatnio Palestyńczycy ogłosili, że Hamad Abu Jildeh, 24-letni mężczyzna z Dżaninu, zmarł z powodu ran odniesionych podczas starcia zbrojnego z izraelskimi żołnierzami kilka dni wcześniej. Palestyńczycy ujawnili, że Abu Dżildeh był jednym z dowódców Brygad Męczenników Al-Aksa Abbasa. Wideo, jakie pojawiło się na platformach społecznościowych, przedstawiało Abu Dżildeha, gdy strzelał do izraelskich żołnierzy w obozie dla uchodźców w Dżanin. Podczas jego pogrzebu członkowie Fatahu wezwali Palestyńczyków do przeprowadzania kolejnych ataków.
Abu Dżildeh i al-Nabulsi to dwaj spośród kilku terrorystów Fatahu zabitych lub zatrzymanych w ostatnich tygodniach. Terroryści ci należą do frakcji palestyńskiej, którą ludzie Zachodu często określają jako "umiarkowaną". Dowódcą tych terrorystów jest nie kto inny jak Mahmoud Abbas, który oprócz pełnienia funkcji prezydenta Autonomii Palestyńskiej jest także przewodniczącym Fatahu.
Abbas i wyżsi przywódcy Fatah nie powiedzieli ani słowa przeciwko zaangażowaniu ich ludzi w terroryzm.
Abbas i przywódcy Fatahu nadal gloryfikują terrorystów. Ponadto Abbas odmówił powstrzymania lub rozbrojenia terrorystów. Zamiast tego Abbas i jego rzecznicy nadal, jak zwykle, obwiniają Izrael za ostatni wybuch przemocy na Zachodnim Brzegu. W rzeczywistości mówią, że Izrael nie ma prawa bronić się ani udaremniać ataków terrorystycznych planowanych i przeprowadzanych przez terrorystów, zwłaszcza należących do Fatahu.
Zdaniem Abbasa i innych przywódców palestyńskich, palestyńscy prawnicy, dziennikarze i aktywiści żądający wolności, a także Żydzi powinni po prostu akceptować codzienne ataki terrorystyczne przeciwko nim. Abbas krzyczy "terroryzm" tylko wtedy, gdy Izrael zabije lub aresztuje terrorystę.
To ten sam Abbas, który wkrótce pojawi się na Zgromadzeniu Ogólnym ONZ, aby ponownie odegrać rolę ofiary i oskarżyć Izrael o "ludobójstwo" i "czystki etniczne". Od kiedy doszedł do władzy w 2005 roku, Abbas okłamuje ONZ i inne instytucje międzynarodowe.
Podążając śladami swojego poprzednika, Jasera Arafata, strategia Abbasa polega na oszukiwaniu świata przez szerzenie fałszywego twierdzenia, że Izrael jest odpowiedzialny za wszystkie nieszczęścia Palestyńczyków – posunięcie to jest próbą ukrycia własnego złego przywództwa.
Podobnie jak Arafat, Abbas będzie nadal mówił o pragnieniu pokoju Palestyńczyków, jednocześnie zachęcając swoich terrorystów z Fatahu do dalszego terroryzmu. Gdyby Abbas naprawdę chciał powstrzymać terrorystów, przynajmniej poinstruowałby swoje siły bezpieczeństwa, aby skonfiskowały nielegalną broń i aresztowały terrorystów.
Abbas jednak tego nie zrobi, ponieważ sam uważa terrorystów za bohaterów i męczenników. Co więcej, nie ma motywacji do rozprawienia się z terrorystami; w końcu nie stanowią zagrożenia dla jego reżimu.
Tymczasem Abbas doskonale wie, że jego podżeganie przeciwko Izraelowi było tak skuteczne, że gdyby kiedykolwiek zawarł pokój z Izraelem, jego własny lud dokonałby jego egzekucji za zdradę.
Abbas podczas swojego przemówienia w ONZ oczywiście nie wspomni o terrorystach Fatahu. Nie będzie też mówił o szerzącej się korupcji w jego rządzie i niewykonywaniu przez siły bezpieczeństwa Autonomii Palestyńskiej ich obowiązku egzekwowania prawa i porządku oraz zapobiegania terroryzmowi.
Państwa członkowskie ONZ powinny przygotować się na kolejną listę kłamstw i oszczerstw Abbasa, obarczające winą wszystkich oprócz niego samego za trwający rozlew krwi. Przydałoby się, gdyby chociaż jeden z przedstawicieli państw członkowskich przerwał litanię Abbasa, by zapytać o rolę jego ludzi w terroryzmie i o to, dlaczego nadal chwali terrorystów, twierdząc równocześnie, że Palestyńczycy rzekomo dążą do pokoju.
---
Bassam Tawil jest muzułmańskim badaczem i publicystą mieszkającym na Bliskim Wschodzie.
---
---