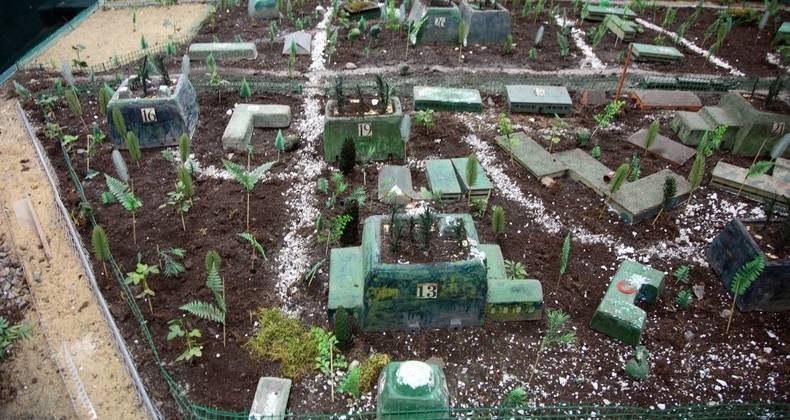 Makieta Wilczego Szańca
---
Piotr Janczarek
---
Kwatera główna Hitlera w Wilczym Szańcu była tajną stolicą III Rzeszy. Wycofujący się Niemcy wysadzili ją w powietrze, ale to, co z niej zostało, budzi grozę.
.
Hitler i członkowie jego otoczenia potrzebowali dobrze zorganizowanej i bezpiecznej kwatery. Decyzję o jej budowie podjęto w 1940 roku. Wówczas już myślano o ataku na Związek Radziecki, więc poszukiwano miejsca, które nie byłoby odległe od sowieckiej granicy. Jesienią 1940 roku w okolice Gierłoży, niedaleko Kętrzyna przybyli wysocy oficerowie Naczelnego Dowództwa Wehrmachtu wraz z inżynierem Fritzem Todtem.
Nie tylko odległość od granicy z ZSRR była istotna. Okolice Gierłoży idealnie nadawały się na budowę głównej kwatery dowództwa także z wielu innych powodów. Wystarczy spojrzeć na mapę.
Inwestycja pod przykrywką
Wielki, stary las mieszany stanowił idealną osłonę dla obiektów szańca. Wielkie Jeziora Mazurskie stanowiły naturalną przeszkodę dla nieprzyjacielskiej piechoty i wojsk pancernych. Ponadto były to Prusy Wschodnie, mocno ufortyfikowane, z licznymi twierdzami obronnymi. Od 1936 roku budowano tam żelbetonowe bunkry bojowe, zapory i rowy przeciwczołgowe, tworzące tzw. Giżycki Rejon Umocniony. Linia kolejowa oraz drogi dodatkowo jeszcze podnosiły walory tego miejsca. Dzięki linii kolejowej Hitler mógł sprawnie poruszać się swoim osobistym pociągiem.
Niemniej jednak Gierłoża leży w pobliżu Kętrzyna. Okolice te były miejscem rekreacji dla mieszkańców miasta. Przyjeżdżano tu na spacery, żeglowano po okolicznych jeziorach. Działał tam nawet dom wypoczynkowy. Inwestycja, zwłaszcza na tak wielką skalę, nie mogła zostać niezauważona. Postanowiono więc stworzyć legendę. Opowiadano o budowie zakładów chemicznych, które miały pracować na rzecz wojska. Łatwo było w związku z tym wprowadzić zakaz wstępu na tereny "fabryczne".
Ukryta stolica
Bezpieczeństwo wodza było priorytetem. Oprócz naturalnych przeszkód działał rozwinięty system bezpieczeństwa. Jakość maskowania sprawdzano, robiąc zdjęcia lotnicze. System nasłuchu był zdolny wykryć samoloty w promieniu do 100 km. Za ochronę zewnętrzną odpowiadała specjalna, dobrze wyposażona jednostka wojskowa w sile pułku. Niecałe 80 km dalej, koło Gołdapi stacjonowały wojska powietrzno-desantowe. Wódz miał też osobistą ochronę: specjalny batalion, a także jednostki służby bezpieczeństwa, policji i SS.
Druga po Berlinie stolica III Rzeszy była jak tajne, ukryte miasto z osiedlami i łączącymi je drogami oraz niezbędną infrastrukturą. Jego budowę rozpoczęto jesienią 1940 roku i prowadzono nieprzerwanie do końca 1944 roku. Praktycznie inwestycja nie została nigdy zakończona. Cały czas wznoszono nowe obiekty.
W Wilczym Szańcu mieszkało ponad 2 tysiące osób. Oprócz dróg oświetlonych ulicznymi latarniami była tu sieć wodociągowa, a także kanalizacja i oczyszczalnia ścieków. Wszystko to zamaskowano i otoczono polami minowymi. Maskowaniem obiektów zajęła się… firma ogrodnicza. Budynki o podwójnych ścianach miały w płaskich dachach 10–30-centymetrowe wgłębienia, które zasypywano ziemią. Na niej sadzono roślinność. Dodatkowo osłaniano budynki siatkami maskującymi.
Komfort życia w kwaterze Hitlera
W sumie zbudowano około 200 obiektów, które zajęły powierzchnię 250 ha. Obok betonowych schronów wzniesiono też lżejsze obiekty z cegły, a także drewniane baraki. Oprócz linii kolejowej i własnego dworca komunikację ze światem zapewniały dwa pobliskie lotniska.
Niewiele było tu rozrywek. Działały herbaciarnie, kasyna, kino. Najpopularniejszą formą relaksu było picie alkoholu. Sam Hitler był abstynentem i żył dość ascetycznie, więc nie obnoszono się specjalnie z rozrywkami i komfortem życia, a ten był urozmaicony.
Na większy mogli liczyć najważniejsi dowódcy: Hermann Göring, Heinrich Himmler, Martin Bormann, Wilhelm Keitel czy Joseph Goebbels, dla których pobudowano domy. Nie szokowały one jednak luksusem, choć były wygodniejsze niż inne mieszkania. Ogólnie standard budynków mieszkalnych i ich wyposażenie były raczej skromne. Równie ascetyczna była sama kwatera główna. Może dlatego, że wciąż trwała jej rozbudowa.
Bez jednego wystrzału
Do leśnej stolicy Hitler przeniósł z Berlina między innymi Ministerstwo Spraw Zagranicznych. Powstało tu także bardzo dobrze działające centrum łączności. Sam Führer przybył do Wilczego Szańca 24 czerwca 1941 roku. Spędził tu ponad 800 dni. Stąd koordynowany był między innymi atak na ZSRR. W mazurskiej kwaterze zapadały też kluczowe decyzje militarne.
20 lipca 1944 roku Hitler przeżył zamach na swoje życie dokonany przez pułkownika Clausa von Stauffenberga. Wilczy Szaniec opuścił definitywnie 20 listopada 1944 roku, gdy kwaterze zaczęły zagrażać wojska sowieckie. W styczniu 1945 roku to zagrożenie stało się realne. Na rozkaz naczelnego dowództwa 24 stycznia rozpoczęto wysadzanie obiektów. Dzieło zniszczenia kontynuowano jeszcze dzień później, ponieważ już 27 stycznia wkroczyli tam Rosjanie, przejmując Wilczy Szaniec bez jednego wystrzału.
---
Źródła:
---
---