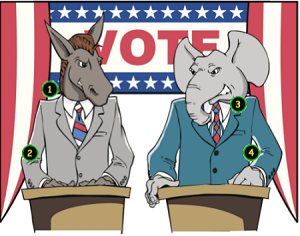 (Źródło zdjęcia: Virtual Learning)
---
Andrzej Koraszewski
---
Najnowsze badania Gallupa pokazują, że blisko 40 procent Amerykanów nie ma cienia zaufania do mediów, kolejne 28 procent ma ograniczone zaufanie do ścisłości przekazywanych przez media informacji. Wierzących w uczciwość i rzetelność dziennikarzy pozostaje już niewielu.
Kiedy w 1972 roku zaczynano badania nad zaufaniem społeczeństwa amerykańskiego do środków masowego przekazu, 68 procent społeczeństwa wyraziło przekonanie, że są przez media uczciwie i rzetelnie informowani, a w cztery lata później 72 procent (co było utrzymującym się do dziś rekordem).
Co się zmieniło? Na przestrzeni kolejnych dziesięcioleci wiele się zmieniło i to nie tylko w Stanach Zjednoczonych.
W latach siedemdziesiątych ubiegłego wieku byliśmy świadkami wielkiej tabloidyzacji. Zaczęła się epoka wykupywania renomowanych tytułów przez magnatów prasowych i pogoń za masowością. Charakter dziennikarstwa zaczął się jednak zmieniać już wcześniej pod wpływem przemian technologicznych. Radio i telewizja narzuciły nie tylko nową konkurencję dla prasy drukowanej, ale odebrały monopol na pierwszeństwo. Redaktorzy prasy drukowanej musieli się liczyć z faktem, że ich czytelnicy najważniejsze informacje mogli dostać o dzień wcześniej z mediów elektronicznych, tym samym komentarz stawał się istotniejszy od informacji. Zmiany w technikach drukarskich podniosły status fotografii w prasie drukowanej (który gazety takie jak "Bild" podniosły do absurdu), walka o czytelnika skłaniała do rezygnacji z nudnej rzetelności na rzecz plotkarskiego tabloidu. Wielka rewolucja miała jednak przyjść wraz z Internetem.
Nowe dziennikarskie pokolenie było zachęcane do pogoni za sensacją, Internet zwielokrotnił szybkość i ilość informacji. Wiadomości lecą ciurkiem jak z kranu, tych ważnych nikt nie sprawdza, bzdurnych nikt nie wyrzuca do kosza na śmieci. Już to wystarczyłoby, żeby stracić zaufanie do mediów.
Medialny biznes podległa również przemianom politycznym. Idea dziennikarstwa ponadpartyjnego została zastąpiona dziennikarstwem zaangażowanym. Media publiczne coraz częściej były zawłaszczane przez partie aktualnie sprawujące rządy, media prywatne, zaczęły się upodabniać do biuletynów partyjnych. Pojawiła się otwarcie deklarowana filozofia, że fakty są mniej istotne od Sprawy. Zaangażowany dziennikarz nie tylko nie czuł powołania do sprawdzania faktów, ale coraz częściej był zatrudniany przez redakcję z powodu swojego zaangażowania, a nie na podstawie kompetencji w jakiejś dziedzinie, umiejętności sprawdzania faktów i rzetelności w przekazywaniu informacji.
W przeszłości redakcje nie ukrywały swoich sympatii politycznych, ale dbały o etos obiektywizmu. Nigdy media nie były idealnie bezstronne, ale bezstronność była na sztandarach, dziennikarze zapewniali o swojej bezstronności, a niektórzy zyskiwali sławę właśnie dzięki rzetelności i obiektywności.
Czy to się zmieniło? Obiektywizm przestał być uważany za dziennikarską cnotę. Język propagandy przestał być wstydliwy, przepuszczanie komentarzy do niemal wszystkich wydarzeń przez pryzmat wewnętrznych walk partyjnych stało się wszechobecne.
Podczas gdy partie polityczne walcząc o władzę miały zawsze tendencję do demonizowania swoich przeciwników, media, określające się jako "czwarta władza" walczyły o odbiorców reklamując swoją bezstronność. Można powiedzieć, że dziś też to robią, ale dostarczany towar powoduje, że odbiorcy mają wrażenie, że te reklamy nie mają wiele wspólnego z rzeczywistością.
Kiedy w połowie lat siedemdziesiątych przeprowadzono w Szwecji badania nad orientacją polityczną dziennikarzy okazało się, że partia komunistyczna, która w wyborach powszechnych z trudem przechodziła przez pięcioprocentowy próg, miała wśród dziennikarzy 20 procent poparcia. Kiedy zapytałem o ten fenomen zaprzyjaźnionego dziennikarza telewizyjnego, odpowiedział pół żartem pół serio, że policja przyciąga sadystów, a dziennikarstwo marzycieli, którzy chcą zaczarować rzeczywistość słowami. Zwrócił uwagę na fakt, że jest to typ dziennikarza, który częściej pisze o tym, jak być powinno niż o tym jak jest.
Coraz szybsze tempo informowania, walka o czytelnika/widza/słuchacza, tabloidyzacja (również renomowanych mediów) i polityzacja informacji, to wszystko wskazuje na to, że zaufanie do mediów będzie nadal dramatycznie maleć, zaś odbiorcy będą szukać rozproszonych źródeł wiedzy o świecie, co może dla większości oznaczać zwrot w kierunku mediów społecznościowych i jeszcze bardziej wykoślawiających rzeczywistość przekazów środowiskowych. (Również w Polsce widać, że młode pokolenie coraz częściej bardziej ufa informacjom znajomych w sieci niż zawodowcom utrzymującym się z przekazywania informacji.)
Czy ma sens próba odbudowy dziennikarskiego etosu opartego na obiektywności, kompetencji i rzetelności? Prawdopodobnie nie ma na to większych szans. Wielkie redakcje nie wydają się być zainteresowane budowaniem swojego autorytetu na rzetelności kierując się uzasadnioną obawą przed konkurencją ze strony handlarzy sensacją. Nowym zjawiskiem są samotne wilki, często doświadczonych dziennikarzy, mających duże kompetencje w takiej czy innej dziedzinie, którzy tworzą niszowe strony dla zainteresowanych. Te oazy dziennikarskiej rzetelności nie zmieniają i nie mogą zmienić opinii społecznej o marniejącej profesji.
Kiedy widzisz wielki tytuł, że Iran nie rozwiązał policji ds. moralności. Świat błędnie odczytał słowa prokuratora generalnego, jesteś informowanych o żałosnej próbie oddalenia od siebie winy za zawodowe partactwo. To nie świat "odczytywał", to najpierw dziennikarze AFP a potem BBC i inni wprowadzali świat w błąd.
Każdego dnia w dziesiątkach spraw "świat" jest raz za razem wprowadzany w błąd przez ludzi trudniących się informowaniem.
Trendu, który pokazują badania Gallupa, prawdopodobnie odwrócić się nie da, niektóre środowiska dziennikarskie mogą jednak spojrzeć w lustro w przerwach między jedną a drugą pogonią za opowieścią, która przyciągnie maksimum uwagi.
Kiedy na początku transformacji Eugeniusz Smolar zaproponował z Londynu utworzenie w Polsce radia czysto informacyjnego, reakcją był pusty śmiech i stwierdzenie, że na takie dziwactwo to w Polsce nie będzie odbiorców. Radio powstało w nieco innym formacie i ostatnio dowiedziałem się z niego, że o pewnym raperze należy mówić "oni" ponieważ ta osoba jest niebinarna. Jest to anglicyzm, mechaniczne przełożenie słowa "they" jak każą mówić o sobie takie osoby. Tymczasem mamy w polskim języku zaimek odzwierciedlający niebinarność: "ono". W przekładzie książki znakomitej biolożki, Olivii Judson, Porady seksualne doktor Tatiany dla wszystkich stworzeń, tłumacz, Marcin Ryszkiewicz, znalazł nawet sposób na uwzględnienie niebinarności w czasownikach. Tak więc stworzenia niebinarne w tej biologicznej książce mówiły: byłom, zrobiłom, zjadłom. Jaka szkoda, że wypowiadająca się w tej sprawie ekspertka nie sprawdziła, jak o stworzeniach niebinarnych mówią polscy biolodzy. Wyszedłem z łazienki poinformowany o jednej z najważniejszych spraw dzisiejszego świata, uświadamiając sobie, że podczas gdy amerykańskie media donoszą o wszystkim w cieniu nieustającej walki słonia z osłem, u nas jest podobnie, ale nam wszystko przesłania walka pawia z papugą.
P.S. Amerykańskie partie polityczne ożenił ze słoniem i osłem słynny rysownik Thomnas Nast, który w 1879 przedstawił na rysunku republikanów jako słonia a demokratów jako osła. A jeśli idzie o pawia i papugę to trudno powiedzieć skąd się to wzięło.
---
---