---
Andrzej Koraszewski
---
Aida, Betlejem. Foto. Dorota Grabek.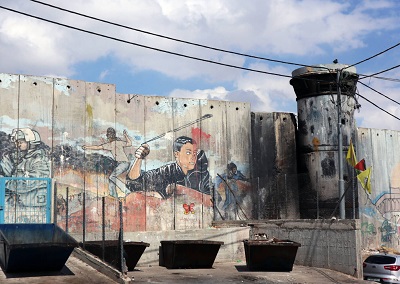 Sześćdziesiąt dwa lata temu ówczesny redaktor naczelny "Więzi", Tadeusz Mazowiecki wygłosił w warszawskim Klubie Inteligencji Katolickiej wykład pod tytułem "Antysemityzm ludzi łagodnych i dobrych". Tekst tego wykładu należy do kanonu lektur tych Polaków, których interesuje i przeraża zjawisko antysemityzmu. Mazowiecki pisał w nim między innymi, że "Międzynarodowy zasięg antysemityzmu świadczy o tym, że odbiega on swoim charakterem od zwykłych konfliktów narodowościowych." Przypominając ten wykład w lutym 2018 roku kwartalnik "Więź" wybija ten cytat (obok kilku innych) z prośbą o udostępnianie, więc udostępniam.
Obecny redaktor naczelny "Więzi", Zbigniew Nosowski, nie mógł być obecny na tym wykładzie z przyczyn naturalnych, urodził się w rok później. Wykład Mazowieckiego zaczynał się od słów:
Antysemitów wśród nas nie ma. Nikt, poza jednym czy drugim fanatykiem, do takiej nazwy dziś się nie przyzna. Zawsze zresztą ludzie łagodni i dobrzy mówili: "Antysemitą, to ja nie jestem, potępiam tego rodzaju postawę,… ale ci Żydzi".
Czytając 31 grudnia w "Więzi" niby reportaż pani Doroty Grabek, miałem wrażenie, że czytam ilustrację do wykładu Tadeusza Mazowieckiego. Reporter to człowiek, który długo przygotowuje się do wyjazdu w teren, a potem rozmawiając z ludźmi jest świadomy kontekstu tego, co mówią i dlaczego to mówią. Pani Dorota Grabek nie jest dziennikarką, jest bohemistką "współczującą Palestyńczykom", jak irlandzka neonazistka współczująca słowiańskim dziewczętom porywanym przez Izraelczyków na seksualne niewolnice.

Czy sądzisz, że syjo-chrześcijanie kiedykolwiek zrobiliby cokolwiek, by pomóc tym biednym słowiańskim dziewczynom sprzedawanym w seksualną niewolę do Izraela?]
Dlaczego ten "reportaż" Doroty Grabek w żaden sposób nie zdziwiłby mnie na łamach "Gazety Wyborczej", a zabolał tak bardzo na łamach "Więzi"? Może dlatego, że Tadeusz Mazowiecki był syjo-chrześcijaninem, a ja jestem syjo-ateistą. Zdumiony pojawieniem się tego tekstu na tych łamach pierwszego stycznia wysłałem poniższy list do redaktora Nosowskiego:
Szanowny Panie Redaktorze,

Czy trzeba być specjalistą w dziedzinie historii nowożytnej Bliskiego Wschodu, żeby dostrzec, iż opublikowany przez Pana tekst pani Doroty Grabek jest nie tylko wściekłą antysemicką propagandą, ale również wielkim kłamstwem o Palestyńczykach? Czy rzeczywiście tak trudno dostrzec, że w tym tekście nie ma ani jednego prawdziwego zdania? Czy chrześcijańska miłość musi być teraz oparta na miłości do pomordowanych Żydów i do wszystkich, którzy zajmują się zabijaniem jeszcze żywych?

Z okazji Bożego Narodzenia opublikował Pan tekst o dzisiejszym Betlejem, w którym nie ma ani jednego zdania o palestyńskim terrorze, w którym nie ma ani jednego zdania o sytuacji (głównie arabskich) chrześcijan w dzisiejszym Betlejem, w którym nie ma ani jednego zdania o palestyńskich rodzicach protestujących przeciw wychowywaniu ich dzieci na morderców i wciąganiu ich w świętą wojnę. Czytając ten artykuł w katolickim piśmie przypominałem sobie nie tylko znakomitą książkę Dary Horn People love dead Jews, ale i rozmowę papieża Piusa X z Theodorem Herzlem z 1904 roku, w którym papież mówił:

"Nie możemy uznać waszego ruchu. Nie możemy powstrzymać Żydów przed wejściem do Jerozolimy – ale nigdy tego nie usankcjonujemy. Ziemia Jerozolimy, jeśli nie była zawsze święta, została uświęcona przez życie Jezusa Chrystusa. Jako głowa Kościoła nie mogę powiedzieć ci nic innego. Żydzi nie uznali naszego Pana, dlatego nie możemy uznać żydowskiego narodu."

Herzl zapytał papieża o obecny status Jerozolimy. Na co papież odpowiedział:

"Wiem, że nie jest miłe patrzenie na to, że Turcy posiadają Święte Miejsca. Musimy się z tym po prostu pogodzić. Ale poparcie Żydów by weszli w posiadanie Świętych Miejsc, tego nie  możemy zrobić".

Zatrzymajmy się przy kilku stwierdzeniach z publikacji w katolickiej "Więzi" z 23 grudnia AD 2022. 

zym tłumaczy Pan swoją niezdolność dostrzeżenia uderzających kłamstw w tym artykule i zakwalifikowanie go do publikacji?        

Czy naprawdę ta scena wizyty polskiej wolontariuszki w sklepiku palestyńskiego artysty niczym Pana  nie uderzyła? Tak spokojnie uwierzył Pan w opowieść o codziennym ostrzeliwaniu palestyńskiego obozu dla uchodźców przez Żydów i powieka nie drgnęła Panu, kiedy czytał Pan, że:

Kiedy młodzi izraelscy żołnierze uczą się strzelać albo kiedy nowy dowódca jednostki chce się popisać – atakują nas. Izrael mówi, że wybudował mur ze względów bezpieczeństwa. OK, tylko po co ciągle do nas przychodzą? – pyta mieszkający w obozie Hassan.

Nic? Żadnych reakcji, kiedy czyta Pan to zdanie ponownie? To jest sam począteczek tego artykułu. Nie zadzwoniły w Pana głowie żadne dzwonki alarmowe, kiedy czytał Pan, że palestyński artysta "cyzeluje miniaturowe mapy Palestyny i klucze – symbole prawa do powrotu palestyńskich uchodźców"? Nie zapytał Pan jak te mapy wyglądają, czy obejmują cały Izrael, i czy przypadkiem w Izraelu nie ma nieco więcej ludzi mających klucze do domów, z których zostali wygnani? Nigdy Pan nie słyszał, że więcej Żydów z krajów arabskich zostało wygnanych niż było Arabów, którzy uciekli ze swoich domów na terenach obecnego Izraela w oczekiwaniu, aż armie arabskie oczyszczą te tereny z Żydów? (Właśnie wyszła książka dziesięciu historyków pod redakcją francuskiego socjologa Shmuela Trigano, La fin du Judaïsme en terres d'Islam, która opowiada również o kluczach, może mniej sentymentalnie, a bardziej rzeczowo.)    

Czy w Pana głowie naprawdę nie odezwał się żaden dzwonek alarmowy, kiedy czytał Pan następujące zdanie: "Żołnierze przychodzą codziennie – Abdul zamyśla się na chwilę. – Oczywiście nie zawsze, są okresy, że przez tydzień jest spokój, a potem znowu wracają dzień po dniu. To odpowiedzialność zbiorowa, chcą nas ukarać nawet za to, że protesty wybuchają w innych miastach, jak ostatnio w Dżeninie i Nablusie". Nie miał Pan ochoty niczego sprawdzić? Wszystko zgadzało się z tym, w co Pan chce wierzyć?

Szanowny Panie Redaktorze,

"Więź" jest oazą polskiego oświeconego katolicyzmu, jest jak latarnia morska ostrzegająca przed rafami fanatycznej wiary, widok tego tekstu na tych łamach jest szczególnie niepokojący.

Oto mamy obóz dla uchodźców na terenach będących pod wyłączną kontrolą władz palestyńskich. Czy zastanawiał się Pan dlaczego potomkowie uciekinierów od wojny sprzed 75 lat są trzymani jak zwierzęta w obozach dla uchodźców przez swoje własne władze narodowe? Nie wiem, czy Pan o tym słyszał, ale po wojnie sześciodniowej izraelskie władze chciały natychmiast zlikwidować palestyńskie obozy dla uchodźców i zapewnić ich mieszkańcom trwałe osiedlenie. Autorka artykułu być może o tym wie, ale świadomie woli, żeby o tym nie wspominano. Wtedy zaprotestowały kraje arabskie i z pomocą Organizacji Narodów Zjednoczonych powstrzymały próby zakończenia koszmarnej tymczasowości uchodźców, którzy już dawno nie byli uchodźcami. Pan jednak, bez mrugnięcia oka, czyta o strasznej winie Żydów za los, jaki Arabowie stworzyli swoim arabskim braciom, żeby na zawsze pozostali psami wojny.

Czytam ten tekst na łamach redagowanego przez Pana pisma i zastanawiam się, co wyznacza tę optykę? Czy nazwanie Mahmouda Abbasa przez papieża Franciszka "aniołem pokoju", czy może setki rezolucji Organizacji Narodów Zjednoczonych potępiających Izrael, uchwalanych zawsze demokratycznie głosem przytłaczającej większości, gdzie podczas głosowania przedstawiciel Polski głosuje nieodmiennie ramię w ramię z Rosją, Chinami, Iranem, Kubą i innymi dyktaturami? A może autorytet Amnesty International lub Human Rights Watch? Tak, przyznaję, opowieści pani Doroty Grabek mają mocne wsparcie. Antysemityzm jest światowym dziedzictwem pod osłoną UNESCO i innych agend.

A jednak być może warto czasem zainteresować się, co mówią palestyńscy dysydenci, ci Palestyńczycy, którzy mimo terroru ze strony palestyńskich władców odważają się mówić.

31 grudnia 2022, zaledwie w kilka dni po publikacji artykułu pani Grabek, urodzony na terenie okupowanego wówczas przez Jordanię zachodniego brzegu Jordanu, Khaled Abu Toameh, donosił o zaciętych walkach w Betlejem między policją Autonomii Palestyńskiej a bojówkarzami tak zwanych Brygad Męczenników Al-Aksy (będących częścią kierowanego przez Abbasa Fatahu). Strzelanina w środku miasta, podpalone samochody, zniszczone sklepy, brak informacji, czy byli zabici i ranni.

Pani Dorota Grabek zobaczyła w Betlejem tylko to, co chciała zobaczyć i usłyszała tylko to, co chciała usłyszeć. Nie ona jednak zatwierdzała ten tekst do publikacji. To redakcja uznała dostarczony tekst za całkowicie wiarogodny i odzwierciedlający rzeczywistość. Domyślam się, że na redaktora kwalifikującego ten tekst do druku musiał on działać jak granat z gazem łzawiącym. Musiał łkać jak bóbr, czytając o matkach chowających niemowlęta w szafach, żeby je uchronić przed uduszeniem się żydowskim gazem. Czyta zatem redaktor "Więzi" słowa nadesłanego tekstu i oczy zachodzą mu/jej łzami:

Dzieci ponoszą największe konsekwencje okupacji – mówi Abdelfattah Abusrour, dyrektor centrum młodzieżowego Ar-Rouad. – Wiesz, ile dzieci zostało zabitych w tym roku? Do października oficjalnie było 27 ofiar! Żołnierze oskarżają dziesięciolatków o terroryzm, aresztują za rzucanie kamieniami. Wiele z nich trafia do więzień. Część po wyjściu na wolność nie poradzi sobie z traumą – one już nigdy nie wrócą do normalnego życia. To nie są odosobnione przypadki, tylko konsekwentna, realizowana od lat polityka. Izrael bierze na celownik dzieci, żeby złamać je psychicznie. Jeśli im się to uda, wkrótce dorośnie całe pokolenie Palestyńczyków o zburzonych życiorysach i, prawdopodobnie, bardziej skłonnych do burzenia świata wokół nich.

Pani Dorota nie opowiedziała redaktorowi "Więzi" o tym, co jest w palestyńskich podręcznikach, ani o letnich obozach dla dzieci-żołnierzy, ani o kazaniach imamów w meczetach, ani o słowach matek dumnych z powodu śmierci swoich synów,  które mówią: "Mój syn chciał umrzeć jako męczennik, ciągle mówił o męczeństwie. Na dwa dni przed śmiercią nagrał wideo, on i jego koledzy, był owinięty w [palestyńską] flagę a jego koledzy pożegnali go". Te słowa matki z dumą zmieściły palestyńskie media. Szesnastoletni chłopiec, dziecko z kompletnie wypranym mózgiem, zginął 8 grudnia, rzucając kamieniami w przejeżdżające izraelskie samochody. Te kamienie powodują czasem śmierć podróżnych, czasem śmierć dzieci wysyłanych do walki przez rodziców, nauczycieli i kapłanów.

Pranie mózgów przyjmuje bardzo różne formy, czasem tak niewinne, jak publikacja w piśmie światłych katolików, czasem jest to raport specjalnej komisji Rady Praw Człowieka ONZ, czasem raport Amnesty International. Ważne jest, żeby pracować wspólnie i nigdy nie zadawać zbędnych pytań. Potrzebna jest silna wiara, że kłamstwa nie wymagają żadnych dowodów.

Szanowny Panie Redaktorze,

Ja wiem, że to bardzo gorzki list, ale naprawdę pora zacząć współczuć Palestyńczykom, otworzyć oczy i spróbować zobaczyć, kto jest ich najgorszym wrogiem. Chrześcijańskie miłosierdzie nie musi być aż tak bardzo przywiązane do tradycji, może być odrobinę bardziej światłe, a przynajmniej gotowe na zadawanie pytań.

Z poważaniem

Andrzej Koraszewski
Ten list pozostał bez odpowiedzi, więc sądzę, że należy go upublicznić, tym bardziej że redakcja  "Więzi" postanowiła wzmocnić tę publikację rozmową z autorką tego "reportażu" podkastem pod  pięknym, kojarzącym się z popularną kolędą tytułem "Dzisiaj w Betlejem".
Prowadzący wywiad redaktor Bartosik jest cały zachwycony chrześcijańskim miłosierdziem pani Doroty Grabek. Do głowy mu nawet nie przychodzi, że ktokolwiek mógłby ten prosty przekaz palestyńskiej narracji nazwać antysemityzmem. Prowadzący wywiad nawet zainteresował się dlaczego ci ludzie, potomkowie uciekinierów od wojny w 1948 roku, nadal mieszkają w obozach dla uchodźców. Pani Grabek poinformowała rozmówcę i słuchaczy, że to ich decyzja, że nie chcą rezygnować z "prawa powrotu".
W takich sytuacjach zawsze pojawia się pytanie, czy człowiek przekazujący takie opinie jest tylko naiwny, czy jest cyniczny? Nigdy nie mamy tu pewności, jesteśmy skłonni do uznania, że mamy do czynienia z antysemityzmem ludzi łagodnych i dobrych. Wątpliwości pojawiają się, kiedy widzimy nagrany telefonem film, na którym palestyńskie dzieci, rzucają kamieniami… w kierunku tłumu zapraszających ich do tego zachodnich dziennikarzy.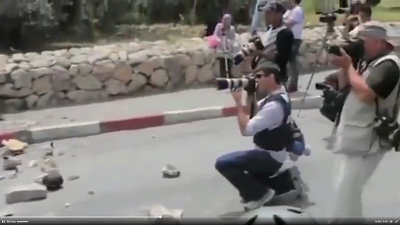 Nietrudno tu o werdykt, że mamy do czynienia z cynicznymi antysemitami. Ponieważ nie jest to odosobniony przypadek, amerykański historyk Richard Landes nazwał ten proceder "Pallywood". Nie są to niewinne zabawy "reporterów". Najsłynniejszy "reportaż" o chłopcu Al Dura tak skutecznie nakręcił nienawiść, że kosztował setki ludzkich istnień. Nie wiemy i nie możemy wiedzieć, czy Dorota Grabek jest tylko młodą, naiwną i, jak Adam Michnik, źle poinformowaną kobietą, czy też przygotowuje swoje "reportaże" tak jak ci dziennikarze na zdjęciu powyżej.
Jej własnoręczna fotografia tak opłakiwanego  przez nią muru bezpieczeństwa jest wiele mówiąca.
Ten powodujący straszliwą traumę mur po palestyńskiej stronie ma bardzo wiele graffiti, można go wręcz nazwać galerią sztuki. Panią Dorotę Grabek zachwyciło malowidło palestyńskich nastolatków próbujących z procy zabić sobie jakiegoś Żyda. Jest dobrą chrześcijanką, więc zapewne ten obraz skojarzył jej się z walką małego Dawida z Goliatem. Ja mam skojarzenia z rodzinną opowieścią z 1920 roku, kiedy brat mojej matki, Zbigniew Jasiński, jako dwunastoletni chłopiec wraz z innymi małymi harcerzami został przez zastępowego zabrany do dzielnicy żydowskiej, żeby harcerze poćwiczyli trochę rzucanie  kamieniami w okna żydowskich domów. Poznańscy Żydzi byli bezbronni, izraelscy Żydzi uzurpowali sobie prawo obrony swojego życia, co dla wielu jest równoznaczne z łamaniem praw człowieka. Dlatego też wielu postanowiło, że chłopiec Al Dura (którego męczeńska śmierć została stworzona przez nieuczciwych dziennikarzy), wymazuje obraz żydowskiego chłopca z warszawskiego getta.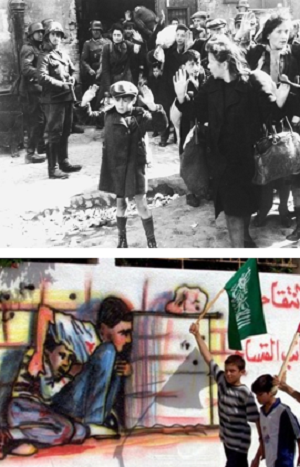 20 grudnia 2022 w izraelskim więzieniu zmarł na raka Nasser Abu Hamid. Zmarły był skazany na dożywocie ponieważ był zamieszany w zamordowanie siedmiu Izraelczyków oraz pięciu Arabów. Po raz pierwszy był aresztowany w wieku 11 lat, w wieku 15 lat został skazany na dwa i pół roku więzienia za udział w aktach terrorystycznych, zwolniony przed końcem wyroku w wieku 17 lat, natychmiast powrócił do terroryzmu i zamordował 5 Arabów oskarżanych o kolaborację. Ponownie przedwcześnie zwolniony powrócił do terroru.
Teraz po jego śmierci w więzieniu, "prezydent" Autonomii Palestyńskiej Mahmoud Abbas ogłosił go natychmiast bohaterem narodowym i męczennikiem islamu. Ile czasu będziemy czekać zanim w podręcznikach dla palestyńskich dzieci pojawi się kolejny wzór osobowy? Czy jego podobizna jest już w galerii sztuki na przerażającym panią Dorotę murze?
Po raz kolejny w życiu powracam do lektury wykładu Tadeusza Mazowieckiego, zastanawiam się, czy mam szanse  na przekonanie redaktora Zbigniewa Nosowskiego na przedyskutowanie tego wszystkiego ze swoim zespołem.
Wiem już, że nigdy nie przekonam Adama Michnika i że w jego gazecie antysemityzm ludzi łagodnych i dobrych będzie zawsze intensywnie obecny. "Więź" może jednak wybrać inną drogę. Może nawet kiedyś pokaże swoim czytelnikom jaką rolę odegrała i nadal odgrywa polityka Watykanu w stworzeniu palestyńskim Arabom tego piekła. To jednak byłoby poważniejsze wyzwanie niż uporanie się z paskudnym przypadkiem publikacji "reportażu" pani Doroty Grabek. 
---
---
---