Okładka książki Udręka ocalenia.
---
Bataween
Tłumaczenie: Małgorzata Koraszewska
---
Agent Mosadu, Shlomo Hillel, przekonał 86-letniego dr Zvi Yehudę do zebrania materiału badawczego potrzebnego do obalenia utrzymującego się mitu, że to syjoniści podłożyli bomby, by skłonić Żydów z Iraku do ucieczki do Izraela. Rezultatem jest nowa książka, Udręka ocalenia  (hebr.).  "Y-net News" pisze: 
.
Przez około sto lat zarówno iraccy Żydzi, jak i cały świat byli zalewani dezinformacją o tym, jak syjoniści, którzy byli zajęci budowaniem państwa Izrael, wymagali od nich dokonania aliji.

Dowodem na to miały być zamachy bombowe na irackie synagogi i domy, w których zginęło kilku Żydów. Wkrótce po zamachach zaczęła krążyć plotka, że to sami Żydzi byli odpowiedzialni za terroryzowanie swoich własnych ludzi, by opuścili Irak. W rezultacie rząd iracki zaczął więzić i torturować Żydów, żądać podpisanych przyznań do winy, a następnie wykonywać egzekucje na rzekomych winowajcach. Później władze irackie przechwalały się swoim heroicznym wykryciem "spisku syjonistycznego".

Ponadto zmusili około 105 tysięcy Żydów mieszkających w Iraku do podpisania dokumentu stwierdzającego, że opuszczają Irak z własnej woli. Podtekst był jasny: to syjoniści zmusili wszystkich Żydów do aliji, używając podstępnych środków, a rząd iracki był całkowicie niewinny.

Jedną z rzeczy, która pomogła zakorzenić się temu kłamstwu, był fakt, że wielu Żydom nie udało się zbudować sobie życia w Izraelu, ponieważ uwierzyli, że to syjoniści "narzucili" aliję irackim Żydom, którzy, jak twierdzili, wcześniej dobrze sobie radzili, żyjąc w Iraku.

"Zarówno radio, jak i prasa w Iraku zalały świat tą narracją — mówi Yehuda.  – Na całym świecie ta propaganda stała się akceptowaną narracją zarówno ONZ, jak i amerykańskiego Departamentu Stanu".

Książka dr Yehudy jest jego osobistym aktem oskarżenia przeciwko władzom irackim w związku z traktowaniem przez nie narodu żydowskiego. Jego badania pokazują, że prześladowania Żydów rozpoczęły się w latach trzydziestych XX wieku wraz z objęciem stanowiska premiera przez Nuri al-Saida. Bardzo nie lubił Żydów i nawet powiedział ówczesnemu arabskiemu burmistrzowi Jerozolimy: "Żydzi są źródłem zła. To szpiedzy i musimy się ich jak najszybciej pozbyć".

Słowa szybko zamieniły się w czyny. Mienie żydowskie zostało zdewastowane i wysadzane w powietrze, wielu aresztowano i zamordowano od 200 do 1000 Żydów (przypuszczalnie odnosi się to do Farhud z 1941 r. – red. Point of No Return). Była to wyraźna wskazówka, że narracja reżimu nazistowskiego o narodzie żydowskim zawładnęła umysłami na całym kontynencie.

Związek między Irakiem a reżimem nazistowskim polegał również na tym, że Fritz Grobba, niemiecki dyplomata działający wówczas w Bagdadzie, pomagał Irakowi w szerzeniu antyżydowskiej propagandy i zabezpieczaniu broni w tym celu. "Irakijczycy podziwiali zarówno jego, jak i Hitlera" — mówi Yehuda. "Naziści zachęcali do tego związku, a nawet byli łaskawymi gospodarzami dla irackich urzędników".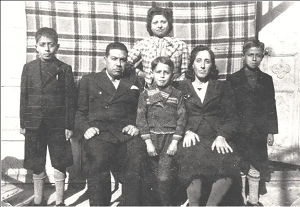 Rodzina dra Zvi Yehuda (pośrodku). Dokonali aliji, kiedy Zvi miał 13 lat
Nie tylko naziści sprawili, że Irak znienawidził Żydów. Haszymici marzyli o masowej ekspansji terytorialnej, by pomieścić nadchodzący kalifat, który miał objąć współczesny Izrael. Zwrócili się do Żydów w Iraku, by podpisali dokument o poparciu tej inicjatywy, a niezgadzających się na to uznano za wrogów państwa. Co jeszcze dziwniejsze, Irak bał się, że Izrael stanie się tak silny, że przyłączy Irak do swojego "syjonistycznego imperium".

Wraz z prześladowaniami religijnymi, materialnymi i finansowymi szalejącymi w całym Iraku, w latach pięćdziesiątych XX wieku nasiliła się fala Żydów udających się do Izraela, aby uniknąć wrogości i rozpocząć nowe życie.

Yehuda mówi, że zebrane przez niego dokumenty pokazują, jak w tamtym czasie fałszowano prawdę. "Jeden z Żydów powieszonych w latach pięćdziesiątych przyznał, że to syjoniści zmusili go do napadu na żydowską własność, ale dokumenty pokazują, że przyznał się do tego tylko dlatego, że obiecano mu prawo wyjazdu za granicę". (Przypuszczalnie odnosi się to do dwóch zamachów bombowych z czerwca 1951 r., które uszkodziły firmę samochodową Lawi i salon samochodowy Stanley Shashoua, ale nie spowodowały ofiar – red. Point of No Return).

"Istnieją również dowody na to, że arabscy więźniowie wyśmiewali się z jego naiwności, zgadzając się na umowę, która nie była warta papieru, na którym została wydrukowana. Po uzyskaniu od niego podpisu, którego potrzebowali, został stracony".

Inne zebrane dowody pokazują, że świeżo upieczone państwo Izrael nie podjęło żadnego wysiłku, aby pomóc Żydom mieszkającym w tym czasie w Iraku. (Nie jest jasne, o co chodzi reporterowi – red. Point of No Return). Dopiero później, kiedy premier Ben-Gurion wyznaczył specjalną komisję do zbadania tej sprawy, sprawa wyszła na jaw. Ustalono, że to iraccy funkcjonariusze rzucali materiały wybuchowe w irackie synagogi, a nie syjoniści rzekomo próbujący zmusić irackich Żydów do aliji.

Ale potem sprawy przybrały dziwny obrót. Iracki Żyd, który siedział w więzieniu w Iraku (Yehuda Tager wskazał Yosefa Ben-Halahmi)  powiedział Ben-Gurionowi, że słyszał, że to Żydzi zdewastowali swoją własność. Jakkolwiek niewiarygodnie to brzmi, pierwszy premier Izraela dał wiarę jemu, a nie własnej komisji. Następnie postanowił trzymać się z dala od wydarzeń rozgrywających się w Iraku.

W 2014 roku Kneset uchwalił ustawę, zgodnie z którą 30 listopada będzie dniem upamiętnienia wypędzenia irackich Żydów oraz ich tortur i uwięzienia przez władze irackie. (30 listopada upamiętnia wyjazd i exodus Żydów ze wszystkich krajów arabskich i Iranu – nie tylko z Iraku – red. Point of No Return)

Zapytałem Zvi Yehudę,czy jego badania mogą mieć wpływ na przyszłość?

"Absolutnie. Wiele żydowskich miejsc historycznych zostało zrujnowanych i odbudowanych (sic!). Ciągle mówią o palestyńskim prawie powrotu. A co z prawem powrotu dla Żydów wypędzonych z Iraku?" (Zamiast domagać się prawa powrotu Żydów do Iraku, dr Yehuda powinien był mówić o trwałej wymianie populacji uchodźców, bez możliwości powrotu uchodźców – red. Point of No Return).
---
---