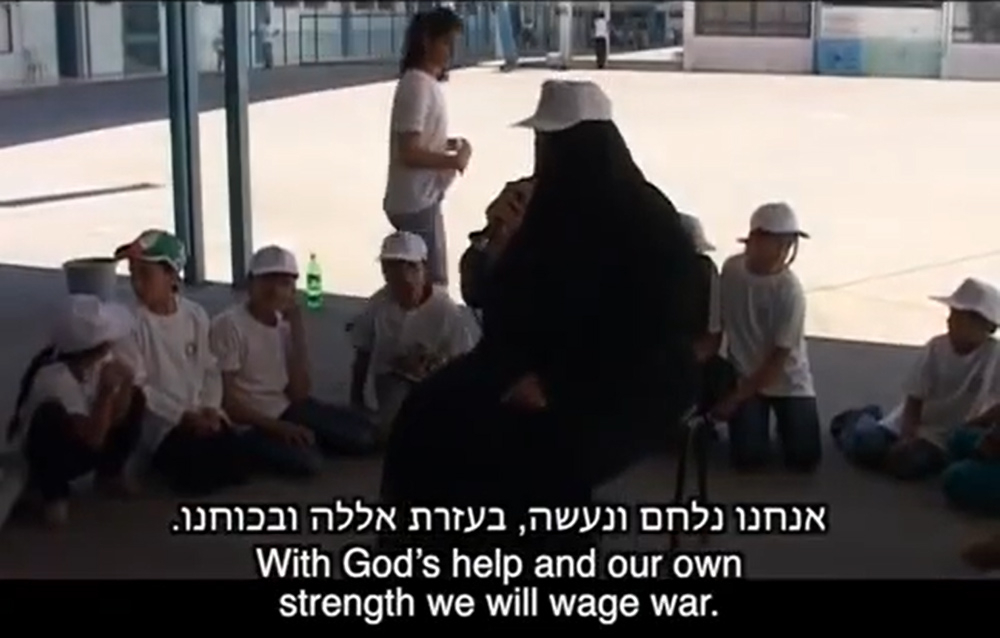 Agencja Narodów Zjednoczonych ds. Pomocy Uchodźcom Palestyńskim (UNRWA) po raz kolejny zwróciła się o międzynarodową pomoc finansową. To ta sama organizacja, której pracownicy promują przemoc i antysemityzm w mediach społecznościowych. Na zdjęciu: kadr z filmu dokumentalnego "Camp Jihad", przedstawiającego obóz letni w Gazie, sponsorowany i finansowany przez UNWRA. (Zdjęcie: Nahum Bedein Center for Near East Policy Research)
---
Bassam Tawil
Tłumaczenie: Małgorzata Koraszewska
---
Agencja Narodów Zjednoczonych ds. Pomocy Uchodźcom Palestyńskim (UNRWA) po raz kolejny zwróciła się o międzynarodową pomoc finansową. To ta sama organizacja, której pracownicy promują przemoc i antysemityzm w mediach społecznościowych.
Utworzona przez Zgromadzenie Ogólne ONZ w 1949 r. z mandatem "dostarczania pomocy humanitarnej i ochrony zarejestrowanym uchodźcom palestyńskim w oczekiwaniu na sprawiedliwe i trwałe rozwiązanie ich trudnej sytuacji", UNRWA od tego czasu nie zrobiła absolutnie niczego, by pomóc "uchodźcom" w osiedleniu i szukaniu lepszej przyszłości dla siebie lub swoich rodzin.
W rzeczywistości UNRWA nadal utrwala problem uchodźców, przyznając status uchodźcy z pokolenia na pokolenie.
Utrwala również narrację o tak zwanym prawie powrotu, która przewiduje eliminację Izraela poprzez zalanie go milionami Arabów i przekształcenie go w kolejne państwo arabskie, w którym niektórym Żydom można pozwolić żyć jako mniejszość tak długo, jak długo są lojalni wobec arabskiego władcy.
Jak słusznie zauważyła izraelska członkini Knesetu Einat Wilf w 2015 r., większość Palestyńczyków żyjących w rządzonej przez Hamas Strefie Gazy jest błędnie zarejestrowana jako uchodźcy z Palestyny:
"Prawie wszyscy z nich urodzili się w Gazie, ich rodzice urodzili się w Gazie, ich dziadkowie urodzili się w Gazie i mieszkali tam przez całe życie; nigdy nie zostali przesiedleni ani o centymetr. Jednak każdego dnia słyszą, uczą się i dostają oficjalną pieczątkę od agencji ONZ, która mówi: "To nie jest twój dom. Mogłeś mieszkać tu przez całe życie, ale twój dom jest tam, za płotem. To jest twój prawdziwy dom [Izrael] i został ci odebrany".
Niezależna organizacja praw człowieka UN Watch z siedzibą w Genewie odkryła dowody podżegania do nienawiści przez pracowników UNRWA, które wyraźnie naruszają własne zasady agencji, jak również głoszone przez nią wartości nietolerancji dla rasizmu, dyskryminacji lub antysemityzmu.
Raport opublikowany przez UN Watch podkreśla, że ponad 100 nauczycieli i pracowników szkół i służb społecznych UNRWA publicznie promowało przemoc i antysemityzm na platformach społecznościowych.
W 2021 roku administracja Bidena zdecydowała o wznowieniu pomocy finansowej dla UNRWA (która została odcięta przez administrację Trumpa) na tej podstawie, że Stany Zjednoczone są "głęboko zaangażowane" w zapewnienie, że ich partnerstwo z UNRWA "promuje neutralność, odpowiedzialność i przejrzystość".
W odpowiedzi na decyzję administracji Trumpa z 2018 r. o zaprzestaniu wpłat USA na rzecz UNRWA, Brett D. Schaefer, starszy pracownik naukowy Jay Kingham w Margaret Thatcher Center, i James Phillips, Visiting Fellow w Allison Center for Foreign Policy Studies, napisali:
"Ta decyzja jest już mocno spóźniona. UNRWA istnieje od ponad 60 lat jako 'tymczasowa' inicjatywa mająca na celu zaspokojenie potrzeb uchodźców palestyńskich i ułatwienie ich przesiedlenia i/lub repatriacji. Pomimo ciągłego otrzymywania pomocy finansowej od UNRWA, problem uchodźców palestyńskich tylko się rozrósł. Większość pierwotnych uchodźców nie żyje, ale populacja uchodźców wzrosła do 5,3 miliona osób, ponieważ UNRWA na nowo zdefiniowała i rozszerzyła swoją definicję uchodźcy. Dziś agencja udostępnia status uchodźcy 'potomkom palestyńskich uchodźców-mężczyzn, w tym prawnie adoptowanym dzieciom'".
Tymczasem w 2021 r. rząd USA potwierdził "niepowodzenie zapewnienia, że dolary podatników wysyłane rządowi palestyńskiemu ostatecznie nie trafiały do terrorystów". (US Government Accountability Office, marzec 2021 r.)
Grupy terrorystyczne w Gazie, takie jak Hamas, nadal budują tunele terroru pod szkołami UNRWA, by używać dzieci jako żywych tarcz, jeśli Izrael odpowie na atak – jak otwarcie przyznał członek Hamasu Abu Chaled w grudniu 2021 r.
"Umowy zaopatrzeniowe UNRWA sugerują, że fundusze już napływają do oddziałów LFWP" – napisała ekspert ds. polityki zagranicznej, Julia Shulman, w czerwcu 2021 r.
"Jeszcze w marcu UNRWA finansowała Union of Health Work Committees (UHWC), organizację z siedzibą w Gazie, mającą rozległe powiązania z LFWP. Na początku tego miesiąca Izrael oskarżył kilku członków personelu z organizacji partnerskiej UHWC o kierowanie funduszy do LFWP ".
W dokumencie politycznym z czerwca 2021 r. dla Foundation for Defense of Democracies Matthew Zweig napisał:
"Palestinian Anti-Terrorism Act (PATA)… zabrania pomocy Autonomii Palestyńskiej, chyba że administracja zaświadczy, że "żadne ministerstwo, agencja ani narzędzie Autonomii Palestyńskiej nie jest skutecznie kontrolowane przez Hamas"

Mimo to pozostają krytyczne pytania dotyczące całego pakietu, w szczególności mechanizmów nadzoru i weryfikacji Departamentu Stanu. Powiadomienie Kongresu dotyczące pakietu pomocy deklaruje, że USAID wdraża 'rygorystyczne procedury weryfikacji i certyfikacji partnerów antyterrorystycznych, audytów i monitorowania, aby pomóc zapewnić że jego pomoc nie trafia do Hamasu ani innych organizacji terrorystycznych'".
"Inne organizacje terrorystyczne" w Gazie, które mogły wykorzystywać UNRWA jako pośrednika w pozyskiwaniu funduszy, to Palestyński Islamski Dżihad (PIJ) i Demokratyczny Front Wyzwolenia Palestyny (DFLP).
Komentując decyzję administracji Bidena o przywróceniu pomocy finansowej, UN Watch powiedział, że nadszedł czas, by Stany Zjednoczone zażądały tej "neutralności, odpowiedzialności i przejrzystości", o której perorował sekretarz stanu USA Antony Blinken.
"USA powinny zażądać, by UNRWA przyjęła politykę zerowej tolerancji dla pracowników, którzy podżegają do rasizmu lub morderstwa, poprzez natychmiastowe zwolnienie ich" – podkreślił UN Watch. Wezwał również UNRWA do przeprowadzenia dokładnego dochodzenia w podległych jej obiektach i natychmiastowego zatrzymania wszelkich działań antysemickich lub podżegających do terroryzmu oraz konfiskaty znalezionych tam obrazów i plakatów propagandowych.
Nie wydaje się jednak, aby UNRWA podjęła dalekosiężne i drastyczne kroki w celu położenia kresu podżeganiu do przemocy i antysemityzmu. W rzeczywistości nie podjęła żadnych.
W Strefie Gazy UNRWA często dokłada wszelkich starań, aby uniknąć drażnienia palestyńskich grup terrorystycznych, przede wszystkim wspieranego przez Iran Hamasu i Palestyńskiego Islamskiego Dżihadu. Te dwie grupy terrorystyczne, których deklarowanym celem jest zniszczenie Izraela i zastąpienie go państwem islamistycznym, od dawna otrzymują pieniądze i broń od mułłów w Teheranie.
UNRWA przymyka również oczy na fakt, że Hamas, PIJ i inne grupy terrorystyczne od 2001 roku budują tunele do atakowania Izraela i przechowywania broni w pobliżu obiektów agencji, w tym szkół, w Strefie Gazy.
27 stycznia izraelskie samoloty bojowe zaatakowały tunel używany przez terrorystów do produkcji rakiet. Atak nastąpił w odpowiedzi na wystrzelenie szeregu rakiet na Izrael wcześniej tego dnia. Zaatakowany przez Izrael cel terrorystów sąsiadował z instalacją UNRWA w Strefie Gazy. Nierzadko terroryści gromadzą broń lub kopią ofensywne tunele pod szkołami i szpitalami i w pobliżu ich.
Szczególnie niepokojący jest sposób, w jaki UNRWA i inne agencje międzynarodowe reagują na poważne zagrożenia ze strony terrorystów.
W ciągu ostatnich kilku lat UNRWA publikowała oświadczenia dotyczące odkrycia tuneli w pobliżu i pod swoimi obiektami. Agencja jednak często stosuje niejednoznaczną i pośrednią retorykę, wspominając o tunelach. Powstrzymuje się również od otwartego potępiania Hamasu lub pociągania go do bezpośredniej odpowiedzialności.
Weźmy na przykład oświadczenie wydane przez UNRWA w listopadzie 2022 r., w którym stwierdzono, że agencja "niedawno zidentyfikowała zrobione przez człowieka wydrążenie, pod terenem szkoły UNRWA w Gazie".
UNRWA potępiła budowę pod jej obiektem, nazywając ją "poważnym naruszeniem neutralności Agencji i naruszeniem prawa międzynarodowego".
Nie trzeba dodawać, że UNRWA nie odważyła się pociągnąć Hamasu ani innych palestyńskich grup terrorystycznych do pełnej i bezpośredniej odpowiedzialności za to "wydrążenie stworzone przez człowieka".
Użycie słowa "wydrążenie" zamiast "tunel" jest śmieszne. Co powstrzymuje UNRWA przed nazwaniem tunelu tunelem? Dlaczego UNRWA i inne agencje ONZ nie mają skrupułów, jeśli chodzi o potępienie Izraela, ale chodzą na palcach wokół możliwości potępienia palestyńskich grup terrorystycznych?
Czy UNRWA boi się użyć słowa "tunel", ponieważ obawia się o życie swoich pracowników, czy może dlatego, że UNRWA chce bagatelizować działania terrorystów? Co ludzie mają rozumieć, czytając słowo "wydrążenie"? Że terroryści to dentyści?
Organizacja NGO Monitor udokumentowała co najmniej 7 dodatkowych incydentów z ostatnich 10 lat, w których odkryto tunele terrorystyczne i składy broni pod szkołami UNRWA lub w ich bliskim sąsiedztwie.
4 czerwca 2021 r. UNRWA oświadczyła, że dochodzenie "ujawniło coś, co wydaje się być wydrążeniem i możliwym tunelem" pod terenem szkoły UNRWA Zaitoun w Gazie.
W dniu 9 czerwca 2017 r. UNRWA wydała oświadczenie , w którym zauważyła, że "1 czerwca UNRWA odkryła część tunelu, który przechodzi pod dwiema sąsiednimi szkołami Agencji w obozie Maghazi".
29 lipca 2014 r. UNRWA oświadczyła: "Skład rakiet został znaleziony dziś rano w szkole UNRWA w środkowej Gazie… Potępiamy grupę lub grupy, które narażały ludność cywilną, umieszczając tę amunicję w naszej szkole".
Udokumentowano również dodatkowe cztery incydenty w latach 2020, 2017 i 2014.
Oczywiste jest, że UNRWA, podobnie jak wiele innych agencji ONZ, stała się częścią problemu, a nie częścią rozwiązania. Zamiast szukać sposobów rozwiązania problemu tzw. uchodźców, UNRWA przedłuża i rozdmuchuje go tworząc nowe pokolenia "uchodźców". Zamiast promować pokój i niestosowanie przemocy, pracownicy UNRWA robią coś odwrotnego. Zamiast zająć twarde i zdecydowane stanowisko wobec terroryzmu, UNRWA ukrywa się za zagadkami. Darczyńcy UNRWA mogą rozważyć te wykręty przed podpisaniem kolejnego czeku dla jednej z najbardziej niekompetentnych i skorumpowanych organizacji ONZ.
---
Bassam Tawil jest muzułmańskim badaczem i publicystą mieszkającym na Bliskim Wschodzie.
---
---