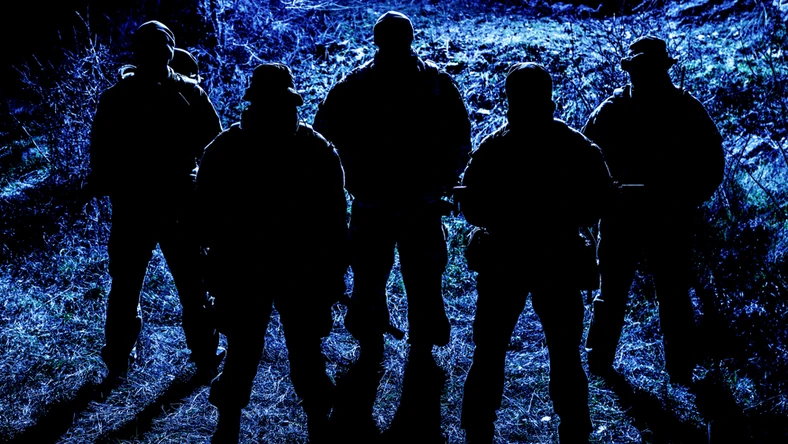 Shutterstock
---
Bartosz Lewicki
---
"Głównym celem walczących pod Bachmutem rosyjskich najemników z Grupy Wagnera nie było zdobycie tego miasta, lecz wyczerpanie ukraińskiej armii; ten plan częściowo się powiódł, ponieważ długotrwałe boje o Bachmut mogły osłabić zdolności Ukrainy do przeprowadzenia wiosennej kontrofensywy" – ocenił amerykański dziennik "Wall Street Journal".
"W ostatnich miesiącach Ukraina wysłała do obrony miasta kilka swoich najlepszych brygad, które poniosły pod Bachmutem znaczne straty. Są one nieporównywalne z gigantycznymi stratami agresorów, nieliczących się z życiem swoich żołnierzy, lecz w perspektywie najbliższych miesięcy ta nieludzka taktyka może zadziałać na korzyść Moskwy" – czytamy w reportażu "WSJ" z frontu w Donbasie.
"Wojnę wygrywa nie ta strona, która zdobywa terytorium, ale ta, która niszczy siły zbrojne przeciwnika. Tutaj (w Bachmucie) zużywamy zbyt wiele potencjału ofensywnego, potrzebnego nam do dokonania przełomu, gdy grunt stanie się suchy" – przyznał w rozmowie z amerykańskim dziennikiem ukraiński porucznik Petro Horbatenko, walczący pod Bachmutem.
"Kosztem dziesiątek tysięcy ofiar w ludziach"
W ocenie "WSJ" rosyjscy najemnicy z Grupy Wagnera zastosowali w Bachmucie taktykę, której nie spotyka się już podczas współczesnych konfliktów zbrojnych.
"W demokratycznym społeczeństwie żadne wojsko nie może ciągle wysyłać kolejnych fal żołnierzy na niemal pewną śmierć, aby zdobyć kolejne kilkaset metrów terenu. Nawet rosyjskie regularne siły zbrojne, znane z wysokiej tolerancji dla ofiar, wzbraniają się przed posyłaniem żołnierzy na ewidentnie samobójcze misje. Jednak to właśnie takie podejście pozwoliło wagnerowcom znaleźć się o krok od zdobycia Bachmutu. Dzieje się to kosztem dziesiątek tysięcy ofiar w ludziach" – czytamy w reportażu.
Czasami nawet 18 fal najemników z Grupy Wagnera atakowało tutaj jeden okop w ciągu 24 godzin. Oni nie mają możliwości wycofania się. Ich jedyną szansą na przeżycie jest ciągłe posuwanie się do przodu – i niestety ta taktyka się sprawdza. To dla nas wojna z zombie. Rzucają na nas mięso armatnie, dążąc do wyrządzenia maksymalnych szkód. My oczywiście nie możemy odpowiedzieć w ten sam sposób, ponieważ nie mamy tak licznego personelu i jesteśmy bardziej wrażliwi na straty – podkreślił Horbatenko.
Te oceny potwierdzają sami wagnerowcy schwytani do niewoli przez ukraińskie wojska. – Jeśli nie pchasz się do przodu i nie robisz tego, co ci kazano, to po prostu zostajesz wyeliminowany (zamordowany przez własnych żołnierzy). Każdy o tym wie – relacjonował 48-letni rosyjski recydywista, który przed zwerbowaniem na front odsiadywał wyrok za morderstwo, rabunek i przestępstwa narkotykowe.
Jak przypomniano w reportażu "WSJ", Grupa Wagnera zrekrutowała na wojnę z Ukrainą około 50 tys. więźniów. Nie zapewniono im nawet wystarczających racji żywnościowych, dlatego najemnicy walczący pod Bachmutem są zmuszeni do poszukiwania ich w ekwipunku poległych towarzyszy broni. – Zwłoki jednego z wagnerowców leżały przez pięć dni na ziemi niczyjej. Potem, pewnej nocy, jeden z innych żołnierzy z Grupy Wagnera przeczołgał się, aby zabrać plecak zmarłego. Ciało pozostawił w tym samym miejscu – opowiadali żołnierze z ukraińskiej formacji, w której walczy porucznik Horbatenko.
Walki o Bachmut
Rosyjskie wojska próbują zająć Bachmut od sierpnia 2022 roku. Trwają tam obecnie najcięższe i najkrwawsze działania zbrojne w wojnie Rosji z Ukrainą. Władze w Kijowie utrzymują, że sytuacja w mieście jest coraz trudniejsza, lecz większość Bachmutu, w tym centrum, wciąż pozostaje pod kontrolą ukraińskiej armii.
Pod koniec ubiegłego tygodnia pojawiły się doniesienia, że siły wroga przejęły kontrolę ogniową nad drogą w kierunku Czasiw Jaru, czyli ostatnim szlakiem komunikacyjnym wykorzystywanym przez ukraińskie wojska do zaopatrywania garnizonu w Bachmucie. W ocenie niezależnego projektu śledczego Conflict Intelligence Team (CIT) sytuacja obrońców Bachmutu jest już krytyczna, a najeźdźcom brakuje zaledwie 5,5 km do całkowitego okrążenia miasta.
W piątek media powiadomiły o odwrocie pierwszych ukraińskich formacji z bachmuckiego odcinka frontu. Taki rozkaz miała otrzymać samodzielna taktyczna grupa rozpoznania powietrznego, dowodzona przez oficera o pseudonimie "Madziar". Informacje te nie zostały jak dotąd potwierdzone przez oficjalne źródła w Kijowie.
---
---