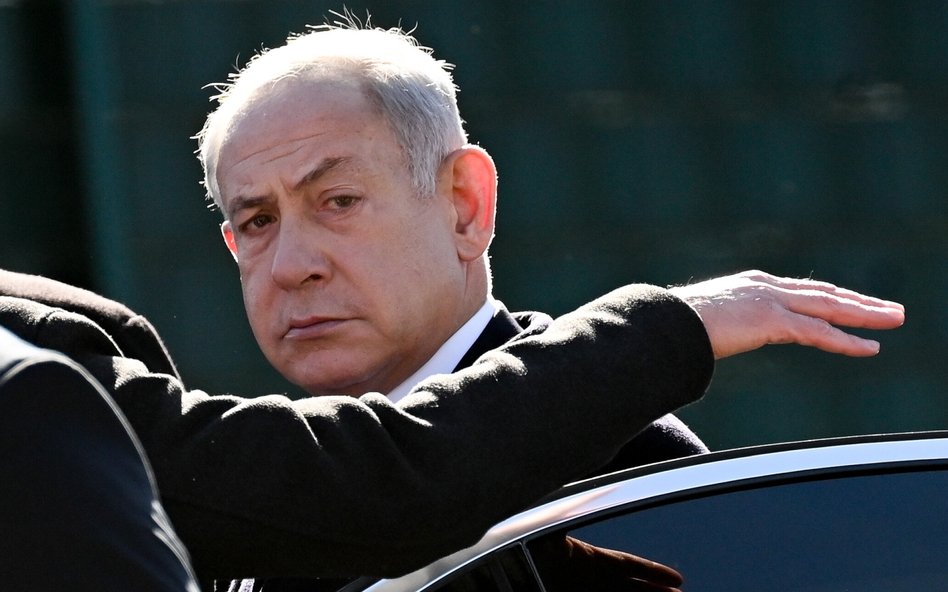 Koalicja rządowa z udziałem prawicowego Likudu premiera Beniamina Netanjahu (na zdjęciu), dwóch ortodoksyjnych partii religijnych oraz ultrasyjonistycznych ugrupowań religijnych ma w parlamencie komfortową przewagę. / Foto: EPA/Filip Singer
---
Piotr Jendroszczyk
---
Beniamin Netanjahu odrzuca propozycje, które mają uspokoić sytuację. W państwie pogłębia się chaos.
Zablokowane drogi, rezerwiści izraelskiej marynarki broniący dostępu statków handlowych w porcie w Hajfie z plakatem "Marynarka nie popłynie dla dyktatury", ponad sto tysięcy demonstrantów na protestach w miastach, brama uniwersytetu w Tel Awiwie opasana drutem kolczastym – tak wyglądał Izrael w czwartek, kolejny dzień trwających już dziesięć tygodni protestów przeciwko planom reformy systemy sądownictwa przez nowy rząd Beniamina Netanjahu. Do protestujących dołączyło wielu pilotów wojskowych i oficerów w rezerwie, nie wyłączając generałów. Rezerwa w Izraelu to prawie to samo co czynna armia.
Sam premier był w czwartek w Berlinie, jednak program jego pobytu został znacznie skrócony ze względu na sytuację w kraju. Podobnie było przed tygodniem, gdy przebywał w Rzymie. W obu wypadkach zmuszony był do podróży na lotnisko Ben Guriona helikopterem: demonstranci zablokowali drogi dojazdowe.
W środę z dramatycznym apelem do rządu o gotowość do kompromisu zwrócił się prezydent Izaak Herzog. – Znajdujemy się na rozdrożu, grozi nam historyczny kryzys. Alternatywą jest porozumienie konstytucyjne – powiedział w telewizyjnym przemówieniu do narodu. Dał do zrozumienia, że krajowi grozi wojna domowa. – Ostatnie tygodnie nas podzieliły. Każdy, kto myśli, że prawdziwa wojna domowa to granica, do której nigdy nie powinniśmy się zbliżyć, nie ma pojęcia, o czym mówi. Właśnie teraz, w 75. roku niepodległości Izraela, otchłań jest na wyciągnięcie ręki – mówił prezydent. Przygotował listę rozwiązań kompromisowych, które jednak premier z miejsca odrzucił.
Pakiet reform został w ostatnich dniach przyjęty w pierwszym czytaniu przez Kneset. Koalicja rządowa z udziałem prawicowego Likudu premiera Netanjahu, dwóch ortodoksyjnych partii religijnych oraz ultrasyjonistycznych ugrupowań religijnych ma w parlamencie komfortową przewagę. Rząd argumentuje więc, że ma mandat społeczny do przeprowadzenia reform. Po przeciwnej stronie są co najmniej dwie trzecie społeczeństwa. Zdaniem przeciwników rządu reformy idą za daleko i sprowadzają się do próby przekształcenia państwa żydowskiego w dyktaturę. Przy tym obóz rządowy wygrał niedawne wybory przewagą zaledwie 30 tys. na 4,7 mln wszystkich głosów.
Największy opór budzi projekt pozbawienia Sądu Najwyższego funkcji trybunału upoważnionego do orzekania w sprawach zgodności ustaw z porządkiem prawnym. Rząd chce, aby liczący 120 miejsc Kneset mógł zwykłą większością głosów unieważnić każde orzeczenie Sądu Najwyższego. Izrael nie ma jednolitej konstytucji – tę rolę pełni 13 ustaw podstawowych, co ułatwia wprowadzanie zmian.
Znajdujemy się na rozdrożu, grozi nam historyczny kryzys
prezydent Izraela Izaak Herzog
Plany reform obejmują także zmianę procedury powoływania sędziów. Chodzi o taki skład dziewięcioosobowego gremium, które wyłania sędziów tak, aby większość posiadali przedstawiciele partii koalicyjnych i osoby mianowane przez rząd. Inny punkt to ograniczenie uprawnień prokuratora generalnego obecnie niezależnego od rządu.
---
---