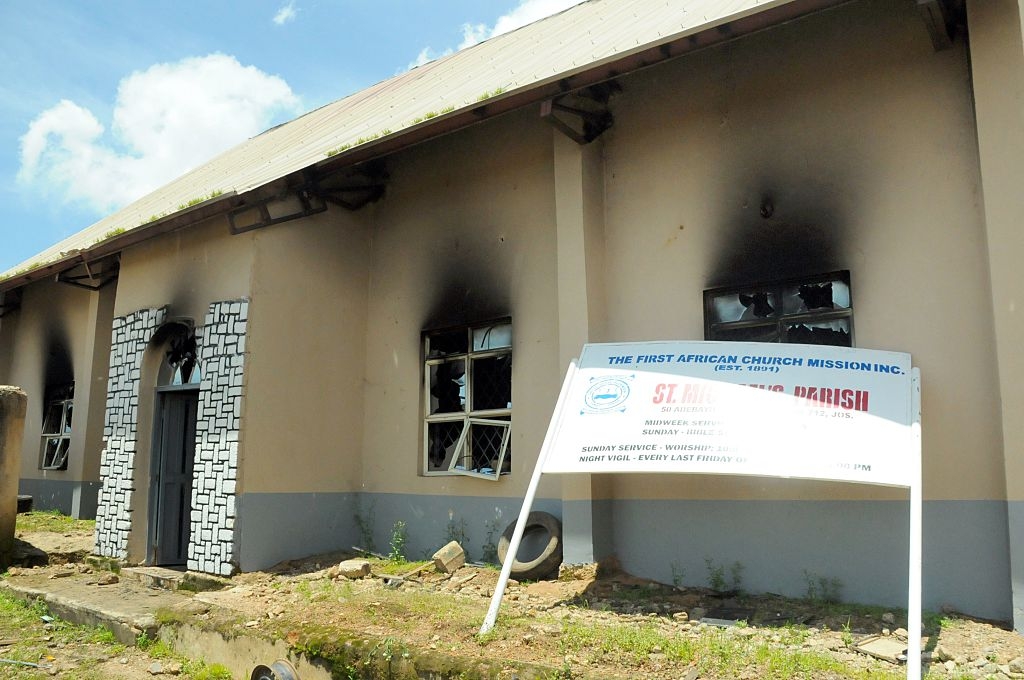 Chrześcijanie są mordowani w Nigerii w zastraszającym tempie. Według raportu z 2021 r., odkąd islamskie powstanie w Nigerii rozpoczęło się na dobre w lipcu 2009 r., zamordowano 43 tysiące chrześcijan, a 18,5 tysiąca uprowadzono (nigdy więcej ich nie widziano i uważa się, że nie żyją). Na zdjęciu: spalone mury Pierwszej Misji Kościoła Afrykańskiego w Jos, Nigeria, 6 lipca 2015 r. (Zdjęcie: AFP via Getty Images)
---
Raymond Ibrahim
Tłumaczenie: Małgorzata Koraszewska
---
Zamiatany pod dywan przez ponad rok, jeszcze jeden z "grzechów zaniechania" administracji Bidena ponownie trafia na pierwsze strony gazet.
17 listopada 2021 r. Departament Stanu w niewytłumaczalny sposób usunął Nigerię ze swojej listy krajów szczególnej troski (lista CPC). Jest to lista narodów, które dopuszczają się lub tolerują łamanie wolności religijnej. Departament Stanu Bidena usunął Nigerię z tej listy mimo ostrego sprzeciwu organizacji praw człowieka, z których wiele twierdzi, że wobec chrześcijan w Nigerii dokonuje się ludobójstwa.
Wielu obserwatorów w tamtym czasie krytykowało Departament Stanu za tę decyzję, która dawała Nigerii bezkarność za popełnianie masowych mordów. Organizacja Christian Solidarity International powiedziała:
"Decyzja Departamentu Stanu o usunięciu z listy kraju, w którym co roku giną tysiące chrześcijan, ujawnia prawdziwe priorytety Waszyngtonu… Usunięcie tego w dużej mierze zaledwie symbolicznego znaku niepokoju jest bezczelnym zaprzeczaniem rzeczywistości i wskazuje, że Stany Zjednoczone zamierzają realizować swoje interesy w Afryce Zachodniej poprzez sojusz z tyrańską nigeryjską elitą kosztem chrześcijan i innych ofiar powszechnej przemocy na tle religijnym… Jeśli amerykańska lista CPC w ogóle cokolwiek znaczy Nigeria powinna znajdować się na niej".
Także dla amerykańskiej Komisji ds. Międzynarodowej Wolności Religijnej (USCIRF), niezależnej, ponadpartyjnej komisji federalnej, która monitoruje i składa raporty na temat wolności religijnej rządowi i Kongresowi Stanów Zjednoczonych, decyzja administracji Bidena o wycofaniu Nigerii z listy była "niewytłumaczalna", odzwierciedlając "przymknięcie oczu" na "szczególnie poważne naruszenia wolności religijnej".
Powodem, dla którego wielu było zszokowanych, jest to, że w Nigerii chrześcijanie są mordowani – likwidowani – w zastraszającym tempie.
Według raportu z sierpnia 2021 r., odkąd powstanie islamskie rozpoczęło się na dobre w lipcu 2009 r. — najpierw z rąk Boko Haram, islamskiej organizacji terrorystycznej, a później przez Fulani, muzułmańskich pasterzy, również motywowanych ideologią dżihadystyczną — zamordowano 43 tysiące chrześcijan, a 18,5 tysiąca zostało uprowadzonych (nigdy więcej ich nie widziano i uznawani są za zmarłych). W tym samym czasie podpalono i zniszczono około 17,5 tysiąca kościołów i 2 tysiące szkół chrześcijańskich.
Od czasu opublikowania raportu z sierpnia 2021 r . sytuacja tylko się pogorszyła. Według najnowszych danych, tylko w 2022 roku 90% wszystkich chrześcijan zabitych za wiarę na całym świecie – dokładnie 5014 chrześcijan – zostało zamordowanych w Nigerii.Średnio jest to 14 chrześcijan w Nigerii zabijanych codziennie za wiarę.
Od nowego roku niewiele się zmieniło. Tylko w styczniu 2023 r. muzułmanie zamordowali około 60 chrześcijan w Nigerii, napadli na kościoły i porywali kobiety i dzieci (na podstawie doniesień tutaj, tutaj, tutaj, tutaj, tutaj, tutaj, tutaj).
Podczas jednego z takich nalotów na kościół, w niedzielę 15 stycznia, muzułmańscy terroryści spalili żywcem Isaaca Achiego, katolickiego księdza. Postrzelili także i zranili jego asystenta. Omawiając kolejną masakrę chrześcijan, 19 stycznia pewien duchowny powiedział:
"Obrazy ataku są przerażające i ciągle powtarzam, że nawet ISIS nie jest zdolne do takiej brutalności. Po zabiciu, napastnicy odcięli niektórym ofiarom głowy i zabrali je jako dowód dla swojego sponsora".
Taki sadyzm nie jest wyjątkowym wydarzeniem. W innym niedawnym ataku na chrześcijańską wioskę dżihadyści odcięli piersi chrześcijance.
Jednak ostatnio, w odpowiedzi na ten niesłabnące ataki na chrześcijan, 31 stycznia 2023 r. kongresman Chris Smith (R-NJ) przedstawił ponadpartyjną rezolucję wzywającą nie tylko do przywrócenia Nigerii na listę CPC Departamentu Stanu, ale także do powołanie specjalnego wysłannika do monitorowania sytuacji.
Tę ośmiostronicową rezolucję warto przeczytać w całości. Niektóre z jej najbardziej godnych uwagi rewelacji obejmują czysto islamskie motywy tych, którzy terroryzują chrześcijan w Nigerii.
Chociaż Fulani – muzułmańska grupa etniczna najbardziej odpowiedzialna za rzeź chrześcijan – są regularnie przedstawiani na Zachodzie jako zubożali i nieideologicznie motywowani pasterze, którzy jedynie rywalizują o ograniczone zasoby, w rezolucji słusznie zauważa się, że Fulani dążą do przywrócenia "kalifatu". W rezolucji czytamy:
"[Fulani] wykazali wyraźny zamiar zaatakowania chrześcijan i symboli chrześcijańskiej tożsamości, takich jak kościoły, i podczas ataków krzyczeli 'Allah u Akbar', 'zniszczyć niewiernych' i 'unicestwić niewiernych'…. [Mimo tego] Departament Stanu błędnie lub niekompletnie charakteryzuje narastające przypadki przemocy na dużą skalę w północnych i centralnych regionach wiejskich Nigerii jako 'starcia społeczne między muzułmańskimi pasterzami a chrześcijańskimi rolnikami, które można przypisać wyłącznie rywalizacji o ograniczone zasoby naturalne wynikające ze zmian klimatu'".
To nie jest przesada. Zeszłego lata, po tym jak muzułmanie Fulani zmasakrowali ponad 40 chrześcijan, którzy spokojnie modlili się w swoim kościele w Niedzielę Zesłania Ducha Świętego (5 czerwca 2022 r.), prezydent Irlandii, Michael Higgins, wydał oświadczenie, w którym uniewinnił Fulani i obwinił pogodę.
Jednak, jak zauważyła kiedyś nigeryjska zakonnica, siostra Monica Chikwe:
"Trudno powiedzieć nigeryjskim chrześcijanom, że to nie jest konflikt religijny, ponieważ widzą bojowników Fulani ubranych całkowicie na czarno, którzy skandują 'Allahu Akbar!' i krzyczą 'Śmierć chrześcijanom'".
Lub, jak kiedyś zapytało Chrześcijańskie Stowarzyszenie w Nigerii:
"Jak może to być starcie [świeckie lub ekonomiczne], skoro jedna grupa [muzułmanów] bezustannie atakuje, zabija, okalecza, niszczy, a druga grupa [chrześcijanie] jest bezustannie zabijana, okaleczana, a ich miejsca kultu są niszczone?"
Nowa rezolucja również, dość odświeżająco, potępia prezydenta Nigerii Muhammadu Buhariego – który sam jest Fulani, który "faworyzował i promował innych Fulani i inne muzułmańskie grupy etniczne z północy", podczas gdy innym, wśród nich głównie chrześcijanom, "odmawia się równych praw". Istnieją powody, by sądzić, że prezydent Nigerii zrobił coś znacznie gorszego niż dyskryminacja, a kilku czołowych chrześcijan w Nigerii oskarża go o współudział w tych prześladowaniach.
Rezolucja Smitha kończy się następująco:
"(1) Sekretarz Stanu powinien natychmiast wyznaczyć Nigerię jako "kraj szczególnej troski" z powodu angażowania się i tolerowania systematycznych, ciągłych i rażących naruszeń wolności religijnej, zgodnie z ustawą o międzynarodowej wolności religijnej 7 z 1998 r. (22 USC 6401 i nast.); oraz
(2) w celu zapewnienia, że Sekretarz Stanu otrzymuje pełniejsze i dokładniejsze sprawozdania i analizy, Prezydent powinien niezwłocznie mianować osobę wyróżniającą się w dziedzinie wolności religijnej i praw człowieka na 'Specjalnego Wysłannika dla Nigerii i regionu jeziora Czad' w randze ambasadora, który podlega bezpośrednio Sekretarzowi Stanu i koordynuje wysiłki rządu Stanów Zjednoczonych w celu monitorowania i zwalczania tamtejszych okrucieństw".
Chociaż rezolucja ta stanowi mocny argument za przywróceniem Nigerii na listę CPC, istnieją powody, by wątpić, że przyniesie ona pożądany skutek.
Po pierwsze, usuwając Nigerię z listy CPC w listopadzie 2021 r., administracja Bidena po prostu wracała do status quo. Chociaż dżihadyści mordowali i terroryzowali chrześcijan w Nigerii podczas ośmioletniej kadencji prezydenta Baracka Obamy, kiedy Biden był jego wiceprezydentem (2009-2017), i chociaż amerykańska Komisja ds. Międzynarodowej Wolności Religijnej, począwszy od 2009 r. nawoływała do uznania Nigerii za kraj szczególnej troski, administracja Obamy uparcie odmawiała.
Dopiero w 2020 r., pod rządami Trumpa, Nigeria została po raz pierwszy wpisana na listę CPC – by zostać usunięta w następnym roku pod rządami Bidena.
Trzeba przyznać, że prezydent Donald Trump otwarcie zapytał prezydenta Nigerii, Muhammadu Buhariego – którego zdaniem wielu nigeryjskich polityków Obama pomógł doprowadzić do władzy – "Dlaczego zabijacie chrześcijan?".
Departament Stanu Obamy nie tylko przez osiem lat odmawiał wpisania Nigerii na listę CPC; Hillary Clinton, gdy piastowała stanowisko sekretarza stanu (2009-2013), posunęła się tak daleko, że odmówiła uznania Boko Haram w Nigerii za organizację "terrorystyczną" – mimo że Boko Haram (co z grubsza tłumaczy się jako "zachodnia edukacja jest zabroniona") jest znaną grupą dżihadystów, która wymordowała więcej chrześcijan i zbombardowała więcej kościołów niż Państwo Islamskie w Iraku i Syrii razem wzięte.
Tak jak dzieje się to teraz w Departamencie Stanu Bidena, odmowa Clinton w sprawie Boko Haram trwała pomimo nalegań Departamentu Sprawiedliwości, FBI, CIA i kilkunastu senatorów i przedstawicieli Izby Reprezentantów. Mąż Hillary Clinton, były prezydent USA Bill Clinton, twierdził uparcie w 2012 r., że "nierówność" i "ubóstwo" są "tym, co napędza to wszystko" – a chodziło o motywowanych ideologicznie muzułmanów mordujących tysiące chrześcijan. Ta bezduszność przypomina reakcję Hillary Clinton na zamordowanie Amerykanów w Benghazi w Libii: "Co to ma w tym momencie za znaczenie?"
W 2014 roku Boko Haram uprowadziło prawie 300 uczennic z Chibok w Nigerii. Był to incydent, który trafił na pierwsze strony gazet i dlatego wymagał reakcji. Publicznie Clinton opłakiwała los porwanych dziewcząt: "Porwanie tych młodych kobiet przez radykalną grupę ekstremistów, Boko Haram, jest odrażające, to przestępstwo, to akt terroryzmu i naprawdę zasługuje na jak najpełniejszą reakcję". Tymczasem, jak wskazano w raporcie z 2014 r.:
"Departament Stanu pod przywództwem Hillary Clinton przez dwa lata ostro walczył przeciwko umieszczeniu powiązanej z Al-Kaidą grupy bojowników Boko Haram na oficjalnej liście zagranicznych organizacji terrorystycznych. A teraz prawodawcy i byli urzędnicy amerykańscy twierdzą, że decyzja ta mogła utrudnić amerykańskiemu rządowi możliwości konfrontacji z nigeryjską grupą, która zaszokowała świat, uprowadzając setki niewinnych dziewcząt".
Rzeczywiście, dwa lata wcześniej, w 2012 roku, kiedy Clinton aktywnie osłaniała Boko Haram przed etykietką terrorysty, rzecznik grupy ogłosił, że planują zrobić coś takiego, jak to zrobili w Chibok – "zasiać strach w chrześcijanach i wzmocnić potęgę islamu, porywając ich kobiety" — chociaż Clinton zignorowała również to. Warto zauważyć, że chociaż media początkowo przedstawiały porwane uczennice z Chibok jako muzułmanki, później okazało się, że były to chrześcijanki, a wtedy media szybko straciły zainteresowanie.
Niedawno były kongresmen, Frank Wolf (R-Va) retorycznie zapytał:
"Czy ktoś pamięta hashtag BringBackOurGirls? Cóż, cokolwiek się stało, gdzie są ci wszyscy faceci, którzy poszli do telewizji i [opublikowali] hashtag… 50% dziewcząt nie wróciło. Spotkałem się z niektórymi rodzicami dziewcząt Chibok. Oni zastanawiają się, co, robi świat".
Po raz kolejny administracja Bidena wydaje się traktować priorytetowo kolejną bezwzględną dyktaturę jako ważniejszą niż ludobójstwo – tym razem prześladującą chrześcijan, a nie Ujgurów. Jaki może być inny powód, by nie nazwać Nigerii "krajem szczególnej troski"?
---
---