---
Andrzej Koraszewski
---
Kiedy pojawił się ruch "Dziewuchy dziewuchom" miałem napad optymizmu i przez moment byłem przekonany, że teraz kobiety rozniosą w puch Zjednoczoną Prawicę. Byłem naiwny. Teraz przyglądam się wzbierającej popularności Konfederacji i próbuję zachować dystans beznamiętnego obserwatora. Lęk i odraza do ruchów nacjonalistycznych nie powinny blokować spokojnego oglądu.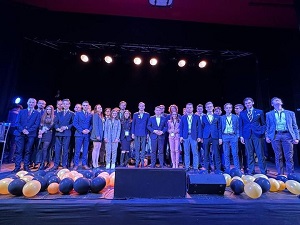 Zorganizowany z udziałem Konfederacji w dniach 24-26 marca 2023 "Weekend kapitalizmu" (Źródło zdjęcia: ze strony Facebooka Klaudii Domagały.)
Według najnowszego sondażu Konfederacja ma około 12 procent poparcia, ale wśród młodego pokolenia (18-30 lat), to poparcie zbliża się do 20 procent.
Mieliśmy w naszej historii konfederacji wiele. Najpiękniejsza z nich, Konfederacja Warszawska, wyprzedzała o dwa stulecia świat swoją ideą rozdziału państwa i Kościoła oraz państwa jako gwaranta swobody wyznania. Dla odmiany Konfederacja Barska była prawdopodobnie najbardziej wsteczna z wszystkich naszych konfederacji, dążyła do zatrzymania reform, zachowania i wzmocnienia przywilejów Kościoła katolickiego oraz wyznaczenia innowiercom roli obywateli drugiej kategorii. Ostatecznie walnie przyczyniła się do rozbiorów i upadku Polski.
Czym jest ta dzisiejsza Konfederacja? Najkrótsza odpowiedź to, że widzimy bunt młodych przeciwko zarówno Platformie, jak i PiS-owi. Czy za liderami tej partii ukrywa się Janusz Korwin-Mikke i Stanisław Michalkiewicz, czy raczej tłum, młodych ludzi szukających swojego miejsca w dzisiejszym świecie?
Zbliżający się do trzydziestki młody człowiek z mojego miasteczka na pytanie, co go do tej partii przekonuje, odpowiada, że przede wszystkim program gospodarczy. Mówi z zapałem, że należy zlikwidować podatek dochodowy i zachować tylko VAT, chce zlikwidować ZUS, bo biurokracja paraliżuje gospodarkę, a partie polityczne i media zajmują się wyłącznie dezinformowaniem społeczeństwa. Ludzie czują się zagubieni.
Kiedy pytam, czy Konfederacja takie właśnie zmiany systemu podatkowego proponuje, mój rozmówca mówi, że tak, ale czuję w głosie niepewność. Skąd czerpie wiedzę? Z Internetu. Gdzie zagląda, jak często? Niezbyt często, młodzi ludzie nie interesują się polityką. Telewizja? Nigdy nie ogląda, ale po chwili zastanowienia się dodaje: "jak schodzę na dół do rodziców zrobić sobie kanapkę, to coś tam słyszę, bo rodzice mają telewizor włączony na okrągło". Rozmowy z rówieśnikami o polityce? Nie, o polityce się nie rozmawia.
To dlaczego Konfederacja? Korwin-Mikke?
Odpowiada pytaniem na pytanie: "A on tam jeszcze działa?"
Uczciwie mówiąc, ja też nie bardzo wiem, jak to właściwie jest, bo Korwin przestał być prezesem partii KORWiN, partia KORWiN zmieniła nazwę na Nowa Nadzieja, która współtworzy Konfederację, a jej prezesem jest Sławomir Mentzen, ale Korwin-Mikke jest gdzieś w tle.
Pytam zatem, czy mój rozmówca ogląda filmiki Mentzena i Bosaka? Mówi, że ogląda Mentzena, bo Mentzen mówi prostym językiem i częściej o gospodarce niż o ideologii.
Najdłużej rozmawiamy o biurokracji, która na każdym kroku tworzy młodym ludziom tysiące barier i o dezorientacji, bo nikomu nie można wierzyć i wszyscy opowiadają bajki. Mówi, że słowa lewica i prawica nic nie znaczą, ale Konfederacja jest dla niego trochę za bardzo na prawo.
Były dziennikarz "Gazety Wyborczej" Grzegorz Wysocki zadał sobie trud przeanalizowania krajowych mediów pod kątem wskazywanych powodów wzrostu poparcia dla Konfederacji, znalazł tych powodów osiemdziesiąt jeden. To ciekawy przegląd, w którym mamy przewidywalne oskarżanie za sukces Konfederacji politycznych konkurentów, mniej przewidywalną pochwałę programu gospodarczego (Balcerowicz), wyjaśnienie inteligenckie: bo to partia dla kretynów, bo chcą Polski bez Żydów, bez gejów i bez aborcji (Hołownia), bo ich przywódcy są młodzi i potrafią mówić do młodych. Sprawę tego sukcesu intensywnie badają samozwańczy seksuolodzy, stwierdzający, że to kontrreformacja patriarchatu, inni twierdzą, że zdecydował antagonizm polsko-ukraiński i wpływ Internetu, a szczególnie TikToka.
Czy Konfederacja będzie chciała tworzyć rząd z PiS-em? Ciekawe pytanie, bo chwilowo demonstruje taką samą wrogość wobec PiS-u, jak wobec Platformy Obywatelskiej. Socjolog, Przemysław Sadura twierdzi, że Konfederacja jest atrakcyjna głównie dla młodych dobrze zarabiających mężczyzn. A jednak są tu i bezrobotni mężczyźni i kobiety z uniwersyteckimi dyplomami. Na TikToku pojawiło się oficjalne konto "Kobiet Konfederacji". Kim są, co mówią?
Kanał powstał zaledwie w końcu marca, do publikacji artykułu pojawiło się na nim 18 filmów.
Wśród ich autorek są dwie panie sprawujące funkcje szefowych lokalnych oddziałów Nowej Nadziei w średnich miastach. Jednak z autorek, Klaudia Domagała, o problemach kobiet mówi:
Największymi problemami są wysokie podatki, inflacja, lockdowny, przerost biurokracji, niszczenie polskich firm, zgoda polskich polityków na beznadziejne unijne dyrektywy ograniczające naszą wolność. To właśnie te rzeczy niszczą niezależność finansową Polek, niszczą ich rodziny, marzenia i ambicje.
Z ciekawości zaglądam na jej stronę Facebooka i czytam: "Małżeństwo jest super! Po 15 latach związku, 8 latach małżeństwa i 3 dzieci nadal uwielbiamy spędzać ze sobą czas". To nie wygląda jak ultrakatolicka rodzina. Jedna z działaczek mówi: "jako mama trójki dzieci chciałabym, by w przyszłości żyły w kraju, w którym nikt im nie mówi, jak mają żyć".
Próbuję zrozumieć, zbyt mało jednak wiem. Co mnie trochę dziwi, to fakt, że w tych poszukiwaniach przyczyn atrakcyjności Konfederacji brakuje świata. Tak jakby ten nasz polski zaścianek był izolowaną wyspą na oceanie. W wypowiedziach "Kobiet Konfederacji" raz czy dwa pojawia się słowo globalizacja, nieco więcej razy protesty przeciw unijnym regulacjom.
Bunt przeciw globalizacji wydaje się ogólnoświatowym trendem. Co ta globalizacja dla nich znaczy, jak ją rozumieją, dlaczego budzi ich lęk i odrazę? Czy jest to tylko powrót do plemiennej lokalności i podtrzymującej związki z innymi religijnej tradycji?
Dlaczego zastanawiając się nad przyczynami popularności Konfederacji wśród młodego pokolenia Polaków wracam myślami do niedawnej katastrofy finansowej amerykańskiego koncernu browarniczego? Amerykańskie prawicowe media zachłystują się z zachwytu, ponieważ międzynarodowy koncern browarniczy Anheuser Bush z dnia na dzień stracił kilka miliardów dolarów. Media głównego nurtu milczą, ale wiadomość potwierdziło kierownictwo koncernu i firma pospiesznie wycofała się z niefortunnej reklamy. W czym rzecz? Postanowili iść z duchem czasu i w nowej kampanii reklamowej zatrudniono transseskualistę Dylana Mulvaney'a. Inne firmy robiły to już wcześniej i nic złego się nie działo, a tu reakcja uderzyła jak grom z jasnego nieba, klienci zareagowali masowym bojkotem. Najwyraźniej amatorzy piwa są bardziej konserwatywni niż klienci kupujący staniki.
Dla socjologa pojawia się tu pytanie, gdzie i kiedy lansowane przez warstwę kapłańską mody intelektualne doprowadzają do buntu? Dziennikarze są dziś nową warstwą kapłańską, która z pewnością nie narzeka na brak powołań, która, podobnie jak stara warstwa kapłańska, utrzymuje się z fałszywej troski o ubogich, (pomieszanej z nieustającą pogardą), zajmuje się produkcją zbiorowych psychoz (w ramach fascynacji pseudonauką), jej poszczególne zakony żyją wzajemnym opluwaniem się i wymuszaniem od wiernych sekciarskiego konformizmu. Te medialne zakony dziennikarzy dzielą się z grubsza na te globalistyczne i nacjonalistyczne, zalewają świat tsunami "informacji", które nie tylko wywołują poczucie dezinformacji, ale i uczucie paniki i potrzebę ucieczki od opluwających się wzajemnie i ziejących jadem kaznodziei.
Nie wiem, czy popularność Konfederacji będzie wśród młodego pokolenia mieszkańców Polski nadal rosła, ale nazywanie ich kretynami atrakcji tej formacji nie osłabi. Nie, to nie są idioci, a ich bunt nie jest pozbawiony podstaw. Może warto wsłuchać się uważniej i próbować ich zrozumieć, bo jak twierdzą wodzowie najlepszych armii, bez dobrego wywiadu nie ma szans na zwycięstwo.
Jedno jest pewne, wszystkie inne partie polityczne walkę o młode pokolenie przegrywają, a chwilowo Konfederacji rośnie.
---
Andrzej Koraszewski
Publicysta i pisarz ekonomiczno-społeczny.
Ur. 26 marca 1940 w Szymbarku, były dziennikarz BBC, wiceszef polskiej sekcji BBC, i publicysta paryskiej "Kultury". Więcej w Wikipedii. Facebook
---
---