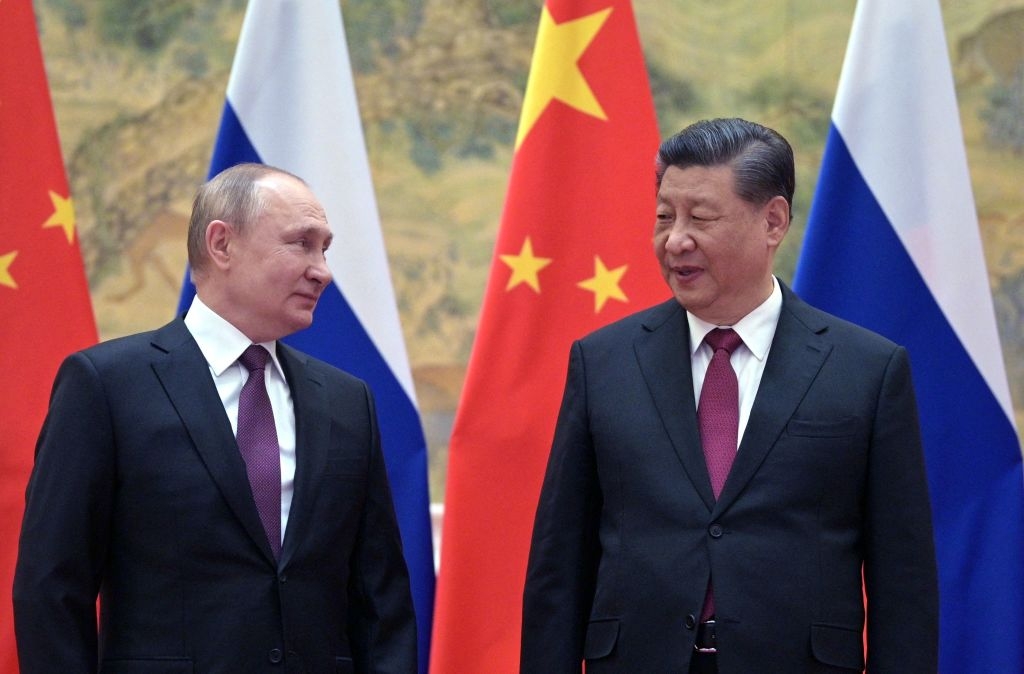 Chiny i Rosja nadal pogłębiają swoje więzi. Bliskie i intensyfikujące się kontakty Chin z Rosją zapewniły Putinowi ostatnią deskę ratunku, umożliwiając mu kontynuowanie wojny z Ukrainą. Na zdjęciu: prezydent Rosji Władimir Putin i prezydent Chin Xi Jinping spotykają się w Pekinie 4 lutego 2022 r. (Zdjęcie: Alexei Druzhinin/Sputnik/AFP via Getty Images)
---
John Richardson
Tłumaczenie: Małgorzata Koraszewska
---
Chiny i Rosja nadal pogłębiają swoje więzi, co nie pozostało niezauważone przez europejską opinię publiczną. W nowej ankiecie przeprowadzonej przez Międzynarodowy Instytut Republikański (IRI) w 13 krajach Europy Środkowej i Wschodniej, pogłębiające się partnerstwo budziło wiele obaw.
Jan Surotchak, dyrektor ds. strategii transatlantyckiej w IRI, powiedział:
"Nasze dane wyraźnie pokazują, że wielu Europejczyków postrzega stosunki robocze między Władimirem Putinem a Xi Jinpingiem jako zagrożenie dla bezpieczeństwa i dobrobytu na całym kontynencie. Ponieważ wojna na Ukrainie szaleje, obawiają się, że sojusz między potężnymi autorytaryzmami będzie nadal miał negatywny wpływ na ich własne podwórko".
Podobnie ankieta Pew przeprowadzona w Stanach Zjednoczonych w kwietniu 2022 r. wykazała, że 62% respondentów powiedziało, że wzmocnione stosunki chińsko-rosyjskie są "bardzo poważnym problemem".
Współpraca między Chinami a Rosją pogłębiała się już w czasach przed rosyjską inwazją na Ukrainę w lutym 2022 r. Zaledwie 20 dni przed inwazją prezydent Rosji Władimir Putin i prezydent Chin Xi Jinping podpisali oświadczenie, w którym stwierdzono, że ich współpraca "nie ma granic… ani stref zakazanych".
"Rosja i Chiny dążą do lepszej obrony swoich interesów i autorytarnych systemów przed presją Zachodu" – powiedział Daniel Russel, były urzędnik administracji Obamy zajmujący się wówczas sprawami azjatyckimi.
Wkrótce potem Putin ogłosił nowe kontrakty na dostawy rosyjskiej ropy i gazu do Chin o wartości szacowanej na 117,5 miliarda dolarów. 18 lutego, sześć dni przed inwazją, Rosja ogłosiła zawarcie umowy o wartości 20 miliardów dolarów na sprzedaż Chinom 100 milionów ton węgla. Od czasu inwazji Rosji na Ukrainę chiński import ropy naftowej, gazu ziemnego rurociągami, skroplonego gazu ziemnego i węgla z Rosji osiągnął łącznie 68 miliardów dolarów, w porównaniu z 41 miliardami dolarów w tym samym okresie ubiegłego roku, w czasie, gdy Zachód zakazał importu większości rosyjskiej energii. W listopadzie Rosja wyprzedziła nawet Arabię Saudyjską jako główny dostawca ropy naftowej do Chin.
Handel towarami między Rosją a Chinami osiągnął w 2022 r. 190 mld dolarów, czyli o ponad 30% więcej niż w 2021 r. Oba kraje coraz częściej prowadzą ten handel również w swoich walutach narodowych.
W październiku 2022 r. chiński minister spraw zagranicznych Wang Yi powiedział swojemu rosyjskiemu odpowiednikowi Siergiejowi Ławrowowi, że Chiny chcą pogłębić stosunki z Moskwą "na wszystkich poziomach".
W grudniu "Wall Street Journal" poinformował , że Xi wydał instrukcje, aby jeszcze bardziej zacieśnić więzi gospodarcze z Rosją:
"Plan obejmuje zwiększenie chińskiego importu rosyjskiej ropy, gazu i produktów rolnych, więcej wspólnych partnerstw energetycznych w Arktyce oraz zwiększenie chińskich inwestycji w rosyjską infrastrukturę, taką jak koleje i porty, mówią doradcy. Rosja i Chiny przeprowadzają również więcej transakcji finansowych w rublach i juanach, a nie w euro czy dolarach, co pomaga zabezpieczyć te dwa kraje przed przyszłymi sankcjami i wprowadzić chińską walutę do szerszego obiegu".
"Xi wzmacnia stosunki Chin z Rosją w dużej mierze niezależnie od rosyjskiej inwazji" – powiedział Yun Sun, dyrektor programu chińskiego w Stimson Center, waszyngtońskim think tanku. "Te stosunki mogą być coraz bliższe".
Chociaż Chiny nie dostarczyły Rosji sprzętu do wojny z Ukrainą, stosunki Chin i Rosji obejmują współpracę wojskową i wspólne manewry wojskowe. We wrześniu 2022 r. Chiny i Rosja uzgodniły "dalszą współpracę wojskową z naciskiem na wspólne manewry i patrole, a także na wzmocnienie kontaktów między Sztabami Generalnymi".
W grudniu Chiny i Rosja przeprowadziły wspólne manewry morskie, znane jako Współpraca Morska 2022 – coroczne wydarzenie między tymi dwoma krajami od 2012 r. – na Morzu Wschodniochińskim z udziałem rosyjskiej marynarki wojennej i marynarki Chińskiej Armii Ludowo-Wyzwoleńczej, a także chińskich samolotów.
Według rosyjskiego oświadczenia:
"Aktywna część manewrów będzie obejmowała wspólne strzelanie rakietowe i artyleryjskie do celów powietrznych, ostrzał artyleryjski do celów morskich oraz ćwiczenie wspólnych działań przeciw okrętom podwodnym z praktycznym użyciem broni… Głównym celem manewrów jest wzmocnienie współpracy morskiej między Federacją Rosyjską a Chińską Republiką Ludową oraz utrzymanie pokoju i stabilności w regionie Azji i Pacyfiku".
Chińskie ministerstwo obrony określiło manewry jako demonstrację "determinacji i zdolności obu stron do wspólnego reagowania na zagrożenia bezpieczeństwa morskiego, utrzymania międzynarodowego i regionalnego pokoju i stabilności oraz dalszego pogłębiania kompleksowego partnerstwa strategicznego między Chinami a Rosją".
Stany Zjednoczone nie były wystarczająco silne, by "utrzymać w ryzach oba kraje naraz, więc mobilizowały Europę, Japonię i inne kraje, by się do nich przyłączyły" – powiedział w styczniu rosyjski minister spraw zagranicznych Siergiej Ławrow, według Reutersa. "Zachód próbuje siać niezgodę w naszych stosunkach… My i Chiny widzimy te wszystkie gry".
W lutym Chiny i Rosja przeprowadzą wspólne manewry wojskowe z Republiką Południowej Afryki u wybrzeży RPA, podkreślając rosnące wpływy Chin w Afryce.
Oczekuje się, że Xi odwiedzi Putina tej wiosny.
"Oczekujemy pana, drogi panie przewodniczący, drogi przyjacielu, oczekujemy pana wiosną przyszłego roku z oficjalną wizytą w Moskwie" — powiedział Putin podczas wideokonferencji pod koniec grudnia.
Przede wszystkim bliskie i nasilone kontakty Chin z Rosją zapewniły Putinowi ostatnią deskę ratunku, umożliwiając mu kontynuowanie wojny z Ukrainą. Jest to coś, z czym administracja Bidena niewiele zrobiła, poza grożeniem w marcu ubiegłego roku:
"Komunikujemy bezpośrednio, prywatnie Pekinowi, że absolutnie będą konsekwencje prób uchylania się od sankcji na dużą skalę lub wsparcia dla Rosji w celu ich obchodzenia. Nie pozwolimy, by jakikolwiek kraj, z jakiegokolwiek miejsca na świecie zrealizował to i dał Rosji deskę ratunku przed tymi ekonomicznymi sankcjami gospodarczymi".
Chiny są "niewidzialną ręką stojącą za Putinem", powiedział w marcu 2022 r. Michael Pillsbury, autor książki The Hundred-Year Marathon.
"To oni finansują wojnę. Mniej więcej połowa rosyjskich rezerw złota i waluty jest teraz kontrolowana przez USA i Zachód, on [Putin] nie może uzyskać do nich dostępu. Ale do drugiej połowy mogą zapewnić dostęp Chińczycy i oni to robią… Handel i zakup długoterminowych dostaw energii podkopują sankcje, ponieważ pokazuje to Putinowi, że ma kogoś w swoim narożniku przez następne pięć lat lub dłużej. Jest szereg sposobów, na jakie wsparcie Chin jest po prostu kluczowe dla Putina. Wierzę, że Chińczycy mogliby zakończyć wojnę jednym telefonem do niego. To byłoby tak, jakby bankier dzwonił do ciebie… na razie to się nie dzieje… Prawdopodobnie jedynym sposobem będą amerykańskie sankcje wobec Chin… wojna będzie trwała, ponieważ bankier nie zamierza wykonać tego telefonu".
Wydaje się, że dopiero teraz, prawie rok po inwazji na Ukrainę, administracja Bidena podobno zaczęła zwracać się do Chin "z dowodami sugerującymi, że niektóre chińskie firmy państwowe mogą udzielać pomocy rosyjskim wysiłkom wojennym w Ukrainie", pisze magazyn "Time".
"Osoby zaznajomione z myśleniem administracji scharakteryzowały działania przedsiębiorstw państwowych jako świadome wspomaganie Rosji w jej wysiłkach wojennych. Nie omówili, jakie dowody może mieć administracja na poparcie tego poglądu".
24 stycznia sekretarka prasowa Białego Domu, Karine Jean-Pierre powiedziała:
"Będziemy nadal informować Chiny o implikacjach udzielania wsparcia materialnego wojnie Rosji z Ukrainą. Wielokrotnie o tym rozmawialiśmy, by było bardzo jasne, co to znaczy wspierać agresję Rosji na Ukrainę. I, jak powiedziałem wielokrotnie, jak wielokrotnie powtarzali moi koledzy z NSC, będziemy nadal wspierać Ukrainę i naród ukraiński tak długo, jak będzie to konieczne".
Przy tak wielu wrogach Wolnego Świata, miejmy nadzieję, że tak właśnie jest. Dotychczasowa pomoc administracji Bidena dla Ukrainy jest niewystarczająca i przychodzi powoli; jednak ochrona Zachodu poprzez ratowanie Ukrainy może jeszcze przejść do historii jako dziedzictwo Bidena i największe osiągnięcie jego administracji.
---
---