---
Issued: April 14, 2010
Article published in
Details, Vol XIX No2, April to June 2010
In an increasingly interconnected world, Canada's opportunity to grow in peace and prosperity rests on the strength of our country-to-country bonds. These relationships have shaped our national identity, both at home and abroad, and they've furthered the sophistication of our economy, and the diversity of our culture and people. This April, Canada Post will issue an international rate commemorative stamp to celebrate Canada's strong bilateral relationship with Israel—a friendship that spans six decades and is marked by shared values, common interests, and strong political, economic, cultural and social ties. The stamp, which marks the first joint issue between Canada and Israel, will be cancelled in both countries' capital cities.
A key strength of Canada and Israel's partnership is the extensive network of social bonds—from Canada's large Jewish community (which stands at about 350,000) to dual Israeli-Canadian citizens—that have given rise to cooperation on many fronts, including culture, education, business and tourism. These strong informal ties have inspired the design for the stamp, which features groups of human figures forme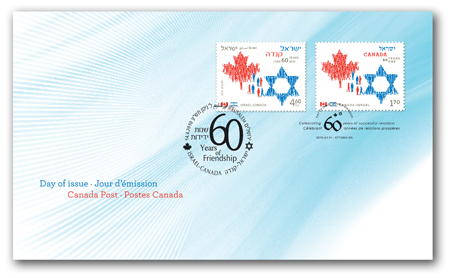 d in the shapes of Canada's Maple Leaf and Israel's Star of David. These "people" come together to meet in the middle, a meeting that symbolizes and celebrates the 60 years of friendship that the two countries have shared.
"Through illustration, we were able to communicate the rich topic of diplomacy between two nations," explains designer Karen Henricks of the Toronto-based firm, q30 design. "Complex topics like this can be challenging to summarize in one small design. We worked with illustrator Yarek Waszul, whose simple yet conceptual style lends itself perfectly to this topic and the medium."
Both the Canadian and Israeli postal administrations are proud to take part in this special joint stamp issue. As Yaron Razon, Director of the Israel Philatelic Service says: "It has been said that stamps are 'paper ambassadors' that spread the message of their country on letters around the world. What could be a more symbolic and fitting way to express 60 years of cooperation and friendship between Israel and Canada than a joint stamp issue—the merging of each country's 'paper ambassadors.' I am delighted to be part of this project." Jim Phillips, Director of Stamp Services at Canada Post adds, "Joint issues like this one are a form of diplomacy between postal administrations; they provide great opportunities to share with and learn from one another. It has been a pleasure to work on this issue with Israel Post."
"Sixty years ago, on May 11, 1949, Israel and Canada established diplomatic relations and began building a fruitful cooperation. Over the years our countries have stood by each other and have continually strengthened our commitment as partners and friends in many fields, including commerce, science and technology, culture, education, public safety and trade," says Miriam Ziv, Ambassador of Israel. "This beautiful stamp reflects the special bond between our two nations and the people behind this strong cooperation and warm friendship, based on our shared values and commitment to democracy, diversity and the rule of law."
To learn more about Canada-Israel relations, visit www.canadainternational.gc.ca/israel
---
---