Emanuel Miller
---
Ultra-Orthodox Jewish men are seen through a panel as they pray at the Western Wall in Jerusalem's Old City while Israel observes a day of mourning after dozens were crushed to death in a stampede at a religious festival on the slopes of Israel's Mount Meron, May 2, 2021. Photo: REUTERS/Ammar Awad.
---
Jamaal Bowman
Had the honor of meeting with children today in the occupied West Bank city Hebron. There are streets they cannot walk and places they cannot go, simply because they are Palestinian. When I asked about their dreams, their answer was simple: freedom. The occupation must end.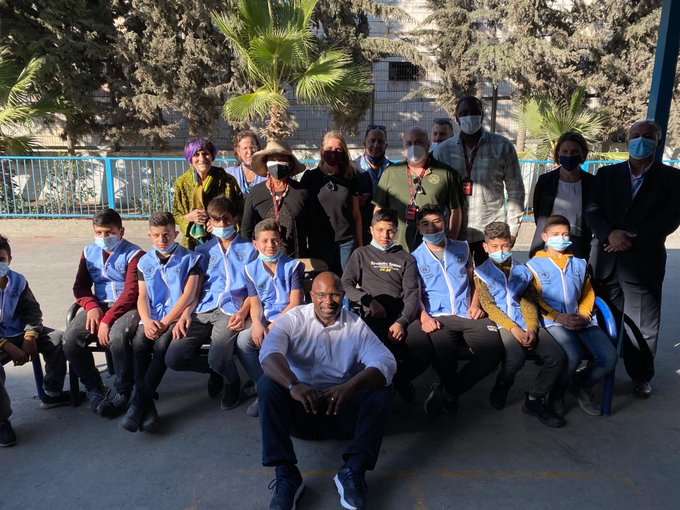 ---
Bowman is the latest in a long line of people to have visited Hebron over the years — as guests of radical fringe groups — and to have come away repeating false talking points to the media.
The same messaging has been repeatedly transmitted by foreign dignitaries, novelists, film stars, and other celebrities, who have been shown select parts of the city by members of groups such as Breaking the Silence and B'Tselem.
Breaking the Silence in particular is a highly controversial group, with a history of spreading false and misleading allegations against the Israel Defense Forces, many of them given anonymously. Its tours are a notable source of misinformation regarding Hebron specifically, and the relationship between Israel and the Palestinians in general.
Unsurprisingly, this strategy has resulted in a trove of quotes slamming Israel being reproduced in prominent English-language media outlets.
Israel Vilified While Palestinian Terrorism Overlooked
In 1967, Israel defeated numerous Arab states openly threatening it with extermination in a stunning six-day victory. As a result of that war, Israel tripled in size, with eastern Jerusalem, the Gaza Strip, the Sinai Peninsula, the West Bank, and the Golan Heights coming under its control. Although Israel forged peace deals with Jordan and Egypt, surrendering parcels of land in the process, it has still not reached final agreements with Syria and the Palestinians.
In 2017, to mark 50 years since the war, Breaking the Silence organized a VIP tour of Israel together with Pulitzer Prize-winner Michael Chabon and his wife Ayelet Waldman, herself a well-known writer, resulting in an anthology of essays about the life of Palestinians.
The ensuing Associated Press report detailed how the resultant book included essays that "describe the segregated city of Hebron," and identified Breaking the Silence as the driving force behind the project. Omitted is the fact that Hebron was divided in accordance with an agreement between Israel and the Palestinian Authority (PA) whereby Israeli citizens, including Arab Israelis, can access only 20% of the city and not the other 80%.
By comparison, Palestinians in Hebron are able to wander approximately 97% of the city. They were banned from entering the remaining 3% following rampant terrorism, including countless shootings and sniper attacks in which even a three-month-old baby was targeted; suicide bombings; rock-throwings; Molotov cocktail attacks; and stabbings of Israeli soldiers protecting Hebron's minuscule Jewish community and Judaism's second-holiest site, the Cave of the Patriarchs.
The book was also reviewed by The New York Times, which wrote of a work detailing "a status quo of chronic entwinement, choking the Palestinians." The Irish Times headlined its piece, "Indignation and horror: 26 writers visit Palestine"; and a Financial Times article about the book described the conflict as one "which doles out small injustices and humili­ations to Palestinians more often than it does rank brutality," and names the writers "as guests of Breaking the Silence, a pro-peace non-governmental organisation."
While room for fair, measured criticism is a hallmark of democracy, Breaking the Silence's modus operandi of targeting foreign politicians, diplomats, and news outlets — many of whom are already hostile to the Jewish state — constitutes a relentless campaign to delegitimize and smear Israel.
And the media are all-too-often willing partners in Breaking the Silence's obsessing over Israel, while ludicrously claiming to be showing something rarely seen or talked about.
---
The author is a writer-researcher for HonestReporting, a Jerusalem-based media watchdog with a focus on antisemitism and anti-Israel bias, where a version of this article first appeared.
---
---