---
Żydowski Instytut Historyczny
---
75 lat temu doszło do pogromu Żydów w Kielcach. Oprawcami swoich żydowskich sąsiadów byli Polacy, a do tragicznych wydarzeń doszło w wyzwolonej spod okupacji hitlerowskiej Polsce.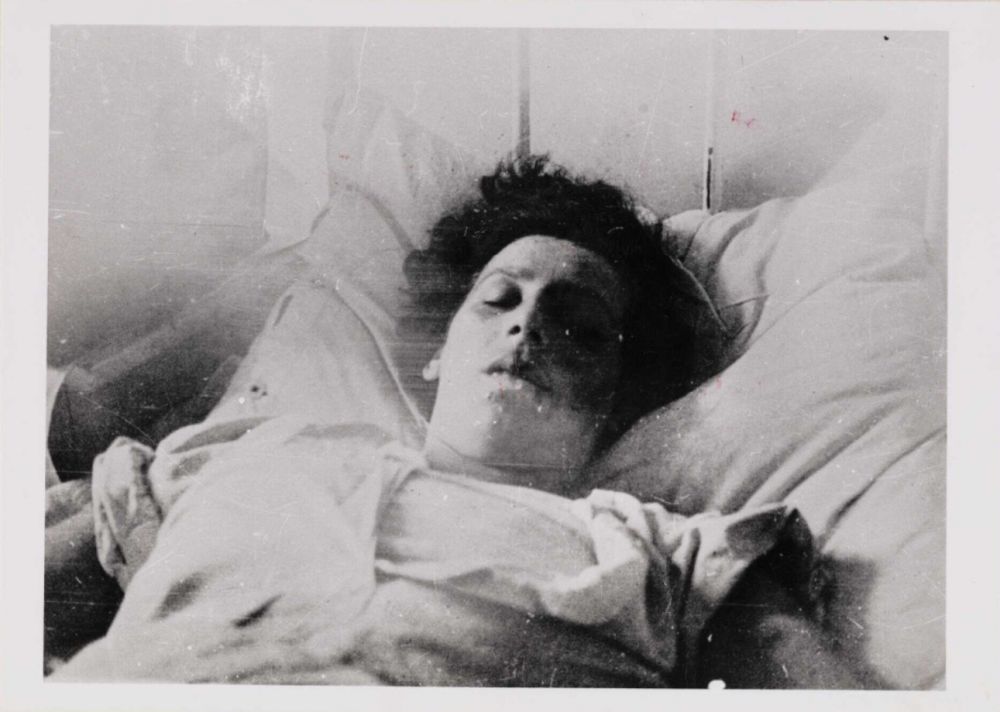 Kobieta ranna podczas pogromu kieleckiego na łóżku w Szpitalu św. Aleksandra. Fotografia Julii Pirotte, zbiory ŻIH
Wydarzenia nazywane dziś "pogromem kieleckim" rozegrały się przede wszystkim w budynku przy ulicy Planty 7/9, w którym mieszkało około 200 osób. Oprócz lokatorów mieściły się tam również biura instytucji żydowskich (komitet żydowski, kongregacja, kibuc partii syjonistycznej Ichud itp.). Nie była to jednak jedyna arena tragicznych wydarzeń. Do pogromów ludności żydowskiej dochodziło także w innych miejscach w Kielcach, a także w pociągach przejeżdżających tego dnia przez miasto.
Jak pisze Joanna Tokarska-Bakir w książce Pod klątwą. Społeczny portret pogromu kieleckiego, z powodu niekompletnej dokumentacji definitywne określenie liczby ofiar jest niemożliwe. Istnieje co najmniej pięć wykazów ofiar pogromu, m.in. lista organizacji Joint (American Jewish Joint Distribution Committee) z lipca 1946 r., która składa się z 39 nazwisk (zwłoki 32 rozpoznano, zwłoki 7 osób pozostały nierozpoznane). Całkowite zestawienie nazwisk obejmuje 52 pozycje. [1]
Jak doszło do pogromu?
Wywołanie pogromu kieleckiego wiązało się z niezależnymi od siebie działaniami wojska, milicji i niektórych pracowników Urzędu Bezpieczeństwa. Bezpośrednią przyczyną podjęcia przez nich owych działań w stosunku do ludności żydowskiej była plotka o rzekomym porwaniu 8-letniego wówczas Henryka Błaszczyka, który zaginął 1 lipca. Jego ojciec, Walenty Błaszczyk, szewc, jeszcze tego dnia około godziny 23.00 zgłosił Milicji Obywatelskiej zaginięcia dziecka. Dwa dni później chłopiec wrócił sam do domu.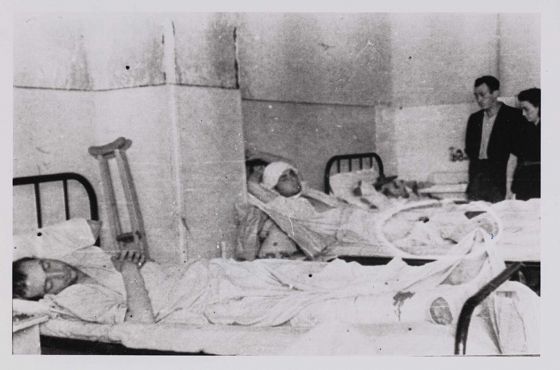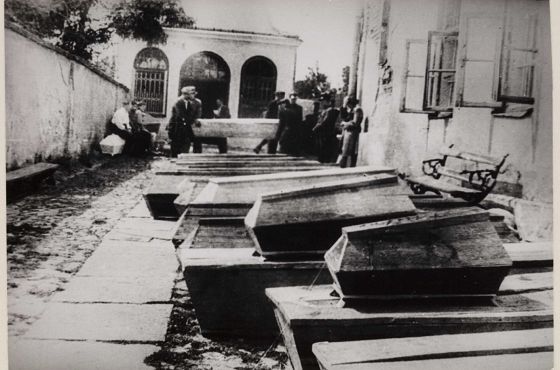 Mężczyźni ranni podczas pogromu kieleckiego na łóżkach w Szpitalu św. Aleksandra; trumny z ciałami ofiar pogromu przy szpitalu. Fotografie Julii Pirotte, zbiory ŻIH
W dniu jego powrotu, około północy Walenty Błaszczyk, będący pod wpływem alkoholu, stawił się na komendzie Milicji twierdząc, że jego syn przez cały czas od chwili zaginięcia był przetrzymywany w piwnicy przez Żydów, skąd udało mu się uciec. 4 lipca rano Walenty Błaszczyk z synem i w towarzystwie sąsiada ponownie stawili się na komisariacie. Według zeznań obu Błaszczyków nieznajomy mężczyzna dał chłopcu na ulicy paczkę i poprosił o odniesienie jej do domu. Za tę przysługę miał mu zapłacić 20 zł. Mężczyzna ten miał osobiście wskazywać Henrykowi drogę. Po dotarciu na miejsce miano zabrać Henrykowi paczkę i zamknąć go w piwnicy, gdzie rzekomo przetrzymywano już kilkoro innych dzieci. Po drodze na komisariat mały Henryk miał wskazać budynek przy ulicy Planty 7/9 jako na miejsce swojego uwięzienia, a także rozpoznać mężczyznę, który go uwięził. Budynek ten znajdował się w odległości 200 metrów od komisariatu.
Zeznania Błaszczyków okazały się później fałszywe. W rzeczywistości chłopiec, nie informując o tym rodziców, pojechał do wsi oddalonej o 20 km od Kielc, w której wraz z rodziną mieszkał w czasie wojny. Opowieść o porwaniu i przetrzymywaniu go przez Żydów zmyślił, najpewniej chcąc uniknąć kary.
Po odebraniu zeznań dowódca komisariatu, starszy sierżant Edmund Zagórski, wysłał na ulicę Planty razem z Błaszczykami patrol milicji złożony z sześciu funkcjonariuszy. Po dotarciu na miejsce milicjanci aresztowali wskazanego przez chłopca mężczyznę o nazwisku Kalman Singer i wrócili z nim na komisariat. Następnie, po rozmowie z zastępcą Komendanta Wojewódzkiego MO majorem Kazimierzem Gwiazdowiczem, sierżant Zagórski wysłał patrol na miejsce rzekomego uwięzienia chłopca w celu przeszukania budynku. Patrol miał niespotykaną w tych warunkach liczebność – liczył kilkunastu funkcjonariuszy. Wszyscy zgłosili się na ochotnika. Po drodze milicjanci opowiadali napotkanym przechodniom o rzekomym porywaniu dzieci chrześcijańskich przez Żydów i wykorzystywaniu ich do mordów rytualnych. Po przeszukaniu budynku stało się oczywiste, że historia nie mogła być prawdziwa, ponieważ dom przy ulicy Planty 7/9 nie miał piwnic.
Przebieg pogromu
Pogrom rozpoczął się 4 lipca 1946 roku w godzinach porannych. Pierwsze strzały zostały oddane przez wojskowych wewnątrz budynku przy ulicy Planty 7/9. Po wejściu do budynku żołnierze wyciągali Żydów szukających schronienia w kolejnych pomieszczeniach i wyprowadzali ich na zewnątrz. Znajdujący się przed budynkiem tłum cywilów i żołnierzy bił te osoby i rzucał w nie kamieniami. Od kilku do kilkunastu osób, zarówno kobiet jak i mężczyzn, zostało wówczas zastrzelonych i zginęło od ran zadanych bagnetami lub tępymi narzędziami. Dwie kobiety wyrzucono przez okna, po czym na ulicy zostały one dobite przez tłum. Działania mające na celu uspokojenie tłumu, podejmowane przez różne czynniki władz oraz przedstawicieli Kościoła, odznaczały się dużą nieudolnością i nie przyniosły żadnych rezultatów. Cywile, a także żołnierze, rabowali swoje ofiary i ich dobytek znajdujący się w budynku.
Żydów atakowano również na pośrednich stacjach linii kolejowej Kielce-Częstochowa. Łącznie w pociągach i na dworcach w rejonie kieleckim zginęło tego dnia około trzydzieścioro Żydów.
Pierwsza faza pogromu trwała do południa, druga rozpoczęła się wraz z przybyciem na ulicę Planty robotników z huty "Ludwików". Około godziny 16 sytuacja została opanowana, nie wyciszyło to jednak nastrojów antyżydowskich. Bezpośrednio po pogromie odbył się wiec antyżydowski. Demonstrowano także przed szpitalem, gdzie znajdowali się ranni Żydzi.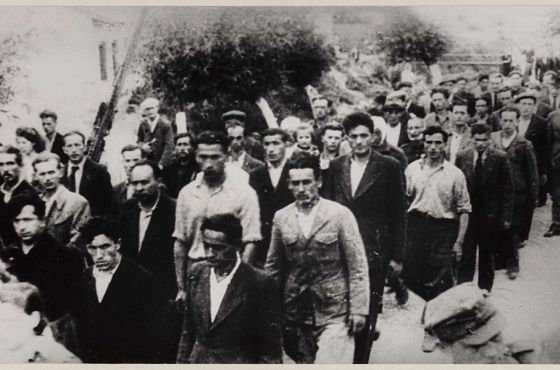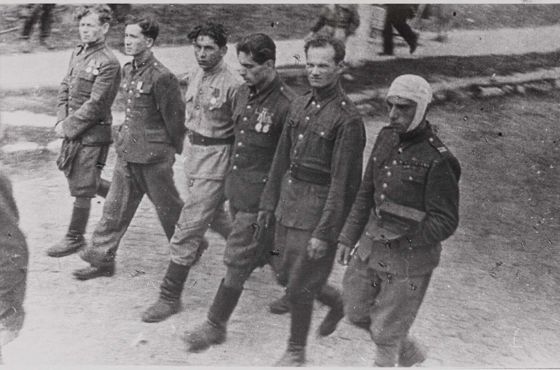 Kondukt pogrzebowy ofiar pogromu kieleckiego; Żołnierze wojska polskiego idący w kondukcie. Fotografie Julii Pirotte, zbiory ŻIH
Procesy sądowe
Wyjaśnieniem przyczyn pogromu kieleckiego zajmowały się komisje powołane przez poszczególne ministerstwa. Należy jednak zaznaczyć, że z powodów politycznych nie istniały szanse na obiektywne przeprowadzenie śledztwa i znalezienie winnych. Wydarzenia w Kielcach zostały wykorzystane przez czołowych działaczy PPR (Władysław Gomułka) i PPS (Józef Cyrankiewicz) do zdyskredytowania opozycji niepodległościowej. Władze hamowały także działalność niezależnych czynników, starających się odnaleźć odpowiedzialnych za mord. Wyjaśnienia inne niż oficjalna wersja wydarzeń były ograniczane przez cenzurę bądź fałszowane.
W następstwie pogromu kieleckiego odbyło się około 10 procesów osób, w różny sposób odpowiedzialnych za owe wydarzenia. Wśród oskarżonych byli cywile, wojskowi, milicjanci, kierownik kieleckiego UB. Zapadło kilka wyroków śmierci (zostały wykonane). Procesy były także podporządkowane racjom politycznym. Wielokrotnie w czasie rozpraw naruszano prawo, stosowano przemoc, niektórzy oskarżeni znaleźli się na sali rozpraw przypadkowo.
Istnieje kilka teorii mających wyjaśnić przyczynę tamtych wydarzeń. Najczęściej pojawia się teza o radzieckiej, bądź polskiej prowokacji sił bezpieczeństwa. W opublikowanych w 2006 roku wynikach śledztwa Instytut Pamięci Narodowej podał, że materiał dowodowy nie wskazał jednoznacznie na to, by którakolwiek z tych hipotez była prawdziwa. Jako najbardziej prawdopodobną hipotezę IPN uznał wersję, że wydarzenia kieleckie z 4 lipca 1946 roku miały charakter spontaniczny i zaistniały wskutek nieszczęśliwego zbiegu okoliczności natury historycznej i współczesnej.
Badania nad tą problematyką są utrudnione z powodu zniszczenia części dokumentów.

---
Przypis:
[1] Joanna Tokarska-Bakir, Pod klątwą. Społeczny portret pogromu kieleckiego, t.1, Wyd. Czarna Owca, Warszawa 2018, s. 446.

Tekst przygotowany na bazie hasła "pogrom kielecki" autorstwa Bożeny Szaynok znajdującego się w Polskim Słowniku Judaistycznym.
---