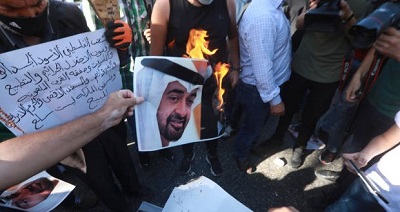 Dla Palestyńczyków muzułmanin, który wierzy w prawo Izraela do istnienia, nie jest uprawniony do wejścia na Wzgórze Świątynne ani modlenia się w meczecie Al-Aksa. Rządzący Fatah, frakcja prezydenta Autonomii Palestyńskiej, Mahmouda Abbasa, przewodzi kampanii nie dopuszczania muzułmanów ze Zjednoczonych Emiratów Arabskich i Bahrajnu do odwiedzania Wzgórza Świątynnego. Na zdjęciu: Palestyńczycy palą portret następcy tronu ZEA, Mohammeda Bin Zajeda.)
---

Khaled Abu Toameh
Tłumaczenie: Małgorzata Koraszewska
---
W ostatnich latach Palestyńczycy regularnie potępiali Żydów za odwiedzanie Wzgórza Świątynnego/Haram Al-Szarif (Szlachetnej Świątyni) w Jerozolimie. Palestyńczycy przedstawiają te wizyty Żydów jako "wtargnięcia" i twierdzą, że odwiedzający "bezczeszczą" meczet Al-Aksa, kiedy wchodzą na Wzgórze Świątynne.
Żydzi jednak nie wchodzą do meczetu; chodzą jedynie po otwartym terenie i chroni ich izraelska policja. Warto wspomnieć, że Palestyńczycy często obrzucają Żydów na Wzgórzu Świątynnym obelgami i próbują fizycznie atakować.
Wzgórze Świątynne jest najświętszym miejscem judaizmu i miejscem, ku któremu Żydzi zwracają się podczas modlitw. Wśród sunnickich muzułmanów Wzgórze Świątynne uważane jest za trzecie najświętsze miejsce islamu.
Palestyńczycy mówią teraz, że sprzeciwiają się nie tylko Żydom odwiedzającym ich najświętsze miejsce, ale także wizytom muzułmanów, którzy wierzą w pokój z Izraelem.
Dla Palestyńczyków muzułmanin, który wierzy w prawo Izraela do istnienia, nie jest uprawniony do wejścia na Wzgórze Świątynne ani modlenia się w meczecie Al-Aksa. Dlaczego? W świecie Palestyńczyków muzułmanin lub Arab, który zawiera pokój z Izraelem, jest "zdrajcą", który nie zasługuje na prawo wejścia na ten teren. Chociaż miejsce jest święte dla wszystkich muzułmanów, Palestyńczycy jakoś przekonali samych siebie, że meczet Al-Aksa jest ich prywatną własnością i że mają prawo nie dopuszczać innych muzułmanów do modlenia się w tym miejscu.
Rządzący Fatah, frakcja prezydenta Autonomii Palestyńskiej, Mahmouda Abbasa, przewodzi kampanii niedopuszczania muzułmanów ze Zjednoczonych Emiratów Arabskich i Bahrajnu – dwóch państw Zatoki, które niedawno podpisały porozumienia pokojowe z Izraelem – do odwiedzania Wzgórza Świątynnego.
Mufti Jerozolimy mianowany przez AP, szejk Mohammed Hussein, pierwszy zakazał odwiedzania tego miejsca muzułmanom, którzy wierzą w normalizację stosunków z Izraelem. Hussein oznajmił, że muzułmanie, którzy chcą modlić się w meczecie Al-Aksa, mogą to robić, tylko jeśli nie przybywają przez Izrael.
Dodał, że modlitwy w meczenie nie są dozwolone dla muzułmanów, którzy nawiązują stosunki z Izraelem. Ponadto powiedział, że Palestyńczycy mają zakaz przyjmowania lub kontaktowania się z każdym muzułmaninem, który wierzy w normalizację stosunków z Izraelem.
Inny wysoki rangą palestyński duchowny, szejk Ekremah Sabri, powiedział, że wizyty muzułmanów, którzy wierzą w pokój z Izraelem, w miejscu świętym "są nie mniej niebezpieczne niż szturmowanie meczetu Al-Aksa przez [żydowskich] osadników".
Sabri powiedział, że niedawne wizyty muzułmanów z ZEA na Wzgórzu Świątynnym i w Jerozolimie "są wyraźnym rezultatem zbrodni normalizacji" stosunków z Izraelem. Dodał: "Jest haniebne dla tych delegacji przychodzenie pod izraelską ochroną".
Monir al-Dżaghoub, wysoki rangą funkcjonariusz Fatahu, ostrzegł, że Palestyńczycy rzucą "starym butem w twarze" muzułmanów, którzy wchodzą do Jerozolimy pod izraelską ochroną.
To jest jedna z nielicznych spraw, w której Fatah wydaje się zgadzać ze swoimi rywalami w palestyńskim ruchu islamistycznym, Hamasie.
"Ta przeklęta wizyta jest brakiem uszanowania uczuć ludów naszego arabskiego i islamskiego narodu oraz zachętą dla syjonistycznej okupacji, by czynić coraz więcej wtargnięć do meczetu Al-Aksa" – Abdel-Latif Al-Qanou, rzecznik Hamasu, powiedział Agencji Anadolu. "Wejście delegacji z Zatoki do meczetu Al-Aksa pod izraelską ochroną jest ciosem w plecy naszego palestyńskiego ludu".
Te groźby są powodem, dla którego Palestyńczycy obrażali i wyrzucili delegację ZEA, która odwiedziła meczet Al-Aksa 19 października. Gdyby nie obecność izraelskich policjantów i strażników bezpieczeństwa, wizyta skończyłaby się przemocą lub rozlewem krwi.
Groźby i obelgi Palestyńczyków spotkały się z ostrą krytyką wielu muzułmanów, szczególnie tych, którzy żyją w Zatoce. Ci muzułmanie, obrażeni i poniżeni przez retorykę i prowokacje Palestyńczyków, odpowiedzieli potępieniem palestyńskich "zbirów", którzy nękają i obrażają muzułmańskich wiernych podczas ich wizyty w meczecie Al-Aksa.
Ci muzułmanie z Zatoki żądają także położenia kresu palestyńskiemu "monopolowi" nad islamskim miejscem świętym w Jerozolimie. Praktycznie rzecz biorąc, mówią: "Meczet Al-Aksa należy do wszystkich muzułmanów, a nie tylko do Palestyńczyków". Inni posunęli się tak daleko, że żądają "wyzwolenia" meczetu Al-Aksa z rąk palestyńskich "zbirów".
Saudyjski dziennikarz i pisarz, Abdel Rahman Al-Lahim:
"Jest bardzo ważne, by [mieszkańcy] Emiratów i Bahrajnu omówili z Izraelem sposoby wyzwolenia meczetu Al-Aksy od palestyńskich zbirów, żeby bronić gości przed palestyńskim bandytyzmem".
Al-Lahim pisał wyzywająco na Twitterze:
"Będę nadal z pomocą Boga demaskował palestyńskich zbirów i przeciwstawia się im, żeby bronić meczetu Al-Aksa przed tymi łajdakami. Będę przypominał światu o ich (Palestyńczyków) terrorystycznych zbrodniach w Jordanii i Libanie".
Komentując sprawę poniżenia delegacji ZEA podczas wizyty w Jerozolimie, saudyjski pisarz i publicysta, Abdullah Al-Bander, oskarżył Palestyńczyków o niewdzięczność wobec krajów arabskich, które popierały Palestyńczyków. Palestyńczycy, napisał, "obrażali i przeklinali muzułmanów w meczecie. ZEA jest jednym z największych krajów po Arabii Saudyjskiej, który popierał palestyński naród przez dostarczanie pomocy dla UNRWA".
Saudyjski politolog, Sattam Al-Harthi, potępił agresywną reakcję Palestyńczyków na wizytę delegacji z ZEA. Powiedział, że spodziewał się, iż "Palestyńczycy powitają arabskich braci kwiatami i otworzą dla nich swoje domy".
Polityczna działaczka z ZEA, Laila Al-Awadhi, zapytała: "Czy to jest palestyńska etyka gościnności? Czy jest jednym z przykazać religijnych [rzucanie] obelg w meczetach? Czy to jest moralność Arabów?" Zwracając się do Palestyńczyków dodała: "Będziemy odwiedzać meczet Al-Aksa, ponieważ nie należy do was, należy do wszystkich muzułmanów".
Pisarz z ZEA, Jakoub Al-Rayss, oskarżył "najemników" Hamasu o to, że stoją za napadami na muzułmanów, którzy odwiedzili meczet w Jerozolimie. "Tutaj widzicie, że nie tyle chodzi o religię i etykę, ile jest to złowroga ideologia Bractwa Muzułmańskiego" – napisał. (Hamas jest odgałęzieniem Bractwa Muzułmańskiego.)
Ali Al-Aslami, użytkownik mediów społecznościowych z ZEA, odpowiedział Al-Rayssowi: "Jak bardzo myliliśmy się, kiedy myśleliśmy, że Izrael uniemożliwia muzułmanom odwiedzanie meczetu Al-Aksa".
Ahmed Nasir, w artykule opublikowanym w tygodniku ZEA, "Al-Ain", oskarżył Katar, Turcję i Palestyńczyków o hipokryzję i "kupczenie" sprawą palestyńską. Nasir podkreślił, że wizyta delegacji z Emiratów w meczecie Al-Aksa "przyszła jako owoc traktatu pokojowego podpisanego przez ZEA i Izrael 15 września i jako komunikat ZEA dla Palestyńczyków, że traktat popiera ich sprawę".
Katar i Turcja, dodał Nasir, "próbowały zakłócić tę wizytę, wypaczyć jej cele i atakować ją, jako część nikczemnego planu udaremnienia i wypaczenia starań ZEA o pokój". Wskazał, że turecki prezydent, Recep Tayyip Erdogan i katarscy ministrowie odwiedzali meczet w przeszłości, ale nie byli obrażani przez Palestyńczyków.
"Handlarze sprawą palestyńską podżegają przeciwko ZEA tylko dlatego, że zaczęły szukać praktycznego rozwiązania, które przyczyniłoby się do szerzenia bezpieczeństwa i stabilności oraz przywrócenia praw palestyńskich" – argumentował Nasir.
Wściekłe reakcje tych muzułmanów na palestyńską napaść na delegację z Emiratów są kolejną oznaką pogłębiającego się kryzysu między Palestyńczykami a światem arabskim, szczególnie państwami Zatoki. Jest oczywiste, że przybycie turystów do Jerozolimy pomaga gospodarce w czasie, kiedy miasto przeżywa trudności gospodarcze z powodu restrykcji związanych z koronawirusem. Niemniej, raz jeszcze, Palestyńczycy optowali za nienawiścią do Izraela i do każdego Araba, który dąży do pokoju z nim, zamiast za poprawą swoich podstawowych warunków życia.
Jest dodatkowy aspekt gniewnej reakcji tych Arabów i muzułmanów: niektórzy muzułmanie czują się bezpieczniej odwiedzając meczet pod izraelską ochroną niż bez niej. Izraelscy policjanci chronili muzułmanów, którzy odwiedzali meczet, przed atakami innych muzułmanów – za promowanie normalizacji stosunków z Izraelem. Nic dziwnego więc, że muzułmanie z Zatoki żądają teraz zakończenia wyłącznej kontroli, jaką Palestyńczycy sprawują nad trzecim najświętszym miejscem islamu.
---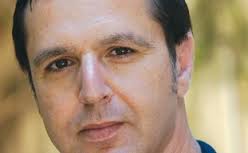 Khaled Abu Toameh – urodzony w 1963 r. w Tulkarem na Zachodnim Brzegu, palestyński dziennikarz, któremu wielokrotnie grożono śmiercią. Publikował między innymi w "The Jerusalem Post", "Wall Street Journal", "Sunday Times", "U.S. News", "World Report", "World Tribune", "Daily Express" i palestyńskim dzienniku "Al-Fajr". Od 1989 roku jest współpracownikiem i konsultantem NBC News.
---
---