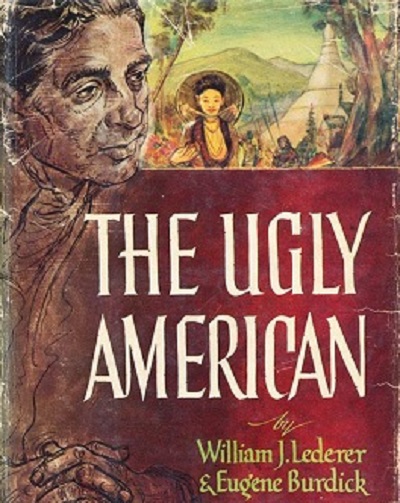 Elder of Ziyon Tłumaczenie: Małgorzata Koraszewska
---
W 1958 roku opublikowano niezmiernie popularną powieść The Ugly American [Brzydki Amerykanin]. Autorzy opisują, jak bardzo amerykańscy dyplomaci są nieczuli na problemy krajów, w których stacjonują, nie interesuje ich miejscowa kultura, a więc postrzegani są jako banda okropnych, pretensjonalnych pyszałków.
Joseph Massad właśnie nieświadomie napisał Brzydkiego Palestyńczyka.
Pisząc w "Middle East Eye", ten profesor z Columbia University skarży się, że arabskie władze zawsze przedkładały własne interesy ponad interesy Palestyńczyków: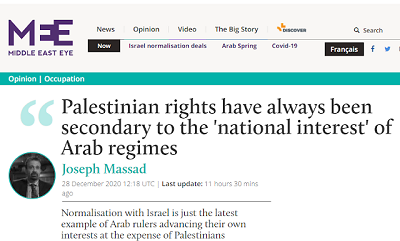 W odróżnieniu o arabskich narodów, które nieustannie okazywały solidarność z Palestyńczykami od czasu, kiedy Wielka Brytania w 1917 roku ogłosiła Deklarację Balfoura, arabskie reżimy, jak pisałem wcześniej w Middle East Eye, nawiązały stosunki i kolaborowały z Izraelem od 1948 roku – w wypadku Haszymity, Amira Fajsala, od 1919 roku.  

…Król Faruk z Egipt wziął udział w wojnie 1948 roku nie dlatego, że umieszczał interesy Palestyńczyków przed interesami Egiptu, ale, jak pokazali analitycy, z powodu rywalizacji z irackim monarchą o hegemonię nad postkolonialnym światem arabskim. 

Naser nie tylko nie rozpoczął żadnej wojny przeciwko Izraelowi, ale także wszystkie kolejne wojny Egiptu toczyły się w obronie Egiptu, a nie Palestyńczyków. W 1956 i w 1967 roku Izrael najechał Egipt i okupował Synaj.

…Zamiast poświęcić swoje narodowe interesy, by bronić Palestyńczyków, reżimy arabskie używały każdej okazji, by sprzedać palestyńskie prawa na rzecz własnych interesów.
Kompletne nierozumienie spraw przez Massada równa się temu, jakie wykazywali amerykańscy dyplomaci w Azji Południowo-Wschodniej w latach 1950., których ośmieszano w The Ugly American. 
Oczywiście każdy odpowiedzialny przywódca narodowy stawia na pierwszym miejscu własne narodowe interesy, przed interesami kogokolwiek innego. To jest ich podstawowa odpowiedzialność! 
Jednak Palestyńczycy tacy jak Massad odurzyli się arabską retoryką, w której przez 72 lata twierdzono, że przedkładają sprawę palestyńską ponad własną. Jak zauważa, nigdy tego nie robili – ale Palestyńczycy tacy jak Massad zachowują się, jak gdyby mieli obowiązek to robić.
W wyniku tego palestyńscy przywódcy i palestyńskie społeczeństwo nauczyli się, że mogą polegać na innych, by wykonali ciężką pracę dostarczenia dla nich tego, czego chcą, a oni mogą sobie siedzieć i czekać w stosunkowej wygodzie w porównaniu z resztą świata arabskiego. Arabscy przywódcy powinni walczyć w wojnach za Palestyńczyków, powinni wywierać naciski dyplomatyczne za Palestyńczyków, powinni bojkotować Izrael dla Palestyńczyków, powinni rezygnować z owoców pokoju z Izraelem dla Palestyńczyków.   
Arabowie nigdy nie dbali o Palestyńczyków. Zawsze używali ich jako pionki w wiecznej wojnie z Izraelem. Ten cynizm był oczywisty dla wszystkich, z syryjskimi i libańskimi przywódcami włącznie, którzy udawali, że trzymanie Palestyńczyków jako bezpaństwowców  jest dla ich własnego dobra, by pomogło to w wywieraniu nacisków na Izrael w sprawie ich "powrotu", który nigdy się nie zdarzy. 
Bystrzy Palestyńczycy zauważyliby to. Zrozumieliby dziesięciolecia temu, że jeśli chcą państwa, muszą faktycznie na nie pracować, tworzyć gospodarkę dla niego, prowadzić dla niego negocjacje, godzić się dla niego na kompromisy z Izraelem – a nie czekać, że arabscy bracia wykonają za nich całą robotę.  
Ale palestyńscy przywódcy i apologeci tacy jak Massad po prostu tego nie rozumieją. Myślą, że ICC i ICJ, i ONZ, i UE uratują ich, tak samo jak myśleli, że arabscy przywódcy pójdą za nich na wojnę. Zamiast budować instytucje państwa, przekazali całą ciężką pracę Europejczykom i NGO. Spojrzenie na strony internetowe palestyńskiego rządu pokazuje, że wiele z nich jest pustymi skorupami, nie aktualizowanymi od lat, ponieważ nigdy nie byli zainteresowani w rządzeniu samymi sobą ani w budowaniu rządowej infrastruktury.  
Jedyne sytuacje, kiedy świat widzi aktywnych Palestyńczyków, to podczas zamachów terrorystycznych. 
Arabskie narody wreszcie uznały, że mają dość rozłamu między Hamasem a Fatahem, a jeszcze bardziej, kiedy AP odrzuciła pokojowe plany z lat 2000 i ramy pokoju przedstawione przez Johna Kerry'ego za czasów administracji Obamy – prezydenta, który miał najbardziej przyjazny stosunek do Palestyńczyków i najbardziej nieprzyjazny do Izraela. Nawet to odrzucili.  
Tymczasem Izrael stał się silniejszy – nie tylko militarnie, ale także ekonomicznie. Bojkotowanie regionalnego supermocarstwa miało coraz mniej sensu dla Arabów. Jordania i Egipt potrzebują gazu ziemnego z Izraela. ZEA i Bahrajn chcą izraelskiej technicznej ekspertyzy. Polityka stosowania się do palestyńskich żądań bojkotu Izraela była coraz bardziej samobójcza. 
Massad skarży się, że Arabowie nie dają priorytetu interesom Palestyńczyków ponad własnymi interesami. Tylko ktoś tak rozpuszczony i tak oderwany od rzeczywistości ośmieliłby się wysuwać takie żądania. Co gorsza, Massad lekceważy olbrzymią pomoc finansową i dyplomatyczną, jaką świat arabski dawał Palestyńczykom od ponad 50 lat. 
Także profesor Columbia University może mieć emocjonalną inteligencję na poziomie dziecka, które sądzi, że cały świat obraca się wokół niego.
Massad używa przedawnionego podręcznika z instrukcjami i próbuje zawstydzić świat arabski, by tym sposobem zmusić go do dania Palestyńczykom nieograniczonego poparcia bez żadnych warunków. Nie jest świadomy tego, że świat się zmienił.   
Diatryba Massada nie wzruszy żadnego arabskiego przywódcy. Wręcz przeciwnie, odepchnie ich to jeszcze bardziej niż dotąd od jakiejkolwiek sympatii dla Palestyńczyków. 
---
Elder of Ziyon – Amerykański badacz i bloger zajmujący się gównie badaniem antysemityzmu w mediach i prowadzący blog po tą nazwą, będący źródłem niesłychanie starannie sprawdzonych informacji.
---
---