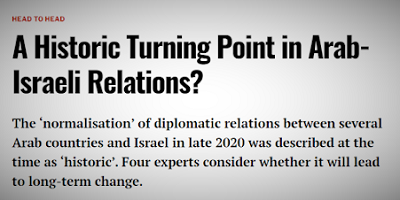 Elder of Ziyon
Tłumaczenie: Małgorzata Koraszewska
---
History Today zapytała trzech antyizraelskich historyków i dziennikarskiego "eksperta", czy traktaty o pokoju/normalizacji stosunków między Izraelem a Bahrajnem, ZEA, Sudanem i Marokiem są uważane za "historyczne".
Jednogłośnie powiedzieli, że te porozumienia są mniej lub bardziej bez znaczenia. Powód? Ponieważ nie zajmują się rzeczywistym problemem na Bliskim Wschodzie, czyli pokojem między Izraelczykami a Palestyńczykami.
Popatrzcie na to stadne myślenie:
Fawaz Gerges mówi: "Jak najdalsze od punktu zwrotnego, to partnerstwo izraelsko-arabskie pomija fundamentalną kwestię palestyńskich praw i miejsca Izraela w regionie".
Ilan Pappe mówi: "To ma bardzo niewiele wspólnego z rzeczywistą kwestią Izraela i Palestyny".
James Rodgers, były korespondent BBC, mówi: "To nie są historyczne punkty zwrotne w stosunkach arabsko-izraelskich, ponieważ nie zajmują się bezpośrednio izraelsko-palestyńskim konfliktem".
Avi Shlaim mówi: "Moim zdaniem Porozumienia Abrahamowe nie zasługują na nazwanie ich 'historycznymi', ponieważ nie dotykają podstawowej przyczyny arabsko-izraelskiego konfliktu. Palestyński problem jest sednem tego konfliktu i był centralną sprawą w arabskiej polityce od 1945 roku".
Ilość zaprzeczania tutaj jest komiczna. Nienawiść tych ludzi do Izraela jest tak wielka, że patrzą na cały świat przez swoje antyizraelskie okulary i dlatego dochodzą do antyizraelskich wniosków.
Przede wszystkim, palestyński konflikt nigdy nie był sednem konfliktu, ani nie był "centralną sprawą w arabskiej polityce od 1945 roku". To był pretekst do konfliktu, który oparty był na antysemityzmie i, po odrodzeniu się Izraela i zwycięskich wojnach, jego źródłem było poczucie hańby, z powodu tego, że potężni muzułmanie przegrali ze słabymi Żydami-dhimmi. Dowód takiego wniosku jest oczywisty: Arabowie nigdy w rzeczywistości nie pomagali Palestyńczykom. Nie dali im niepodległości w 1949 roku, nie dali im równych praw i (poza Jordanią) nie dali obywatelstwa żadnemu z nich. Używali ich jako mięsa armatniego i trzymali w nieszczęściu dla własnych celów propagandowych. Do 1967 roku nawet nie rozważano żadnego niepodległego państwa palestyńskiego.
Porozumienia Abrahamowe ujawniły prawdę, która była oczywista dla obserwatorów od ponad dziesięciu lat: narody arabskie miały dość sprawy palestyńskiej. Były oburzone, że Palestyńczycy nie zaakceptowali żadnej oferty pokojowej i były przerażone, że Palestyńczycy nawet nie potrafią zjednoczyć Hamasu i Fatahu.
To nie jest tajemnica. Każdy historyk, wart tego tytułu, znałby te podstawowe fakty. Są opisane w mediach arabskich i są oczywiste, gdy patrzy się na działania arabskich przywódców, którzy obiecują miliardy dolarów, a wypłacają maleńki tego ułamek.
Po drugie, Porozumienia Abrahamowe są doniosłe nie tylko z powodu pokoju, ale z powodu normalizacji stosunków. Porozumienie ZEA-Izrael i Bahrajn-Izrael explicite zmieniają Izrael z państwa-pariasa w państwo, które ma historyczne i trwałe więzy z regionem:
"Uznając, że narody arabski i żydowski są potomkami wspólnego przodka, Abrahama, i inspirowani w tym duchu, by promować na Bliskim Wschodzie rzeczywistość, w której muzułmanie, Żydzi, chrześcijanie i ludy wszystkich wyznań, przekonań i narodowości żyli i byli oddani duchowi współistnienia, wzajemnego zrozumienia i wzajemnego szacunku;…" – czytamy w tekście tych Porozumień.
Każdy, kto mówi, że to nie jest historyczne, nie zna historii tak dobrze, jak udaje, że ją zna.
Po trzecie, otwarte stosunki handlowe między Izraelem a państwami Zatoki nie tylko umocnią Izrael jako trwałego ekonomicznego partnera Bahrajnu i ZEA, ale także wszystkich innych państw Zatoki, które mogą nie być zainteresowane publicznym handlem z Izraelem, ale które z zadowoleniem będą handlowały za pośrednictwem tych dwóch krajów. Izrael już ma ciche kontakty handlowe z innymi arabskimi państwami – można oczekiwać, że to będzie rosło w zawrotnym tempie.
Po czwarte, te porozumienia zniszczyły antyizraelską jednomyślność Ligi Arabskiej.
Po piąte, te porozumienia doprowadziły do większej współpracy między Izraelem a innymi państwami arabskimi, które jeszcze nie podpisały własnych porozumień. Arabia Saudyjska pozwala teraz izraelskim samolotom na przeloty nad jej terytorium i saudyjscy przywódcy spotkali się z izraelskimi przywódcami. Izrael polepszył związki z Omanem, który z zadowoleniem przyjął porozumienia. Wiele krajów arabskich może nadal oficjalnie nie uznawać Izraela, ale bardzo niewiele jest oficjalnie nadal wrogami.
To jest całkowita zmiana tego, jak świat arabski patrzy na Izrael. Minimalizowanie tego jest, szczerze mówiąc, urojeniem.
Porozumienia dowiodły dokładnej odwrotności głównego założenia ich krytyków z "History Today" – że konflikt izraelsko-palestyński jest podstawową sprawą. Nigdy nie był. Państwa arabskie miały znacznie poważniejsze sprawy, którymi musiały się zajmować, głównie zagrożenie irańskie, a Izrael jest znacznie lepszym partnerem niż mogą kiedykolwiek być Palestyńczycy. Także zimny pokój między Izraelem a Egiptem/Jordanią jest silniejszy niż kiedykolwiek, bo kupują obecnie od Izraela bardzo potrzebny im gaz i nie stać ich na zamknięcie jego dopływu.
Tym historykom może się to nie podobać, ale rok 2020 był rokiem, kiedy Izrael w znacznej mierze zintegrował się z Bliskim Wschodem, czyli stało się coś, przeciwko czemu oni walczą od ponad siedemdziesięciu lat.
Artykuł w "History Today" nie jest trzeźwą analizą. Ostatecznie, większość ludzi, która się do niego wypowiadała, zdobyła sławę dzięki książkom o izraelsko/palestyńskim konflikcie i ich sława zależy od uznawania tego konfliktu za ważny. Ten artykuł to kwaśne winogrona z powodu pokazania im, że od tak dawna i tak spektakularnie mylą się.
(h/t Charlie in NY)
---
Elder of Ziyon
Amerykański badacz i bloger, który prowadzi jeden z najlepszych blogów śledzących antysemityzm w mediach.
---
---