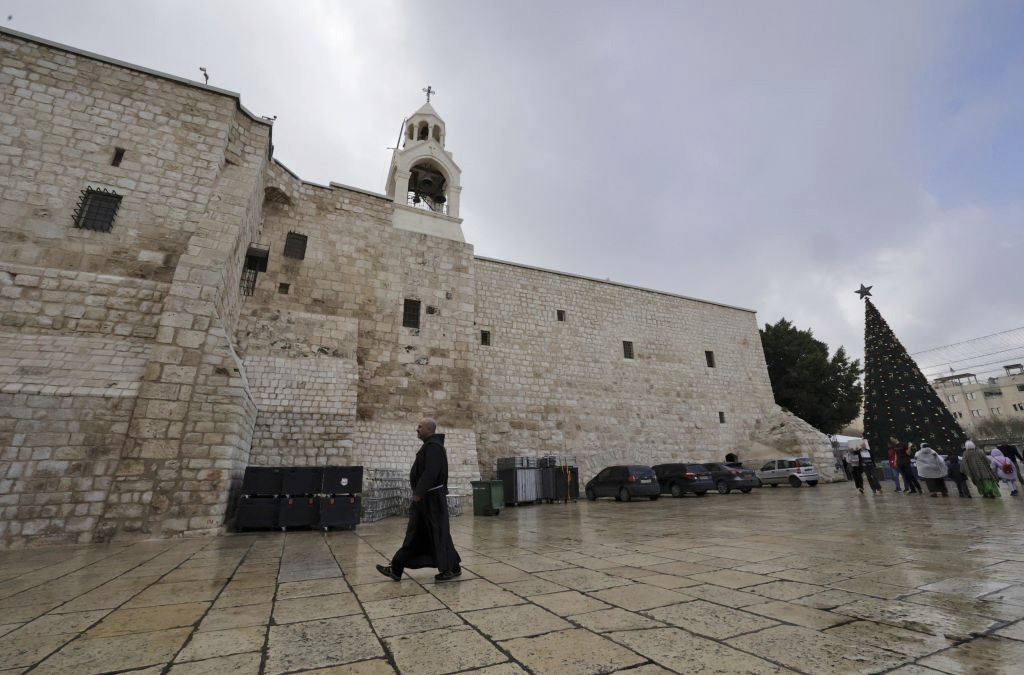 Dlaczego prześladowania chrześcijan w Betlejem i innych obszarach kontrolowanych przez Autonomię Palestyńską są tak rzadko relacjonowane lub niedostatecznie nagłaśniane? "Ataki muzułmanów na chrześcijan są często ignorowane przez społeczność międzynarodową i media, które wydają się zabierać głos tylko wtedy, gdy mogą znaleźć sposób, aby obwiniać Izrael" – twierdzi dziennikarz Khaled Abu Toameh. Na zdjęciu: Bazylika Narodzenia Pańskiego w Betlejem. (Zdjęcie: Hazem Bader/AFP via Getty Images)
---
Raymond Ibrahim

Tłumaczenie: Małgorzata Koraszewska
---
Dlaczego prześladowania chrześcijan w Betlejem i innych obszarach kontrolowanych przez Autonomię Palestyńską są tak rzadko relacjonowane lub niedostatecznie nagłaśniane? "Ataki muzułmanów na chrześcijan są często ignorowane przez społeczność międzynarodową i media, które wydają się zabierać głos tylko wtedy, gdy mogą znaleźć sposób, aby obwiniać Izrael" – twierdzi dziennikarz Khaled Abu Toameh.
Po zauważeniu, że "nastąpił wyraźny wzrost motywowanych religijnie ataków palestyńskich muzułmanów na chrześcijan w Betlejem", doniesienie z 21 listopada podaje następujące przykłady:
"Nieco ponad dwa tygodnie temu muzułmanin został oskarżony o nękanie młodych chrześcijańskich kobiet w prawosławnym kościele w Beit Sahour w pobliżu miasta Betlejem. Wkrótce potem kościół zaatakował duży tłum palestyńskich mężczyzn, którzy rzucali kamieniami w budynek, podczas gdy wierni ukryli się w środku. Kilku wiernych zostało rannych.

Odpowiedzialna za bezpieczeństwo w regionie Autonomia Palestyńska nie zrobiła nic.

W październiku niezidentyfikowani napastnicy strzelali do należącego do chrześcijan hotelu Bethlehem po tym, jak wideo w mediach społecznościowych skojarzyło hotel z ekspozycją zawierającą wycięte z kartonu gwiazdy Dawida i menorę. …

W związku ze strzelaniną nie dokonano żadnych aresztowań.

Być może największym szokiem dla społeczności było aresztowanie w kwietniu palestyńskiego pastora ewangelickiego, Johnny'ego Szahwana, przez siły bezpieczeństwa Autonomii Palestyńskiej pod zarzutem "promowania normalizacji" stosunków z Izraelem. …

W styczniu duża grupa zamaskowanych mężczyzn uzbrojonych w kije i żelazne pręty zaatakowała chrześcijańskich braci, Daouda i Dahera Nassarów, na ich farmie w pobliżu Betlejem. Sądy palestyńskie pracowały nad konfiskatą farmy, która była własnością rodziny od czasów Imperium Osmańskiego".
Według rabina Pesacha Wolickiego, dyrektora Centrum Porozumienia i Współpracy Żydowsko-Chrześcijańskiej, prześladowania palestyńskich chrześcijan są w rzeczywistości problemem istniejącym od dawna:
"Niestety, te niedawne ataki na kościoły nie są nowe. Chrześcijanie są atakowani w Betlejem od wielu, wielu lat. Były bombardowania. Fizyczne ataki na chrześcijan są niemal nieustanne. Zdarzają się regularnie od czasu przejęcia władzy przez Autonomię Palestyńską".
Według Kamala Taraziego, chrześcijanina, który uciekł w 2007 r. z kontrolowanej przez Hamas Strefy Gazy: "W momencie, gdy [Hamas] przejął kontrolę nad [Gazą], zaczęli nas prześladować, rujnując nasze kościoły i zmuszając chrześcijan do nawrócenia się na islam". Przed ucieczką Tarazi próbował oprzeć się islamistycznemu przejęciu władzy i wezwał muzułmanów i chrześcijan do zjednoczenia się przeciwko Hamasowi. W rezultacie "byłem kilka razy więziony" – powiedział. "Czy wiesz, czym jest więzienie Hamasu? To czysta tortura".
Liczby potwierdzają, że chrześcijanie żyjący pod rządami Autonomii Palestyńskiej (AP) doświadczają ciągłego złego traktowania, którego nie doświadczają muzułmanie. W 1947 roku chrześcijanie stanowili 85% ludności Betlejem, starożytnej chrześcijańskiej twierdzy. Do 2016 roku liczba chrześcijan spadła do zaledwie 16% populacji.
"W społeczeństwie, w którym arabscy chrześcijanie nie mają głosu ani ochrony, nie jest zaskoczeniem, że odchodzą" – zauważył Justus Reid Weiner, prawnik znający ten region.
"Systematyczne prześladowania chrześcijańskich Arabów mieszkających na obszarach palestyńskich spotykają się z niemal całkowitym milczeniem ze strony społeczności międzynarodowej, obrońców praw człowieka, mediów i organizacji pozarządowych".
Międzynarodowe media nigdy nie informują o przypadkach prześladowań. Prosząc o zachowanie jego anonimowości, mieszkaniec Betlejem, chrześcijański Arab, podkreślił, że nie informowano o wymienionych powyżej incydentach nawet w samym Izraelu, po czym dodał:
"To musi być nagłośnione w celu edukowania świata żydowskiego i świata chrześcijańskiego o stanie Betlejem. Ciągle mają miejsce incydenty, czy to sąsiedzi przeciwko sobie, czy ludzie na ulicach, czy nawet ataki na organizacje i kościoły. W większości są to sytuacje, w których społeczność muzułmańska prześladuje mniejszość, społeczność chrześcijańską".
Dlaczego tak rzadko lub nigdy nie informuje się o prześladowaniach chrześcijan w Betlejem i na innych obszarach kontrolowanych przez Autonomię Palestyńską? Z pewnością nie dlatego, że doświadczają mniej prześladowań niż ich współwyznawcy w całym świecie muzułmańskim, gdzie ma miejsce większość prześladowań chrześcijan na świecie.
"Ataki muzułmanów na chrześcijan są często ignorowane przez społeczność międzynarodową i media, które wydają się zabierać głos tylko wtedy, gdy mogą znaleźć sposób, by obwinić Izrael" – napisał palestyński dziennikarz Khaled Abu Toameh.
"Kolejną niepokojącą sytuacją jest to, że przywódcy społeczności chrześcijańskiej na Zachodnim Brzegu niechętnie pociągają Autonomię Palestyńską i ich muzułmańskich sąsiadów do odpowiedzialności za ataki. Boją się zemsty i wolą trzymać się oficjalnej linii obarczania Izraela wyłączną odpowiedzialnością za nieszczęścia chrześcijańskiej mniejszości".
Open Doors, organizacja praw człowieka, która śledzi prześladowania chrześcijan, donosi, że palestyńscy chrześcijanie cierpią z powodu "wysokiego" poziomu prześladowań:
"Ci, którzy przechodzą z islamu na chrześcijaństwo, spotykają się jednak z najgorszymi prześladowaniami i trudno im bezpiecznie uczestniczyć w życiu istniejących kościołów. Na Zachodnim Brzegu są oni zagrożeni i poddawani wielkiej presji, w Gazie ich sytuacja jest tak niebezpieczna, że wyznają swoją wiarą chrześcijańską w największej tajemnicy… Rośnie wpływ radykalnej ideologii islamu, a kościoły historyczne muszą być dyplomatyczne w swoim podejściu do muzułmanów".
Wyjątkowa sytuacja palestyńskich chrześcijan – żyjących w świecie walki politycznej, gdzie "publiczny wizerunek", a zatem opinia jest wszystkim – również wyjaśnia brak ujawniania przypadków prześladowań. Raport dr Edy'ego Cohena dokumentuje więcej przypadków prześladowań chrześcijan. Wszystkie miały miejsce jeden po drugim, tuż przed publikacją raportu i żadnego z nich nie relacjonowały tak zwane "media głównego nurtu":
25 kwietnia: "Przerażeni mieszkańcy chrześcijańskiej wioski Dżifna niedaleko Ramallah… zostali zaatakowani przez muzułmańskich bandytów… po tym, jak kobieta z wioski złożyła skargę na policję, że syn znanego, związanego z Fatahem przywódcy zaatakował jej rodzinę. W odpowiedzi do wioski przybyły dziesiątki bandytów Fatahu, którzy wystrzelili w powietrze setki kul, rzucali bomby z benzyną, wykrzykując przekleństwa. Spowodowali poważne zniszczenia mienia publicznego. To cud, że nie było żadnych zabitych lub rannych".
13 maja: "Wandale włamali się do kościoła społeczności maronickiej w centrum Betlejem, zbezcześcili go i ukradli kosztowny sprzęt należący do kościoła, w tym kamery bezpieczeństwa… To już szósty raz, kiedy kościół maronitów w Betlejem padł ofiarą aktów wandalizmu i kradzieży, w tym podpalenia w 2015 r., które spowodowało znaczne zniszczenia i zmusiło kościół do zamknięcia na długi czas".
16 maja: "Przyszła kolej na kościół anglikański w wiosce Aboud, na zachód od Ramallah. Wandale przecięli ogrodzenie, wybili okna kościoła i włamali się do środka. Zbezcześcili go, szukali wartościowych przedmiotów i ukradli dużo sprzętu".
Ataki te, które miały miejsce w ciągu trzech tygodni, pasują do tego samego schematu prześladowań, jakich zwykle doświadczają chrześcijanie w innych regionach z większością muzułmańską. Podczas gdy profanacja i plądrowanie kościołów jest powszechne, to samo dzieje się z atakami muzułmańskiego tłumu na mniejszości chrześcijańskie – które są traktowane jako dhimmi czyli "obywatele" drugiej kategorii pod rządami islamu, i którzy rzekomo powinni być wdzięczni za jakąkolwiek tolerancję. Jeśli i kiedy odważą się wystąpić w obronie swoich praw, jak to miało miejsce 25 kwietnia, "[ci] którzy brali udział w rozruchach w [wiosce] Dżifna wezwali [chrześcijańskich] mieszkańców do zapłacenia dżizji— podatku pogłównego, który w historii był nakładany na mniejszości niemuzułmańskie pod rządami islamu. Ostatnimi ofiarami dżizji były wspólnoty chrześcijańskie w Iraku i Syrii pod rządami ISIS".
Co gorsza, jak to często bywa, gdy mniejszości chrześcijańskie są atakowane w krajach z większością muzułmańską, "pomimo próśb [chrześcijańskich] mieszkańców o pomoc [w Dżifna] policja AP nie interweniowała w godzinach chaosu. Nie aresztowała żadnych podejrzanych". Podobnie w przypadku dwóch ataków na kościoły "nie aresztowano żadnych podejrzanych".
Podczas gdy palestyńscy chrześcijanie cierpią z powodu tego samego typu prześladowań, co ich współwyznawcy w innych krajach muzułmańskich, w tym ataków na kościoły, porwań i przymusowych nawróceń, prześladowania palestyńskich chrześcijan "nie były relacjonowane w palestyńskich mediach. W rzeczywistości", kontynuuje Cohen, "w wielu przypadkach nakładano pełny zakaz informowania":
"Jedyną rzeczą, która interesuje AP, jest to, aby wydarzenia tego rodzaju nie przedostawały się do mediów. Fatah regularnie wywiera silny nacisk na chrześcijan, aby nie zgłaszali aktów przemocy i wandalizmu, których często doświadczają, ponieważ taki rozgłos może zaszkodzić wizerunkowi AP jako podmiotu zdolnego do ochrony życia i mienia mniejszości chrześcijańskiej pod jej rządami. Tym bardziej AP nie chce być przedstawiana jako radykalny podmiot prześladujący mniejszości religijne. Taki wizerunek może mieć negatywne reperkusje dla olbrzymiej pomocy, jaką otrzymuje AP od społeczności międzynarodowej, a zwłaszcza od Europejczyków".
Chlebem powszednim AP i jej zwolenników, zwłaszcza w mediach, jest przedstawianie Palestyńczyków jako ofiar niesprawiedliwej agresji i dyskryminacji ze strony Izraela. Ta narracja byłaby zagrożona, gdyby społeczność międzynarodowa dowiedziała się, że to palestyńscy muzułmanie prześladują palestyńskich chrześcijan – wyłącznie z powodu religii. Może być trudno zdobyć sympatię dla rzekomo uciskanych ludzi, kiedy uświadomi się światu, że oni sami uciskają mniejszości pośród nich – i to wyłącznie z powodu religijnej bigoterii.
Ponieważ są tak wrażliwi na tę potencjalną trudność, "urzędnicy AP wywierają presję na miejscowych chrześcijan, aby nie zgłaszali takich incydentów, co grozi zdemaskowaniem Autonomii Palestyńskiej jako jeszcze jednego bliskowschodniego reżimu wiernego radykalnej islamskiej ideologii" – konkluduje Cohen.
Niektórzy palestyńscy chrześcijanie są również współwinni. Mitri Rehab, palestyński naukowiec i luterański duchowny mieszkający w Betlejem, podkreśla w swojej ostatniej książce, The Politics of Persecution , że jakiekolwiek prześladowania, jakich mogą doświadczyć chrześcijanie na Bliskim Wschodzie, nie mają nic wspólnego z islamem, a wszystko z działaniami Zachodu lub Izraela. Próbując zrzucić winę na wszystko inne, oferuje nawet rozdział w swojej książce o "zmianach klimatu [które] odbiją się na społeczności chrześcijańskiej".
Wreszcie, Autonomia Palestyńska nie tylko tłumi wiadomości o prześladowaniach chrześcijan; aktywnie reklamuje fałszywy obraz. Pomimo szybko malejącej liczby chrześcijan w Betlejem, "Fakt, że AP nadal upewnia się, że w Betlejem jest chrześcijański burmistrz, jest tylko dekoracją", według rabina Wolickiego.
"To przedstawienie, które ma przekonać świat, że Betlejem, miejsce narodzin chrześcijaństwa, jest nadal miastem chrześcijańskim. Nie jest chrześcijańskie. Jest muzułmańskie pod każdym względem".
W te Święta Bożego Narodzenia ważne jest pamiętanie, że z powodu trwających, ale wyciszonych prześladowań, chrześcijaństwo jest bliskie zaniku w miejscu swoich narodzin – Betlejem, miejscu Narodzenia Pańskiego. To cisza nadaje świątecznej piosence "Stille Nacht!" złowrogie znaczenie. "Prześladowania – stwierdza najnowszy raport – zagrażają istnieniu najstarszej wspólnoty chrześcijańskiej na świecie".
---
---