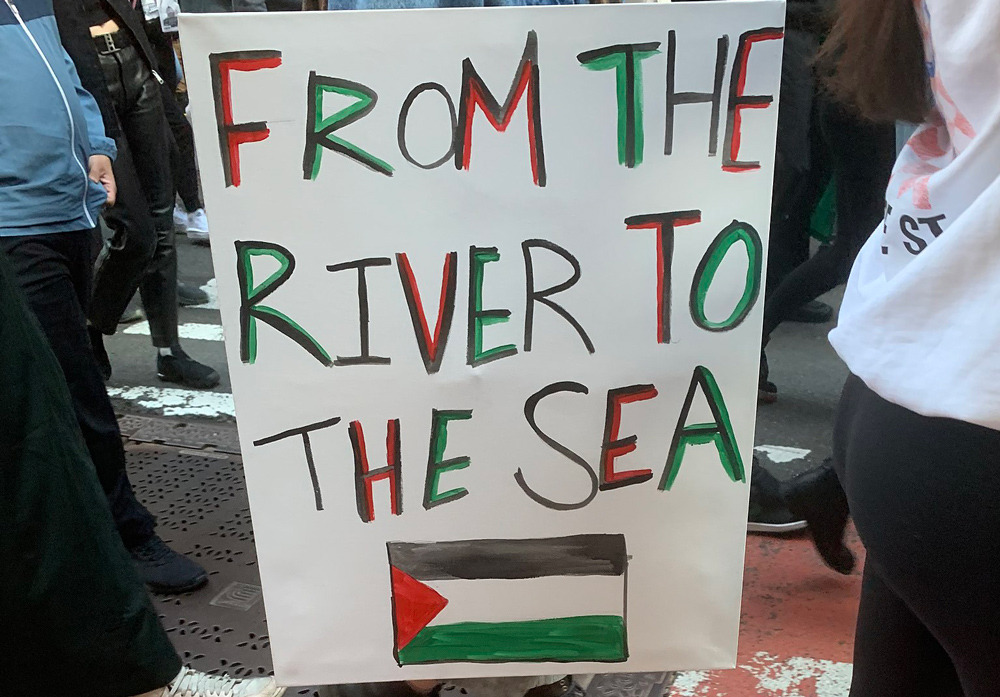 (Zdjęcie: Andrew Ratto/Wikimedia Commons)
---
Bassam Tawil
Tłumaczenie: Małgorzata Koraszewska
---
Antyizraelscy studenci na wielu kampusach uniwersyteckich w USA, Kanadzie, Australii i Europie często skandują hasło "Od rzeki do morza Palestyna będzie wolna". To hasło, które zasadniczo oznacza, że Izrael nie ma prawa istnieć na ziemi między rzeką Jordan a Morzem Śródziemnym – innymi słowy na całej ziemi, która obecnie stanowi Izrael – od dawna jest popierane przez grupy islamistyczne, które otwarcie wzywają do wyeliminowania Izraela.
To samo wezwanie zostało powtórzono na:
Niedawnym spotkaniu Rady Studentów Uniwersytetu w Sydney, podczas którego członkowie rady uniemożliwili żydowskim studentom przemawianie lub wywieszanie izraelskich flag w Dniu Niepodległości Izraela.
Wiec 8 kwietnia pod nazwą "Ręce precz od [meczetu] Al-Aksa", zorganizowany przez kilka pro-palestyńskich organizacji w Nowym Jorku. Na wiecu mówcy wychwalali palestyński "opór" i jego "męczenników" i powtarzali to samo hasło.
Wydarzenie zorganizowane na początku tego roku przez grupy żydowskie na University College London, gdzie dziesiątki antyizraelskich aktywistów skandowały: "Uwolnić Palestynę od rzeki do morza".
"Powinniśmy wezwać arabskie i muzułmańskie armie do wyzwolenia Palestyny" – powiedział wyraźnie jeden z mówców na antyizraelskim zgromadzeniu.
Pod koniec zeszłego roku społeczność żydowska z Northwestern University w Chicago była zszokowana, widząc, że wydrukowane kopie artykułu o dumie żydowskiej zostały zamalowane słowami: "Od rzeki do morza Palestyna będzie wolna".
Nie sposób wyobrazić sobie, że działacze antyizraelscy nie mają pojęcia, że to hasło jest powszechnym wezwaniem do broni dla tych, którzy chcą zniszczyć Izrael.
Hasło to odzwierciedla życzenia Iranu i jego terrorystycznych pełnomocników – zwłaszcza Hamasu, Palestyńskiego Islamskiego Dżihadu (PIJ) i Hezbollahu – zastąpienia Izraela pięćdziesiątym siódmym państwem islamskim – od rzeki Jordan po Morze Śródziemne.
Irańscy przywódcy i oficjele często powtarzają, że ich celem jest "wymazanie Izraela z mapy". Niedawno Ministerstwo Spraw Zagranicznych Iranu powtórzyło wezwanie, oznajmiając, Jerozolima jest "wieczną stolicą Palestyny, od rzeki do morza".
W przeddzień swojej niedawnej wizyty w Syrii prezydent Iranu, Ebrahim Raisi, powtórzył życzenie swojego reżimu, aby Izrael został usunięty [z powierzchni ziemi].
Hamas, wspierana przez Iran grupa terrorystyczna kontrolująca Strefę Gazy, nigdy nie przegapił okazji, by zadeklarować swój zamiar przekazania tego samego przesłania. W grudniu 2022 r., w 35. rocznicę swojego powstania, Hamas ujawnił swoje hasło: "Palestyna od rzeki do morza". Mapa towarzysząca sloganowi przedstawiała – bez Izraela – cały kraj od rzeki Jordan do Morza Śródziemnego.
Na początku tego roku przywódca Hamasu, Ismail Hanijja, ponownie powtórzył cel swojej grupy, jakim jest zniszczenie Izraela, mówiąc:
"Cała Palestyna, od rzeki do morza i od Ras al-Nakuora [na granicy izraelsko-libańskiej] do Umm al-Raszrasz [Ejlat, najbardziej wysunięte na południe miasto Izraela], jest jednym krajem, który jest niepodzielny i nie może być sprzedany ani przehandlowany".
Rzecznik Hamasu, Husam Badran, również potwierdził poparcie swojej grupy dla wyeliminowania Izraela: "Palestyna, którą znamy, rozciąga się od rzeki do morza – nie pomijając ani centymetra" – powiedział.
Używając tego hasła, Iran i Hamas mówią bez ogródek, że na Bliskim Wschodzie nie ma miejsca dla państwa żydowskiego.
Mówią też, że ziemie rozciągające się od rzeki Jordan do Morza Śródziemnego są w całości własnością muzułmanów i nie mogą być oddane żadnym nie-muzułmanom.
Artykuł 11 Karty Hamasu nie pozostawia żadnych wątpliwości; jest po prostu ludobójczy:
"Ruch Islamskiej Republiki [Hamas] wierzy, że ziemia Palestyny jest islamskim Wakf poświęconym przyszłym pokoleniom muzułmanów aż do Dnia Sądu Ostatecznego. Ona ani żadna jej część nie powinna być trwoniona; z niej, ani z żadnej jej części nie można zrezygnować. Ani jeden kraj arabski, ani wszystkie kraje arabskie, żaden król ani prezydent, ani wszyscy królowie i prezydenci, ani żadna organizacja, ani wszyscy, czy to Palestyńczycy, czy Arabowie, nie mają prawa tego zrobić".
Artykuł 13 Karty Hamasu otwarcie opowiada się za użyciem przemocy w celu zabicia Żydów i wyeliminowania Izraela:
"Nie ma rozwiązania kwestii palestyńskiej poza dżihadem [świętą wojną]".
Artykuł 15 Karty Hamasu stanowi:
"Dżihad jest indywidualnym obowiązkiem każdego muzułmanina… Konieczne jest zaszczepienie ducha dżihadu w sercu narodu, aby stawił czoła wrogom i dołączył do szeregów bojowników".
Podobnie Palestyński Islamski Dżihad, inna wspierana przez Iran grupa terrorystyczna z siedzibą w Strefie Gazy, również nalega, aby cały kraj od rzeki Jordan do Morza Śródziemnego znalazł się pod rządami islamu. Podobnie jak Hamas, PIJ był zaangażowany w niezliczone ataki terrorystyczne przeciwko Izraelowi i odrzuca prawo Izraela do istnienia.
Antyizraelscy aktywiści, którzy skandują "Od rzeki do morza Palestyna będzie wolna" – czy są tego świadomi, czy nie – popierają ideologię irańskich mułłów, Hamasu i innych grup terrorystycznych, które od dawna pracowały nad osiągnięciem swojego celu zniszczenia Izraela.
Ci aktywiści, którzy często określają siebie jako "pro-palestyńscy", tak naprawdę nie troszczą się o Palestyńczyków ani o "wyzwolenie Palestyny". Gdyby tak było, wzywaliby zamiast tego do stworzenia lepszych możliwości dla Palestyńczyków; do rządów palestyńskich, które byłyby mniej skorumpowane; do równego stosowania prawa pod palestyńskim przywództwem; do praw kobiet i dzieci oraz wolności słowa, zgromadzeń i prasy.
Obecni protestujący to wyłącznie izraelożercy – tak naprawdę antysemici – którzy sprzymierzyli się z muzułmańskimi ekstremistami i terrorystami.
Skandując "Od rzeki do morza Palestyna będzie wolna" na kampusie uniwersyteckim na Zachodzie lub na wiecu w Nowym Jorku, aktywiści ci służą jako rzecznicy muzułmańskich terrorystów, którzy codziennie mordują ludzi z zimną krwią w szkołach, kawiarniach i na drogach, tak jak zamordowali żydowską matkę i jej dwie córki w drodze na żydowskie święto. Hamas chwalił się nawet, że jego ludzie stali za zabójstwem brytyjskiej rodziny Dee ostrzeliwując ich samochód, a potem strzelając z bliska do bezbronnych kobiet w Dolinie Jordanu na początku kwietnia.
Następnym razem, gdy ktoś usłyszy hasło "od rzeki do morza" w Stanach Zjednoczonych, Kanadzie lub Europie, powinien zauważyć, że wyraża poparcie dla reżimu Iranu – trującego setki uczennic i wieszającego własnych obywateli za "przestępstwa", takie jak "obraza religii" – jak również dla irańskich grup terrorystycznych za granicami Iranu: Hamasu, Palestyńskiego Islamskiego Dżihadu i Hezbollahu.
---
---