Andrew Bernard
---
Lebanese army members and the United Nations peacekeepers (UNIFIL) stand near of what witnesses stated to be the UNIFIL vehicle that was carrying the Irish soldier who was killed on a U.N. peacekeeping Patrol, in Al-Aqbieh, south Lebanon December 15, 2022. REUTERS/Aziz Taher
The UN's Special Coordinator for Lebanon Joanna Wronecka on Monday thanked a representative of Hezbollah for giving her a "tour d'horizon" of Lebanese issues, eliciting a strongly-worded rebuke from Israeli officials.
"I thank Mr. Ammar Moussawi of Hizbullah for a tour d'horizon on issues of priority for Lebanon, including the election of a new President, the functioning of state institutions and the impact of regional and international developments on the country," Wronecka wrote in both English and Arabic.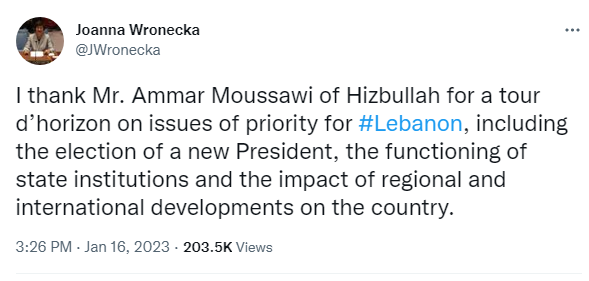 [
Joanna Wronecka (born 30 March 1958 in Krotoszyn)[1] is a Polish diplomat who has been serving as United Nations Special Coordinator for Lebanon since 2021.[2]
Wronecka served as Poland's ambassador to Egypt (1999–2003), Morocco (2005–2010), Permanent Representative to the United Nations (2017–2021), and as European Union Ambassador to Jordan (2011–2015). ]
Moussawi is the head of international relations for Hezbollah, which is recognized as a terrorist organization by the US, UK, Germany, Japan and others. In December, Hezbollah handed over one of its supporters who shot and killed an Irish UN peacekeeper in an incident that Hezbollah's security chief called "unintentional." A Hezbollah spokesperson told Reuters at the time that the murder suspect was a supporter, but not a member, of the Iran-backed militia.
Israeli diplomats on Tuesday criticized Wronecka's decision to meet with Moussawi and for her choice of words in thanking him.
"Is this real..??," Tweeted Joshua Zarka, Head of Strategic Affairs in Israel's Ministry of Foreign Affairs. "An official Senior UN Representative thanks the terrorist organization responsible for the murder of a UN peace keeper for 'a tour d'horizon'!!!"
"So how does it feel to be indoctrinated by a terrorist? Care to share with us?" asked Yaki Lopez, Head of Public Diplomacy at Israel's embassy in Berlin.
Wronecka, a Polish diplomat who previously as Poland's ambassador to the United Nations, is not the first special coordinator to court controversy for meeting with Hezbollah. Her predecessor, Jan Kubis, in 2019 met with Hezbollah Deputy Secretary General Naim Qassem and was gifted a copy of his book, which Kubis called "a necessary reading."
She was also involved with the dispute between Lebanon and Israel regarding the two countries' maritime borders
---
---