Ewa Jankowska
---
– Oświęcim to symbol naszej trudnej historii, tego jak bardzo nie wyleczyliśmy się z narodowych kompleksów, jak bardzo nie potrafimy pójść do przodu i normalnie żyć – mówi Marcin Kącki, autor książki "Oświęcim. Czarna zima".
Rozmawiam z Marcinem Kąckim w aplikacji Zoom, na ścianie w jego mieszkaniu dostrzegam fragment obrazu z napisem "Żydy".
To pamiątka z Oświęcimia?
Nie, z Białegostoku.
Marcin podnosi ekran laptopa, obraz przedstawia świętą Maryję, Józefa i Jezusa.
Obraz ma świetną historię. Namalował go Stasiu Żywolewski, prymitywista, z wykształcenia rzeźnik. Pokazał go kilka lat temu na wystawie w Hajnówce. Jakieś małżeństwo, które przyszło na wystawę, powiedziało mu, że obraz obraża ich uczucia religijne, więc kazano mu go zabrać. Potem obraz ponoć wykupił jakiś ksiądz i zamknął pod kluczem, a Stasiu namalował wersję z blond włosami i niebieskimi oczami i dał mi ją w prezencie. Wiedząc, że będę się nim przechwalał przed "prawdziwymi Polakami", napisał z tyłu, że obraz nie ma nic wspólnego z polskim antysemityzmem.
Mam sporo pamiątek po moich książkach, ale przede wszystkim mnóstwo wspomnień, także towarzyskich.
Z Oświęcimia przywiozłem magnes na lodówkę z napisem "Welcome to Oświęcim". Kupiłem go w jakimś sklepiku w mieście. A na terenie Muzeum można kupić różne inne pamiątki: książki, koszulki albo zamówić w restauracji w Muzeum pierogi – niestety, najgorsze, jakie jadłem i piekielnie drogie.
Sklep z pamiątkami nieopodal Muzeum Auschwitz-Birkenau (fot: Marcin Kącki)
Ale nikt tam nie przyjeżdża na pierogi. Turyści chcą zobaczyć miejsce, które stało się światowym symbolem Zagłady. W kategoriach turystycznych to, niestety, pewna marka ludzkiego okrucieństwa.
Żadnej marki nie ma miasto Oświęcim, które żyje w cieniu obozu.
Z tych dwóch milionów turystów do miasta zjeżdża zaledwie kilka tysięcy. U większości zwiedzanie powoduje odruch ucieczki, skala okrucieństwa jest tak duża, że ludziom mija ochota na to, żeby potem iść do miasta na obiad, piwo, zostać tam na noc.
Problem w tym, że wielu nie wie, że jest taka możliwość.
Przeciętny turysta wsiada do autokaru w Krakowie, wysiada przy obozie, gdzie spędza kilka godzin i wraca do Krakowa. Nie ma pojęcia, że kilkaset metrów dalej jest 800-letnie miasto, w którym do dziś istnieją dawne zakłady hitlerowskie, że w XIX wieku miasto było centrum przemytniczym ludzi, że w latach 80. XX wieku był tu pogrom Romów – a wydawałoby się, że to ostatnie miejsce, gdzie mogłoby dojść do takich zachowań. Że jest tu przepiękny rynek, fantastyczne Centrum Żydowskie prowadzone przez miejscowych i fundatorów z USA. Jest nawet hotel Hilton, o którego powstanie walczył architekt Marcin Susuł, człowiek niesamowicie zdeterminowany, który głęboko wierzy, że miasto ma duży potencjał.
Wiele osób nie wiem, że Oświęcim to 800-letnie miasto, dawny sztetl (fot: Jakub Porzycki/ Agencja Gazeta)
Wiedziała pani, że Oświęcim to w połowie miasto żydowskie, które kiedyś nazywało się Oszpicin?
Nie. Długo myślałam, że w Oświęcimiu nie ma nic poza obozem.
Ja też o tym nie wiedziałem. Pierwszy raz w Oświęcimiu byłem jako dzieciak, w ramach szkolnej wycieczki, ale niewiele z niej pamiętam, tyle że było szaro i brzydko. Drugi raz, żeby promować moją książkę "Białystok". Szedłem pięknie ukwieconym rynkiem, bulwarami nad rzeką Sołą i łapałem się za głowę. Jak to możliwe, że ja nic o tym mieście nie wiem? Jak kolejnego dnia poszedłem na spotkanie do wydawnictwa Znak w Krakowie, to powiedziałem: Nie mam pojęcia, jaki macie pomysł na kolejną książkę, ale ja mam lepszy – Oświęcim. Po krótkiej dyskusji z Ewką Bolińską ze Znaku uznaliśmy, że to rzeczywiście dziwne, że nikt nie podjął się próby głębszego opisania miasta. Nawet krakowianie niewiele o nim wiedzą, mimo że mieszkają 40 kilometrów dalej.
Miasto chciałoby się promować, ale na każdym kroku napotyka jakąś przeszkodę.
Rzecznik prasowy Urzędu Miasta w Oświęcimiu chciał umieścić informację o mieście w gazetkach rozdawanych pasażerom w samolotach tanich linii lotniczych. Ale zaprotestowała jedna z organizacji żydowskich, bo jej zdaniem trudno pogodzić miejsce kaźni z rozrywką. Albo zgłosił się do miasta producent zapałek, żeby Oświęcim się na nich reklamował. Jakie hasło reklamowe można by wymyślić – "Oświęcim. Rozpalimy was"? Na cokolwiek byśmy nie wpadli, brzmiałoby to jak szyderstwo z Holokaustu. Niestety, Oświęcim wpisany jest w kontekst historyczny, jak pieczątka odbija najgorszą symbolikę, dlatego trudno znaleźć w takim przekazie balans między historią śmierci a potrzebą życia.
Droga do Brzezinki z reklamami lokalnych firm (fot: Marcin Kącki)
To powoduje, że wszędzie zderzamy się z ironią. Gdy z obozu idziemy ulicą Ostatni Etap, gdy mijamy tabliczkę "Zły pies" czy kiosk, na którym wisi ogłoszenie handlowe "Najlepsza chemia z Niemiec".
Gdy siedzieliśmy z Marcinem Susułem, architektem, w jacuzzi na dachu hotelu Hilton, w pewnym momencie on – przekonany, że stawiając ten hotel, udało mu się odczarować Oświęcim – spytał mnie, jak się czuję. Trzymałem drinka w dłoni, zobaczyłem daleko w tle majaczące Muzeum i odpowiedziałem, że jak esesman na urlopie. I zdałem sobie sprawę, że jest mi po prostu wstyd za to, że mam w głowie tylko jakiś prosty przekaz na poziomie kiczowatego memu. Że szukam ironii, tej tragicznej, że nie potrafię wyskoczyć z tego kodu. A potem zacząłem rozmawiać ze znajomymi z Polski i okazało się, że mają tak samo.
Czy to w ogóle możliwe, żeby z tego kodu wyskoczyć?
Muzeum zrobiło jakiś czas temu ukłon w stronę miasta i zmieniło nazwę z Muzeum Oświęcim-Brzezinka na Auschwitz-Birkenau, żeby oddzielić miasto od obozu. To było ważne, bo Oświęcim wiele omija, jakby rozdziały jego trwania zostały napisane podczas wojny i innych nie będzie.
Gdy grupa niemieckich przedsiębiorców chciała tam zainwestować w kotły energetyczne, ale gdy przyjechali na miejsce i zdali sobie sprawę, że Oświęcim to Auschwitz, od razu wycofali się z inwestycji, bo uznali, że to wizerunkowy samobój.
Most nad Sołą w Oświęcimiu (fot: Marcin Kącki)
To nie jedyny inwestor, który się z tego powodu wycofał.
Niestety miastu nie udawało się po wojnie wpaść na pomysł, co zrobić, by symbolicznie oddzielić się od muzeum, żeby Auschwitz nie było wrogiem dla Oświęcimia, a Oświęcim wrogiem dla Auschwitz. By miasto mogło się rozwijać na normalnych warunkach, by mieszkańcy mogli normalnie żyć, jednocześnie by uszanować miejsce pamięci.
Bo oprócz tego, że Oświęcim jest miejscem pamięci, jest po prostu zwykłym miastem.
rekomendował: Leon Rozenbaum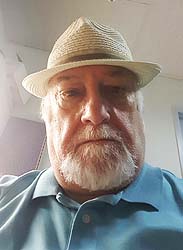 Gdzie żyją zwykli ludzie. Jedni znają lepiej historię miasta, inni gorzej, są nawet tacy, co nigdy w obozie nie byli. Ale to jak z Sopotem, gdzie pewnie są tacy, którzy nigdy nie kąpali się w morzu. Wszyscy ci ludzie mają problemy jak mieszkańcy innych miast – chcą oddychać świeżym powietrzem, zakładać rodzinę, główkują, jak przyciągnąć turystów i inwestorów do miasta, rozwijać własny biznes, zastanawiają się, dlaczego ceny idą w górę, dlaczego młodzi z miasta uciekają.
Coś jednak ich różni od mieszkańców innych miast.
Zwłaszcza tych, którzy mieszkają w muzeum – gdy zobaczyłem w oknie jednego z budynków poobozowych firanki i kwiaty, pomyślałem, że to jakiś dowcip. Potem okazało się, że na terenie obozu mieszka kilkadziesiąt osób. Część z nich niechętnie wychodzi do miasta, bo obóz jest całym ich życiem, niektórzy w obozie pracują.
Widok z okna jednej z mieszkanek muzeum Auschwitz-Birkenau na alejki muzeum (fot: Marcin Kącki)
czytaj dalej tu:
---
---