Khaled Abu Toameh
Tłumaczenie: Małgorzata Koraszewska
---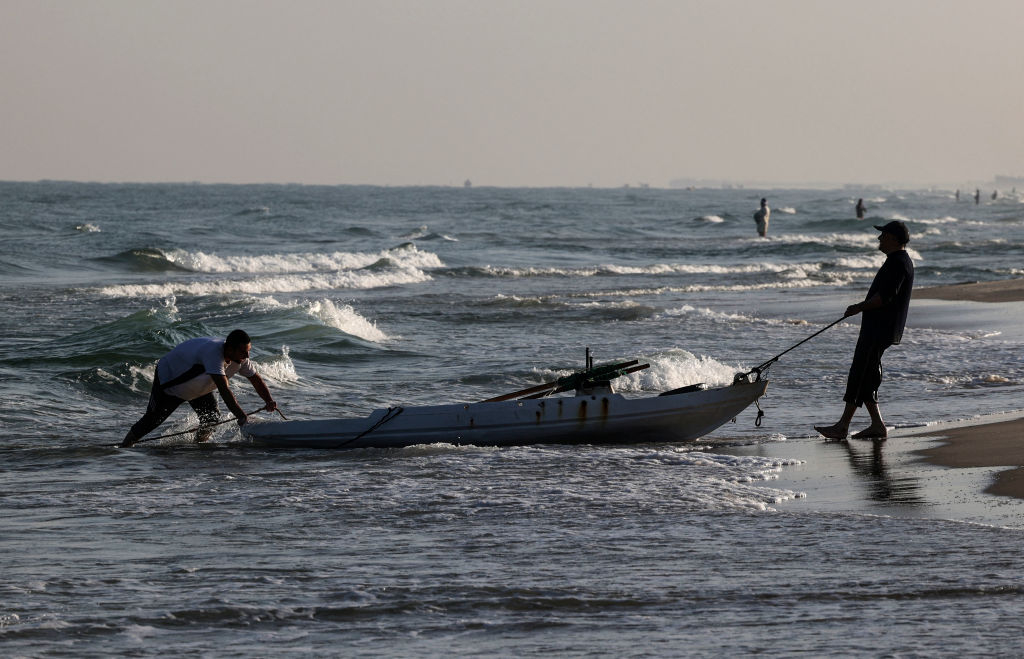 Trzech Palestyńczyków, którzy uciekli łodzią z opanowanej przez Hamas Strefy Gazy, zaginęło, prawdopodobnie po przewróceniu się łodzi w pobliżu brzegów Grecji lub Turcji. W reakcji na tę tragedię wielu Palestyńczyków mówiło, że podczas gdy ryby zjadają biednych uciekinierów, żyjący luksusowym życiem przywódcy Hamasu nadal cieszą się najlepszymi rybami i owocami morza, jakie może oferować Katar i Strefa Gazy. Na zdjęciu: Na zdjęciu: Dwóch Gazańczyków wyciąga łódź na plażę w Chan Junis w Strefie Gazy 22 września 2021 r. (Zdjęcie: Said Khatib/AFP via Getty Images)
Tragedia, która niedawno dotknęła Strefę Gazy, raz jeszcze ujawniła rozmiary cierpień Palestyńczyków pod rządami wspieranego przez Iran Hamasu.
Ta tragedia służy także jako przypomnienie podwójnych standardów stosowanych przez międzynarodową społeczność wobec palestyńsko-izraelskiego konfliktu, szczególnie zaś obsesji na punkcie Izraela i ignorowania wszystkich przestępstw i zbrodni strony palestyńskiej.
Według informacji ze Strefy Gazy, co najmniej trzech Palestyńczyków, którzy uciekli łodzią z opanowanej przez Hamas Strefy Gazy, zaginęło, prawdopodobnie po przewróceniu się łodzi u brzegów Grecji lub Turcji. Ci trzej byli wśród dziesiątków Palestyńczyków, szukających lepszego życia, z dala od represji i korupcji Hamasu.
Jedną z ofiar był 25-letni Anas Abu Rajileh; drugą był Nasrallah al-Farra.
Wydarzenie wywołało wielkie wzburzenie wśród Palestyńczyków z powodu nagrania głosowego jednego z uchodźców na tej łodzi. Na tym nagraniu (wiadomości głosowej, jaką wysłał matce będącej w Strefie Gazy), młody mężczyzna mówi matce, że jeden z towarzyszy już utonął. Prosi ją o powiadomienie rodziny przyjaciela. "Mamo – słychać głos tego człowieka – toniemy i zjadają nas ryby".
Wielu młodych ludzi ze Strefy Gazy, którzy są w stanie zaoszczędzić lub zdobyć dość pieniędzy, uciekało w ostatnich latach do innych krajów przez Turcję i Grecję. Podobno płacą tysiące dolarów jako łapówki dla oficjeli Hamasu, egipskich strażników granicznych i szmuglerów, by uzyskać pomoc w opuszczeniu Strefy Gazy i rozpocząć nowe życie w Europie i innych miejscach na świecie.
Sondaż opinii publicznej przeprowadzony przez uniwersytet Al-Aksa w Strefie Gazy w zeszłym roku pokazał, że 51% młodych ludzi żyjących w Gazie chciałoby emigrować, gdyby tylko mieli taką możliwość.
Ponad 80% jako główny powód chęci opuszczenia Strefy Gazy podało czynniki ekonomiczne.
Godnym uwagi wynikiem sondażu jest to, że 73% respondentów uważało, że gdyby Hamas i jego rywale w rządzącym Fatahu, na którego czele stoi prezydent Autonomii Palestyńskiej, Mahmoud Abbas, przestali walczyć ze sobą, młodzi Palestyńczycy nie zastanawialiby się nad emigracją.
Hamas i Fatah wojują ze sobą od 2007 roku. Wtedy to Hamas urządził krwawy zamach stanu przeciwko AP, zrzucał funkcjonariuszy AP z dachów wysokich budynków i przejął panowanie nad Strefą Gazy.
Nie wiadomo, ilu Palestyńczyków uciekło ze Strefy Gazy w ostatnich latach. Niektóre raporty oceniają, że ponad 40 tysiącom Palestyńczyków udało się uciec w latach 2014-2020. Inne przedstawiają liczbę około 70 tysięcy.
W tym sondażu Palestyńczycy wyrazili niepokój z powodu tego, że wielu spośród emigrantów jest absolwentami uniwersytetów i ludźmi zawodów wymagających wysokiego wykształcenia, szczególnie lekarzy, którzy wolą pracować i żyć w krajach europejskich niż pod rządami Hamasu.
"Wypadki utonięć młodych mężczyzn podczas wypraw na emigrację powodują niepokój w rodzinach emigrantów – pisze panarabska gazeta "Al-Quds Al-Arabi". – Równocześnie utonięcia pokazują rozmiary tragedii doświadczanej przez mieszkańców Strefy Gazy, która pcha jej najlepszych synów na emigrację".
To najnowsze wydarzenie wywołało falę protestów wielu Palestyńczyków, którzy na różnych platformach mediów społecznościowych wyrażali szok i niedowierzanie z powodu tragedii i potępiali przywódców Hamasu za zaniechanie poprawienia warunków życiowych swojej ludności.
Nawiązując do wystawnego stylu życia większości oficjeli Hamasu w Strefie Gazy i za granicą, wielu Palestyńczyków mówiło, że podczas gdy ryby zjadają biednych emigrantów, żyjący luksusowym życiem przywódcy Hamasu nadal cieszą się najlepszymi rybami i owocami morza, jakie może oferować Katar i Strefa Gazy.
Dowiedziawszy się o tragedii inni Palestyńczycy zainicjowali hasztag na Twitterze: "Chcemy żyć" i oni także obarczyli Hamas odpowiedzialnością za wysoką stopę bezrobocia i biedy w Strefie Gazy.
Część użytkowników mediów społecznościowych obwiniała także Fatah Abbasa za swoją niedolę z powodu trwającej rywalizacji z Hamasem.
"Rząd [Hamasu] nie robi niczego, by zmienić życie ludzi tutaj – napisał palestyński dziennikarz Walid Mahmoud. – Dodajmy do tego, że media o tym nie mówią i sądzę, że nie będą mówić". Mahmoud, który jest ze Strefy Gazy, wyjaśnił, że hasztag "Chcemy żyć" odzwierciedla rozmiary oburzenia populacji Gazy "głupotą rządzącej administracji [Hamasu]".
Nawiązując do korupcji i obojętności przywódców Hamasu wobec cierpień własnej ludności, kilku Palestyńczyków ujawniło, że synowie przywódców Hamasu dają sobie wzajem w prezencie bony do egipskiego kurortu nadmorskiego, Szarm el-Szejk.
Palestyńczyk ze Strefy Gazy, który nie ujawnił swojego nazwiska, zamieścił wideo, w którym przypuścił zjadliwy atak na przywódców Hamasu, oskarżając ich o zniszczenie przyszłości młodzieży.
"Skoro nasi przywódcy nie dbają o nas, to mamy katastrofę… Ludzie umierają, głodują. Życie ludzi jest niszczone. Młodzi mężczyźni umierają i jedzą ich ryby. Przywódcy [Hamasu] i ich synowie nie są lepsi ode mnie i moich dzieci".
Widocznie dwa miliony Palestyńczyków żyjących pod rządami Hamasu doszło do wniosku, że to Hamas, a nie Izrael, jest odpowiedzialny za ich niedolę.
Sądząc po reakcjach Palestyńczyków na tę najnowszą tragedię niedoszłych emigrantów jest oczywiste, że wielu Palestyńczyków rozumie to, czego nie potrafi pojąć większość antyizraelskich aktywistów – Hamas przedkłada produkcję i szmuglowanie broni nad dostarczenie miejsc pracy bezrobotnym i pomoc tym, którzy żyją w nędzy.
Hamas mógłby zamienić Strefę Gazy w Singapur Bliskiego Wschodu. Zamiast tego Hamas wybrał zamianę Strefy Gazy w bazę dżihadu (świętej wojny) przeciwko Izraelowi.
Ghanem Nusseibeh, palestyński muzułmanin należący do najstarszej arabskiej rodziny w Jerozolimie, skomentował:
"Przez minionych 15 lat Hamas ciągnął Gazę od złego do gorszego. Gazańczycy są ludnością żyjącą pod władzą brutalnego, islamistycznego reżimu, trzymani jako zakładnicy skostniałej polityki, która służy wyłącznie interesom Hamasu i jego globalnych, islamistycznych sojuszników. Gdyby społeczność międzynarodowa mogła pomóc wyzwolić Gazę spod takich sił, mogliby pomóc Gazańczykom w stworzeniu Dubaju nad Morzem Śródziemnym, albo nowego Singapuru".
Jeśli Palestyńczycy w Strefie Gazy istotnie są tak zdesperowani, w ich interesie leży obalenie Hamasu i zakończenie dyktatorskich rządów w Strefie Gazy.
Hamas jednak nadal miażdży sprzeciw i terroryzuje krytyków. W dodatku Hamas cieszy się popularnością wśród wielu Palestyńczyków nie tylko w Strefie Gazy, ale także na Zachodnim Brzegu [w Judei i Samarii. MK]. Powodem takiej popularności Hamasu jest to, że wielu Palestyńczyków popiera jego wezwanie do zlikwidowania Izraela.
Byłoby lepiej, gdyby Palestyńczycy uciekający ze Strefy Gazy pozostali w domu i poświęcili swoją energię usunięciu Hamasu, nawet jeśli to usunięcie wymagałoby wysokiej ceny. To jest jedyny sposób na rozwiązanie problemów Gazy.
Obwinianie Izraela o wszystko, co jest złe w Strefie Gazy, może oszukać wielu w USA, Kanadzie, Europie i Wielkiej Brytanii. Ale Palestyńczycy uciekający z Gazy i ich pozostawione rodziny znają prawdę – że to Hamas zaciągnął ich nad tę przepaść i wpycha zrozpaczonych do morza, w którym teraz toną.
---
---