Lyn Julius
---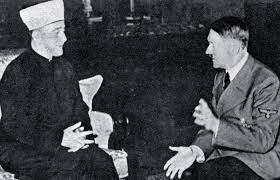 Palestyński Mufti Jerozolimy spotyka Adolfa Hitlera w listopadzie 1941 r. (Twitter)
"Masz prawo do własnych opinii, ale nie do własnych faktów"
Przypomniało mi się to stare powiedzenie, kiedy słuchałam wystąpienia w Limmud organizacji Na'amod (hebrajskie "Stańmy"). Ta brytyjska organizacja, którą popierają młodzi lewicowi Żydzi i która twierdzi, że reprezentuje zarówno syjonistów, jak antysyjonistów, prowadzi obecnie kampanię o nazwie "Rasizm nie jest koszerny".
Każdy człowiek ma uprzedzenia i animozje. Mówcy pokazali częste stereotypy Palestyńczyków, w które wierzą Żydzi. Twierdzili, że nie są oni wymyślonym narodem. "Nakba" nie jest kłamstwem. Arabowie kochają swoje dzieci tak samo jak to robią Żydzi.
Kiedy jednak mówcy doszli do twierdzenia, że palestyńska kolaboracja z nazistami jest mitem, byli blisko utraty resztki wiarygodności.
Przypomnienie o faktach:
Jest dobrze udokumentowane, że wielu, jeśli nie większość Arabów popierała Niemców. Poczynając od 1933 roku samozwańczy przywódca arabskiego świata, palestyński mufti Jerozolimy, Hadż Amin al Husseini, robił przyjazne gesty wobec Hitlera. Podobnie jak Bractwo Muzułmańskie w Egipcie, otrzymywał pieniądze od nazistów – na wywołaną przez niego palestyńską rewoltę w latach 1936 -1939, podczas której jego zbiry zabijały Żydów, brytyjskich żołnierzy i każdego Araba, który odrzucał pronazistowską propagandę. Był siłą napędową za pronazistowskim zamachem stanu i za masakrą setek Żydów w Iraku w 1941 roku. Uciekł następnie do Berlina i spędził resztę wojny, wraz z 60 innymi Arabami, jako osobisty gość Hitlera, nadając antysemicką propagandę radiową na świat arabski. Nigdy nie stanął przed sądem w Norymberdze za swoje zbrodnie wojenne.
W służbie Trzeciej Rzeszy mufti zwerbował tysiące muzułmanów do Waffen SS. Interweniował u nazistów, by nie dopuścić do ucieczki do Palestyny tysięcy europejskich Żydów, których zamiast tego posłano do obozów śmierci. Miał plany na przeprowadzenie Holocaustu w Palestynie. Arabowie naciskali na Brytyjczyków, by zahamowali żydowską imigrację, która mogła ocalić miliony istnień. Mufti wciągnął Ligę Arabską w wojnę z Izraelem i wygnanie ich żydowskich obywateli. Jego dziedzictwo trwa dzisiaj w palestyńskim i islamskim odrzuceniu istnienia żydowskiego państwa.
Jeśli "palestyńska kolaboracja z nazistami" jest mitem, to znaczy, że kupujesz każde kłamstwo.
Podobnie jednak jak były burmistrz Londynu, Ken Livingstone, który w 2017 roku twierdził, że Hitler popierał syjonizm, młodzi członkowie Na'amod przekroczyli moralny Rubikon, kiedy twierdzili, że palestyńska kolaboracja z nazizmem nie była gorsza niż porozumienie, jakie syjoniści wynegocjowali z nazistami w latach 1930. Porozumienie Ha'avara umożliwiło przeniesienie się pewnej liczby Żydów do Palestyny w 1933 roku. Pozwoliło na to, by Żydzi mogli odzyskać część swojego dobytku, który musieli oddać przy wyjeździe z Niemiec, jako niemieckie towary eksportowane do Palestyny. Hitlerowi było jednak wtedy wszystko jedno, czy Żydzi pojadą na Madagaskar, czy do Palestyny, byleby pozbył się ich z Niemiec. Kiedy Izrael lata później zawarł porozumienie o moście powietrznym dla zabrania Żydów z Jemenu lub Iraku, lub kiedy płacił ciężkie pieniądze władzom Maroka, by zabezpieczyć emigrację jego Żydów w 1961 roku, czy to znaczyło, że rządy jemeński, iracki lub marokański popierały syjonizm?
Apologeci, zarówno arabscy, jak zachodni, próbowali minimalizować żywotną rolę odgrywaną przez Muftiego. Nowy dyrektor Jad Waszem, Dani Dayan, nawet wywołał niedawno skandal w Izraelu, kiedy odmówił ponownego zawieszenia zdjęcia z czasów wojny ze spotkania Muftiego z Hitlerem.
Jednak pobożne życzenia i naginanie faktów – choćby najbardziej niewygodnych – by pasowały do agendy, nie leżą w niczyim interesie. Ukrywanie rasizmu Palestyńczyków przy równoczesnym sięganiu po ogromna lupę w poszukiwaniu żydowskiej "islamofobii" lub rzekomych zbrodni Izraela, nie robi niczego na rzecz wzajemnego zrozumienia i pojednania.
---
Lyn Julius – Dziennikarka, współzałożycielka brytyjskiego stowarzyszenia HARIF, Żydów pochodzących z Północnej Afryki i krajów Bliskiego Wschodu; stowarzyszenia informującego o liczącej trzy tysiące lat historii Żydów na Bliskim Wschodzie i o losie tej mniejszości wyznaniowej i religijnej w XX wieku. Rodzina Lyn Julius pochodzi z Iraku.
---
Od redakcji "Listów z naszego sadu"
Nie zapominajmy, że dziś członkowie wszystkich muzułmańskich "organizacji oporu" lubią nadal pozdrawiać się nazistowskim salutem.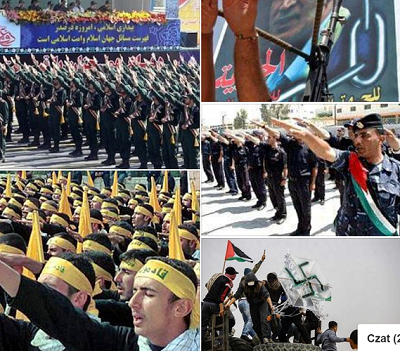 ---
---