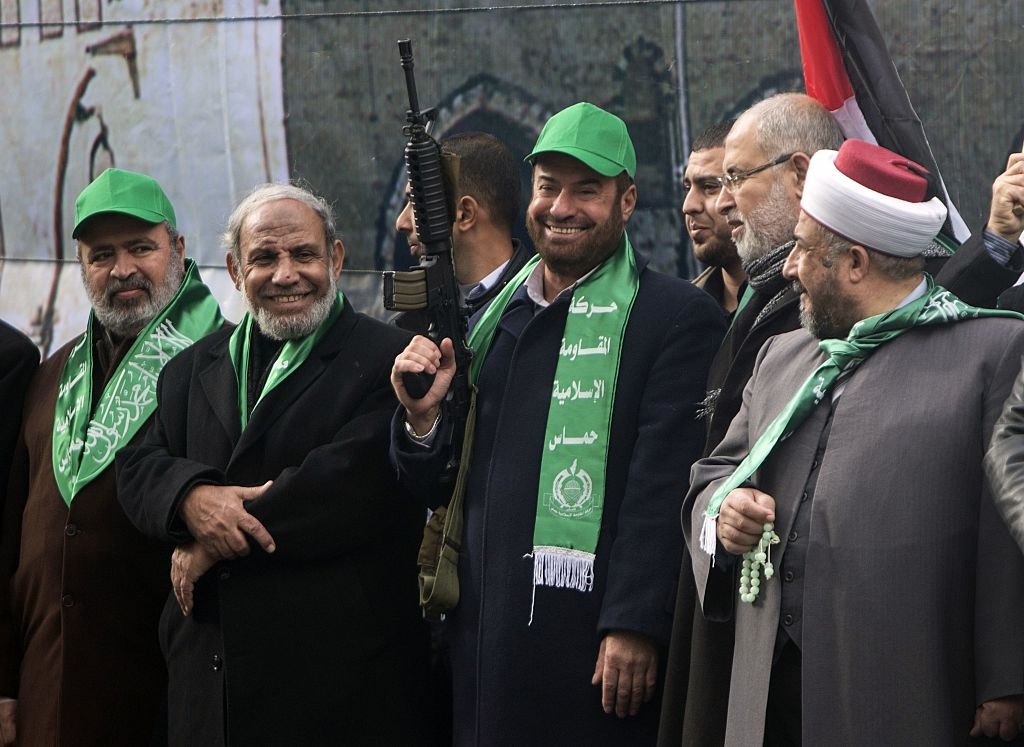 Karta Hamasu z 1988 roku wzywa do mordowania Żydów na całym świecie. Tę jawną nienawiść do Żydów wygodnie pominięto w politycznym oświadczeniu z 2017 roku, które zaprojektowano tak, by poprawić wizerunek Hamasu i nabrać ludzi Zachodu, że organizacja zreformowała się. W 2019 roku jednak członek politbiura Hamasu, Fathi Hammad (na zdjęciu) powtórzył: "Macie Żydów wszędzie i musicie atakować każdego Żyda na planecie masakrując i zabijając".(Zdjęcie: Mahmud Hams/AFP via Getty Images)
---
Richard Kemp
Tłumaczenie: Małgorzata Koraszewska
---
"Uwonić, uwolnić Palestynę – od rzeki do morza". To wszechobecne hasło skandowali na mój widok protestujący (jak często robili także w innych miejscach), kiedy w zeszłym tygodniu przyjechałem na University of Essex, żeby wygłosić wykład. Jaka rzeka? Jakie morze? Wątpię, by wielu z nich wiedziało. Większość tych studentów otrzymuje takie gotowe hasła, kiedy kampusowi podżegacze namawiają ich, by przyszli na demonstrację – trochę rozrywki w monotonii studenckiego życia w jesienny wieczór.
Ta rozrywka kosztuje. Nie mnie – widziałem i słyszałem to wszystko wiele razy, często wywrzaskiwane z większą energią i większym jadem. Koszt ponoszą żydowscy studenci na kampusie, którzy – choć nie są Izraelczykami – są prawdziwym celem Tygodni Izraelskiego Apartheidu i nieustannej agitacji przeciwko państwu żydowskiemu i każdemu, kto je popiera. Żydowscy studenci także słyszeli już to wszystko, ale muszą żyć obok kolegów, a czasami profesorów, którzy żądają zlikwidowania narodowej ojczyzny Żydów.
Takie jest, oczywiście, znaczenie "od rzeki do morza" – zniszczenie państwa Izrael i zastąpienie go państwem islamskim. Dla tych, którzy pomysłowo zaprzeczają tej rzeczywistości, Hamas, twórca i właściciel tego hasła, raz jeszcze wyjaśnił, co zamierza aż do mrożących krew w żyłach szczegółów podczas niedawnej konferencji w Gazie.
Ta konferencja, która odbyła się we wrześniu, nosiła tytuł "Obietnica życia przyszłego – Palestyna po wyzwoleniu". W liście do uczestników tej konferencji przywódca Hamasu, Jahja Sinwar napisał: "pełne wyzwolenie Palestyny od rzeki do morza" jest "sednem strategicznej wizji Hamasu". Chodziło mu od rzeki Jordan do Morza Śródziemnego, innymi słowy, całe terytorium państwa Izrael.
Ci twórcy planu likwidacji demokratycznego państwa, będącego członkiem ONZ, wydali rekomendacje w kwestii praw, jakie mają być zaprowadzone w podbitym kraju, jego waluty, granic z sąsiednimi państwami, stosunków międzynarodowych, konfiskaty własności i użycia istniejących zasobów i infrastruktury.
Ustalili także, jak mają być traktowani Żydzi. Wojownicy, to znaczy, izraelscy żołnierze i inni, którzy będą opierali się agresywnej wojnie Hamasu, "muszą zostać zabici", co wyraźnie oznacza masakrę setek tysięcy ludzi. Żydzi, którzy uciekają, mają być pozostawieni w spokoju, żeby uciekli. Część należy postawić przed sądem "za ich zbrodnie". Inni zostaną "zintegrowani" lub otrzymają czas na wyjazd z kraju.
Żydzi, którzy mogą być użyteczni dla nowego państwa, włącznie ze specjalistami medycznymi, inżynieryjnymi i technologicznymi oraz ci, którzy pracowali w przemyśle zbrojeniowym, będą zatrzymani w kraju siłą, by można było użyć ich umiejętności.
Aktywni zwolennicy i pomocnicy Izraela z zewnątrz – Żydzi i nie-Żydzi – mają być ścigani w celu "oczyszczenia Palestyny i ojczyzny arabskiej i islamskiej od tej pełnej hipokryzji szumowiny ".
Z łatwością można przewidzieć, jak pozostali w nowym islamskim państwie Żydzi będą "integrowani", ponieważ na konferencji ustalono, że jej konstytucja będzie bezpośrednią kontynuacją Paktu Umara Bin Al-Chattaba i rządów Saladyna w Jerozolimie. To znaczy, obywatelstwo drugiej klasy, płacenie okupu, wymuszone ustępowanie muzułmanom, ograniczenie praktyk religijnych, rekreacyjna przemoc wobec nich i wiecznie obecna groźba uwięzienia, tortur, wygnania lub śmierci.
Nie piszą wyraźnie o traktowaniu Arabów, którzy pracowali lub współpracowali z Izraelem, ale nie musieli tego robić. Będzie to kontynuacja obecnej praktyki. W zeszłym tygodniu Palestyńczyk został skazany przez sąd Hamasu w Strefie Gazy na śmierć przez powieszenie za "kolaborację" z Izraelem. Czasami takich "przestępców" ciągnie się żywych za motocyklami po ulicach Gazy, aż zostaje tylko pogruchotane martwe ciało.
Ta konferencja obnaża łatwowierność optymistów, którzy sugerowali, że ta grupa terroru w jakiś sposób złagodziła swoje stanowisko wobec Izraela. Ta narracja była szczególnie częsta od wydania w 2017 roku politycznego oświadczenia, które zaprojektowano tak, by poprawić wizerunek Hamasu i nabrać ludzi Zachodu, że organizacja zreformowała się. Choć niektórzy udają, że jest inaczej, ten dokument nie zastąpił ani nie zmienił Karty Hamasu z 1988 roku, gdzie stwierdza się wyraźnie: "Izrael będzie istniał i będzie kontynuował istnienie aż islam go unicestwi".
Dokument z 2017 roku potwierdził to: "Hamas odrzuca każdą alternatywę do pełnego i całkowitego wyzwolenia Palestyny of rzeki do morza", które zostanie osiągnięte przez "zbrojny opór".
Karta Hamasu z 1988 roku wzywa do mordowania Żydów na całym świecie. Tę jawną nienawiść do Żydów wygodnie pominięto w politycznym oświadczeniu z 2017 roku. W 2019 roku jednak członek politbiura Hamasu, Fathi Hammad powtórzył: "Macie Żydów wszędzie i musicie atakować każdego Żyda na planecie masakrując i zabijając".
Niezależnie od tego, co napisał lub powiedział Hamas i jego apologeci, wielokrotne ataki tej grupy na Izrael, włącznie z wystrzeleniem ponad 4 tysięcy rakiet na cywilną populację Izraela w ciągu 11 dni w maju tego roku, pokazują bezdyskusyjną rzeczywistość. Jak zwykle, całkowicie uprawniona reakcja Izraela na tę niesprowokowaną agresję została użyta jako wymówka do wściekłych demonstracji przeciwko Izraelowi – a czasami bezpośrednio przeciwko brytyjskim Żydom na uniwersytetach i na ulicach.
Rozumienie intencji Hamasu jest ważniejsze niż kiedykolwiek, ponieważ zyskuje on popularność wśród palestyńskiej populacji. W kwietniu prezydent Autonomii Palestyńskiej, Mahmoud Abbas, odwołał pierwsze od 15 lat wybory, obawiając się upokarzającej porażki na rzecz Hamasu. Sondaż w czerwcu pokazał szybko rosnące poparcie dla tej grupy, 53% Palestyńczyków zgadza się, że Hamas "najbardziej zasługuje na reprezentowanie i przewodzenie palestyńskiemu narodowi", jak podaje Associated Press.
Mylą się ci, którzy mówią, że Autonomia Palestyńska ma inną agendę niż Hamas. Mimo powszechnych wybiegów i podstępów w przedstawianiu sprawy międzynarodowej społeczności, włącznie z nieprzekonującymi twierdzeniami o poparciu dla rozwiązania w postaci dwóch państw, AP ma tę samą doktrynę "od rzeki do morza" dla zniszczenia Izraela, którą brytyjscy studenci na uniwersytetach uznali za tak atrakcyjną. To jest ciągły temat w oficjalnych mediach, publikacjach i podręcznikach szkolnych AP. Instytut badawczy Palestinian Media Watch ujawnił cztery pozycje w telewizji i drukowanych mediach AP z października, w których obiecywano koniec Izraela (w tym przemówienie najwyższego religijnego autorytetu AP, Wielkiego Muftiego, Muhammada Husseina).
Oczywiście, nic z tego nie zdarzy się, bo Izraelska Armia Obronna do tego nie dopuści. Złowrogie machinacje Hamasu na wrześniowej konferencji i ludobójcze plany prezentowane w niezliczonych audycji w mediach AP pozostają zaledwie fantazją – ale niebezpieczną fantazją, która gwarantuje dalszy rozlew krwi. Kiedy jednak studenci i inni wzywają, by "Palestyna" była wolna "od rzeki do morza", tę właśnie fantazję przyjmują: zmasakrowanych Żydów, wygnanych, w niewoli, ściganych lub żyjących niepewnym życiem jako obywatele drugiej kategorii w represyjnym państwie islamskim.
Żądania likwidacji Izraela w żadnym razie nie są jedynym wyrazem wrogości wobec żydowskich studentów na uniwersytecie w Essex. W 2019 roku setki członków tamtejszego związku studentów, mimo istnienia kwitnących stowarzyszeń chrześcijańskich i muzułmańskich, próbowały nie dopuścić do założenia żydowskiego stowarzyszenia. Niestety, University of Essex dalece nie jest jedyny. Według badania Pinsker Centre, brytyjskiego think tanku, organy uniwersyteckie lub związki studentów w jednej czwartej najlepszych brytyjskich uniwersytetów opublikowały potencjalnie antysemickie oświadczenia, potępiające Izrael u szczytu konfliktu z Gaza w tym roku i z wyraźną korelacją między tymi oświadczeniami a antysemickimi incydentami na kampusie.
Równie niepokojąca była reakcja całego świata akademickiego, kiedy kilka tygodni temu, po dochodzeniu niezależnej komisji, Bristol University musiał zwolnić z pracy jednego ze swoich profesorów. Profesor David Miller, czołowy orędownik BDS, był oskarżony o "nękanie, atakowanie i złośliwe diatryby skierowane… do studentów". Dwustudziesięciu profesorów i wykładowców z 74 brytyjskich uniwersytetów podpisało list protestujący przeciwko zwolnieniu go i zapewniający o "solidarności" z nim.
W zeszłym tygodniu ponad 500 osób ze świata akademickiego podpisało petycję atakującą Glasgow University w Szkocji za wystosowanie przeprosin za antysemicki artykuł opublikowany w piśmie na witrynie internetowej uniwersytetu. Nie chodziło im o rażący antysemityzm w tym artykule, ale o fakt, że uniwersytet za to przeprosił.
W czasach, kiedy sprzeciw wobec rasizmu i dyskryminacji przeciwko wszystkim innym narodom słusznie jest na pierwszym miejscu wśród priorytetów władz uniwersyteckich i związków studenckich, dlaczego nie stosuje się to do Żydów? Dlaczego Żydzi są wyjątkiem? Wezwania do zlikwidowania przemocą jedynego państwa żydowskiego są nie tylko tolerowane, są aktywnie zachęcane przez niektórych profesorów, władze uniwersyteckie i przywódców związków studenckich. To powoduje, że wielu żydowskich studentów stara się o przyjęcie tylko do tych kilku uniwersytetów, o których wiadomo, że są mniej nietolerancyjne. Pora, by władze uniwersyteckie położyły kres tym nikczemnym demonstracjom antysemickiej nienawiści, a jeśli zaniechają tego, by rząd zaczął obcinać im fundusze.
---
---