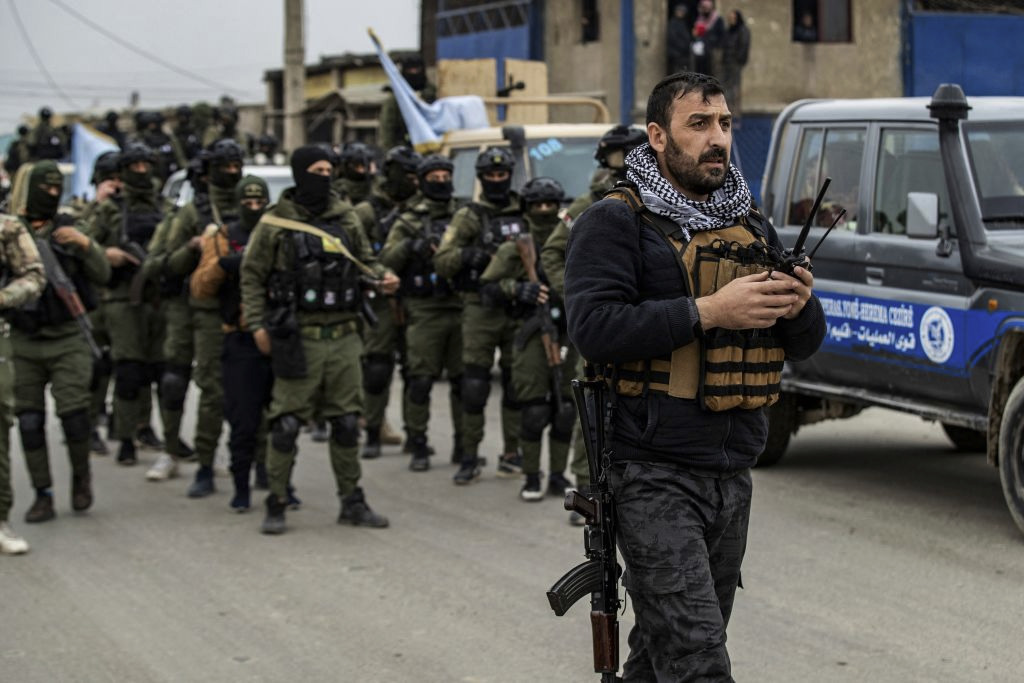 Syria może już nie być wiadomością z pierwszych stron gazet. Ale nawet zdegradowana do wewnętrznych stron, pogrążenie jej w statusie "terytorium w stanie anarchii" stanowi zagrożenie dla regionalnej i międzynarodowej stabilności i pokoju. Na zdjęciu: syryjskie kurdyjsko-asajskie siły bezpieczeństwa rozmieszczone podczas nalotu na podejrzanych terrorystów z Państwa Islamskiego w Rakka, Syria, 28 stycznia 2023 r. (Zdjęcie: Delil Souleiman/AFP via Getty Images)
---
Amir Taheri
Tłumaczenie: Małgorzata Koraszewska
---
Wydawało się w 2019 roku, że syryjska tragedia dobiegła końca, seria błędnych analiz, głównie dokonywanych przez zaangażowane siły, uniemożliwia opracowanie strategii przywrócenia pozorów normalności rozdartemu wojną narodowi. Pierwszym błędem było przekonanie, że wojna się skończyła.
Rosyjska propaganda mówiła o "kolejnym triumfie" prezydenta Władimira Putina, z rzekomą powtórką jego sukcesu w "pokonaniu czeczeńskich terrorystów islamskich". W Syrii Putin ponownie toczył wojnę w Czeczenii, tak jak teraz toczy drugą wojnę światową w Ukrainie. Ale ponieważ porażka jest sierotą, a zwycięstwo ma tysiąc ojców, mimo decyzji prezydenta Baracka Obamy, by nic nie robić, Stany Zjednoczone również ogłosiły zwycięstwo w wyciągnięciu Syrii "znad przepaści".
Również przywódcy Islamskiej Republiki Iranu chwalili się zwycięstwem w Syrii. Mułłowie określili generała dywizji Kasema Solejmaniego jako "największego dowódcę wojskowego w historii islamu" i twierdzili, że uratował on Syrię przed sunnickimi terrorystami i pomógł prezydentowi Syrii Baszarowi al-Assadowi uniknąć losu libijskiego przywódcy Muammara al-Kaddafiego.
Innym pretendentem do zwycięstwa był prezydent Turcji Recep Tayyip Erdogan, któremu udało się wydoić Unię Europejską na sumę 5 miliardów dolarów, jednocześnie przejmując kontrolę nad wystarczającą liczbą syryjskich pól naftowych i kopalń, aby zapewnić stały strumień dochodów z czegoś, co można uznać za międzynarodowy rabunek.
Mimo zapewnień o zwycięstwie, niektórzy z nas widzieli, że wojna o przyszłość Syrii jest daleka od zakończenia. Nastąpiła cisza; ale wojna to sytuacja mająca aspekty polityczne, społeczno-kulturowe i geopolityczne, to nie tylko sekwencja bitew. Wojna stuletnia w Europie nie składała się z codziennych bitew przez całe stulecie. Pomysł, że wojna się skończyła, doprowadził do drugiego błędu: przekonania, że misja ONZ może zgromadzić "wszystkie strony" w szwajcarskich luksusowych hotelach i przekonać je do uścisków i zapomnienia. Kiedy i ten fortel się nie powiódł, pojawił się trzeci błąd.
Tym razem pomysł polegał na tym, by "główni gracze", czyli Rosja, Turcja i Iran, uwikłani w syryjski psychodramat, napisali nową konstytucję upadłego państwa i przekonali wszystkich do śpiewania tego samego hymnu. Jednak bardzo szybko trio zostało zredukowane do dwóch: Rosji i Turcji z irańskimi mułłami zostawionymi na lodzie wraz z ich marzeniami o Islamskiej Republice w Damaszku. Jednak do 2021 roku ten gambit również się nie powiódł, pozwalając na kolejny błąd w ocenie.
Tym razem analitycy i decydenci polityczni twierdzili, że najlepszym sposobem na wyjście z bagna byłoby wsparcie tego, co zostało z reżimu Assada i stopniowe zbudowanie wokół niego nowego państwa syryjskiego. Dziś wiele stolic, w tym Paryż, Moskwa, Ankara i Teheran, przedstawia to błędne przekonanie jako swoją "politykę wobec Syrii", podczas gdy Waszyngton wydaje się zadowolony z trzymania się swojej "kurdyjskiej" enklawy i pozwalania innym dusić się we własnym sosie. Jednak ten plan również się nie powiódł.
Mimo wpompowania miliardów dolarów do kasy Assada, w tym 140 milionów dolarów wypłaconych przez ONZ jego dworzanom i co najmniej 4 miliardów dolarów w "ropie na kredyt" z Iranu, nie wspominając o dochodach z przemytu narkotyków, zespół Assada zupełnie nie wydaje się zainteresowany jakimkolwiek programem budowy państwa. Według najlepszych szacunków 90 procent ludności Syrii na obszarach nominalnie kontrolowanych przez Assada znalazło się poniżej granicy ubóstwa. Na tych obszarach, mniej więcej jednej czwartej części tego, co w czasach kolonialnych nazywano "użyteczną Syrią", ponad 50 procent podstawowej infrastruktury nadal leży w ruinie. Co gorsza, z niektórych obszarów zniknęły nawet pozory prawa i porządku stworzone przez przeciwne Assadowi ugrupowania zbrojne.
Na przykład Deraa jest obecnie znana jako "dzikie południe", podczas gdy Sweida utrzymuje pozory normalności dzięki druzyjskim grupom zbrojnym. Sygnałem, że frakcja zwolenników Assada nie jest zainteresowana lub nie jest w stanie rozpocząć strategii budowania państwa, jest 4. Dywizja Pancerna Armii Syryjskiej, elitarna jednostka dowodzona przez brata Baszara, Mahera al-Assada. Stopniowo przejmuje kontrolę nad pomocą humanitarną świadczoną przez ONZ i liczne zachodnie organizacje pozarządowe. Jego największą ostatnio zdobyczą jest kontrola przesyłek zboża, które Rosja kradnie z Ukrainy we współpracy z Turcją, w celu skierowania go do Lewantu.
Sytuacja gospodarcza na obszarach kontrolowanych przez reżim jest jeszcze gorsza niż na obszarach kontrolowanych przez Turcję i jej sojuszników, USA i ich kurdyjskich sojuszników, Rosję i jej najemników z Grupy Wagnera, nie wspominając o Iranie i jego afgańskich, irackich i pakistańskich "obrońcach miejsca świętego". Ostatni cios w pozycję Assada przyszedł z Teheranu.
W obliczu pogłębiającego się kryzysu gospodarczego rządzący Iranem mułłowie postanowili zakończyć swój program "ropy na kredyt". W październiku ubiegłego roku ogłosili, że tankowiec, który w ramach tego programu dopłynie do wybrzeża Syrii, będzie ostatnim. W przyszłości Damaszek musiałby płacić z góry. Ogłosili również, że cena ropy naftowej z 35 dolarów za baryłkę została podwojona do 75 dolarów. Jakkolwiek by nie patrzeć, Syria wciąż jest w stanie wojny; jest to jątrząca się rana, która infekuje duże obszary Bliskiego Wschodu, wschodniej części Morza Śródziemnego i nie tylko.
Z każdym mijającym dniem zadanie odbudowy Syrii jako normalnego państwa staje się coraz trudniejsze. A jednak nic nie wskazuje na to, by siły zdolne do dokonania zmian chciały lub były w stanie opracować strategię leczenia tej rany. Fakt, że Ukraina skupia teraz największą uwagę, jest częściowo powodem zaniedbania Syrii.
Czy to się podoba, czy nie, Stany Zjednoczone są nadal jedyną potęgą zdolną do zmobilizowania międzynarodowego i regionalnego wsparcia dyplomatycznego, gospodarczego i wojskowego, aby stawić czoła herkulesowemu zadaniu przywrócenia Syrii do czegoś, co przypomina państwowość, podobnie jak administracja Clintona, silnie wspierana przez UE i NATO, zrobiła to w Bośni i Hercegowinie. Syria może już nie być wiadomością z pierwszych stron gazet, ale stanowi ogromne zagrożenie dla regionalnej i międzynarodowej stabilności.
---
---