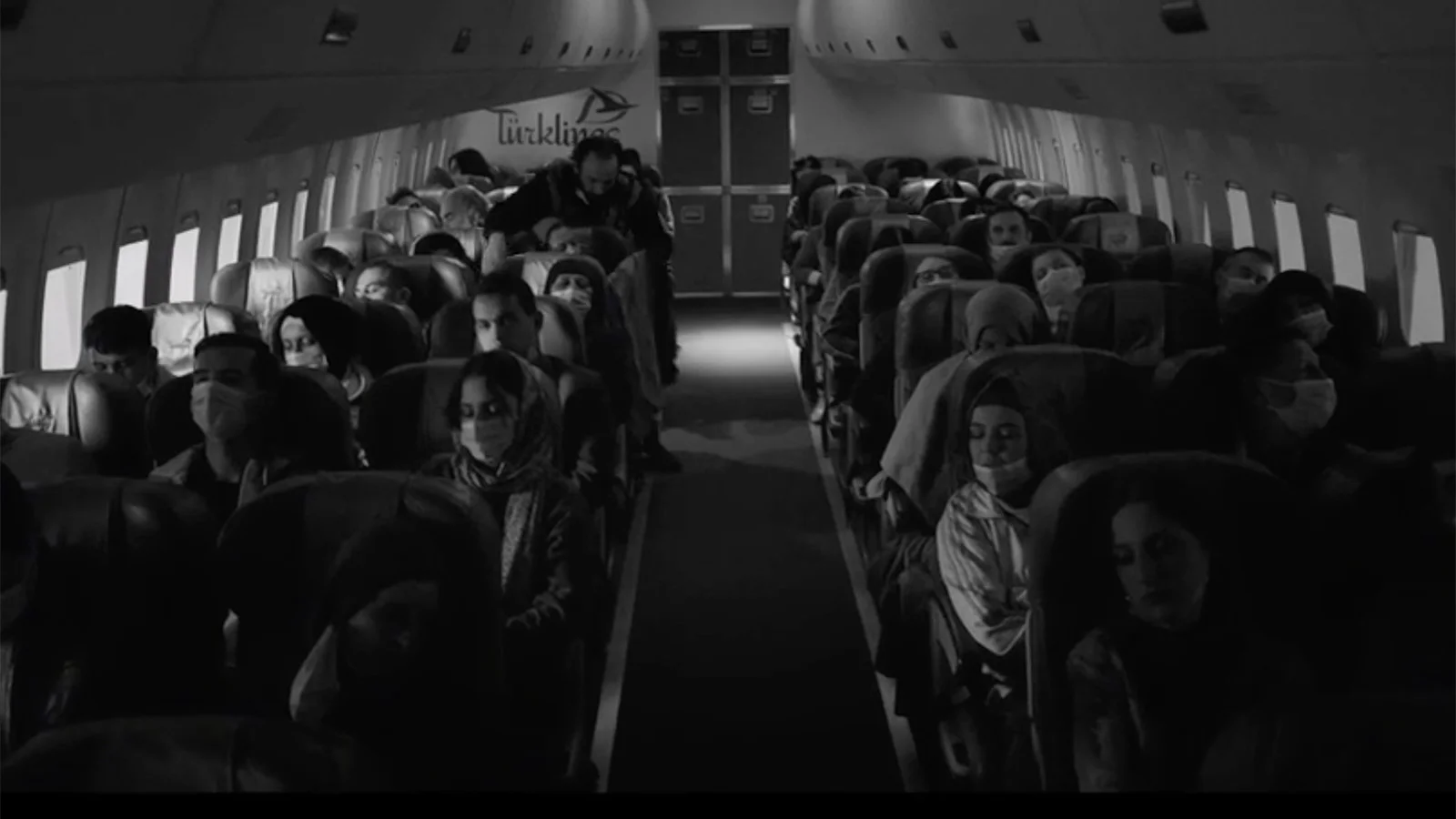 Kadr z zajawki filmu "Zielona granica" Agnieszki Holland
---
Jan Wójcik
---
Film Agnieszki Holland "Zielona granica" to chyba pierwszy polski film, który zebrał tyle recenzji i ocen od tych, którzy go jeszcze nie widzieli. Autor poniższego tekstu, wbrew radom gorących zwolenników obrazu, uznał, że jest mimo wszystko sens odnieść się do sprawy nawet przed jego obejrzeniem.
.
Właściwie trudno mówić tu o ocenach filmu, bowiem w przestrzeni dominują przekazy jego politycznych zwolenników i politycznych przeciwników. Politycznych, bo film stał się politycznym manifestem i jego ocena wyrażana obecnie stawia oceniającego po jednej ze stron sporu. Właściwie trudno nawet powiedzieć, że stał się, bo on od początku nim był. Świadczą o tym wcześniejsze komentarze jego twórców, gdy powstawał.
I to polityczne zaangażowanie jest jego największą wadą, bo film ten zasysa całą przestrzeń dyskusji wobec imigracji, antagonizuje po najprymitywniejszych liniach podziałów i odwraca uwagę od poważniejszych zagadnień całej polityki migracyjnej, koncentrując się na jej wąskim wycinku.
Ostrej dyskusji wokół filmu dziwił się ekspert do spraw migracji profesor Maciej Duszczyk pisząc, że jest to przecież fikcja literacka, a nie raport. I chociaż co do meritum ma rację, to jednak film i dyskusja żyją swoim życiem. Dla jednych film ten "ujawnia", "odkrywa", "obnaża", a dla innych "pluje", "zakłamuje", "poniża".
I nie chodzi tu tylko o internetowy komentariat, ale też o poważne gazety. Brytyjski "The Guardian" pisze, że film Holland "rzuca ciemne światło na okropności, z jakimi borykają się uchodźcy w strefie wykluczenia między Polską a Białorusią". A więc traktuje film jako świadectwo, chociaż jest on fabułą, a nie dokumentem. Podobne głosy padają z innych stron, więc z punktu widzenia politycznego nie ma już znaczenia to, że obraz nie jest dokumentem, bowiem za takowy został uznany.
Drugą kwestią jest to słynne "nie widziałeś, to się nie wypowiadaj". Niestety trudno mi sobie wyobrazić, że wydźwięk tego filmu będzie jakikolwiek inny po wcześniejszych wypowiedziach na temat zajść na granicy ze strony jego twórczyni, jak i niektórych odtwórców ról. Nawet jeżeli stonują wypowiedzi, wprowadzą niuanse, to stawiam dolary przeciwko orzechom, że jest to obraz jednostronny.
Z pomocą przychodzi też wspomniana recenzja "Guardiana", która nie zostawia wątpliwości. Jak pisze jej autor, Holland zestawia reakcje strażników granicznych wobec imigrantów przedostających się nielegalnie przez granicę białoruską z witaniem uchodźców uciekających przed wojną na Ukrainie.
Czy ujęte zostały w filmie takie niuanse, że większość tych imigrantów nie chce zostać w Polsce, w przeciwieństwie do Ukraińców? Albo to, że w większości nie będą kwalifikowali się do ochrony międzynarodowej, a nawet jeśli, to wyruszali z tych krajów gdzie mogli ją uzyskać? Wątpię.
Ten temat poruszyłem w wywiadzie z ekspertem ds. migracji prof. Ruudem Koopmansem z berlińskiego Ośrodka Badań Społecznych, który ukaże się w najnowszym "Układzie Sił". Koopmans, jako zachodni badacz znający blaski i cienie polityki migracyjnej, jasno mówi, że nasza reakcja i rozróżnienie tych dwóch strumieni migracyjnych, nie są w większości przypadków efektem rasistowskich uprzedzeń, lecz inną naturą tych strumieni. Różni się ona tym, że Ukraińcy przybywają do nas z bezpośrednio zagrożonego rejonu i nie mają innych opcji znalezienia po drodze bezpiecznego miejsca.
O różnych aspektach tego filmu już trwają dyskusje i będą trwać. Natomiast nie na tym polega prawdziwy problem. Główną wadą tego filmu jest to, że reżyserka Agnieszka Holland sprawiła prezent prezesowi Jarosławowi Kaczyńskiemu. Polska stoi dziś przed debatą co do całego kształtu przyszłej polityki imigracyjnej. PiS chce w referendum skierować naszą uwagę ku rzekomej przymusowej relokacji, a jak się okazało, sam niefrasobliwie wpuszczał do kraju masę imigrantów, przed którymi sam przez lata przestrzegał.
Dyskusja powinna więc dotyczyć przede wszystkim ekonomicznej polityki imigracyjnej oraz rzeczywistego, wspólnego podejścia wobec wyzwania, przed którym stoi Unia Europejska. Naprawdę dobrze przygotowani dziennikarze czy politycy opozycji mogliby partii sprawującej władzę postawić w tej kwestii trudne pytania.
Niestety nie będzie takiej okazji, ponieważ będziemy słuchać wydpowiedzi tylko o tym, że Holland opluła polski mundur, że działa po linii Mińska i Moskwy, że "tylko świnie siedzą w kinie". Jest to dużo łatwiejsze dla rządzących niż wyjaśnianie, jak należałoby połączyć zmiany społeczne, zmiany na rynku pracy i potrzeby imigracyjne pracodawców, z obawami społeczeństwa wynikającymi z doświadczeń Europy, a na końcu odpowiedzieć na zjawisko nielegalnej imigracji, której uczestnicy w dużej mierze próbują przedostać się do UE pod przykrywką szukania azylu.
Tak więc kosz kwiatów i butelkę najlepszego wina prezes Kaczyński powinien wysłać na ręce pani Holland. Reżyserka, aktorzy i aktorki, zyskają swoją sławę bojowników o prawdę i moralność w PiSowskiej dyktaturze. Za to my, jako naród, stracimy okazję do rzetelnej debaty na temat istotny dla przyszłości kraju.
Zamiast tego poszczególne grupy będą mobilizowane przez referendum, z którego nic nie wyniknie, lub poprzez film, który będzie można potępić lub wychwalać, tylko po to, żeby i tak oddać głos na tych, na których głosować się zamierzało.
---
Jan Wójcik – Założyciel portalu euroislam.pl, członek zarządu Fundacji Instytut Spraw Europejskich, koordynator międzynarodowej inicjatywy przeciwko członkostwu Turcji w UE. Autor artykułów i publikacji naukowych na temat islamizmu, terroryzmu i stosunków
---
---