Fred Maroun
Tłumaczenie: Małgorzata Koraszewska
---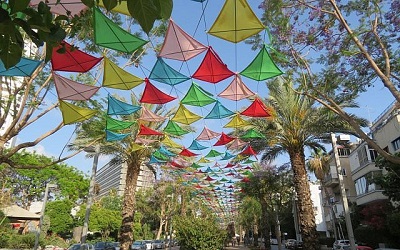 Bulwar Ben Guriona w maju 2018, jedno z moich najcenniejszych wspomnień z Tel Awiwu
Według "Times of Israel"  "Izrael przygotowuje żądanie rekompensaty, w sumie 250 miliardów dolarów od siedmiu krajów arabskich i Iranu, za nieruchomości i majątki pozostawione przez Żydów, których zmuszono do ucieczki z tych krajów po powstaniu państwa Izrael".
Mam nadzieję, że Izrael dostanie te pieniądze, a także mam nadzieję, że dostanie dużo więcej niż to.
Jak dotąd my, Arabowie, walczyliśmy z Izraelem przez 70 lat z dwoma otwarcie deklarowanymi celami: albo zniszczenia Izraela siłą, albo zniszczenia Izraela przez przekształcenie go w państwo arabskie poprzez "rozwiązanie", w którym tak zwani palestyńscy uchodźcy "powrócą" do państwa żydowskiego. Koalicja armii arabskich próbowała pierwszego podejścia w latach 1948, 1967 i 1973, a rozmaite arabskie organizacje terrorystyczne nadal wierzą, że mogą osiągnąć ten cel. Drugie podejście było oficjalną polityką Fatahu (chociaż nie tak przedstawiają to mediom zachodnim) od czasu jego domniemanej akceptacji istnienia Izraela, ale nie jako państwa żydowskiego.
Gdybyśmy zniszczyli Izrael, przeszlibyśmy do historii jako sprawcy drugiego ludobójstwa narodu żydowskiego, niedługo po Holocauście. Przez stawienie oporu i pokonanie koalicji armii arabskich, które próbowały go zniszczyć, Izrael powstrzymał nas przez staniem się kolejnymi nazistami w historii.
A gdyby udało nam się zamienić Izrael w państwo arabskie, mielibyśmy jeszcze jedno upadłe państwo arabskie, w którym demokracja jest fikcją, ale tortury, kneblowanie pracy i polityczne zabójstwa nie są fikcyjne. W najlepszym wypadku arabska wersja Izraela byłaby drugim Libanem, krajem staczającym się w muzułmańską teokrację z malejącą wolnością i umierającą gospodarką. Zamiast tego izraelscy Arabowie żyją w demokratycznym kraju, z szerokimi możliwościami ekonomicznymi i z wolnościami jakich nie ma w żadnym kraju arabskim. Palestyńczycy żyjący w Judei i Samarii także mogli osiągnąć te korzyści, gdyby wybrali pokój, a nie wojnę.
Izrael uratował nas przed nami samymi, wielokrotnie wyciągając gałązkę oliwną do nas, podczas gdy my raz za razem robiliśmy wszystko, by nie zasłużyć na gałązkę oliwną.
Izrael dał wszystkim swoim arabskim obywatelom równe prawa, mimo że świat arabski przemocą wygnał praktycznie rzecz biorąc, wszystkich swoich Żydów.
Izrael wita arabskich gości, mimo że Izraelczycy mają zakaz wstępu do większości arabskiego świata i mimo że Izraelczycy są często niemile widziani także w krajach, z którymi Izrael ma zawarte traktaty pokojowe.
Izrael skrupulatnie unika ofiar cywilnych, kiedy walczy z terrorystami, mimo że nasi terroryści otwarcie obierają za cel cywilów Izraela.
Izrael pomagał Syryjczykom rannym w syryjskiej wojnie domowej, mimo że Syria jest nadal w stanie wojny z Izraelem i nadal grozi Izraelowi.
Gdyby Żydzi zachowywali się tak jak my, nie byłoby dzisiaj w Izraelu ani jednego Araba, także w Judei, Samarii i Gazie. Nie można byłoby udawać, że istnieje "Palestyna".
Podczas gdy my traktujemy Żydów jakby byli mniej niż niczym, oni odpowiadają przez traktowanie nas jak ludzi, nadając nam przy tym nieco godności. Na nasze negowanie ich człowieczeństwa odpowiedzieli uznaniem naszego człowieczeństwa. To jednak, czy zdecydujemy się zobaczyć to wspólne człowieczeństwo, czy też będziemy dalej nienawidzić Żydów, zależy od nas. Izraelczycy mogą traktować nas tak, jakbyśmy należeli do tej samej ludzkości, ale nie mogą zmusić nas, byśmy się po ludzku zachowywali.
Jesteśmy winni Izraelowi więcej niż kiedykolwiek moglibyśmy spłacić, ale możemy spróbować, przynajmniej zaczynając od uznania naszego wspólnego człowieczeństwa.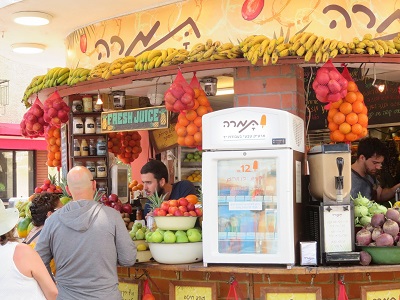 Handlarz owocami na Bulwarze Ben Guriona w Tel Awiwie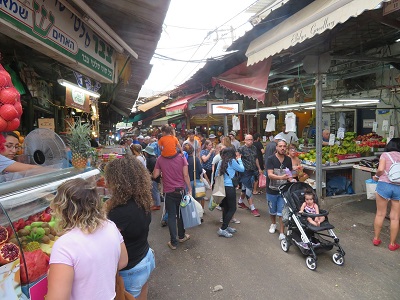 Na targu w Tel Awiwie
---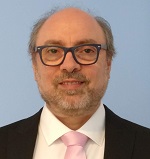 Fred Maroun – Pochodzący z Libanu Kanadyjczyk. Wyemigrował do Kanady w 1984 roku, po 10 latach wojny domowej. Jest działaczem na rzecz liberalizacji społeczeństw Bliskiego Wschodu. Prowadzi stronę internetową fredmaroun.blogspot.com
---
---