Khaled Abu Toameh
Tłumaczenie: Małgorzata Koraszewska
---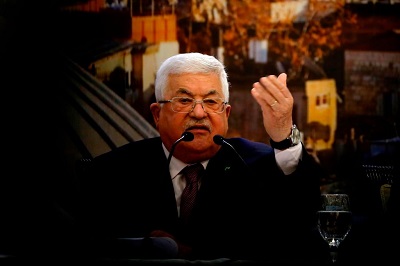 Zamiast przyjąć plan pokojowy prezydenta Donalda Trumpa, zaprojektowany do dania Palestyńczykom dobrej przyszłości, prezydent Autonomii Palestyńskiej, Mahmoud Abbas odrzucił i potępił go jako "umowę hańby" i "policzek stulecia". Na zdjęciu: Abbas wygłaszający potępienie planu pokojowego w Ramallah 28 stycznia 2020 roku. (Zdjęcie: Abbas Momani/AFP via Getty Images)
Plan prezydenta USA, Donalda Trumpa, "Peace to Prosperity", o pokoju między Izraelem i Palestyńczykami oferuje nadzieję dwóm milionom Palestyńczyków w Strefie Gazy, którymi od ponad dziesięciu lat rządzi Hamas.
Zamiast przyjąć plan pokojowy prezydenta Donalda Trumpa, zaprojektowany do dania Palestyńczykom dobrej przyszłości, prezydent Autonomii Palestyńskiej, Mahmoud Abbas odrzucił i potępił go jako "umowę hańby" i "policzek stulecia".
Co gorsza, Abbas wybrał ponowienie związków z Hamasem i Palestyńskim Islamskim Dżihadem (PIJ), dwiema wspieranym przez Iran grupami, które sprzeciwiają się jego polityce i regularnie potępiają jego politykę i decyzje.
Abbas, innymi słowy, działa nie tylko wbrew interesom swojej ludności w Strefie Gazy, ale także przeciwko samemu sobie przez współdziałanie z tymi samymi grupami, które od dawna starają się podważyć jego rządy.
Przez odrzucenie planu Trumpa Abbas odmawia Palestyńczykom w Strefie Gazy szansy na poprawienie ich warunków życia.
Hamas i Iran nie mają żadnych planów wzmocnienia gospodarki w Strefie Gazy. Nie mają także zamiaru tworzenia miejsc pracy dla tysięcy bezrobotnych Palestyńczyków. Jedyny plan, jaki mają Hamas, Islamski Dżihad i ich patroni w Teheranie, to taki, który ściągnie na Palestyńczyków więcej cierpienia i rozlewu krwi. To jednak nie wydaje się przeszkadzać Abbasowi, który teraz stara się ugłaskać Hamas i Islamski Dżihad.
Jak poprawnie wskazuje plan Peace to Prosperity:
"Ludność w Gazie zdecydowanie zbyt długo cierpi pod ciemiężącymi rządami Hamasu. Byli wykorzystywani jako zakładnicy i ludzkie tarcze, i zastraszani, by się podporządkowali. Hamas zawiódł ludzi w Gazie i zabiera pieniądze należące do Palestyńczyków w Gazie, włącznie z funduszami dostarczonymi przez międzynarodowych darczyńców, do atakowania państwa Izrael, zamiast użyć tych funduszy do poprawienia życia ludności w Gazie. Pod rządami Hamasu mieszkańcy Gazy cierpią skrajną biedę i deprywację. Po latach bez żadnego postępu społeczność darczyńców jest zmęczona i niechętna czynieniu dalszych inwestycji, jak długo struktura zarządzania Gazą jest opanowana przez terrorystów, którzy prowokują konfrontacje, a te prowadzą do dalszych zniszczeń i cierpienia".
Plan wymaga, by Hamas i Islamski Dżihad zostali rozbrojeni i wzywa do powrotu rządów Autonomii Palestyńskiej Abbasa do Strefy Gazy.
W rzeczywistości, sformułowania w planie Trumpa są całkiem zgodne ze stanowiskiem Abbasa i funkcjonariuszy AP na Zachodnim Brzegu.
W 2014 roku Abbas obarczył Hamas odpowiedzialnością za niepowodzenie odbudowania Strefy Gazy po Operacji Ochronna Tarcza Izraela, która była odpowiedzią na ostrzał rakietowy Izraela.
W 2018 roku Abbas obarczył Hamas odpowiedzialnością za zamach bombowy na konwój byłego premiera AP, Ramiego Hamdallaha w północnej części Strefy Gazy i groził tej grupie terrorystycznej karnymi posunięciami. Powtórzył także żądanie, by Hamas pozwolił AP na przejęcie pełnej odpowiedzialności za Strefę Gazy – dokładnie tak jak przedstawia to plan Trumpa.
W zeszłym roku Abbas nasilił ataki na Hamas przez oskarżenie go, że pracuje dla Izraela, a nie dla Palestyńczyków. Oskarżył także Hamas o blokowanie starań egipskich, by osiągnąć pojednanie z jego rządzącą frakcją Fatahu i by zakończyć rozłam między Zachodnim Brzegiem a Strefą Gazy.
Wrogość Abbasa wobec Hamasu skłoniła go także do sprzeciwiania się izraelskim próbom pomocy Palestyńczykom w Strefie Gazy przez inicjowanie rozmaitych projektów poprawienia tamtejszej infrastruktury i tworzenia miejsc pracy.
Starsi rangą doradcy Abbasa, tacy jak Azzam al-Ahmed, także kierowali zjadliwe ataki na Hamas. Ahmed nawet używał tych samych słów, jakie znajdują się w planie Trumpa, kiedy oskarżył Hamas o "porwanie" Strefy Gazy i trzymanie jej ludności jako zakładników.
Abbas ewidentnie ma te same poglądy na Strefę Gazy i Hamas, jakie znajdują wyraz w planie Trumpa. On także popiera egipską propozycję rozbrojenia Hamasu i innych grup terroru w Strefie Gazy, by utorować drogę do powrotu AP do Strefy Gazy.
Niemniej, obecnie wydaje się, że Abbas idzie w kierunku odwrotnym od swojej deklarowanej polityki. W dniu, w którym Trump opublikował swoją wizję pokoju, Abbas zaprosił przedstawicieli Hamasu na "nadzwyczajne" spotkanie palestyńskich przywódców w Ramallah, by przedyskutować sposoby udaremnienia tego planu.
Przedstawiciele Hamasu zaproszeni przez Abbasa, to Ajman Daraghmeh, Nasser Eddin al-Szaer, Samir Abu Eiszeh, Ahmed Atoun, Omar Abdel Razek i Ali al-Sartawi.
Przywódcy Hamasu gorąco przyjęli krok Abbasa i zaprosili go, by odwiedził Strefę Gazy tak szybko, jak to możliwe, by przedyskutować sposoby współpracy na rzecz udaremnienia "spisku" Trumpa.
Khalil al-Hajja, wysoki rangą funkcjonariusz Hamasu w Strefie Gazy, powiedział w reakcji na inicjatywę Abbasa, że Palestyńczycy są zjednoczeni w konfrontowaniu Izraela ze wspólnym arsenałem broni i jedną rewolucją".
Wkrótce po ujawnieniu wizji Trumpa przywódca Hamasu, Ismail Hanijja zadzwonił do Abbasa i zaproponował współpracę w staraniach o udaremnienie tego planu.
Abbas postanowił także wyprawić delegację Fatahu do Strefy Gazy na rozmowy z Hamasem i innymi palestyńskimi grupami o stworzeniu wspólnej strategii dla udaremnienia planu Trumpa.
Abbas groził wycofaniem się z wszystkich podpisanych porozumień z Izraelem w odpowiedzi na plan Trumpa, który, jak twierdzi, ma na celu "zlikwidowanie sprawy palestyńskiej".
Przez wykucie sojuszu z Hamasem, grupą terrorystyczną, która nie uznaje prawa Izraela do istnienia, Abbas już sygnalizuje gotowość do połączenia sił z tymi, którzy sprzeciwiają się każdemu procesowi pokojowemu z Izraelem. Taki sojusz skutecznie umieszcza Abbasa po stronie Iranu i jego marionetek: Hamasu i Islamskiego Dżihadu.
Ponadto, Abbas powtórzył groźby zatrzymania współpracy z Izraelem w dziedzinie bezpieczeństwa, co jest równoznaczne z popełnieniem samobójstwa. Koordynacja w sprawach bezpieczeństwa przynosi znacznie większe korzyści Abbasowi niż Izraelowi. Abbas wie, że bez obecności Izraela na Zachodnim Brzegu Hamas zjadłby żywcem jego i jego rząd.
Abbas i Hamas mogą w niedalekiej przyszłości odnowić swoje stosunki, ale cierpieć z tego powodu będą Palestyńczycy w Strefie Gazy, skazani przez swoich przywódców na nędzę i udrękę.
To niezwykłe, że Abbas – bez cienia ironii – odrzuca plan rozbrojenia jego wrogów, którzy wygnali jego rząd ze Strefy Gazy w 2007 roku i od tego czasu zabijali, aresztowali i prześladowali ludzi lojalnych wobec niego.
W odpowiedzi na plan "Peace to Prosperity" palestyńskim przywódcom udało się raz jeszcze zrobić to, co robią najlepiej: odebrać wszelką nadzieję na lepszą przyszłość swojej ludności i pogrążyć ją jeszcze bardziej.
---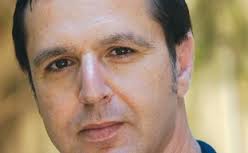 Khaled Abu Toameh – urodzony w 1963 r. w Tulkarem na Zachodnim Brzegu, palestyński dziennikarz, któremu wielokrotnie grożono śmiercią. Publikował między innymi w "The Jerusalem Post", "Wall Street Journal", "Sunday Times", "U.S. News", "World Report", "World Tribune", "Daily Express" i palestyńskim dzienniku "Al-Fajr". Od 1989 roku jest współpracownikiem i konsultantem NBC News.
---
---