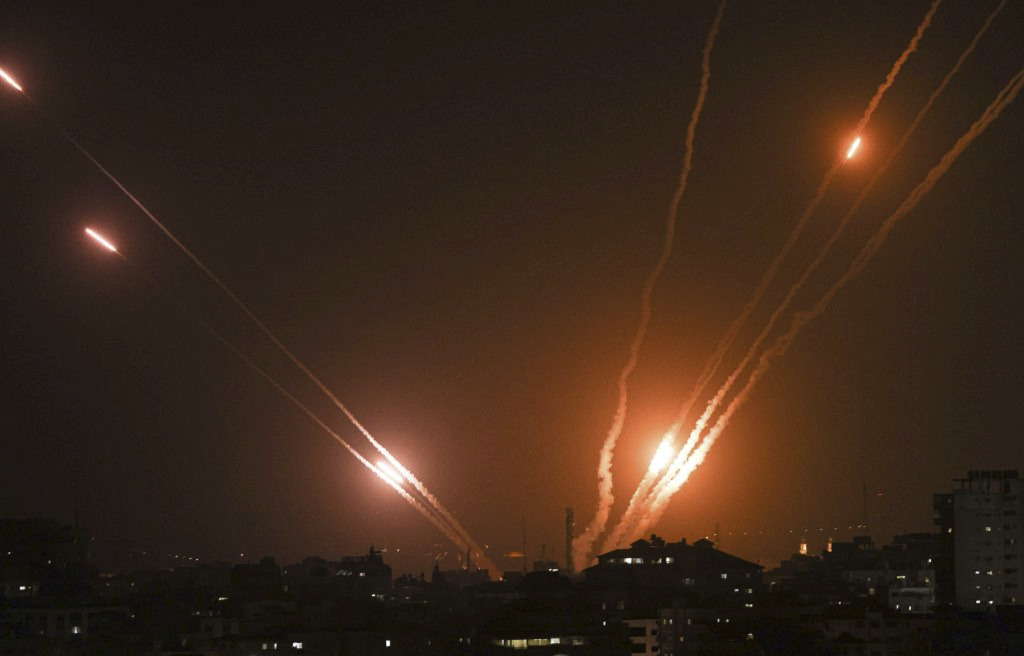 Armia izraelska dokłada wszelkich starań, aby chronić swoją ludność cywilną, unikając jednocześnie niepotrzebnych ofiar wśród ludności cywilnej na terytorium wroga. Z drugiej strony przywódcy terrorystów w Gazie upewniają się, że ich żony i dzieci są w pobliżu i gotowe na śmierć, ilekroć istnieje ryzyko ataku przeciwko nim. Celowo umieszczają swoje magazyny broni, miejsca wystrzeliwania rakiet i bojowników wśród ludności cywilnej, w tym w szkołach, szpitalach i budynkach mieszkalnych. Na zdjęciu: Terroryści wystrzeliwują rakiety na Izrael z gęsto zaludnionej dzielnicy mieszkalnej w mieście Gaza, 13 maja 2023 r. (Zdjęcie: Mahmud Hams/AFP via Getty Images)
---
Richard Kemp

Tłumaczenie: Małgorzata Koraszewska
---
Kiedy w zeszłym roku Rosja napadła na Ukrainę, zachodnie rządy, organizacje międzynarodowe, media i organizacje broniące praw człowieka słusznie zebrały się bez wahania, uznając potrzebę udzielenia bezwarunkowego wsparcia moralnego narodowi broniącemu się przed brutalnym atakiem.
Dziś widzimy zupełnie inny obraz, gdy Izrael jest atakowany przez agresorów w Gazie, która jest pod każdym względem obcym krajem.
Istnieje pewne podobieństwo między tymi dwoma konfliktami, chociaż mają one zupełnie inną skalę. Zarówno Rosja, jak i Islamski Dżihad w Gazie uważają, że kraje, które atakują, są nielegalne, nie mają prawa istnieć i muszą zostać zniszczone przemocą w ich obecnej formie. Ani Ukraina, ani Izrael nie mają żadnych ambicji terytorialnych ani agresywnych zamiarów wobec swoich napastników – zarówno Ukraina, jak i Izrael toczą wojny czysto obronne, aby chronić swoją ludność cywilną.
Jest jeszcze jeden wspólny czynnik. Islamski Dżihad w Gazie to irańska marionetkowa grupa terrorystyczna, finansowana i kierowana z Teheranu. Za tym konfliktem stoi ręka Iranu, a ajatollahowie wywierają presję na przywódców terrorystów z Hamasu, aby przyłączyli się do ataku Islamskiego Dżihadu na Izrael, robiąc wszystko, co w ich mocy, aby zapobiec zawieszeniu broni wynegocjowanemu przez Egipt. Rola Iranu na Ukrainie nie jest tak znacząca, ale nie powinniśmy zapominać, że dostarczył on Rosji bojowe drony do ostrzeliwania ukraińskich cywilów.
Nie przypominam sobie żadnego zachodniego rządu ani organu międzynarodowego, który sugerowałby moralną równoważność między agresorem a obrońcą w wojnie na Ukrainie, ale właśnie to wielokrotnie widzieliśmy w tym i poprzednich konfliktach między Izraelem a Gazą, kiedy Sekretarz Generalny ONZ wzywał "obie strony" do zachowania powściągliwości.
W przeciwieństwie do natychmiastowego potępienia rosyjskiej przemocy, odkąd rakiety Islamskiego Dżihadu zaczęły spadać na Izrael, w Stanach Zjednoczonych i Europie było milczenie. Najlepsze, co usłyszeliśmy z Białego Domu, to to, że "Izrael ma prawo do samoobrony", stwierdzenie oślepiająco oczywiste. Nic z tego nie wystarczy, gdy potrzebne jest najsilniejsze wsparcie dla Izraela i najbardziej dosadne potępienie Islamskiego Dżihadu, podobnie jak w przypadku wojny w Ukrainie.
Jak można było przewidzieć, media, takie jak BBC i CNN, entuzjastycznie wspierają ukraińskie operacje obronne, Równocześnie robią wszystko, co w ich mocy, by oczerniać w swoich relacjach Izrael. W komentarzu BBC posunęło się tak daleko, że sugerowano, że zabijanie cywilów w Gazie jest celową polityką izraelskiego premiera Benjamina Netanjahu i jego rządu, podczas gdy dziennikarz CNN twierdził, że Izrael umyślnie bombardował cywilów. W Izraelu gazeta "Haaretz" opublikowała artykuł określający operację IDF jako "ewidentnie nielegalną" i oskarżyła jej żołnierzy o zbrodnie wojenne.
Jak widać z zachodniego podejścia do Ukrainy i wojen w innych miejscach, żaden inny kraj, który jest bezprawnie atakowany przez obce mocarstwo, nie jest przedstawiany jako agresor ani nie zrównuje się go z atakującym. A w tym konflikcie różnice między obiema stronami nie mogą być bardziej wyraźne. IDF dokłada wszelkich starań, aby bronić swoich cywilów, unikając jednocześnie niepotrzebnych ofiar wśród ludności cywilnej na terytorium wroga, często przerywając ataki, gdy istnieje ryzyko zabicia niewinnych ludzi, oraz stosując ataki zaprojektowane w celu zminimalizowania szkód ubocznych, nawet w przypadku ataków na zamieszkałe budynki cywilne.
Z drugiej strony przywódcy terrorystów w Gazie upewniają się, że ich żony i dzieci są w pobliżu i gotowe na śmierć, ilekroć istnieje ryzyko ataku przeciwko nim. Celowo umieszczają swoje magazyny broni, miejsca wystrzeliwania rakiet i bojowników wśród ludności cywilnej, w tym w szkołach, szpitalach i budynkach mieszkalnych. IDF często wzywa ludność cywilną do opuszczenia terenu przed przygotowywanym atakiem. Rozumiejąc, w jaki sposób podważa to ich politykę powodowania maksymalnych ofiar wśród własnych cywilów w celu osiągnięcia międzynarodowego potępienia Izraela, terroryści w Gazie ostrzegli swoich obywateli, że każdy, kto się zastosuje i spróbuje odejść, zostanie ukarany.
W takich okolicznościach IDF nie jest w stanie wykonać kluczowej pracy polegającej na zniszczeniu broni ofensywnej skierowanej przeciwko własnej ludności i wyeliminowaniu dowódców terrorystów, którzy nią kierują, bez spowodowania ofiar wśród ludności cywilnej. Pomimo błędnych lub złośliwych komentarzy niektórych dziennikarzy, polityków, naukowców i grup praw człowieka, takie szkody uboczne nie są nielegalne ani nie są zbrodnią wojenną, pod warunkiem, że zostaną podjęte wszelkie możliwe środki, aby ich uniknąć. To jest dokładnie to, co IDF robi w każdym starciu, do tego stopnia, że kilku zachodnich generałów przyznało, że ich własne siły nie byłyby w stanie osiągnąć takich samych standardów w ochronie życia cywilów.
W ciągu ostatnich pięciu dni ponad 1234 rakiet wystrzelono z Gazy, z czego 976 przedostało się do Izraela – kraju mniej więcej wielkości Wyspy Wiktorii – a pozostałe spadły na samą Gazę. Najbliższe porównywalne bombardowanie krajów zachodnich miało miejsce w 1944 r., Kiedy Niemcy wystrzelili rakiety na Wielką Brytanię z maksymalną liczbą 100 rakiet dziennie. Wielka Brytania odpowiedziała kampanią bombardowań o niszczycielskiej sile, w której nieuchronnie zginęło wiele tysięcy cywilów. Pytanie, jakie powinni sobie zadać zachodni komentatorzy, tak chętni do potępienia Izraela, brzmi: ile rakiet wystrzelonych w ich własne kraje byłoby tolerowanych? Wojna na Ukrainie skupiła umysły europejskich rządów na tej kwestii, a ich obecne plany obejmują nie tylko poprawę ukraińskiej obrony przeciwrakietowej, ale także zdolności ofensywne do uderzenia na wroga na jego własnym terytorium, tak jak Izrael jest zmuszony to zrobić dzisiaj.
---
---