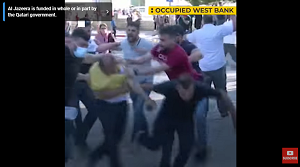 Europejczycy i ONZ wydają się być bardziej zaniepokojeni prawami organizacji powiązanych z terroryzmem niż prawami organizacji, które wypowiadają się przeciwko łamaniu praw człowieka przez Palestyńczyków. Na zdjęciu: ubrani po cywilnemu funkcjonariusze Autonomii Palestyńskiej (AP) biją demonstranta w Ramallah 24 czerwca 2021 r. podczas demonstracji w proteście przeciwko pobiciu na śmierć działacza politycznego Nizara Banata, który był przetrzymywany przez siły bezpieczeństwa AP. (Zrzut z ekranu wideo Al Dżaziry)
---
Bassam Tawil
Tłumaczenie: Małgorzata Koraszewska
---
W zeszłym roku Palestyńczycy i ich zwolennicy na całym świecie stanęli do walki po tym, jak izraelskie władze bezpieczeństwa zamknęły siedem palestyńskich organizacji pozarządowych, które miały powiązania z grupą terrorystyczną Ludowy Front Wyzwolenia Palestyny (LFWP). Dziewięć krajów europejskich opublikowało wspólne oświadczenie, w którym potępili izraelskie posunięcie i zapowiedzieli dalszą współpracę z tymi organizacjami palestyńskimi.
Prezydent Autonomii Palestyńskiej (AP), Mahmoud Abbas, również odniósł się do decyzji Izraela, nazywając ją "niedopuszczalną". Abbas powiedział, że przywódcy palestyńscy zwracają się do odpowiednich stron, "by powstrzymać te izraelskie prowokacje przeciwko naszym instytucjom, które działają zgodnie z prawem międzynarodowym i prawami człowieka".
Potępienie decyzji Izraela przez kraje europejskie, Organizację Narodów Zjednoczonych i przez palestyńskie władze nastąpiło pomimo raportów niezależnej organizacji pozarządowej Monitor dokumentującej powiązania między organizacjami palestyńskimi a LFWP, uznaną przez USA i inne kraje za Zagraniczną Organizację Terrorystyczną.
Głosy tych, którzy potępiali Izrael za podejmowanie działań przeciwko organizacjom związanym z palestyńską grupą terrorystyczną, milkną jednak, gdy Palestyńczycy rozprawiają się z ich własnymi instytucjami praw człowieka. Kiedy Palestyńczycy dopuszczają się łamania praw człowieka wobec Palestyńczyków, Unia Europejska i ONZ pozostają obojętne. Dopiero gdy Izrael podejmuje decyzję, by bronić się przed terroryzmem, słyszymy ich rzekomo szlachetny głos oburzenia. Europejczycy i ONZ wydają się być bardziej zaniepokojeni prawami organizacji powiązanych z terroryzmem niż prawami organizacji, które wypowiadają się przeciwko łamaniu praw człowieka przez Palestyńczyków.
Mahmoud Abbas, 87-letni prezydent Autonomii Palestyńskiej, który potępił Izrael za zamknięcie organizacji powiązanych z LFWP, ponownie ujawnił się jako zatwardziały hipokryta.
Po pierwsze, LFWP nie uznaje nawet prawa Izraela do istnienia. Wyobraź sobie, że jakaś grupa powiedziałaby, że Niemcy, Ukraina, Mołdawia czy Tajwan nie mają prawa istnieć.
Ponadto LFWP przeprowadziła niezliczone ataki terrorystyczne przeciwko Izraelowi i Żydom i regularnie krytykuje Abbasa i Autonomię Palestyńską za współpracę z Izraelem w sprawach bezpieczeństwa.
W latach 1968-1972 LFWP dokonała również szeregu porwań samolotów międzynarodowych linii lotniczych; a w 2002 i 2003 roku jej dziełem były cztery samobójcze zamachy bombowe w Izraelu i na Zachodnim Brzegu [tj. w Judei i Samarii].
Ostatnio nawet sam Abbas postanowił ukarać LFWP, która jest częścią jego Organizacji Wyzwolenia Palestyny (OWP). Odciął tej organizacji wszystkie fundusze.
W przeszłości ta sama Autonomia Palestyńska uwięziła również sekretarza generalnego LFWP, Ahmeda Saadata, który był odpowiedzialny za zabójstwo izraelskiego ministra turystyki Rehawama Ze'eviego w Jerozolimie w 2001 roku.
W rzeczywistości LFWP od dawna przyprawia Abbasa i jego AP o ból głowy. Dlatego zamykanie organizacji zrzeszonych z LFWP na Zachodnim Brzegu faktycznie służy interesom Autonomii Palestyńskiej: osłabia jej politycznych rywali.
Dlaczego Abbas jest hipokrytą? Oskarżając Izrael o atakowanie palestyńskich organizacji pozarządowych, rozkazał równocześnie swoim siłom bezpieczeństwa rozprawić się z organizacją Prawnicy na rzecz Sprawiedliwości, niezależną palestyńską grupą prawników z siedzibą w Ramallah, (de facto stolicą Palestyńczyków).
26 marca Ministerstwo Gospodarki Narodowej AP poinformowało organizację Prawnicy na rzecz Sprawiedliwości o decyzji Ministerstwa o nieprzedłużeniu rejestracji organizacji jako spółki cywilnej. Według ministerstwa decyzja opiera się na prośbie Palestyńskiej Generalnej Służby Wywiadowczej o zamrożenie rejestracji organizacji pod pretekstem zaangażowania się w "działalność non-profit" i przyjmowania zagranicznych funduszy z naruszeniem prawa Autonomii Palestyńskiej.
Organizacja Prawnicy na rzecz Sprawiedliwości wspiera palestyńskich obrońców praw człowieka i więźniów politycznych przetrzymywanych przez Autonomię Palestyńską. Monitoruje również i dokumentuje naruszenia praw człowieka popełniane przez siły bezpieczeństwa Autonomii Palestyńskiej.
Organizacja opublikowała szereg raportów krytykujących AP za uwięzienie i torturowanie palestyńskich działaczy politycznych na Zachodnim Brzegu. Ponadto uważnie śledzi sprawę zabójstwa działacza na rzecz praw człowieka i działacza politycznego Nizara Banata, (pobitego na śmierć w 2021 r. przez palestyńskich funkcjonariuszy bezpieczeństwa, którzy przybyli go aresztować do Hebronu).
W jednym z ostatnich raportów Prawnicy na rzecz Sprawiedliwości ujawnili, że liczba palestyńskich działaczy politycznych aresztowanych przez AP znacznie wzrosła, podczas gdy pokojowe demonstracje i zgromadzenia były tłumione:
"Grupa zauważa, że polityka ograniczania swobód wyraźnie rozciąga się na prawa i wolności publiczne, w tym swobodę opinii i wypowiedzi oraz wolność przynależności politycznej, które są prawami konstytucyjnymi, które należy szanować i chronić".
Nic więc dziwnego, że Abbas i Autonomia Palestyńska próbują pozbyć się Prawników na rzecz Sprawiedliwości.
Palestyńscy przywódcy nie tolerują żadnej formy krytyki. Nie chcą słyszeć skarg na łamanie praw człowieka popełniane przez palestyńskie siły bezpieczeństwa. Nie chcą, aby organizacje praw człowieka rzucały im publiczne wyzwania i domagały się zaprzestania ograniczania swobód.
Jedyne organizacje praw człowieka, które przywódcy palestyńscy chcą widzieć, to te, które kierują swoją nienawiść przeciwko Izraelowi lub te, które są powiązane z grupami terrorystycznymi, takimi jak LFWP, lub te, które poświęcają swój czas i energię na obronę praw terrorystów przeprowadzających ataki przeciwko Żydom.

Według Prawników na rzecz Sprawiedliwości nie ma prawa w Autonomii Palestyńskiej, które zabraniałoby prawnikom działającym indywidualnie lub w ramach spółki cywilnej świadczenia bezpłatnych usług prawnych. Ten nowy ruch przeciwko grupie jest niezgodny z prawem: został podjęty przez palestyńską agencję bezpieczeństwa, a nie przez Ministerstwo Gospodarki Narodowej AP, które jest odpowiedzialne za udzielanie licencji takim grupom, wyjaśniono w oświadczeniu Prawników na rzecz Sprawiedliwości, z dodatkiem:
"Decyzję Ministerstwa Gospodarki Narodowej, podjętą na wniosek Służb Ogólnego Wywiadu, traktujemy jako integralną część stanu represji i prześladowań działaczy praw człowieka, zwłaszcza w ciągu ostatnich trzech lat, kiedy to gwałtownie wzrosło tempo tłumienia swobód publicznych i praw konstytucyjnych gwarantowanych przez Palestyńską Ustawę Zasadniczą i międzynarodowe konwencje praw człowieka".
Według Front Line Defenders, organizacji praw człowieka z siedzibą w Irlandii, której ogólnym celem jest umożliwienie obrońcom praw człowieka kontynuowania pracy bez ryzyka nękania, zastraszania lub aresztowania:
"[Organizacja] Prawnicy na rzecz Sprawiedliwości stoi w obliczu poważnych konsekwencji, które wpłyną na jej istnienie jako organizacji praw człowieka z powodu środków karnych i ograniczeń nałożonych na jej rejestrację. Utrudni to jej pracę, blokując jej zdolność do zawierania umów z organizacjami lokalnymi lub międzynarodowymi, lub posiadanie konta bankowego.

Wysiłki Autonomii Palestyńskiej mające na celu utrudnianie pracy Prawników na rzecz Sprawiedliwości w zakresie praw człowieka trwają od wielu lat. Grupa była poddawana różnym formom ukierunkowanego nękania [ze strony Autonomii Palestyńskiej], w tym prześladowaniom sądowym i kampaniom zniesławienia…"
Cytowano słowa Muhannada Karadżaha, szefa Prawników na rzecz Sprawiedliwości, że nałożenie kagańca jego grupę odzwierciedla szerszą tendencję Autonomii Palestyńskiej do "zmniejszania przestrzeni dla organizacji społeczeństwa obywatelskiego i dalszego wzmacniania swoich służb bezpieczeństwa". Bez ważnej rejestracji, powiedział Karadżah, Prawnicy na rzecz Sprawiedliwości nie będą mogli uzyskać dostępu do swoich kont bankowych, ich biura mogą zostać zamknięte, a personel aresztowany.
Kwestia Prawników na rzecz Sprawiedliwości jak dotąd nie przyciągnęła uwagi społeczności międzynarodowej ani mediów głównego nurtu na Zachodzie. To milczenie służy celowi Autonomii Palestyńskiej, jakim jest zakładanie kagańców jej krytykom, przy jednoczesnym kontynuowaniu kampanii oczerniania Izraela oraz demonizowania i mordowania Żydów.
Przez milczenie w sprawie łamania praw człowieka przez Autonomię Palestyńską, ONZ i wiele krajów zachodnich wyrządzają straszliwą niesprawiedliwość Palestyńczykom, którzy będą nadal cierpieć represje i ucisk pod rządami Autonomii Palestyńskiej, podczas gdy społeczność międzynarodowa, mająca obsesję jedynie na punkcie zniesławiania Izraela, patrzy w drugą stronę.
---
*Bassam Tawil – muzułmański badacz i publicysta mieszkający na Bliskim Wschodzie.
---
---