Władimir Putin i Sergej Ławrow (Sergei Karpukhin / AP / AP)
---
Przemysław Urbańczyk
---
Car tyje, łysieje i siwieje, a że dobiega już siedemdziesiątki, to pewnie z coraz większym frasunkiem patrzy w lustro i zastanawia się: Co po mnie zostanie?
.
Ruś od początku była Kijowska, a Rosja tylko moskiewska. Rosjanie próbują więc odwrócić logikę dziejową, bo choć historycznie młodsi, chcą być starszymi braćmi Ukraińców osiedlonych wokół Kijowa.
Putin, jak wielu polityków, myśląc o przyszłości, grzebie w przeszłości, szukając inspiracji i usprawiedliwień. Mniej lub bardziej udolne manipulowanie argumentami historycznymi jest wszak poręcznym narzędziem zarówno w sporach wewnętrznych, jak i w kontaktach zewnętrznych – szczególnie z sąsiadami. Chodzi o wzmacnianie dysputy politycznej i geopolitycznej przez wykazanie, że "tak powinno być, bo tak przecież (zawsze/kiedyś) było".
Wbrew wielu komentatorom nie sądzę, aby czujne oko Władimira Putina, który w ostatnich latach mianował sam siebie Wielkim Historykiem, zatrzymywało się na czasach Związku Sowieckiego. Uznał wprawdzie rozpad ZSRR za "największą tragedię w historii", ale on potrzebuje czegoś więcej niż przywrócenia dobrego imienia Stalinowi, który go fascynuje nieokiełznaną swobodą operowania przemocą, utylitarnym traktowaniem zwykłych ludzi i geopolitycznym cynizmem.
Tu chodzi raczej o leczenie kompleksu małości, trawiącego tego wnuka Spiridona Iwanowicza Putina, który ponoć był kucharzem Lenina. Tego Władimir Władimirowicz nigdy Władimirowi Iljiczowi nie zapomni, chociaż na początku nawet się tym chwalił. Trawi go głęboki kompleks "człowieka znikąd", którego nie własne zasługi, lecz kaprys Borysa Jelcyna wyniósł na wyżyny wielkiej polityki. Szuka więc sposobu zapracowania na osobistą wielkość odpowiednio podczepioną pod chwalebną przeszłość.
Putin próbuje naprawić błędy Lenina
Car tyje, łysieje i siwieje, a że dobiega już siedemdziesiątki, to pewnie z coraz większym frasunkiem patrzy w lustro i zastanawia się: Co po mnie zostanie? Chodzi nie o pieniądze, lecz o pamięć, która zapewnia swoiste "życie po życiu". Chciałby sam sobie zbudować "pomnik trwalszy od spiżu". Kombinuje więc, jak by się samemu upamiętnić. Jak wypalić swoje imię na kartach historii? Jak wejść na pomniki? Jak sprawić, żeby swój grobowiec uczynić miejscem narodowych pielgrzymek?
Niestety, historia umieściła Władimira Putina w czasie zadziwiająco spokojnym, w którym liczą się głównie pieniądze. Ale pieniądze powyżej pewnego poziomu już wcale nie cieszą, bo ani je wydać, ani do grobu zabrać. Od kilku lat z determinacją grzebie więc w historii, szukając stosownych punktów odniesienia dla własnego wywyższenia. Chciałby pewnie zostać trzecim z wielkich Władimirów, którzy potężnie wstrząsnęli wschodem Europy – jak książę kijowski Władimir Wielki, który w X w. wprowadził Ruś do cywilizowanego świata, i jak Władimir Lenin, który w XX w. Rosję ze świata cywilizowanego wyprowadził.
Zostać Władimirem Groźnym to nie sztuka, jeśli ma się do dyspozycji "opryczninę", o jakiej carowi Iwanowi się nie śniło. Jak jednak zostać drugim Władimirem Wielkim, którego rodacy na świecki sposób też "kanonizują" w uznaniu oczywistych zasług? Wzorem swojego wielkiego imiennika sprzed tysiąca lat zmusił już swoich sąsiadów, żeby się go bali, a swoich poddanych zawraca z drogi bezbożnego ateizmu z powrotem ku prawosławnej ortodoksji. Ale nie włada Kijowem, gdzie wszystko się zaczęło. Nie ma pod stopami kamienia węgielnego historii narodowej.
Próbuje naprawić błędy Lenina, który nie skorzystał z okazji, aby Kijów formalnie wcielić do Rosji, i Gorbaczowa, który pozwolił, aby Kijów od Rosji odpadł i stał się stolicą niepodległego państwa. Próbuje ponownie zebrać perły, które wypadły z imperialnej korony, ale Abchazja, Osetia Południowa, Krym czy wschodnie obwody Ukrainy nie mają odpowiedniego ładunku symbolicznego, który by złączył przeszłość, teraźniejszość i przyszłość w jeden krąg wielkości. Wciąż nie ma najważniejszej perły w koronie, czyli Kijowa.
Jakkolwiek by jaskrawo pomalował stojącego na placu Czerwonym sobór Błogosławionego Wasyla, to nie odbierze siły symbolicznej kijowskiemu soborowi Mądrości Bożej, zbudowanemu przez Władimira Wielkiego. Ilekolwiek by złota użył do zwiększenia nachalnego blichtru swojej moskiewskiej siedziby, to nie przyćmi pamięci o kijowskiej Złotej Bramie, której budowę zainicjował Władimir Wielki. Jakiekolwiek by sobie zbudował mauzoleum, to nie dorówna wielkością pamięci historycznej Władimirowi Wielkiemu pochowanemu w kijowskiej cerkwi Dziesięcinnej.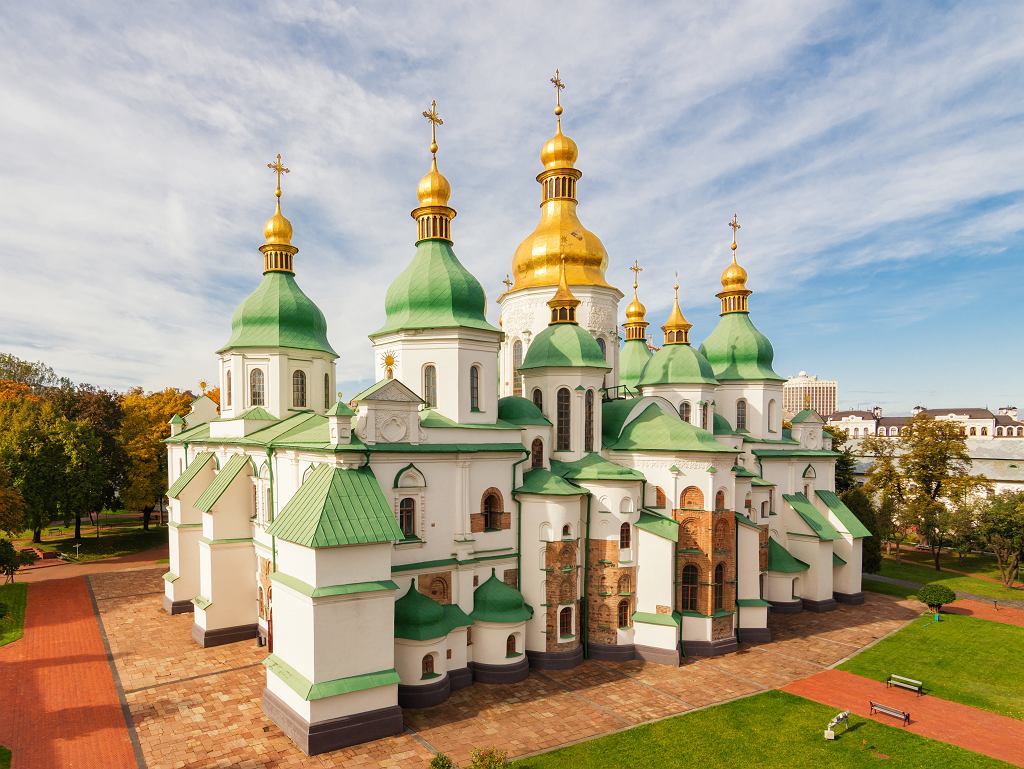 Sobór Mądrości Bożej w Kijowie, 2017 r. Rbrechko, CC BY-SA 4.0 , via Wikimedia Commons
Rosja potrzebuje korzeni, które wyrastają z Kijowa
Ruś od początku była Kijowska, a Rosja tylko moskiewska. Kijów jest polityczną kolebką Rusi i symbolem jej pierwotnej wielkości.
Bez Kijowa Rosja jest pozbawiona średniowiecznych korzeni. To przecież tam wszystko się zaczęło i nie zmieniło tego kilkaset lat budowania od zera mitu prowincjonalnej wszak Moskwy, która po upadku Konstantynopola nawet chciała być "trzecim Rzymem".
Rosła i potężniała pod rządami kolejnych carów, ale nie była Kijowem z jego nimbem pierwotnego gniazda. Nigdy nie pozbyła się (jak i Putin) kompleksu nuworysza bez odpowiedniego życiorysu.
Nie bez powodu rosyjskie wojsko zagrzewało się w 1812 r. do walki z Napoleonem, śpiewając: "Mat' rodnaja eto Ruś sviataja". Dzisiaj moskiewscy wielkorządcy co rusz przypominają, że Rosjanie są przecież Wielkorusami. Odwracają przy tym logikę dziejową, bo choć historycznie młodsi, chcą być starszymi braćmi Małorusów, czyli Ukraińców osiedlonych wokół Kijowa. Mają problem z samoidentyfikacją, co widać po niezrozumiałych dla zewnętrznych obserwatorów niuansach znaczeniowych etnonimów:
Rosjanom potrzebne są głębsze od moskiewskich korzenie historyczne, które wszak wyrastają z Kijowa. W ostatnim czasie stało się to chyba obsesją Władimira Władimirowicza, który chce odcisnąć swój ślad w historii jako ten, który kijowską "macierz" podporządkował moskiewskiej "córce". Może nie planuje, żeby wjechać do Kijowa przez Złotą Bramę, jak Bolesław Chrobry w 1018 r., ale pewnie wymarzył sobie, że wejdzie do cerkwi Dziesięcinnej i powie Władimirowi Wielkiemu: "No i co? Kijowem znów rządzi Władimir. Teraz Ruś jest moja. Ja, Władimir Zjednoczyciel, naprawiłem dziejowy błąd Władimira Lenina. Zamknąłem wielkie koło historii i przywróciłem Rosji jej ruską wielkość".
Ale w głębi duszy pewnie sam nie wierzy w trwałość swojego krwawego dzieła. Jeśli nawet zdobędzie Kijów, to na pewno nie pozwoli się tam pochować z obawy o przyszły los swoich doczesnych szczątków. Raczej nie spocznie też na placu Czerwonym koło Władimira Iljicza, którym gardzi. Może więc w Petersburgu? Gdziekolwiek by stał jego grobowiec, trzeba go będzie dobrze pilnować, żeby swawolni młodzieńcy nie pisali na nim "Tu leży wnuk kucharza Lenina".
---
Artykuł napisany 26 lutego
Prof. Przemysław Urbańczyk – związany z UKSW i PAN, jeden z najbardziej znanych polskich mediewistów, autor wielu książek, m.in. "Rok 1000. Milenijna podróż transkontynentalna", "Zanim Polska została Polską", "Mieszko Pierwszy Tajemniczy", "Co się stało w 966 roku?", "Bolesław Chrobry – lew ryczący" i najnowszej "Trudna historia zwłok" oraz kilkuset artykułów
---
---