Jan Wójcik
---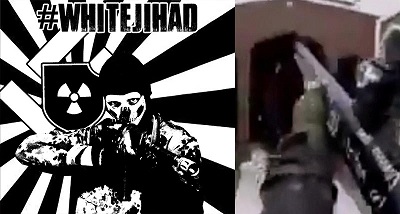 Mem reklamujący Atomwaffen Division i zdjęcie z ataku Brentona Tarranta na meczet w Christchurch
Raport opublikowany przez International Center for Study of Radicalization wskazuje na zbieżność ideologii i taktyki jaka łączy salaficki dżihadyzm i neonazizm skłaniający się ku przemocy.
Neonazizm i salafizm wydają się stać po przeciwnych stronach. A jednak więcej łączy przemoc tych ruchów niż dzieli. Salaficki dżihadyzm stał się inspiracją dla ruchów przemocowych skrajnej prawicy.

W tym drugim przypadku raport mówi o skrajnie prawicowych akceleracjonistach, co wymaga wyjaśnienia. Akceleracjonizm był ideologią tworzoną przez środowiska lewicowe, w ramach której przyspieszenie rozwoju kapitalizmu miało doprowadzić do narastania sprzeczności w nim, a w konsekwencji do jego szybszego upadku. Współcześnie wyróżnia się jednak także akceleracjonizm skrajnie prawicowy, który w sabotażu, zabójstwach, czy masowych atakach upatruje nadziei na przyspieszenie upadku wielokulturowego Nowego Porządku Światowego, czy też systemu świata zarządzanego przez Żydów. Na jego gruzach miałoby powstać nowe społeczeństwo oparte na nacjonalizmie etnicznym.
Autorzy raportu, Marc André Argentino, Amarnath Amarasingam i Emmi Conley, odrzucają tezę, że zbieżności pomiędzy taktyką, technikami i procedurami używanymi przez ruchy salafickie i skrajnie prawicowe wynikają z tego, że dzisiaj aktywiści sięgający po przemoc wybierają sobie narrację jak w menu baru sałatkowego. Ich zdaniem to raczej ekstremizm przemocowy motywowany rasowo i etnicznie (REMVE) naśladuje ruchy dżihadystyczne, odchodząc od centralnie sterowanej organizacji do luźnych, ideologicznie powiązanych radykalnych ekosystemów. W literaturze zyskało to nazwę post-organizacyjnego ekstremizmu przemocowego i terroryzmu (POVET).
Wspomnieć tu warto, że tendencje te opisywane były już w książce Phillipa Bobbita "Terror and Consent", gdzie opisywano jak działania terrorystyczne i podobne im w przeszłości ewoluowały wraz ze zmieniającym się środowiskiem. Obecne są skutkiem rozwoju technologii internetowych, rozproszonych sieci, mediów społecznościowych, możliwości prowadzenia działań medialnych przez jednostki.
Początki zbieżności pomiędzy radykalizacją obydwu ruchów wzięły się z podziwu REMVE dla skuteczności propagandy salafickiego dżihadu. Zdjęcia Jihadi Johna, kata Państwa Islamskiego, były używane przez neofaszystów do wzmacniania brutalności ich zwolenników. Memy podkreślały zbieżność celów, walkę ze skrajną lewicą, równością płci, Żydami czy szczepionkami. Ekstremiści REMVE gloryfikują zwycięstwa dżihadystów w walce z siłami Zachodu jako narzędzie, które ma przyspieszyć upadek obecnego porządku. Konflikt i wojna przyspieszają (akceleracja) nieuchronny koniec systemu.
Sukcesy talibów, taktyka z Mein Kampf
Wśród tych dżihadystycznych sukcesów raport wymienia szeroko dyskutowaną na neofaszystowskich forach ucieczkę Amerykanów z Afganistanu i szybki postęp talibów. Ma to być także argumentem przeciwko tym, którzy chcą się angażować politycznie i pracować wewnątrz systemu nad jego zmianą. Działania talibów mają więc udowadniać, że droga otwartego konfliktu z systemem przynosi rezultaty. Amerykanin James Mason z neonazistowskiej Atomwaffen Division podkreśla, że pomimo różnic dotyczących religii "taliban popiera wiele tych samych rzeczy, co ja i wielu z was. Naturalną hierarchię, dumę z dziedzictwa, tradycyjną rodzinę; są przeciwko ZOG (Rządy Okupowane przez Syjonistów), przeciwko gejostwu i systemowi".
Przykłady działalności talibów czy Al-Kaidy używane są, żeby zawstydzać nieaktywnych członków ruchów nazistowskich. Porównuje się także praktykę talibów do taktyki wyłożonej w "Mein Kampf". Według neonazistów talibowie, stanowiąc tylko niecałe pół procenta społeczeństwa afgańskiego walczyli aktywnie i teraz sprawują kontrolę. W swojej książce Hitler także wykładał, że pasywne masy będą posłuszne tej z dwóch fanatycznych walczących ze sobą stron, która okaże się dominująca.
Innym elementem, który fascynuje neonazistów w kwestii taktyki i procedur działania dżihadystów. jest to, w jaki sposób tworzą społeczną bazę poparcia dla swojej aktywności. W raporcie pada przykład ISIS na Filipinach, ale można to odnieść także do innych ugrupowań terroryzmu islamskiego. Poparcie dla organizacji terrorystycznych ma budować działalność charytatywna i organizacyjna. Neonaziści piszą o "białych aryjskich społecznościach", które powinny być tworzone dla przyszłej działalności powstańczej w miastach.
Aryjski szahid
Męczeństwo i kultura wojownika są kolejną taktyką, którą chce przejąć od dżihadystów propaganda neonazistowska. Powoli już też dorabia się swoich świętych męczenników. Manifesty Andersa Breivika oraz Brentona Tarranta urosły do rangi świętych tekstów. Dni, w których przeprowadzali zamachy, weszły do kalendarzy ugrupowań neonazistowskich. Przypomina się wtedy o ich "osiągnięciach", statystykach mordów, w Internecie wypuszcza się materiały propagandowe zachęcające do naśladownictwa.
Męczeństwo w ruchu neofaszystowskich akceleracjonistów ma wyrażać się w męskiej kulturze wojowniczej, bohaterskiej walce do samego końca, niezłomności w sądzie i wobec społecznej stygmatyzacji. "Temu kto nie pasuje do modelu wojownika, męczennika, krzyżowca czy białego rycerza, pozostaje rola aryjskiego mężczyzny jako ojca i płodzenia jak największej liczby dzieci", piszą autorzy raportu.
Jak pokazał przykład transmitowanego na żywo ataku Tarranta na meczet w Christchurch (Nowa Zelandia), skrajna prawica przejęła też metody dżihadystów dotyczące szokowania przemocą. Obydwa ruchy wykorzystują przemoc symboliczną do umacniania przekazu o nieuchronności końca obecnych czasów i panującego systemu. W obydwu przekazach przemoc i wojna są nieuniknione, a do tego są zarówno metodą walki ze złem, jak i zarazem drogą osiągnięcia osobistej chwały. Zarówno neofaszyści jak i dżihadyści "wierzą, że oczyszczenie społeczeństwa z tych, którzy je osłabiają, nie tylko jest właściwe, ale także wzmacnia hart ducha tych, którzy to czynią".
Wspólni wrogowie dżihadystów i neonazistów
Cechą, która łączy salaficki dżihadyzm i neonazizm, jest – poza taktyką – określenie wroga. To zdegenerowany Zachód, liberalna demokracja, feminizm, konsumpcjonizm, LGBTQ, postrzegane jako przeciwnicy niszczący zdrową tkankę społeczeństwa. Podobnie obydwa nurty widzą rolę kobiety – nie jako osoby autonomicznej, posiadającej własne prawa, lecz przede wszystkim zredukowanej do roli żony i matki. Oczywiście jest też miejsce dla kobiet w obydwu ruchach jako wojowniczek za sprawę.
Ruchy walczące na rzecz równych praw kobiet czy mniejszości seksualnych to w tych ideologiach symbol upadku i ciemnych wieków, w jakich znajduje się obecne społeczeństwo. Said Kutb nazywał to dżahillijją, stanem pogańskim, w jakim żyły społeczeństwa arabskie przed Mahometem. Tradycjonaliści wśród neofaszystowskich akceleracjonistów odwołują się do hinduskiego pojęcia Kalijugi ("wieku kłótni i hipokryzji").
Najbardziej jednoczącym salafitów-dżihadystów i neofaszystowski akceleracjonizm elementem jest nienawiść do Żydów. Ideologia dżihadyzmu, za którą stał Said Kutb, odrzuca Żydów jako "ludzi księgi", a wręcz uważa ich za niebezpieczniejszych od politeistów. Wśród zwolenników neofaszyzmu na przykład Hamas uważany jest za organizację walczącą z żydowskim rządem w Izraelu w taki sam sposób, w jaki chcieliby akceleracjoniści walczyć z okupowanymi w ich pojęciu przez Żydów rządami w Europie i Stanach Zjednoczonych.
Współpraca skrajnej prawicy i agresywnego islamizmu w tej kwestii ma jednak dłuższe korzenie i można ją prześledzić aż do Trzeciej Rzeszy i wzajemnych relacji pomiędzy Adolfem Hitlerem a wielkim muftim Jerozolimy Haj Aminem Al-Husseinim. Husseini, mający na koncie podżeganie do masakr Żydów jeszcze przed drugą wojną światową, w roku 1937, otwarcie popierał Hitlera i pomagał w czasie wojny organizować Dywizję Waffen-SS Handżar złożoną z bośniackich ochotników. Nic dziwnego, że sam Husseini pojawia się teraz w memach neonazistów mówiących o wspólnej walce z Żydami.
Czy są cechy wspólne z organizacjami skrajnej lewicy?
W raporcie nie pojawia się, zgodnie zresztą z jego obszarem badawczym, problem wspólnoty poglądów pomiędzy dżihadyzmem a lewicowymi ruchami skrajnymi. Co prawda nie znajdziemy tu związków w kwestii feminizmu czy LGBTQ+, ale w aspekcie najmocniej łączącym ruchy skrajne, czyli nienawiści do Żydów, już tak. Na lewicy wyraża się to wprawdzie jako antysyjonizm, ale i tutaj też znajdziemy poparcie dla Hamasu, czy nieprzemocowe ruchy bojkotowania Izraela (BDS).
We Francji mówi się o islamo-goszyzmie, a raporty dotyczące przemocy wobec Żydów w Europie mówią o częstszym udziale sprawców o poglądach skrajnie lewicowych lub islamskich, niż o skrajnej prawicy. Wielu aktywistów lewicowych było też zaangażowanych w siłową próbę przełamania blokady morskiej nałożonej przez Izrael na Strefę Gazy.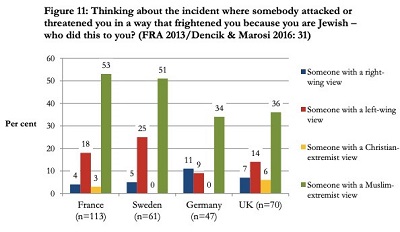 Ataki antysemickie w Europie, jak ofiary postrzegały motywację sprawcy (źródło: hisenterent.no)
Badania na ten temat mogłyby wiele powiedzieć o wspólnych cechach łączących wszystkie te trzy skrajne ideologie i ruchy przemocowe.
---
Tekst ukazał się po raz pierwszy na łamach Security For Freedom.org


Jan Wójcik – Specjalista od ekstremizmu i stosunków międzynarodowych, twórca portalu Euroislam.
Związany ze Stowarzyszeniem Europa Przyszłości od chwili jego założenia w 2004 roku. Od 2009 pełni funkcję prezesa zarządu Stowarzyszenia "Europa Przyszłości". W 2017 współzałożył Fundację "Instytut Spraw Europejskich".
---
---