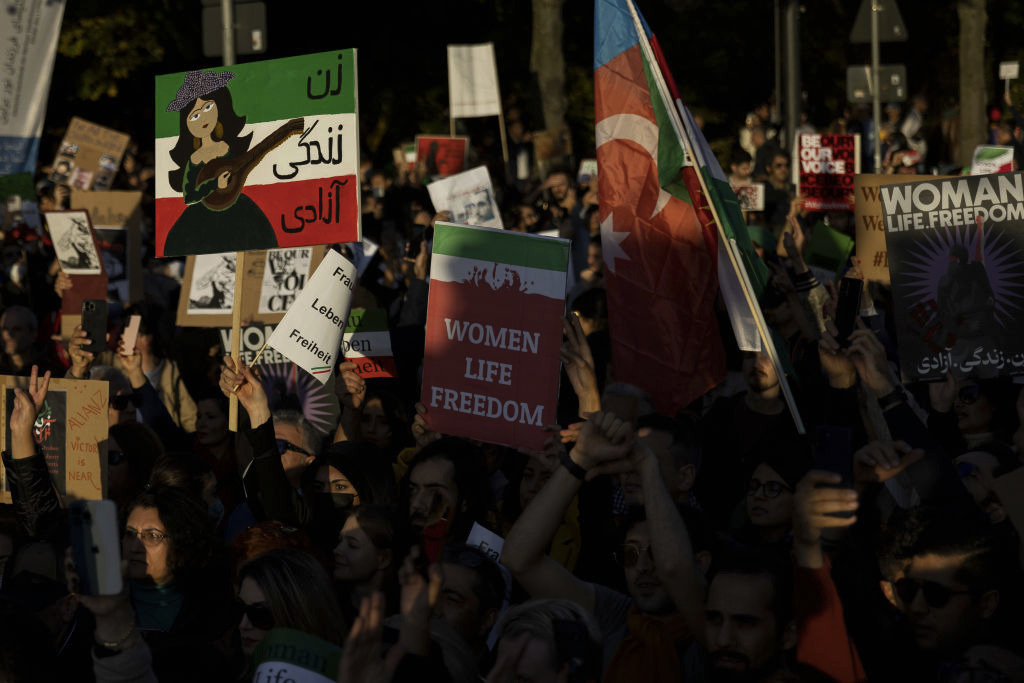 Krótkie hasło – "kobieta, życie, wolność" – zainicjowane przez irańskich demonstrantów w ciągu ostatnich dwóch miesięcy, znalazło, jak się wydaje, globalny oddźwięk, jakiego niewielu się spodziewało. Na zdjęciu: Protestujący na wiecu zorganizowanym przez "Women Life Freedom Collective" w ramach solidarności z kobietami i protestującymi w Iranie, 22 października 2022 r., Berlin, Niemcy. (Zdjęcie: Maja Hitij/Getty Images)
---
Amir Taheri
Tłumaczenie: Małgorzata Koraszewska
---
Krótkie hasło – "kobieta, życie, wolność" – powtarzane przez irańskich demonstrantów przez ostatnie dwa miesiące, znalazło, jak się wydaje, globalny oddźwięk, jakiego niewielu się spodziewało. Widać je na gigantycznych plakatach w Tokio, na ścianie głównego dworca kolejowego w Amsterdamie, w neonach w Rio de Janeiro i nabazgrane na ścianach od Indonezji po Argentynę.
Setki tysięcy kobiet ze wszystkich środowisk na całym świecie ścinało włosy w geście solidarności z irańskimi protestującymi. Nagle światowa uwaga skupia się na kobiecości jako rzeczywistości i koncepcji.
Słowo "życie" również zyskuje nowe zainteresowanie jako pojęcie, przypominając nam, że prawdziwym zadaniem polityki jest dążenie do bardziej ludzkiego i spełnionego życia dla wszystkich.
Jeszcze lepiej sprawdziło się perskie słowo oznaczające wolność (azadi).
Stało się okrzykiem wojennym protestujących przeciwko dyskryminacji religijnej w Indiach i przeciwko represjom talibów w Afganistanie. Indyjska pisarka Arundhati Roy opublikowała nawet książkę ze słowem Azadi w tytule.
Skąd wzięło się to hasło?
Po raz pierwszy wypowiedziano je w 1977 roku na seminarium na Uniwersytecie Isfahan w środkowym Iranie, z okazji 25. rocznicy nadania praw wyborczych irańskim kobietom. Otwierając seminarium, Hushang Ansary, ówczesny minister finansów i gospodarki, zapewnił, że w następnym stuleciu kobiety będą "zdobywały jeden szczyt po drugim", a wolność stanie się "podstawową wartością ludzkości".
Ta prognoza sprawdziła się szybciej, niż ktokolwiek się spodziewał.
Do 1977 roku świat widział tylko trzy kobiety na czele rządów – Sirimavo Bandaranaike na Sir Lance, Goldę Meir w Izraelu i Indirę Gandhi w Indiach. Pół wieku później ponad 60 krajów miało kobiety na stanowiskach premierów lub prezydentów. W 1977 roku była zauważana nieobecność kobiet na wysokich stanowiskach nawet w ugruntowanych zachodnich demokracjach, a w kilku kantonach Szwajcarii nie miały nawet prawa głosu.
Ostatnie dziesięciolecia były świadkami przyspieszającej feminizacji polityki na całym świecie. Widać to wśród polityków na wszystkich poziomach, nawet w tradycyjnych społeczeństwach patriarchalnych. Co ważniejsze, widzimy to również w kontekście debat politycznych. Tradycyjne kwestie macho, takie jak dążenie do chwały narodowej, prężenie militarnych muskułów i nacisk na prawo i porządek, zostały odsunięte na bok, aby otworzyć przestrzeń dla spraw "kobiecych", takich jak zdrowie, edukacja i solidarność społeczno-ekonomiczna.
Feminizacja skupiła się na "życiu" jako centralnej trosce polityki. Stanowi to zagrożenie dla autokratycznych reżimów, takich jak chomeinowski w Iranie, które opętane swoją ideologią nie radzą sobie z problemami "chleba powszedniego", skazując w ten sposób swoje społeczeństwa na pogłębianie się ubóstwa. Pod względem stałej siły nabywczej przeciętny Irańczyk jest dziś o 40 procent biedniejszy niż był w 1977 roku.
Paradoksalnie jednak przeciętna Iranka jest dziś lepiej wykształcona niż jej koledzy w porównaniu z rokiem 1977.
Udział kobiet wśród 20 milionów Irańczyków z wyższym wykształceniem szacuje się na około 60 procent, podczas gdy stopa bezrobocia wśród kobiet jest dwukrotnie wyższa niż wśród mężczyzn. W 1977 roku kobiety miały symboliczną obecność na eksponowanych stanowiskach.
Iran miał kobietę wśród sędziów Sądu Najwyższego przed Stanami Zjednoczonymi i kobiety na stanowiskach ministrów przed niektórymi zachodnimi demokracjami. Za rządów szacha Iran mianował również pierwsze kobiety jako ambasadorki i świętował pierwszą kobietę generała brygady w wojsku. Iran miał policjantki, a nawet pilotki myśliwców. Kobiety dokonały też spektakularnego wejścia w świat sztuki, kina, teatru, literatury i mediów.
Choć kobiety traktowano jako symbol postępowych ambicji reżimu i wisienki na torcie narodowym, powszechnie oczekiwano, że rozpoczynają one drogę ku pełnemu i równemu obywatelstwu. Podróż tę przerwali mułłowie, którzy przejęli władzę w 1979 roku.
Reżim Chomeiniego zasygnalizował swój zamiar stworzenia apartheidu płci, uchwalając dwa prawa, które nałożyły na kobiety surowy kod ubioru. Obejmowało to nowy polityczny "hidżab", inspirowany nakryciem głowy chrześcijańskich zakonnic, zaprojektowany po raz pierwszy przez wyznawców imama Musy Sadra w Libanie.
Przed przejęciem władzy przez Chomeiniego wiele irańskich kobiet dobrowolnie nosiło różne nakrycia głowy, z których co najmniej 14 można zobaczyć w Muzeum Etnologicznym w Teheranie. Chomeinowski "hidżab" był częścią munduru politycznego, tak jak Lenin i Mao Zedong narzucili swoje wersje płóciennej czapki narodom rosyjskiemu i chińskiemu.
Mułłowie próbowali, choć bezskutecznie, anulować wielu praw, w tym prawa do głosowania i kandydowania, nadanego kobietom przez szacha. Realizowali jednak politykę marginalizacji kobiet w życiu publicznym. Republika Islamska miała jedną kobietę-ministra, pół tuzina "asystentek prezydenta", dwie kobiety-ambasadorki w odległych i mało znaczących stolicach oraz, o ile mi wiadomo, cztery kobiety na stanowiskach burmistrzów małych miasteczek. Kobiety nie mogą już zasiadać jako sędziowie.
W ciągu ostatnich 40 lat złe zarządzanie gospodarką zniszczyło wiele gałęzi przemysłu, które oferowały kobietom zatrudnienie, w szczególności tkanie dywanów, które przez ponad 1000 lat było klejnotem w koronie tradycyjnych gałęzi przemysłu.
Słabo zamaskowaną ideologiczną fobię reżimu wobec kobiet ilustruje utworzenie pod rządami prezydenta Muhammada Chatamiego, "reformistycznego" mułły, policji moralności, znanej jako Gasht-e-Ershad (Patrol Islamskiego Przewodnictwa), która rozmieszcza uzbrojone jednostki "przewodników", składające się zarówno z mężczyzn, jak i kobiet, aby upewnić się, że kobiety nie naruszają chomeinowskiego ubioru.
Ówczesny minister ds. islamskiego przewodnictwa, Ata-Allah Mohadżerani twierdził, że siły zostały zaprojektowane w celu "edukacji" kobiet w zakresie właściwego islamskiego zachowania, a nie jako narzędzie represji. Jednak "przewodnicy", którzy przeszli szkolenie bojowe, mają prawo wygłaszać kazania, karać, bić lub aresztować kobiety, które ich zdaniem naruszają zasady ubioru.
To śmierć 22-letniej kobiety, Mahsy Amini, podczas zatrzymania przez policję moralności, wywołała obecne powstanie narodowe.
Mahmoud Ahmadineżad, który zastąpił Chatamiego na stanowisku prezydenta, obiecał rozwiązać policję moralności, ale najwyraźniej nie udało mu się przekonać "Najwyższego Przewodnika", ajatollaha Alego Chameneiego.
Obecne powstanie zmusiło jednak policję moralności do wyciszenia swoich działań, ponieważ coraz więcej kobiet zrzuca oficjalny hidżab przy przynajmniej milczącym poparciu wielu, jeśli nie większości mężczyzn.
Potrójny temat "kobiety, życie i wolność" wyraża aspiracje współczesnej ludzkości daleko poza oficjalnymi granicami Iranu.
---
---